Huobi Exchange Review 2023
The more accessible the cryptocurrency market is, the trickier it gets for us to pick the best-suited crypto marketplace. With over 500 active cryptocurrency exchanges online, the final choice is usually made after a thorough comparison of the basic features such as fees, number of supported coins, and user experience.  


In this process, crypto to-be traders sometimes fail to consider a crucial factor — the nature of the crypto exchange in terms of the trading services it provides. Namely, some exchanges function as brokers that offer simple buy-and-sell services, while others focus on more sophisticated markets such as advanced-order spot trading and derivatives. Certainly, there are platforms that target all types of traders but such diversity has turned out to scare away first-time traders.
The crypto exchange on our today's menu—Huobi Global—belongs to the group of professional exchanges but its overall design is tuned so well that even those with basic or no experience in crypto trading won't be intimidated. 
You can read all about this crypto-giant in our detailed feature evaluation of Huobi down below. 
The Huobi group prefers to be called a digital asset exchange rather than a crypto exchange as it believes that global blockchain growth will lead to the expansion of new forms of digital currencies. 
The company was established back in 2013 as a multi-asset platform that offers investors a professional environment for cryptocurrency trading, forex trading, social trading, spread betting trading, and share dealing trading. 

Huobi was originally located in Beijing but after the Chinese government banned ICOs and fiat-to-crypto trading, the team had to relocate to a more crypto-friendly landscape. Currently, Huobi is a Singapore-based company with a compliance team available in Australia, Canada, Brazil, the United Kingdom, Japan, Hong Kong, and South Korea. Officially, the company is a Seychelles registered entity.
With an outstanding trading volume of $2.3 trillion, the exchange offers its services to millions of users across 130 countries worldwide. It supports more than 200 cryptocurrencies and 15 fiat currencies and features its own native utility token — the Huobi token (HT).
Huobi is a web platform but you can also access it through a mobile device. The sign-up process runs fast but for full availability of its services, you'll be required to undergo an ID verification process.
Huobi features a perfectly balanced interface that is highly functional and visually attractive at the same time. On the Huobi platform, you can go for spot trading, an OTC desk, margin trading and a range of other possibilities for passive income.
Margin trading or trading with leverage is a long-established investment practice that allows you to borrow funds from the exchange in order to enhance your position and potential profit. With Huobi, you can choose between three margin models: isolated, cross, and C2C. The first two also feature three sub-modes: Automatic Repayment, Automatic Loan, and Ordinary Mode. The isolated margin on Huobi supports up to 5x leverage while with the other two — cross and C2C — you can go up to 3x. 
As a result of the massive surge in the demand for more personalized services for institutional investors and high-net individuals, Houbi launched a new over-the-counter service in 2019. Huobi OTC is a regulated desk licensed by Huobi's Gibraltar FSC-issued Distributed Ledger Technology (DLT). It supports both fiat-to-crypto and crypto-to-crypto purchases in US dollars (USD), Euros (EUR), British pound sterling (GBP), against Bitcoin (BTC), Ethereum (ETH), and other supported coins.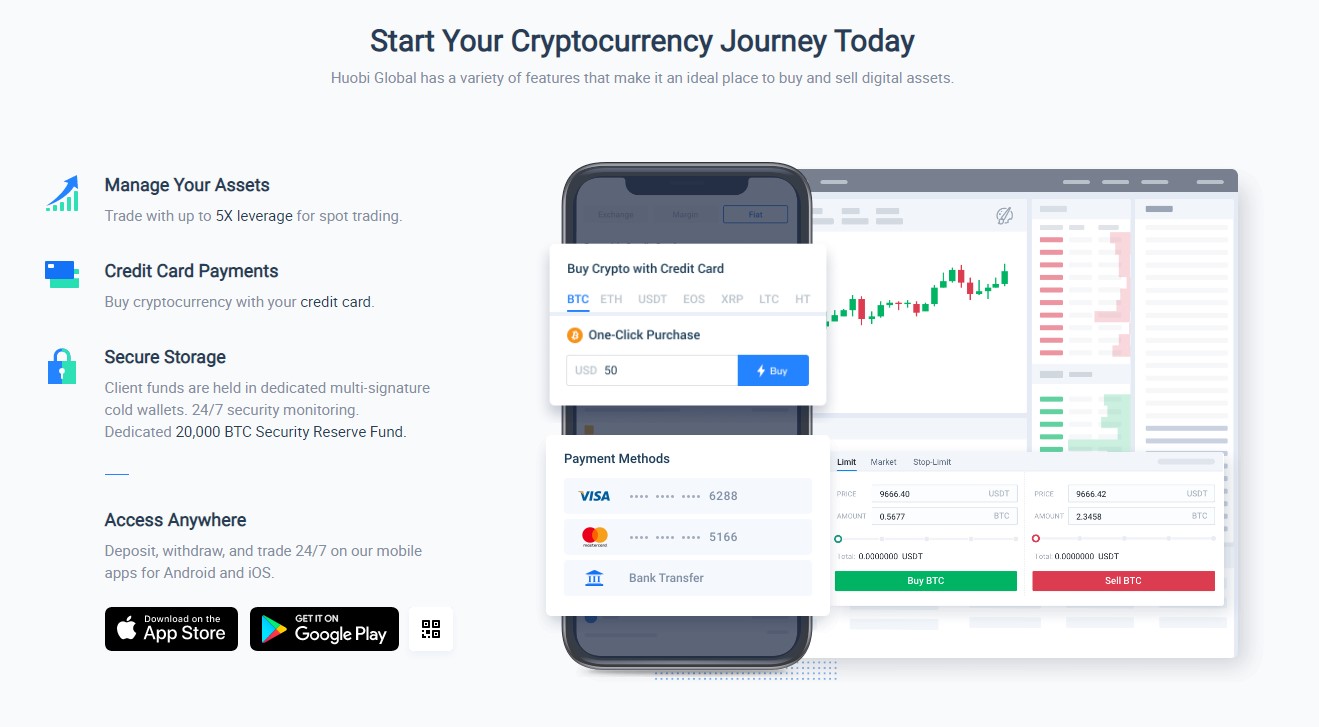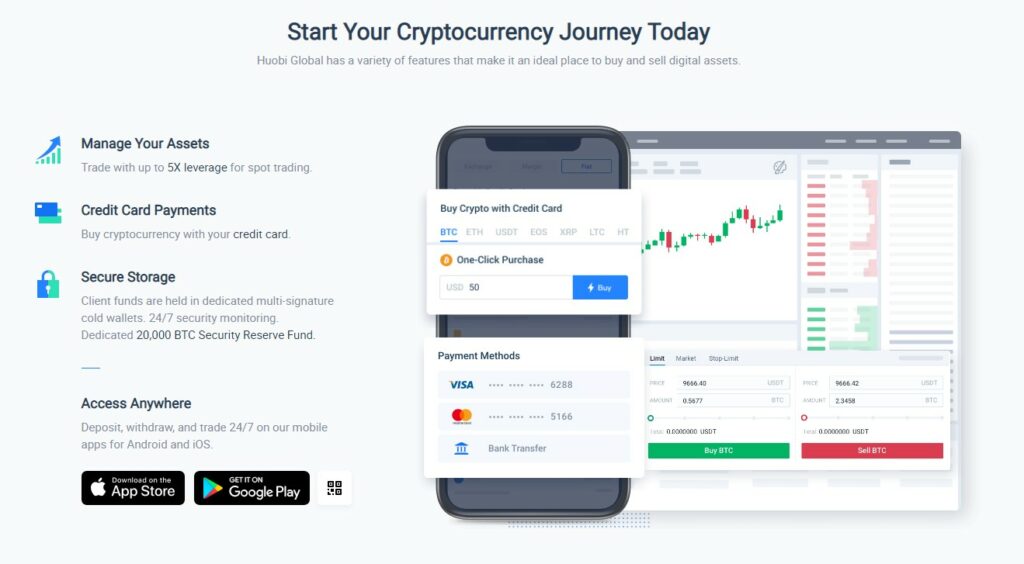 Regular exchange services are suitable for small-to-medium investments but for huge amounts, they may have unfavourable outcomes as the price of execution may be different from the price set before the transaction takes place. The Huobi OTC will provide you with a real-time quotation and what's more, it will ensure guaranteed execution of your trade with high liquidity.
Huobi is not restricted only to the basic market and limit orders. When placing a trade, you can adjust a more sophisticated order type such as Trigger Order, Fill Or Kill, Post Only, and Immediate or Cancel. The order book window you'll find on the right side of the screen is very intuitive and can be used to auto-fill the price to avoid price or decimal typos. The trade amount can be quickly populated using the auto-fill options (e.g. 25%, 50% or 75%).
Following the global trends in the crypto industry, Houbi Global launched a derivatives market at the end of 2018. It provides perpetual swap instruments and futures with up to 125x and 20x leverage respectively.
As their name suggests, futures contracts allow you to buy and sell a particular asset on a determined day in the future. Huobi has three-time intervals for measuring the expiry dates: weekly, bi-weekly, and quarterly. The exchange supports futures trading for nine cryptocurrencies including Bitcoin (BTC), Ethereum (ETH), Litecoin (LTC), Bitcoin Cash (BCH), Ripple (XRP), Tron (TRON), Ethereum Classic (ETC), EOS, and BitCapitalVendor (BCV). The specific contract information depends on the underlying asset. 
Huobi perpetual swaps are a type of leveraged instrument without an expiry date. They are calculated every 8 hours and after the settlement is completed, the exchange immediately transfers the realized profits and losses to users' accounts. Since perpetual contracts consist of one contract per variety, you have a chance to avoid all misleading signals on the market and the multiple funding arising from a position that rolls over from one futures contract to another.
Huobi offers an in-platform Grid Trading Bot that enables you to develop unbiased trading strategies. With the parole "buy low and sell high", you shouldn't expect that the Huobi bot will bring you guaranteed profit but it will certainly help you save a lot of time checking risk strategies and profit margins.
Huobi Earn is a unique exchange product that allows you to make passive income on your coins. It delivers different types of staking services and structured earnings that can be either flexible or fixed, depending on the cryptocurrency.

You'll find the earn option under Finance on your homepage. Afterwards, you'll have to choose one of the following staking terms: fixed, flexible, or featured, and select the cryptocurrency of your choice. You can see that there is an option to activate the Auto Transfer feature for a particular asset and the system will directly transfer your available balance to the flexible earning account each day at 10:00 (UTC).
Just like plenty of the world-recognized professional trading platforms, Huobi offers users to take part in ETH 2.0 Proof-of-Stake mining. This process consists of converting your standard ETH tokens into Beacon ETH (BETH) — a tokenized asset standing for your staked ETH with a 1:1 ratio. Once the upgrade to the Ethereum network is complete, your BETH will be converted to ETH. The important thing is that you can redeem your staked funds at any time without any additional fees or penalties. 
Launched at the beginning of 2021, ETH2.0 Proof-of-Stake is a relatively new Huobi opportunity that enables you to take ETH as BETH —and with a single click— you get qualified for the process of ETH 2.0 Proof-of-Stake mining. You will find a detailed explanation on the Huobi official website about the performance terms of the ETH 2.0 staking function.
Huobi PrimePool allows users to stake trending cryptocurrencies by giving them an easy way to take part in the ecological development of Huobi Global projects. The pool features a compact list of all supported coins with their available interest lock-up timeframes. The first project released on PrimePool was DeFine (DFA) and since then, the program has been growing with remarkable success.
Supported Cryptocurrencies and Payment Methods
On Huobi, you can find a broad spectrum of over 220 cryptocurrencies. The list contains most of the best-sellers such as BTC, EOS, ETH, USDT, RTC, LTC, Stellar (XLM), Cardano (ADA), and ZCash (ZEC), Polkadot (DOT), Dogecoin (DOGE).

Regarding fiat currencies, Huobi accepts USD, EUR, RUB, UAH, GBP, and KZT. Remember that you can't make fiat deposits without a full KYC verification and there is no option for credit card payments. Huobi does support wire transfers only and AdvCash is one of the most frequently used methods. For USD deposits, there is a minimum limit of 100 USD but no maximum limit.
The native Huobi token was released in 2018 when 300 million HT out of the full supply of 500 million tokens were distributed to users of Huobi Pro in the form of discount points on their Huobi Point Card while the rest were used to set up a fund for the user rewards and platform operations. The Huobi token continued to circulate with clearly defined utility: to reduce the in-exchange trading fees and serve as a native token on the HECO blockchain.
The exchange doesn't recognize between takers and makers on its spot market and incurs a flat trading fee of 0.20%. This amount is pretty favourable — slightly lower than the industry standard of 0.25%.
Derivatives have a different fee structure with 0.04% and 0.02% for takers and makers respectively. If we consider the fact that the average trading fee for makers is 0.018% and 0.063% in the contract-trading industry, we can notice that makers pay considerably lower fees on Huobi, while taker fees are above the industry average. 
The withdrawal fee system on Huobi is in line with the most competitive crypto exchanges on the global market. International fiat withdrawals are made through a wire transfer and incur a fixed fee of 1%. Crypto withdrawals are also below the average and will cost you 0.0001 BTC and 0.001 LTC for the respective coins.
When it comes to withdrawal limits, you should know that verified users can take out up to 200 BTC per day. 
Huobi is recognized as a trustworthy marketplace given the fact that it has never been a victim of a hacker attack or any other form of a security breach. The Huobi team claims that it employs the highest security and risk measures, developed by Goldman Sachs. In terms of safety, the exchange features a structure of a decentralized exchange that successfully reduces DDoS attacks.

Moreover, the exchange has a fund to cover all damages in case of a loss as 20% of their net revenue goes to the Huobi User Protection Fund. Finally, Huobi supports 2FA (two-factor authentication) for added security to your account and stores all funds in multi-signature cold wallets.
Reliable customer support consists of several key factors including language availability, response times, and the effectiveness of solutions provided to users. 
Apart from English, Huobi features customer service options in a range of languages including Spanish, German, French, Italian, Polish, Portuguese, Slovenian, Romanian, Czech, Chinese, Russian, Hindi, Arabic, and Hebrew. 
However, the response time on Huobi is low-rated as according to online exchange reviews, users usually waited too long for a response or didn't get one at all. As customer-service methods, the exchange can offer email support and live chat support. From our personal experience, we can say that the live-chat responsiveness isn't bad at all. It didn't take longer than 30 minutes for the Huobi tech team to respond with relevant solutions to the issues we pointed out.
Frequently Asked Questions
How much money do I need to start trading with Huobi?
The minimum deposit on Huobi is $100. Once you have completed a KYC verification, you can start trading right away.
What countries does Huobi accept?
Huobi Global targets worldwide audiences from over 170 countries including Australia, Thailand, the United Kingdom, Germany, Norway, South Africa, India, France, Sweden, Italy, Denmark, Kuwait, Luxembourg, United Arab Emirates, Saudi Arabia, Qatar and many more. 
However, the Huobi services aren't available for crypto users residing in the following countries: the United States, Canada, Hong Kong, Singapore, China, and Japan.
Which crypto exchanges can I use as an alternative for Huobi?
If you're looking for a multi-functional and safe platform other than Huobi, there are a few crypto services where you can find a similar set of features to the ones provided by Huobi: 
Binance — an industry leader with the highest liquidity and trading volume records that supports a range of different altcoins and charges much lower fees than Huobi. 
Kraken — Kraken is a global brand, well known for the safe trading environment it provides. This highly regulated exchange supports only the highest-ranked coins but it features a wide variety of trading options. 
eToro — a multi-asset platform that supports stocks, CFDs, crypto assets and commodity investments. It's the best platform you can get if you're interested in social trading.
Does Huobi offer a mobile app?
Huobi provides a top-notch mobile app — available for both iOS and Android devices — which has nearly identical functionality with the Huobi web platform (huobi.com). In fact, the Huobi app is one of the few crypto mobile apps that can replace the original browser-based version. 
With this app, you can buy cryptocurrencies instantly or trade derivatives with leverage, deposit coins using the Scan QR Code option with ERC20, TRC20, OMINI, or HECO deposit chains, and use Huobi Earn and the Grid trading bot in their full capacity.
Finally, the Huobi app enables you to organize selected cryptocurrencies by sections, manage your portfolio with ease, and use the security settings of your mobile device.
Does Huobi provide an in-exchange wallet?
Huobi launched a separate wallet app back in 2018 that features a simple interface with a professional performance touch, allowing you to store, transfer and trade popular digital assets such as BTC, ETH, LTC, USDT and a range of ERC-20 tokens. You can download the Huobi wallet app to your mobile device on the respective play stores or copy the link of their official website and paste it on your mobile browser. 
How does the Huobi Referral program work?
The platform allows its customers to earn certain commissions through their lucrative referral program, where you can receive up to a 40% fee as a cashback if a peer of yours accepts your offer to start using the Huobi platform. You'll get the reward either in USDT or Points. The Huobi Invite section keeps a list of all your referred traders and a leaderboard on the Huobi invite page. 
A Few Words Before You Go...
The strength of Huobi lies in its diversity of trading opportunities that allow the platform to offer a full-crypto experience for professionals who dare to engage themselves in new trading trends and practices. For professional investors, there are plenty of financial instruments to maximize their high-net portfolios such as lending for crypto interest and staking for coin rewards.
Apart from the broad operational scope, the exchange features a competitive fee system, responsive mobile app and attractive trading pairs such as BTC/USD and ETH/USD, which are traded with deep market liquidity. 
Finally, if you have some quality experience in the crypto sphere, you will enjoy its multi-functionality against the simplicity of the Huobi interface. All-in-all, the Huobi exchange may not be a first-stop destination for beginners but it's definitely worth a try for all seasoned Bitcoiners and other crypto-savvy enthusiasts.
This page was last updated on August 23, 2022