IDEX is a fairly young cryptocurrency exchange that is gaining popularity among traders all over the world. It has a distinctive hybrid architecture, meaning that it has both qualities of a decentralized and a centralized exchange, which is considered the perfect blend for many users. 


The platform enables users to trade Ethereum and ERC20 tokens in real-time. Their emphasis on ETH implies that there are no BTC trading pairings on the platform. IDEX works similarly to EtherDelta in that it is based on the Ethereum blockchain and it's compatible with its network.
The IDEX exchange platform is part of Aurora, a banking and finance platform composed of Ethereum-based apps and protocols. Aurora is operated by Aurora Labs S.A., which is based in the Republic of Panama.
IDEX customers will be able to connect with liquidity pools in entirely new ways thanks to the combination of Automated Market Making (AMM) + order book + trading system. The enhanced mapping tool at IDEX converts the AMM curve into separate orders that may be found on the book alongside regular limit orders.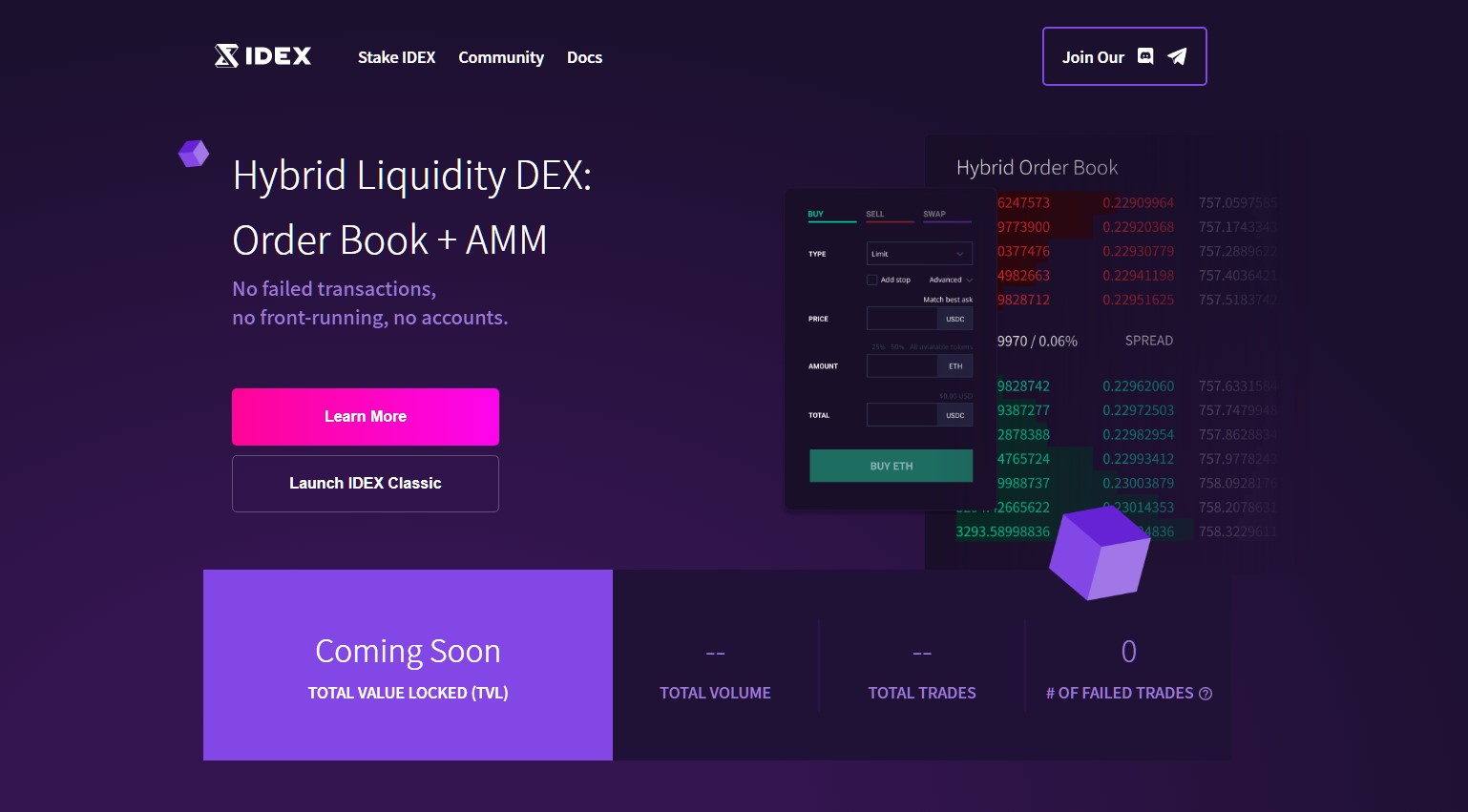 Whenever a new order is entered, the trading engine finds the optimal set of limit orders and collective liquidity to perform the exchange at the lowest cost. Traders can engage with IDEX Hybrid Liquidity, which represents the peak of DEX design, combining the finest aspects of an order book and AMM, using the swap interface as well as the usual order book UI.
To conduct buy and sell orders, most DEX systems use automated market maker models, but IDEX combines them with order books that have a centralized mechanism for matching orders. This mechanism is centralized to provide quick performance and rapid processing of all off-chain operations.
Although the crypto exchanges are in a way centralized, IDEX protects them with safety measures typical for decentralized platforms. For instance, transactions are locked in smart contracts and users can also use smart contracts to update their balances at all times.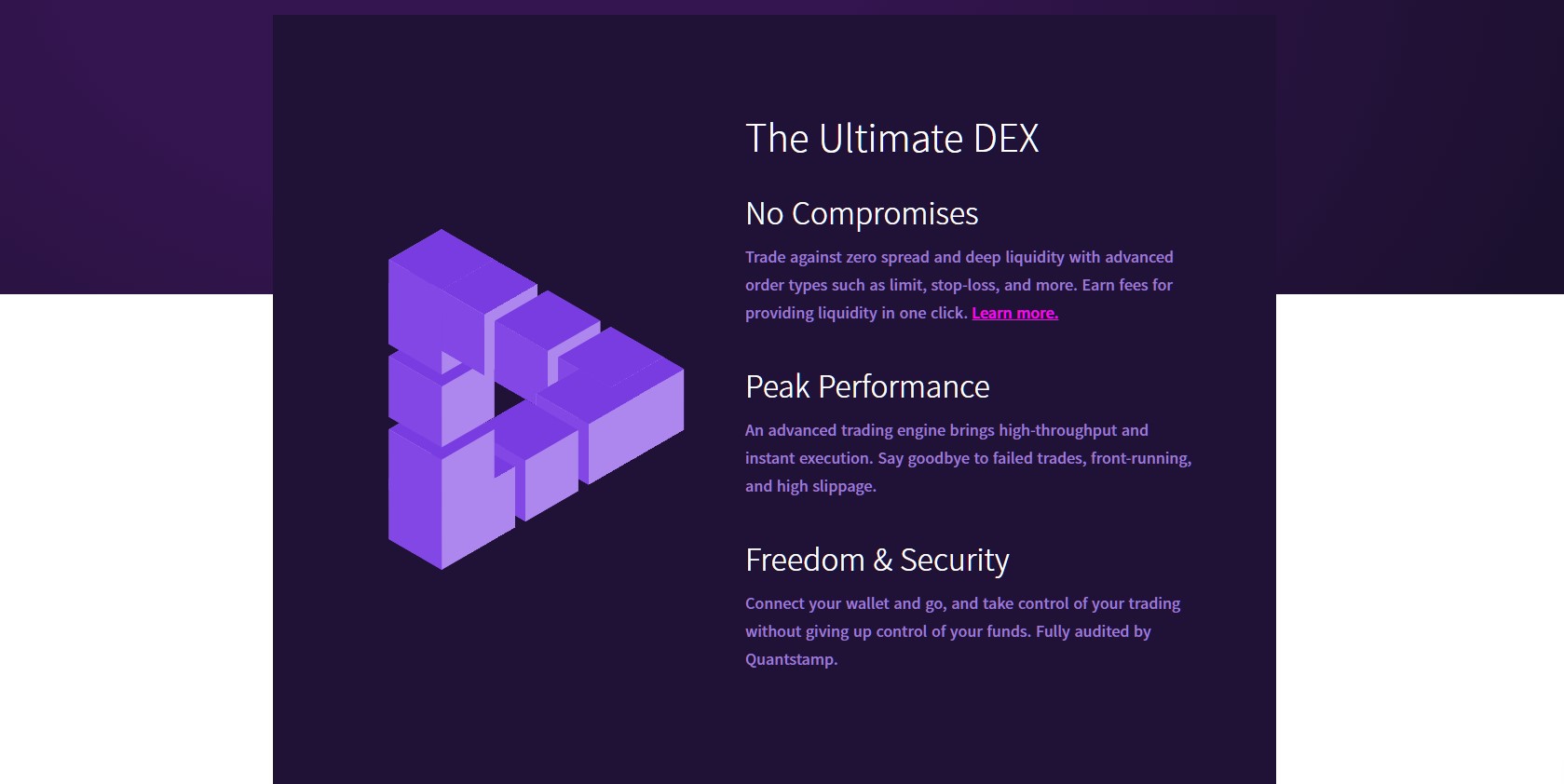 IDEX is the first decentralized exchange of its type, allowing consumers full control over their assets while ensuring the network's balances' safety. Advanced order forms, staking with an automatic incentive scheme, and a user-friendly interface is also what distinguishes IDEX as a one-of-a-kind project in the DeFi and the larger fintech industry.
Supported Cryptocurrencies
Because IDEX is an Ethereum-based crypto exchange, it only accepts ETH and ERC20 tokens trading pairs so you can't trade Bitcoin and other leading cryptocurrencies. Some of the supported cryptos include Ethereum (ETH), Quant (QNT), Lition (LIT), Celsius (CEL), Unibright (UBT), etc. The entire list of tokens available can be found on CoinMarketCap.
As the Ethereum network expands, the IDEX platform will strive to provide users with access to a diverse spectrum of tokens. The platform also accepts the AURA token, the exchange's native token, which motivates customers to stake the currency to help fund the network.
The AURA token allows investors to receive a portion of the platform's fees, as well as other upcoming Aurora products. These awards are given to node administrators in accordance with the percentage of tokens they hold as a "token" of gratitude for their commitment to the security of the Aurora decentralized network.
IDEX Fees and Transfer Limits
There aren't deposit or withdrawal fees on IDEX, however, there are trading fees for market takers which are 0.25%. This is somewhat more than the industry average taker fee. The trading fees for makers are 0.10%.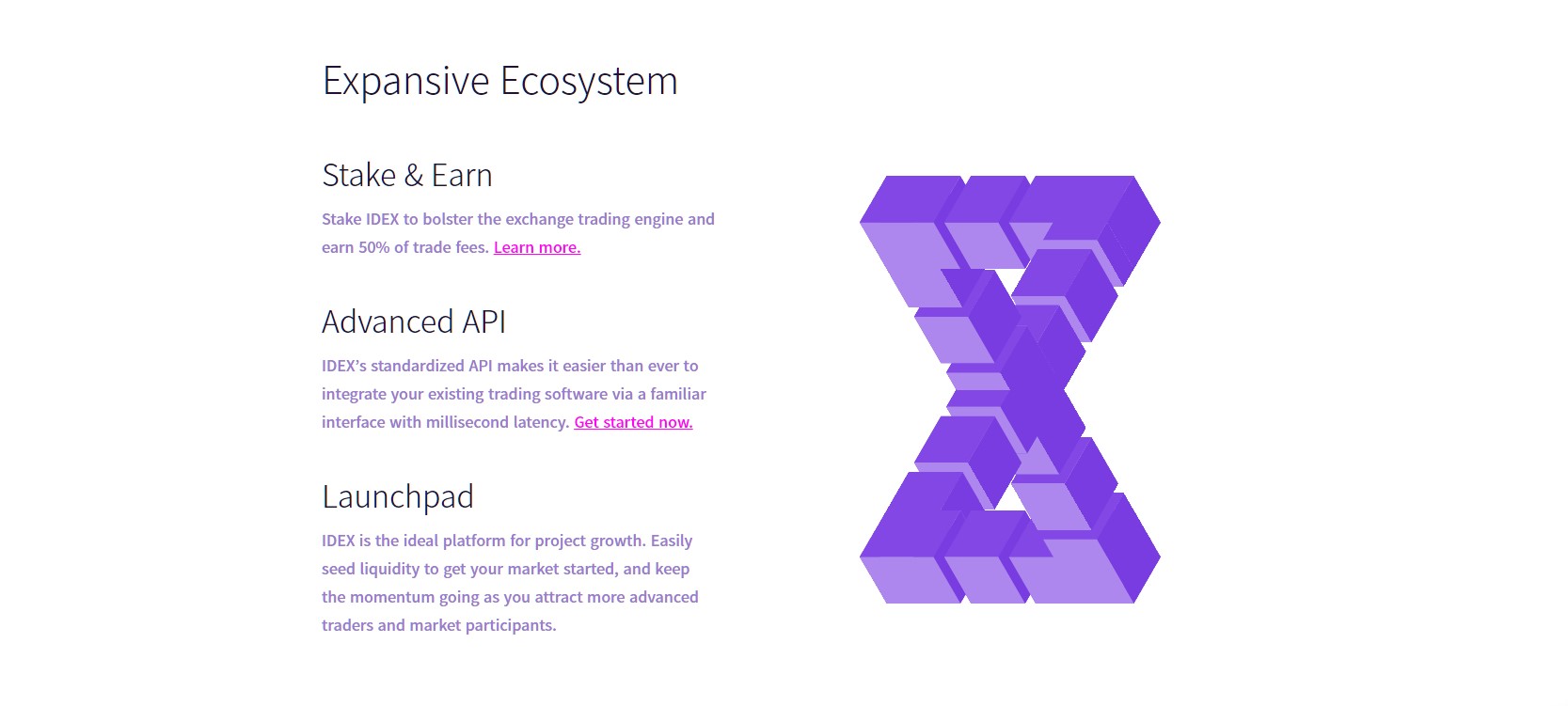 The minimum order limit on the platform is 0.15 ETH for market makers and 0.05 ETH for takers. To cover gas fees, all tokens have a minimum withdrawal limit of 0.04 ETH.
IDEX customers may also stake AURA coins to get benefits in the form of a 50% reduction in trading fees. The network rewards participants who stake IDEX and serve as validator nodes. More staking income enhances liquidity and volumes, hence this is the reason why customers are motivated to stake on the platform.
IDEX, being a decentralized platform, has several significant security benefits over centralized platforms. It operates as a component of the Ethereum network, meaning it provides all of the safety features associated with blockchains.
There is no single failure point that hackers may exploit, and IDEX has no control over customer money. Rather, any assets you deposit are locked in smart contracts on the Ethereum blockchain and are only transmitted when you confirm a transaction with your private key.
Once you open your wallet, your private key is securely stored in the browser memory, where it can only be accessible within the IDEX app. Private keys are never transferred outside of the device, and after you sign out, the private key is deleted from memory. 

IDEX is in the process of developing IDEX v3, a new upgrade that integrates Hybrid Liquidity (IDEX HL) that integrates an order book and trading mechanism with an automated market maker's liquidity pools. By conducting rapid transactions based on the optimum mix of limit orders and overall liquidity, this new approach protects customers against AMM's most evident flaws, such as unsuccessful trades and front-running trades. IDEX HL increases liquidity providers' returns while also allowing for more complex transactions like stop loss and limit orders.
The IDEX staff is present on social media, and they may be reached via their Twitter account and Telegram group. Also, IDEX trading exchange has provided a FAQ section with guides where it solves the most common problems that their customer base encounters.
Frequently Asked Questions
How can you integrate a crypto wallet with IDEX?
We suggest purchasing Ledger Nano S (or another hardware wallet of your choice) if you are a regular cryptocurrency trader. Since your private key is kept offline, this is the most secure method to save your assets. You may view their items at https://www.ledger.com/collections/all-products. 
Also, Metamask wallet has excellent free wallets for those just getting started. They are simple to use and safe when used properly.
What payment methods are accepted?
Since IDEX only allows crypto-to-crypto trade, the only way of funding your account is via crypto transfer. Deposits in fiat currency aren't supported.
What are the minimum trade orders?
For makers, the minimum order is 1 ETH, while for takers, it's 0.5 ETH. The architecture of IDEX incorporates trade matching, which guarantees that traders are matched with the absolute cheapest orders on the books. This amount, though, does not include the cost of gas. If there were no manufacturer minimums, customers might have placed small limit orders on the books, forcing takers to waste gas needlessly.
Users who have signed with IDEX Exchange do not need to provide KYC for transactions under $5,000 and can trade with their wallet address information. All transactions exceeding $5,000 need the customer to provide a selfie.
A Few Words Before You Go...
In a short period, IDEX has established itself as one of the top decentralized exchanges. The platform manages user transactions with smart contracts, offers a smooth trading market experience, with a variety of trading options, and integrates features like TradingView charts and encrypted wallets.
In today's globalized technology world, IDEX is one of the most secure ways to trade without having to deposit or withdraw money. It is extremely safe and cost-efficient for customers who want to earn more money by trading and staking cryptocurrency.
Overall, the platform employs a distinct transaction mechanism that provides its customers with a seamless user experience as contrasted to other decentralized exchanges. It has rapidly positioned itself in the area of decentralized exchanges, attracting a large number of former EtherDelta customers.
This page was last updated on August 23, 2022