It doesn't matter if you're a newbie or a seasoned member of the cryptocurrency world – traders of all levels of experience need to have a safe place to house their favourite coins. Moreover, their digital assets' private keys need to be safe at all times, too. 

KeepKey is a hardware wallet that focuses on the safety of the private keys as the most crucial aspect regarding crypto asset security. To achieve this, the developers of KeepKey have simplified providing this type of cryptocurrency protection.
In this wallet review, we'll try to give you a better grasp of what KeepKey is all about and if it offers all of the features you need for safe electronic money storage. Let's have a look at how this hardware wallet works.
About the KeepKey Hardware Wallet
KeepKey is a USB hardware cryptocurrency wallet integrated with one of the leading instant digital asset exchanges – ShapeShift, so the easiest way to obtain it is through this crypto exchange. This digital wallet is unique because it allows you to generate and handle your private keys offline in cold storage for the added security of your funds.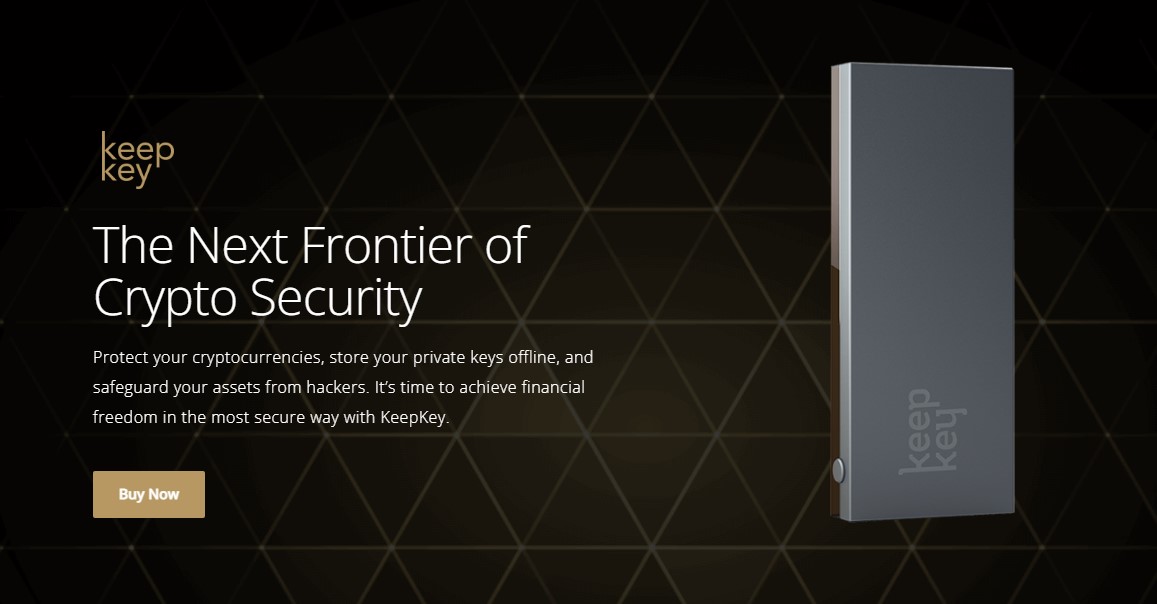 Furthermore, this innovative technological solution protects private keys from computer threats and malware while still using wallet software to conduct secure transactions on the blockchain. In this regard, the KeepKey developers have put in a significant effort to implement a myriad of security protocols and technologies to offer a top-notch hardware wallet that keeps your funds safe. 
Some of the main features of the KeepKey open-source hardware wallet include: 
Multi-coin support;
Built-in exchange;
BECH32 address format; 
SegWit protocol;
Legacy addresses;
Hierarchical Deterministic (HD) display;
Safe backup and recovery;
Multisignature protection;
Randomised PIN protection;
Additional passphrase protection;
Customisable transaction speeds.
We'd like to focus a bit more on the security features of the KeepKey wallet, so here's a more detailed look at some of them.
The Backup and Recovery Feature
Using this hardware wallet, you can back up and retrieve your data in a few simple steps. Specifically, each device creates a 12-word recovery phrase used to recover your private keys during the setup process. In the event that you lose or damage your KeepKey, the peace of mind that comes from knowing that your assets are protected is worth more than the value of your account balance.
All major Bitcoin wallets are equipped with the functionality to send or receive funds facilitated by a Bitcoin address. These legacy addresses begin with the numbers 1 or 3. If your wallet or exchange does not support legacy addresses, you will be unable to accept bitcoins from the earlier wallet versions or some older crypto exchanges.

Multisignature (Multisig) Protection
If you lose the wallet or someone steals it from you, you'll lose all of the stored digital assets. However, if you use multi-signature addresses or wallets, you are more likely to avoid these situations.
There is a term for a Bitcoin transaction that needs more than one private key to be approved. This is called a multisignature (or multisig) transaction. Bitcoin transactions are termed 'single-signature transactions' since they only need one digital certificate, i.e. the signature of the private key holder that goes with the particular Bitcoin address. 
The Bitcoin network, on the other hand, allows for far more complex operations that need more than one signer for the funds to be safely moved from the blockchain.
Bitcoin multi-signature addresses generally comprise at least three private keys associated with them, but they can have as many as 15. As a result of using this security mechanism, at least three people will be required to sign off on the transaction, strengthening the security filter by trifold.
All KeepKey devices are safeguarded by a PIN that prevents access to that particular device. The PIN is a sequence of not more than nine digits that you choose once you've started running your KeepKey hardware wallet. If by any chance your KeepKey gets lost or stolen, the PIN will prevent it from being used without your permission.
When you're about to unlock your KeepKey with the PIN code, a randomly generated and jumbled keypad will show on the KeepKey display. Each time you turn on your device, the number arrangement is randomised to provide increased password protection. 
The Segregated Witness protocol, or simply SegWit, moves the cryptographic hash of the leading network by extracting signatures from transactions and shifting them to the additional individually processed data. This process leaves room for the other trades to fill the empty area in the main block, which is the main benefit of using a SegWit address. In turn, users enjoy lower transaction fees for the transactions they make.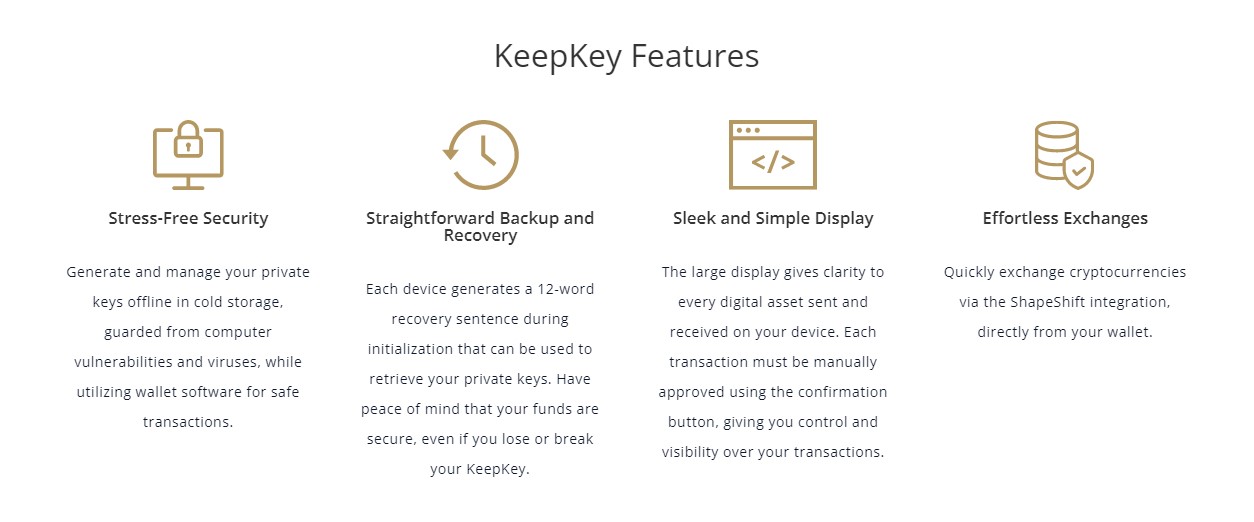 With SegWit, more transactions can be packed into a block, thus increasing the computational efficiency. As a result, the hefty transaction fees are no longer a concern since the cryptocurrency traders no longer have to compensate network miners for confirming their transactions on the blockchain.
The BECH32 Address Format
SegWit enables the KeepKey users to employ a unique address format known as Bech32. This address type is also known as the 'bc1 address'. Some Bitcoin wallets and exchanges do not currently enable the transfer of cryptocurrencies to Bech32 addresses due to technical limitations.
The web interface of the KeepKey, with its sleek design and minimalist colour palette, is a perfect complement to the elegant appearance of the physical gadget. Furthermore, the vast display of this hardware wallet ensures that each digital asset exchanged and received via your smartphone is visible. 
Also, each payment must be manually accepted by tapping the confirmation icon, which allows you to maintain complete transparency and control over your financial operations.
The KeepKey hardware wallet operates with highly flexible software compatible with almost all operating systems, be it Windows, Linux, or Mac operative systems. Additionally, KeepKey may also be used on Android-supported smartphones using an OTG cord and MyCelium as a support for the KeepKey mobile app. Its interaction with Shapeshift is one of the most important things that separates KeepKey from other hardware wallets. 

Namely, the KeepKey clients can swap their cryptocurrencies straight from their wallets that operate on the Ethereum blockchain. The procedure is relatively straightforward and quick, but it is only possible for the digital assets listed by both ShapeShift and KeepKey.
Moreover, the wallet security is enhanced with KeepKey, which allows you to choose from different levels of protection. By using this wallet, you have complete control over your coins as you are the only one who holds the private keys. In other words, no third party will be able to lock or move your funds from this wallet. 
Since it keeps your private keys in an offline environment, KeepKey is one of the most secure cold storage options for your digital assets. As a result, you are protected from hackers. With a USB hardware wallet, such as KeepKey, your coins will remain safe even if your computer becomes infected with malicious software.
Furthermore, whenever you invest your confidence in KeepKey with your funds, each transaction you make must be inspected and confirmed through the device's OLED display and the confirmation key before it's completed.
Supported Cryptocurrencies
KeepKey supports only a small number of cryptocurrencies, compared to its competitors,
Ledger Nano X
and
TREZOR
. Namely, these wallets list over 1000
altcoins and tokens
, respectively. Some of the listed cryptocurrencies include Bitcoin (BTC), Ethereum (ETH), Bitcoin Gold (BTG), Bitcoin Cash (BCH), Dogecoin (DOGE), Litecoin (LTC), and Dash (DASH).

Furthermore, KeepKey has incorporated ERC20 compatibility and provides its customers with the possibility to keep more than 30 ERC20 tokens in their accounts. Some of the ERC20-based tokens supported by KeepKeys list are Binance Coin (BNB), Tether (USDT), Golem (GNT), OmiseGO (OMG), Qtum (QTUM), 0x (ZRX), Gnosis (GNO), Civic (CVC), Basic Attention Token (BAT), etc.
While there are no costs associated with using the Keepkey hardware wallet, all transactions you conduct will be subject to transaction fees imposed by the blockchain network of the cryptocurrency you're using.
KeepKey Affiliate Program
KeepKey's affiliate program allows you to earn a commission on every KeepKey sale you bring in. As KeepKey creators believe that everybody should be in total control over their assets, they have established an affiliate program that compensates you for promoting the leading digital asset security practices.
The wallet's affiliate link may earn you a 25% commission by simply sharing it on some of your social network channels. It can also enable you access to real-time reports that could help you plan and improve your KeepKey influencer profile. You'll also get a team of KeepKey professionals at your beck and call if need be. 
Several informative areas, such as the Frequently Asked Questions, Resources, and Troubleshooting pages, are available in the KeepKey Help Center, where you can find the answer to your query on your own.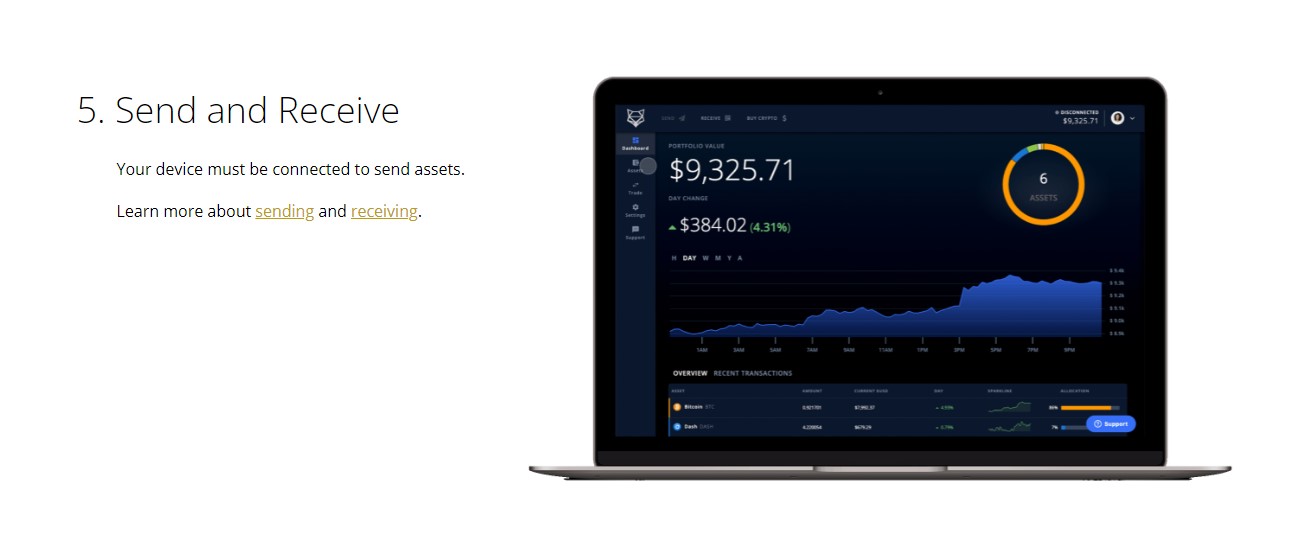 If none of the articles and answers on this page is of assistance, you can contact the KeepKey customer support staff by emailing them with your question, and they will respond as soon as possible. But, considering how user-friendly this cryptocurrency hardware wallet is, we doubt that you'll need the support of the KeepKey team of professionals. 
Frequently Asked Questions
How to set up your KeepKey wallet?
KeepKey, like its competitors Ledger Nano S, Ledger Nano X, the Trezor Model T, and the TREZOR One, is simple to set up. It's also a highly secure hardware wallet for your digital assets. 
Setting up the KeepKey takes only a few minutes. To begin with, go to the user manual's URL and download and enable the KeepKey wallet Google Chrome extension. This extension allows you to connect your KeepKey wallet with your PC via USB cable and activate its core functionalities.
Next, initialise your wallet. You'll also need to generate your recovery seed phrase and private keys throughout this process. Make sure that you write down the recovery sentence on a piece of paper and store it in a safe place where only you can reach it. 
After that, simply follow the instructions that will guide you through the process of creating additional accounts, checking your transactions, or receiving and sending coins via the wallet's sleek OLED display, and you're all set to use it.
Does KeepKey provide updates to its gadget?
Yes. KeepKey will often prompt you for firmware updates. In addition to enabling new functionalities, these updates also aim at fixing security flaws.
What comes into the KeepKey package?
The team behind the KeepKey project has undoubtedly done a fantastic job when it comes to the aesthetics of their product. The outstanding work of the platform's developers is also evident in the packaging of the KeepKey cryptocurrency hardware wallet. This gadget comes in a box along with a USB cable, warranty information, an instruction booklet on how to use KeepKey. 
As added security to your KeepKey wallet, there's also a blank card in the package as a subtle reminder that you need to write down your recovery phrase and safely store it afterwards. 
A Few Words Before You Go...
Let's start with what we saw as a disadvantage first. If KeepKey wants to keep a competitive advantage over its competitors, it would be nice to support more cryptocurrency projects that can be safely stored in this USB hardware wallet. 
On the other hand, the modest number of supported coins is not a significant drawback in the KeepKey crypto wallet because it has many beneficial features. It also boasts software packed with extraordinary security measures and protocols that function offline where your assets are safe from any malicious software or remote hacking attempts. 
Finally, digital wallets are all about security in the first place, and the KeepKey developers have certainly done an excellent job in this regard. And when we pair the robust cold storage security with the superb design of the gadget, any self-conscious crypto aficionado would undoubtedly opt for the KeepKey – provided it supports their favourite coin.
This page was last updated on August 23, 2022