As one of the biggest exchanges for crypto trading in the world, Kraken is a favourite platform for traders interested in buying, selling, and exchanging a wide array of crypto assets. What we have here is a regulated cryptocurrency exchange that's been around for longer than most of its competitors and remains highly popular to this day.  
By now, the Kraken exchange has managed to expand to numerous markets and reach a wide audience across the globe. Kraken fees are often praised for being very competitive, as well, and the exchange boasts high liquidity rates, too.

On Kraken, cryptocurrencies can be traded for fiat currencies or other cryptocurrencies, including some of the most famous coins on the crypto market. Aside from market-rate cryptocurrency trading, the Kraken exchange also makes it possible for its users to engage in crypto margin trading as well as futures trading — products that come with certain risks but are favoured by some crypto traders, especially more experienced ones. 
In this article, we'll provide you with a general overview of the Kraken crypto exchange, discuss what currencies it deals in and the fees it charges, show you how trading is done on the platform, and inform you about its security measures as well as how satisfied users are. If you consider trading crypto on Kraken, read on to find out more about this exchange.
Now, just in case you're already familiar with Kraken, then you might want to take a look at other best crypto exchanges in Australia to compare it with.
About the Crypto Exchange
Kraken is one of the oldest crypto exchanges out there. Launched by Jesse Powell back in 2011 — only three years after the launch of the world's first  cryptocurrency, Bitcoin — Kraken is older than some of its main competitors such as Coinbase and Binance, even though it did take two years of testing and development to finally launch the platform.
Kraken was founded in San Francisco, and today, it has offices all across the globe and users in over 185 different countries. Individuals and organizations alike can use Kraken for investing in cryptocurrencies at some of the most competitive trading prices on the market, in addition to low fees for trades.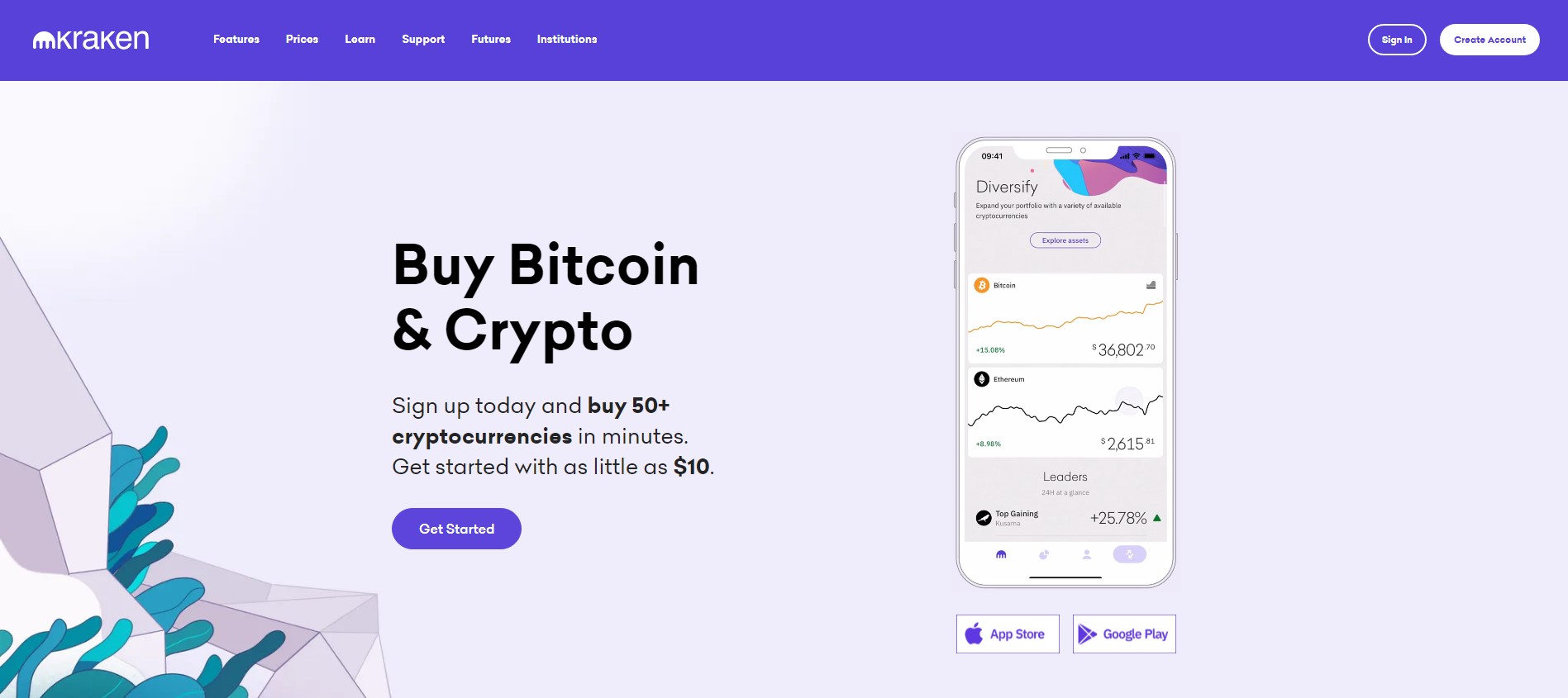 If you're a beginner interested in Kraken, you can start using its main platform for crypto trading, as opposed to the advanced interface, Kraken Pro. In case you already have some experience with Kraken and feel like it's time to dip your toes into more advanced aspects of the monetization possibilities this exchange has to offer, click on its Earn tab, a feature that allows you to deposit crypto from your account balance, lock it, and earn interest on it. 
Those that have serious experience in crypto trading, on the other hand, often go for the higher-activity Kraken Pro platform, which costs less to use and requires an active Kraken account. If you're an experienced trader, you might be interested in the derivative futures contracts, as well as the margin trading possibilities this platform offers, with leverage of up to 5 times the initial capital you have on your account.
Kraken has an intuitive dashboard accessible through internet browsers or by downloading the Kraken mobile app, though it's worth mentioning that it's much easier to operate on computers with bigger screens because of the added visibility of its elements. On the dashboard, you can perform important activities related to account management such as adding two-factor authentication, managing API keys, locking your account to prevent potential breaches, and much more.
Kraken offers its users support for dozens of different cryptocurrencies. It also accepts 7 fiat currencies for trading, including the U.S. dollar (USD), Australian dollar (AUD), Canadian dollar (CAD), British pound sterling (GBP), Swiss franc (CHF), Japanese yen (JPY), and the Euro (EUR).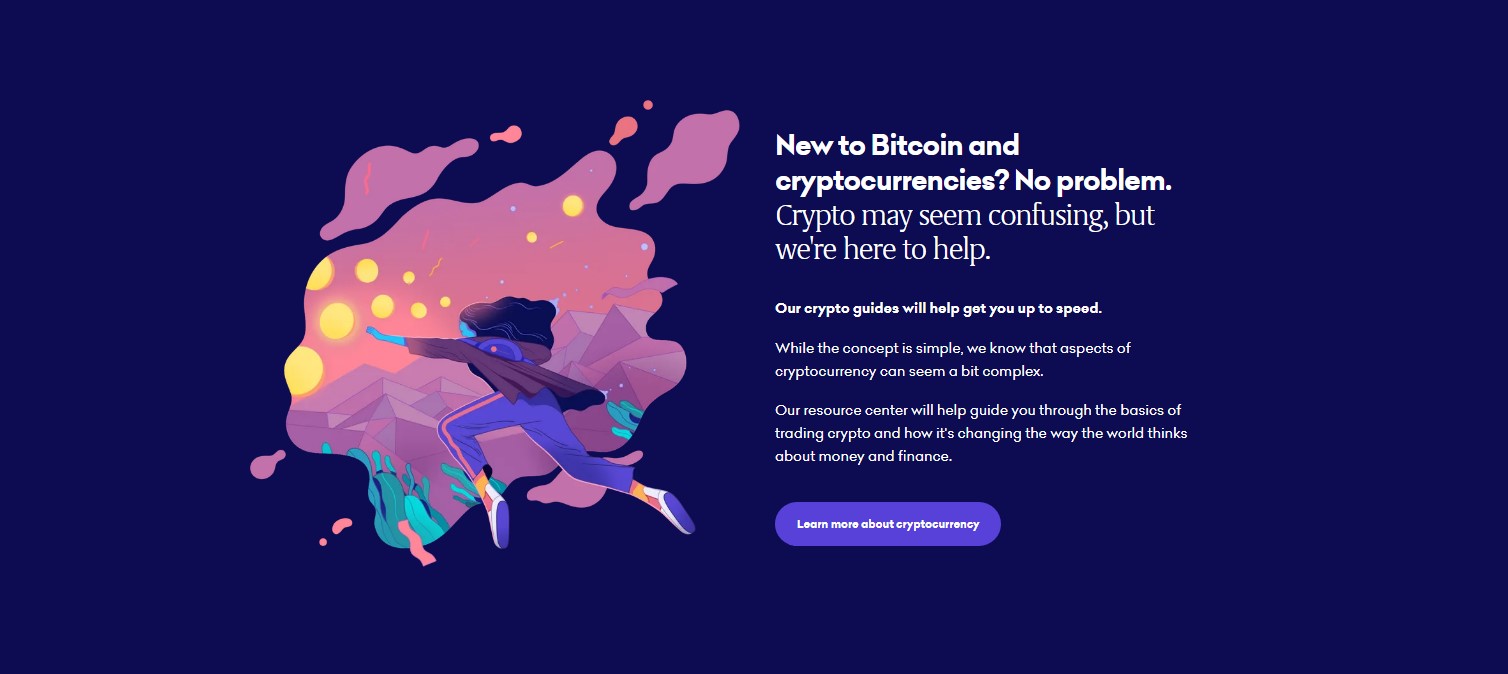 When it comes to the many cryptocurrencies available for trade on Kraken's platform, some of the more famous ones include Bitcoin (BTC), Ethereum (ETH), Litecoin (LTC), Cardano (ADA), Ripple (XRP), Monero (XMR), Polkadot (DOT), Stellar Lumens (XLM), EOS (EOS), Polygon (MATIC), Qtum (QTUM), and many more. Apart from these, Kraken also supports a number of different stablecoins — that is, cryptocurrencies that are pegged to traditional assets (usually fiat currencies) and have a more stable value. These include Tether (USDT), USD Coin (USDC), Dai (DAI), and more. 
The Kraken platform even allows users to convert one fiat currency into another. This is done by converting any fiat currency it supports into crypto, and then converting the crypto into another fiat — provided that both of these fiat currencies are exchangeable with the crypto in question.
The Kraken Trading Platforms
Apart from its regular Kraken platform, this exchange also gives registered users the possibility to use its more advanced trading platform called Kraken Pro — more suitable for experienced users that already know the drill and want to start using the full potential of Kraken. Below, we'll provide you with an analysis of both of its trading platforms so that you can compare them and see which one suits you best.
The Regular Kraken Platform
For beginners in crypto trading, the most suitable place to start trading is Kraken's regular platform. Once you verify your account on the central platform and then link it to your bank account, you can proceed to purchase crypto with it. This platform also offers you a simple way of selling or converting any currency you own in your account.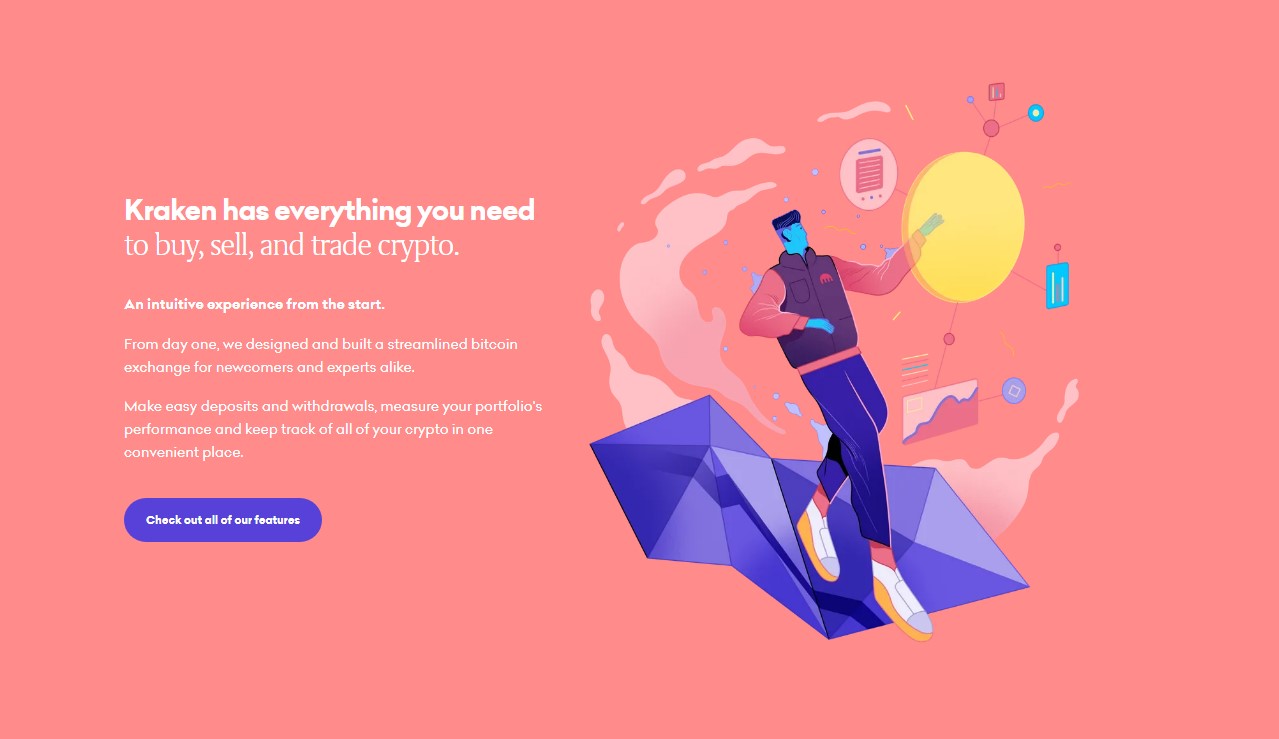 The platform's intuitive and user-friendly interface lets you jump straight into the trading action without too much ado. Thanks to its simplicity, you can purchase cryptocurrencies right off the bat using the existing funds in your bank account. It's not necessary to transfer money to your Kraken account to start trading in crypto, though you can do so by bank transfer and wire transfer if you wish.
Besides exchanging and trading in crypto, you can also deposit cryptocurrencies you already own for staking. In this way, you can earn a maximum of 20% in interest, depending on the crypto you deposit.
The more advanced trading option of the two platforms, Kraken Pro is for more active and experienced users. This platform is relatively easy to access via Kraken's webpage on any browser or through its mobile app, but its interface can be a bit more difficult for beginners in cryptocurrency trading. 
The Kraken Pro platform displays more advanced data than its regular counterpart, such as active charts with crypto info as well as open order viewing. Because of this, even though its interface is a bit more complicated than that of the regular Kraken platform, more experienced users will likely find it in their best interest to learn how to operate with it.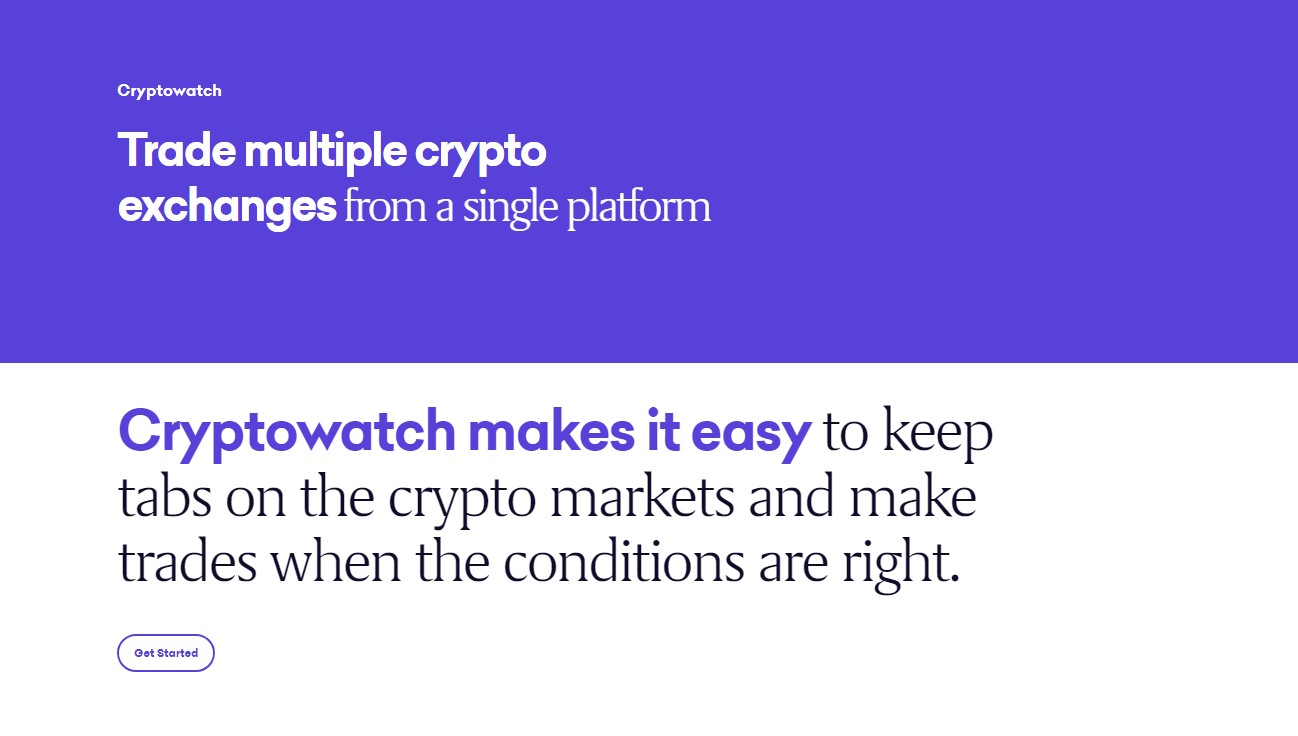 Another significant advantage that Kraken Pro has over Kraken regular is the lower transaction and withdrawal fees it charges. This means that by using Kraken Pro's interface you're paying less for the same trade you'd be making on Kraken's regular platform.
Kraken's fee structure is not only affected by the platform you're using but also by its spread fees, which stem from the difference between the buying and the selling price for particular cryptocurrencies. However, to make it easier for you to understand its fee schedule, we've explained the fees based on the two distinct platforms.
When using Kraken's regular platform, you'll be charged a 1.5% transaction fee for the majority of crypto being traded on Kraken. As an exception to this, you'll pay 0.9% in fees for purchasing stablecoins with fiat currencies or other stablecoins.
You can also incur extra fees depending on the way you make payments on the platform. Namely, these fees go from 0.5% for bank transfers, to 3.75% (or more) if you pay using your credit card, debit card, or digital wallet.
As we mentioned above, Kraken Pro's prices are significantly lower than those of its regular counterpart. With Kraken Pro, you're charged depending on your overall trading volume for the past 30 days.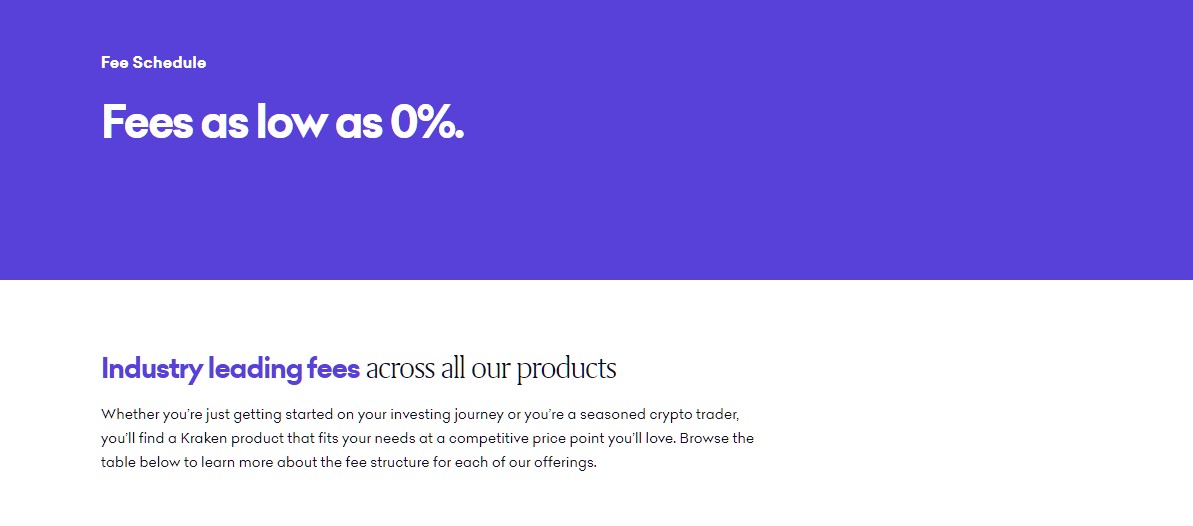 Fees with the Kraken Pro platform also depend on the size of the particular trade. For trades of up to $50,000 in volume for the past 30 days — which are, in practice, the most common trades — there's a 0.16% fee for market makers (those who provide liquidity) and 0.26% for takers (those who take away liquidity). Orders made by makers don't get instant trade matches to other orders, which means they bring in liquidity, whereas taker orders are those that do get matched to other orders so they reduce liquidity, which is why they also get somewhat higher fees than makers.
For 30-day volumes larger than $50,000, the fees decrease even further. More specifically, for volumes between $50,001 and $100,000 you get a 0.14% maker fee and 0.24% taker fee, for $100,001 to $250,000 in trading volume, you get 0.12% maker/ 0.22% taker fees, and so on.
Kraken is a centralized exchange platform, which means that it is generally safer and more trustworthy than other crypto platforms. This is largely because of the many verification checks Kraken puts users through, such as KYC (Know Your Customer) and AML (Anti-Money Laundering) checks. While these checks are sometimes frowned upon because they are often perceived as intrusive to the customer's privacy, they do ensure a high level of safety for the platform. 
With this in mind, should you decide to create a Kraken account, you'd still do well to take extra security measures to prepare for potential threats that may have bypassed Kraken's checks, especially frauds and scammers that may try to trick you into giving away your funds. While the extensive security measures of Kraken reduce such threats to a minimum, it always pays to be more cautious than not.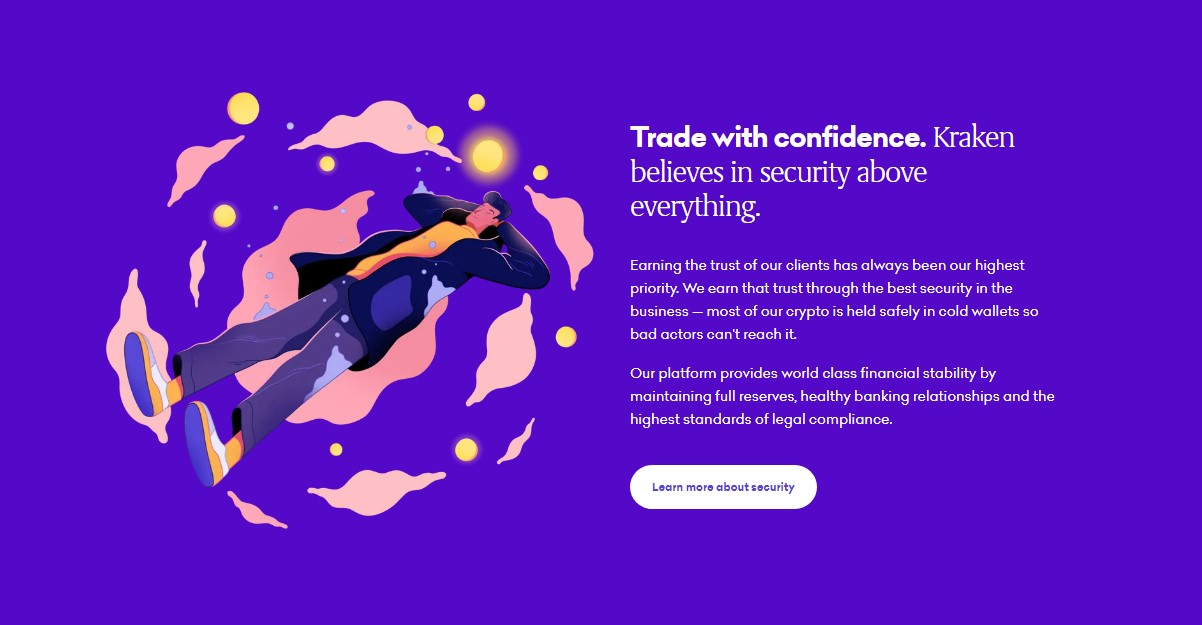 The first step you should take to ensure your account's safety once you create it is to enable two-factor authentication, which will block login attempts to your account from potentially malicious third parties and only allow access through a code it generates and sends to a trusted device you own (such as a smartphone). You can also set up multiple codes for different activities such as signing in to your account, making withdrawals and trading crypto. You can also lock your account in order to make it block future changes, as an extra safety measure against hackers and account breaches.
Because of Kraken's increased security measures, the vast majority of its users never complain about any safety issues, which means that trading on this platform is generally on the safer side. Still, it's worth mentioning that there do exist users who claim they've had bad experiences with Kraken security-wise, with some of the more serious cases reporting losing all their assets with no way of recovering them.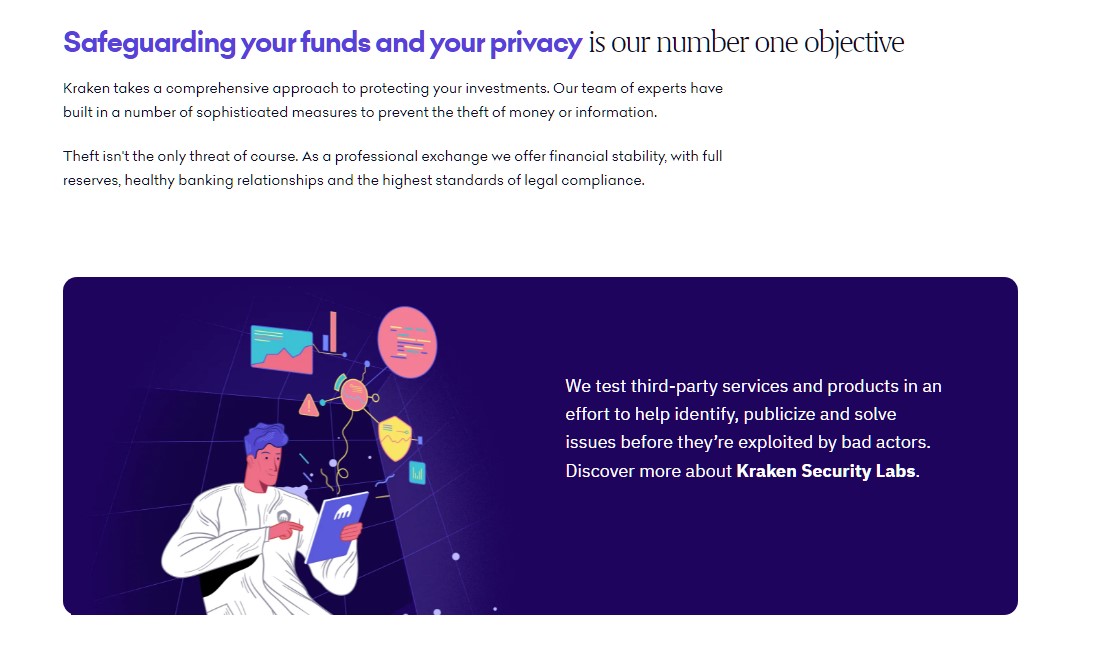 This is because the crypto blockchain technology, which is generally very secure, makes it impossible for crypto traders to undo completed trades. Due to this fact, scammers often attempt to trick users with crypto accounts and steal their assets beyond the possibility of reversal. You should therefore pay close attention to any kind of suspicious activity or trade proposal on exchanges such as Kraken, no matter how safe they claim to be.
You can reach Kraken support by e-mailing the support team or contacting them through live chat. They're usually pretty swift with their replies, and you should get a response in a matter of minutes for most complaints.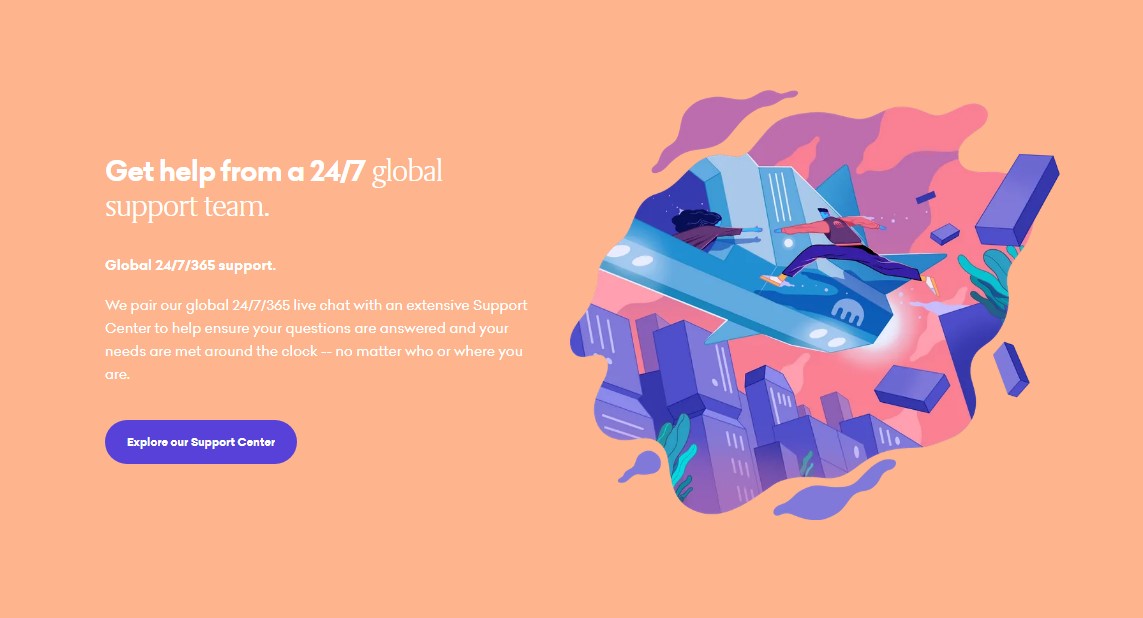 With that in mind, Kraken's customer support service does get a bad rep from some users whose complaints are mostly centred around unresolved issues and functionality shortcomings rather than response times. Some of the most common complaints are related to issues with funds caused by hacks, and notably Kraken's failure to release funds it withholds in such situations.
Frequently Asked Questions
Is Kraken a platform designed for Bitcoin trading only?
Kraken allows you to buy and sell Bitcoin, as well as dozens of other cryptocurrencies, too. Some of the more well-known currencies you can trade on Kraken's platform include Ethereum, Litecoin, Monero, Ripple, and many more. Besides these, Kraken also supports a number of stablecoins — notably Tether, USD Coin, and Dai.
You can also trade cryptocurrencies against each other, but you're very limited in this aspect. Only Bitcoin is paired for trading against virtually all other cryptocurrencies on Kraken. Ethereum comes second on the list and is currently exchangeable for most other coins. If one of these two isn't involved, currency pairs are a bit tougher to make. 
What trading fees/withdrawal fees does Kraken charge?
Kraken charges different fees depending on which one of its two platforms you use — the regular Kraken platform, more suitable for beginners, or Kraken Pro which is for more experienced traders looking to maximize their gains from crypto trading. 
The regular Kraken platform charges 1.5% in transaction fees for the majority of trades, with the main exception being purchasing stablecoins, where the fee amounts to 0.9%. Kraken Pro, on the other hand, charges you much less in fees and is based on the trading volume for the past 30 days.
For trades of up to $50,000 during the 30-day period, Kraken Pro charges a 0.16% maker fee and a 0.26% taker fee. These fee percentages decrease further the larger the trading volume registered.
Does Kraken allow margin trading?
For more experienced crypto traders, Kraken offers some riskier products such as crypto margin trading and futures trading. For crypto margin trading, in particular, Kraken gives traders margin leverage equal to 5 times the initial capital on their account which they can use for purchasing crypto assets.
How does Kraken compare to Coinbase?
Coinbase is one of the major competitors of Kraken, and the two crypto exchanges are often compared to each other by users. Both of these exchanges have much in common. Most notably, they both provide some of the safest platforms for crypto trading because they're both centralized exchanges and minimize the risks of fraud and thefts of assets. 
Apart from their similarities, Kraken and Coinbase are also somewhat different in terms of what they offer to their users. For one thing, Coinbase's user interface is mostly considered to be more user-friendly than that of Kraken, and definitely so when it comes to the more advanced Kraken Pro interface. On the other hand, Coinbase has far fewer options in terms of tradeable currencies than Kraken.
What's more, unlike Kraken, Coinbase doesn't offer products such as margin trading or futures contracts, making it somewhat less attractive for experienced crypto traders willing to take risks to potentially earn higher profit margins.
A Few Words Before You Go...
If you're considering using the Kraken crypto exchange for trading cryptocurrencies, the chances are you won't be disappointed. This exchange makes it easy for users to do crypto trading with a wide variety of different cryptocurrencies as well as fiat currencies. It offers low fees and highly competitive pricing and allows for spot trading as well as futures contracts.
Kraken is one of the oldest crypto trading exchanges out there, and it's managed to reach worldwide audiences which praise it for its quality and liquidity. This exchange is a great choice for both beginners and experienced crypto investors. If you're a beginner looking to start trading in crypto, or simply have no previous experience with Kraken, you should start off by using Kraken's regular platform.
If you're an expert in crypto trading, on the other hand, you might be more interested in the Kraken Pro platform for advanced trading which also offers lower fees, as well as some riskier products that Kraken can offer you, such as futures contracts and crypto margin trading.
Related:
Kraken Compared
Exchange
Deposit Methods
Fiat Currencies
Cryptocurrencies
Trading Fees
Sign Up

Swyftx



Bank Transfer, Crypto, Credit and Debit Card, Osko, PayID
New Zealand Dollars and Australian Dollars
Over 320
0.6%
Australian Dollars Deposits: 0% Crypto: 0%
Australian Dollars Withdrawals: 0% Crypto: 0%
Visit Swyftx

Binance



Crypto, Credit and Debit Cards, Osko, PayID
10 Fiat Including USD and AUD
Over 600
0% to 0.1%
0%
Vary
Visit Binance

CoinSpot



Bank Transfer, Fiat, Crypto, POLi, and PayID
Australian Dollars
Over 370
Instant Buy/Sell: 1% OTC: 0.1% Market Order: 0.1%*
Direct Deposit: $0 Cash: 2.5% PayID, POLi, and direct deposits: $0 BPAY: 0.9% Direct Bank Transfer: $0
Australian Dollars Withdrawals: $0
Visit CoinSpot

Bybit



Crypto, electronic funds transfer (EFT), wire transfer, bank transfer, credit card, and debit card
50+
160+
0.1% spot trading 0.01% – 0.06% market makers/market takers fee
$0
Does not support direct fiat withdrawals Crypto withdrawal fees: Network fees
Visit Bybit

Digital Surge



Bank Transfer, Crypto, POLi, Osko, PayID
Australian Dollars
Over 300
0.1% to 0.5%
Deposit Fees Bank Transfer: $0 POLi: $2 (capped at $3.30)
$0 for AU Bank Accounts Cryptocurrency: Depends On the Network
Visit Digital Surge

CoinJar



Fiat, Bank Transfer, Crypto, Credit or Debit Card, Apple Pay, Google Play
Pound Sterling and Australian Dollars
Over 50
Maker: 0.04 to 0.1% Taker: 0.04 to 0.1%
Fiat: 1.5% CoinJar Users: $0 NPP: $0
$0
Visit CoinJar

Independent Reserve



Crypto, Osko, PayID, Electronic Fund Transfer, SWIFT
Australian Dollars, US Dollars, New Zealand Dollars
Over 25
0.05% to 0.5%
For SWIFT Deposit: $15 for deposits under Australian $5,000 equivalent $0 for deposits over Australian $5,000 equivalent For Electronic Fund Transfer: Australian $0.99 for deposits under $100 $0 for deposits more than Australian $100
Crypto: Fees vary Bank Transfer: $0 for AUD $20 for non-AUD
Visit Independent Reserve

eToro



Bank Transfer, Debit Cards, Neteller, PayPal, Online Banking, and Skrill
15 Fiat Currencies Including USD and AUD
Over 70
Vary
Vary
$5 but minimum withdrawal of USD50
Visit eToro

Coinbase



Debit Card
More than 20 Fiat Currencies Including USD and EUR
Over 200
Vary
Credit Card and Debit Card: 3.99%
2.49%
Visit Coinbase

Bittrex



Bank transfer (ACH)
Euro and US Dollars
Over 320
0.25%
$0
Vary
Visit Bittrex

Bitfinex



Bank Wire Transfer, Crypto, Credit Card
US Dollars, Japanese Yen, Euro, Pound Sterling
Over 200
Taker: 0.055% to 0.2% Maker: 0% to 0.1%
Crypto: $0 Wire: 0.1% (min 60 Euro/USD)
Crypto: $0 Wire: 0.1% Express Bank Wire (within 1 day on business days): 1% (min 60 Euro/USD)
Visit Bitfinex

Coinmama



Bank Card, SWIFT, Google Pay, SEPA, and Fedwire
6 Fiat Currencies Including USD and AUD
Over 10
2.93% to 3.9%
0% to 5%
N/A – assets are directly sent to the user's crypto wallet
Visit Coinmama

Kraken



Bank Transfer, Crypto, Wire Transfer, osko, SEPA, Apple Pay and Google Pay
7 Fiat Currencies Including USD and AUD
Over 140
Maker: 0% to 0.16% Taker: 0.10% to 0.26%
Vary
Vary
Visit Kraken

KuCoin



Crypto, PayPal, Wire Transfer, Credit or Debit Card, SEPA
9 Fiat Currencies Including USD and AUD
over 645
0.1%
$0
Vary
Visit KuCoin

Easy Crypto



Bank transfer, P2P, POLi, OSKO
AUD
100+
0.5% – 1.6%
$0
Fiat Withdrawal fees: $0 Crypto withdrawal fees: Network fees
Visit Easy Crypto

Coinstash



Crypto, PayID, Bank Transfer
AUD
410+
0.85%
$0
Crypto withdrawal fees: Network fees Fiat Withdrawal fees: $0
Visit Coinstash
This page was last updated on October 4, 2022