Kraken as well as Binance are among the more popular cryptocurrency exchanges that are available. While Binance has experienced tremendous growth in recent years and was able to become the most popular cryptocurrency exchange in terms of volume within just a short amount duration, Kraken is regarded for being one of the most secure exchanges, as it hasn't been targeted by hackers. However, overall, Binance is definitely the winner. Let's look closer at Kraken and Binance and determine which platform is the best choice for you.
Kraken vs. Binance Comparison Table
| Features | Kraken | Binance |
| --- | --- | --- |
| | | |
| Supported Coins | 200+ | 600+ |
| Trading Fees | 0.00% – 0.26% | 0.1% |
| Deposit Fee | Varies | Free |
| Withdraw Fee | Depends on the withdrawal method and currency | Free |
| Payment Methods | Wire transfer, Bank transfer, SWIFT, Apple Pay, Google Pay, SEPA, Debit/Credit, Bank transfer/OSKO | PayID/OSKO |
| | | |
Kraken Pros and Cons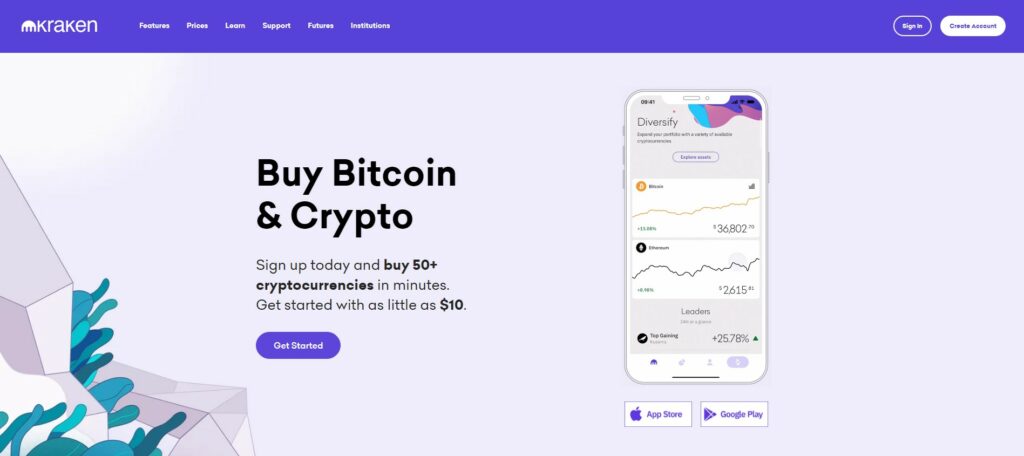 PROS
Founded in 2011 and one of the longest-running crypto exchanges
Wide range of fiat currencies and forex trading
Customisable charting features
Margin and futures trading for verified traders
Advanced order types
CONS
Maximum 5x leverage, lower than what some competitors offer
Binance Pros and Cons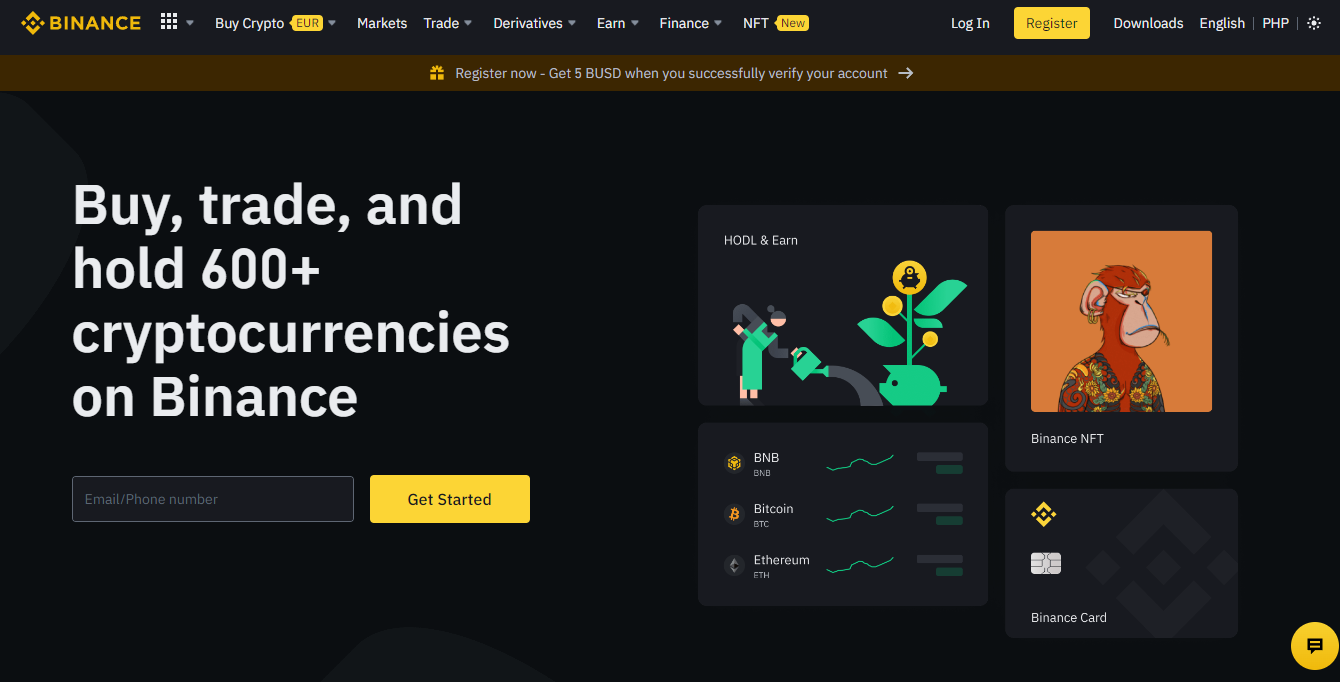 Pros
A huge spot market that includes more than 600 different cryptocurrencies
Affordable fee structure with the possibility to discount
Staking options to over 70 coins
Deposits and withdrawals that are sleek
Separate platforms for different markets
Advanced markets for professional traders
Cons
A complex platform design for novice
Excellent customer support
Features
Both platforms provide the same features of trading. The most popular features that users use cryptocurrency exchanges for include the selling, buying and conversion of various crypto currencies. If your objective is to convert a fiat currency into cryptocurrency or other cryptocurrencies, then any exchange can help. Both exchanges offer many educational resources on their blogs and websites.
There are additional special features available on every platform, however. Kraken offers simple staking solutions for a variety of well-known proof-of-stake currencies such as DOT, ATOM, and the XTZ. Anyone looking to make an income from their cryptocurrency could gain by making use of Kraken by this method.
Kraken customers can also access a special platform, called Cryptowatch which lets you place trades on multiple exchanges simultaneously. Traders can benefit from this feature to avail of the arbitrage possibilities.
Binance provides peer-to-peer (P2P) trading as well as margin lending and futures trading and options. It also has advanced charting and technical analysis options that are available.
Winner: Binance
Supported Cryptocurrencies
On Binance, it offers over 600 currencies.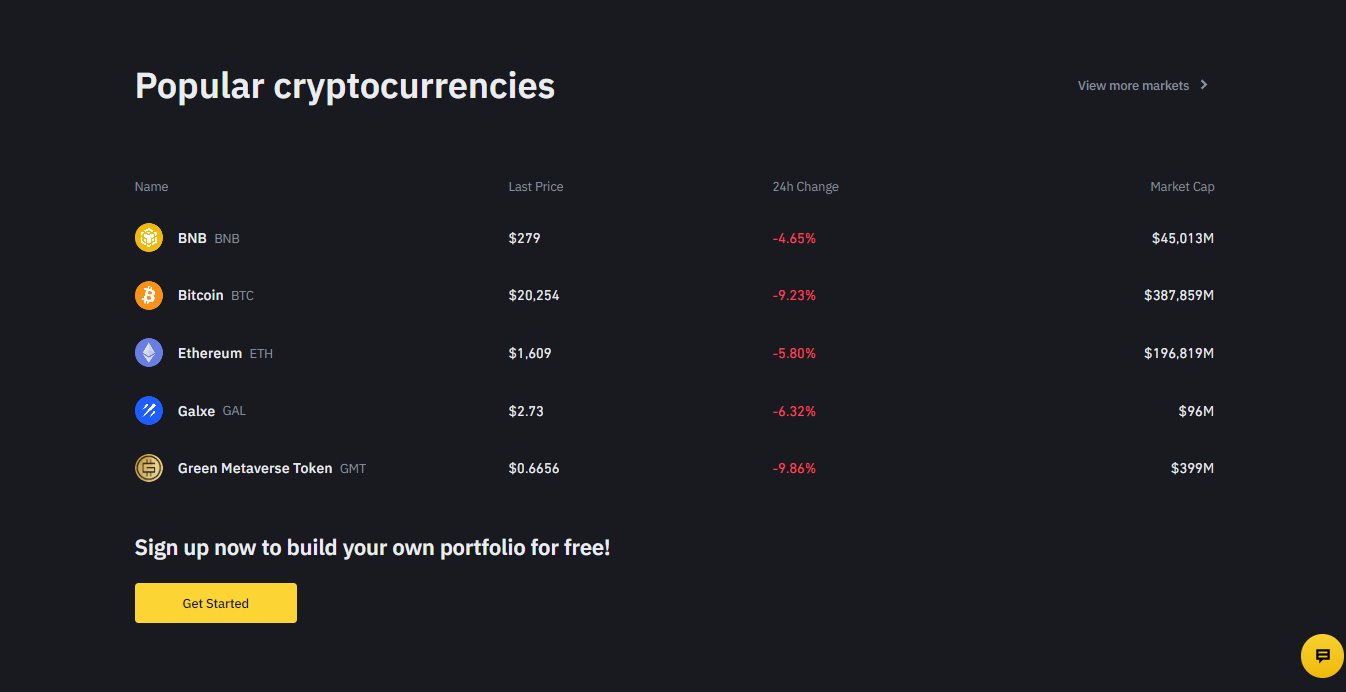 Kraken has 200+ coins.
Winner: Binance
Fees
Kraken costs up to 0.26 percent per transaction. The actual amount will vary based on the activity of a user during the past 30 days. The more money a user invests, the less costs.
Trading fees on Binance range from 0.1 percent or less. For withdrawals, the cost is 3.5 percent with a minimum of minimum of $10. The withdrawals for cryptocurrency vary based on the currency used, which is the case with many exchanges.
Kraken withdrawal charges can range from as high as 60 dollars. Futures and margin trading incur additional charges.
Binance's exchange token Binance Coin (BNB) users can cut down on fees for trading. All they need to do is to keep BNB on their bank accounts and any fractions of the coin are automatically taken to pay fees. If they pay fees using BNB users can enjoy an additional 25% discount.
If you're looking for a company that charges reasonable charges, Binance is the clear winner.
Winner: Binance
Customer Support
With Binance, people often complain about the absence of customer service as well as long wait time for account verification and being barred from their accounts, and the absence of features, like being able to quickly track the price of the coins within an account.
Additionally, Kraken comes with a integrated live chat feature that can be used for customer service.
Winner: Kraken
Deposit Methods
Kraken offers the following deposit options including Bank Transfer, Wire Transfer, Crypto Osko, SEPA, Apple Pay and Google Pay.
For Binance it is a platform that supports Crypto, Credit and Debit Cards, Osko, PayID
Because Kraken offers more payment methods, it is the clear winner.
Winner: Kraken
Security
Both exchanges provide top security. There are many Kraken compares to Binance comparisons can be viewed as identical in security. However, Binance has had a couple of notable security breaches throughout the years.
In the year 2019 hackers have hacked into Binance and stole $40,000 in bitcoin. Although no security breaches have taken place since then the incident, it has raised concerns. The questions aren't fully addressed by the company as well. Binance does not disclose all the specifics of how it manages security of its cryptocurrency assets.
This is why Kraken is unique. Kraken hasn't been hacked and follows transparent security procedures. Actually, they have a whole page on the website of the company which is dedicated to discussing their extensive security options.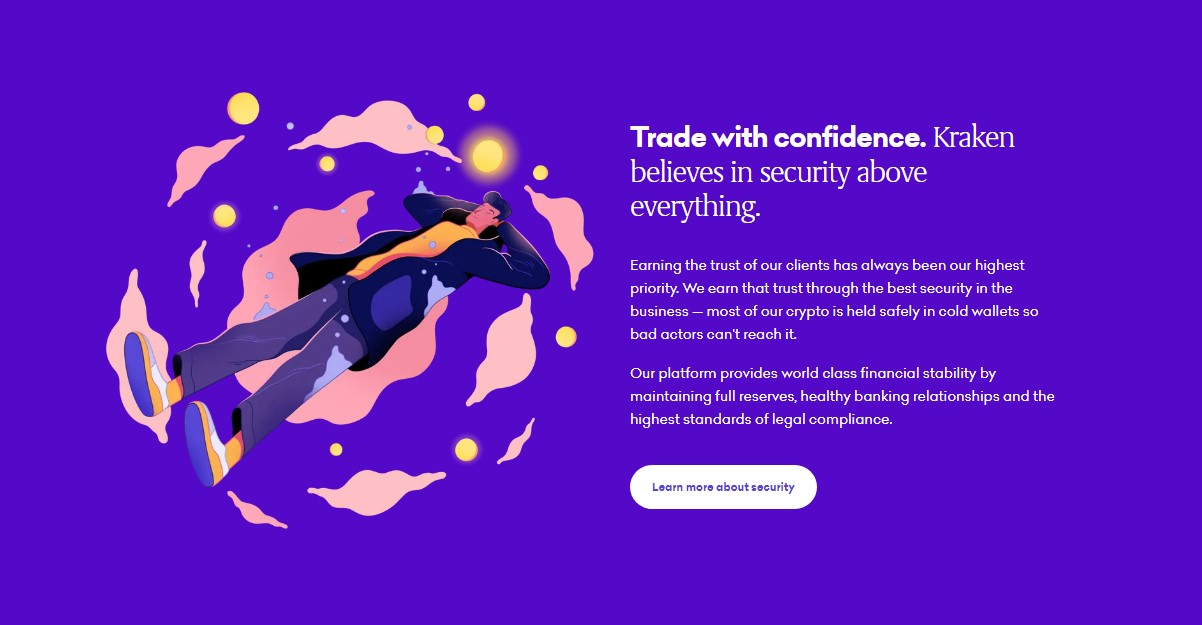 The exchange stores the majority of its funds stored in air-gapped cold storage. is secured by guards with guns with video surveillance 24/7 and secures all information about accounts encrypted both at the system and data levels.
To top it all off, Kraken has an ongoing bug bounty program. The company also offers reward to white-hat hackers who find weaknesses before the hackers are able to and signal them to Kraken.
Winner: Kraken
Conclusion
Binance as well as Kraken are both big exchanges that have high daily trading volumes, and an array of popular cryptocurrency. The major advantages that make Binance distinct is its greater variety of currencies and some of the lowest charges for the market as well as being among the top exchanges when it comes to volume. All of these reasons mean that Binance is the clear winner in this comparison review.
Frequently Asked Questions
Is Kraken a platform designed for Bitcoin trading only?
Kraken allows you to buy and sell Bitcoin, as well as dozens of other cryptocurrencies, too. Some of the more well-known currencies you can trade on Kraken's platform include Ethereum, Litecoin, Monero, Ripple, and many more. Besides these, Kraken also supports a number of stablecoins — notably Tether, USD Coin, and Dai.
What trading fees/withdrawal fees does Kraken charge?
Kraken charges different fees depending on which one of its two platforms you use — the regular Kraken platform, more suitable for beginners, or Kraken Pro which is for more experienced traders looking to maximize their gains from crypto trading.
Does Kraken allow margin trading?
For more experienced crypto traders, Kraken offers some riskier products such as crypto margin trading and futures trading. For crypto margin trading, in particular, Kraken gives traders margin leverage equal to 5 times the initial capital on their account which they can use for purchasing crypto assets.
Does Binance offer an account for cryptocurrency?
Since the year 2018 it has been the Binance wallet has been officially launched. Binance wallet has been Trust Wallet. It is free and simple to download via through the Internet, Trust Wallet is secure and private. It also can support thousands of different cryptocurrency.
Does Binance has a mobile application?
Yes. Binance's app is completely free and helps you trade and organize your cryptocurrency easy. It can be downloaded through both the Apple Store and Google Play.
How do Binance earn money?
In 2021, Binance reached a record revenue in the range of $20 billion from fees to trade in trades and fees. Additionally, Binance charges margin borrow interest, futures fees, trading, as well as cross interest rates for collateral.
Do you think it is safe to connect the bank account of a customer to Binance?
The transactions that take place on the internet is 100% secure, but according to the security measures that Binance has implemented, Binance is a reputable cryptocurrency venture.
How can I take my money from Binance?
The cash-out process using Binance is simple and rapid. Go to your Wallet page on your dashboard, and then select Spot Wallet. Just next to your AUD wallet you'll find the option to withdraw on cash Balance tab.
If your request is approved after which you'll get your money sent to your account within 3-5 business days.
How can I earn money with Binance?
Binance provides a variety of trading options so that you can purchase and sell cryptocurrency and benefit by profiting from the advantageous price difference. Additionally, you can speculate about prices of the assets available by trading on the derivative market. Additionally, Binance features a few options for passive earnings and stakes. It is true that Binance is a great platform to make a profit, with a sound trading strategy and some luck.
Related:
Top Crypto Exchanges Compared
| Exchange | Deposit Methods | Fiat Currencies | Cryptocurrencies | Trading Fees | Deposit Fees | Withdrawal Fees | Sign Up |
| --- | --- | --- | --- | --- | --- | --- | --- |
| Swyftx | Bank Transfer, Crypto, Credit and Debit Card, Osko, PayID | New Zealand Dollars and Australian Dollars | Over 320 | 0.6% | Australian Dollars Deposits: 0% Crypto: 0% | Australian Dollars Withdrawals: 0% Crypto: 0% | Visit Swyftx |
| Binance | Crypto, Credit and Debit Cards, Osko, PayID | 10 Fiat Including USD and AUD | Over 600 | 0% to 0.1% | 0% | Vary | Visit Binance |
| CoinSpot | Bank Transfer, Fiat, Crypto, POLi, and PayID | Australian Dollars | Over 370 | Instant Buy/Sell: 1% OTC: 0.1% Market Order: 0.1%* | Direct Deposit: $0 Cash: 2.5% PayID, POLi, and direct deposits: $0 BPAY: 0.9% Direct Bank Transfer: $0 | Australian Dollars Withdrawals: $0 | Visit CoinSpot |
| Bybit | Crypto, electronic funds transfer (EFT), wire transfer, bank transfer, credit card, and debit card | 50+ | 160+ | 0.1% spot trading 0.01% – 0.06% market makers/market takers fee | $0 | Does not support direct fiat withdrawals Crypto withdrawal fees: Network fees | Visit Bybit |
| Crypto.com | PayPal, Cryptocurrency, SWIFT, Fedwire, Wise, Debit Card, Credit Card, SEPA, BPAY, Bank Transfer (ACH) | USD, AUD, SGD, and 15+ more | 250+ | 0.04% to 0.4% | $0 | FREE via bank transfer. $25 for USDC withdrawal via SWIFT Network | Visit Crypto.com |
| Digital Surge | Bank Transfer, Crypto, POLi, Osko, PayID | Australian Dollars | Over 300 | 0.1% to 0.5% | Deposit Fees Bank Transfer: $0 POLi: $2 (capped at $3.30) | $0 for AU Bank Accounts Cryptocurrency: Depends On the Network | Visit Digital Surge |
| CoinJar | Fiat, Bank Transfer, Crypto, Credit or Debit Card, Apple Pay, Google Play | Pound Sterling and Australian Dollars | Over 50 | Maker: 0.04 to 0.1% Taker: 0.04 to 0.1% | Fiat: 1.5% CoinJar Users: $0 NPP: $0 | $0 | Visit CoinJar |
| Independent Reserve | Crypto, Osko, PayID, Electronic Fund Transfer, SWIFT | Australian Dollars, US Dollars, New Zealand Dollars | Over 25 | 0.05% to 0.5% | For SWIFT Deposit: $15 for deposits under Australian $5,000 equivalent $0 for deposits over Australian $5,000 equivalent For Electronic Fund Transfer: Australian $0.99 for deposits under $100 $0 for deposits more than Australian $100 | Crypto: Fees vary Bank Transfer: $0 for AUD $20 for non-AUD | Visit Independent Reserve |
| eToro | Bank Transfer, Debit Cards, Neteller, PayPal, Online Banking, and Skrill | 15 Fiat Currencies Including USD and AUD | Over 70 | Vary | Vary | $5 but minimum withdrawal of USD50 | Visit eToro |
| Coinbase | Debit Card | More than 20 Fiat Currencies Including USD and EUR | Over 200 | Vary | Credit Card and Debit Card: 3.99% | 2.49% | Visit Coinbase |
| Bittrex | Bank transfer (ACH) | Euro and US Dollars | Over 320 | 0.25% | $0 | Vary | Visit Bittrex |
| Bitfinex | Bank Wire Transfer, Crypto, Credit Card | US Dollars, Japanese Yen, Euro, Pound Sterling | Over 200 | Taker: 0.055% to 0.2% Maker: 0% to 0.1% | Crypto: $0 Wire: 0.1% (min 60 Euro/USD) | Crypto: $0 Wire: 0.1% Express Bank Wire (within 1 day on business days): 1% (min 60 Euro/USD) | Visit Bitfinex |
| Coinmama | Bank Card, SWIFT, Google Pay, SEPA, and Fedwire | 6 Fiat Currencies Including USD and AUD | Over 10 | 2.93% to 3.9% | 0% to 5% | N/A – assets are directly sent to the user's crypto wallet | Visit Coinmama |
| Kraken | Bank Transfer, Crypto, Wire Transfer, osko, SEPA, Apple Pay and Google Pay | 7 Fiat Currencies Including USD and AUD | Over 140 | Maker: 0% to 0.16% Taker: 0.10% to 0.26% | Vary | Vary | Visit Kraken |
| KuCoin | Crypto, PayPal, Wire Transfer, Credit or Debit Card, SEPA | 9 Fiat Currencies Including USD and AUD | over 645 | 0.1% | $0 | Vary | Visit KuCoin |
| Easy Crypto | Bank transfer, P2P, POLi, OSKO | AUD | 100+ | 0.5% – 1.6% | $0 | Fiat Withdrawal fees: $0 Crypto withdrawal fees: Network fees | Visit Easy Crypto |
| Coinstash | Crypto, PayID, Bank Transfer | AUD | 410+ | 0.85% | $0 | Crypto withdrawal fees: Network fees Fiat Withdrawal fees: $0 | Visit Coinstash |
This page was last updated on July 14, 2023