As the cryptoverse expands and develops, cryptocurrency exchanges need to find new and creative ways to draw in the crowds. In order to do so, some trading platforms have placed their focus on tools and features, while others have lowered their fees or reworked their API in order to make the crypto trading experience more enjoyable. However, it seems that most crypto exchanges out there have gone all in on one facet of their offering while neglecting the others. 


So, we have cryptocurrency exchanges that offer a multitude of features at high fees and trading platforms that administer low fees but support only a limited number of features. This makes us question whether there's an exchange out there that can cover the latest features at low fees, and still provide a reliable and stable platform where users can do business?
One exchange can't have it all, can it? We just might have found the answer to that one in KuCoin. Let's delve a bit deeper and see if KuCoin really delivers on all fronts.
About the KuCoin Exchange
KuCoin was founded in 2017 by Michael Gan and Eric Don, both of whom are experts in blockchain technology in their own right. The trading platform resides in multiple locations and is headquartered in Singapore, Hong Kong, as well as the Seychelles. In a relatively short period of time, the trading platform caught the attention of traders worldwide because of its varied and reliable crypto offering. KuCoin supports international traders in over 200 cryptocurrencies that can be put together in more than 400 trading pairs. While this is quite the offering, the variety of assets itself isn't the platform's only calling card.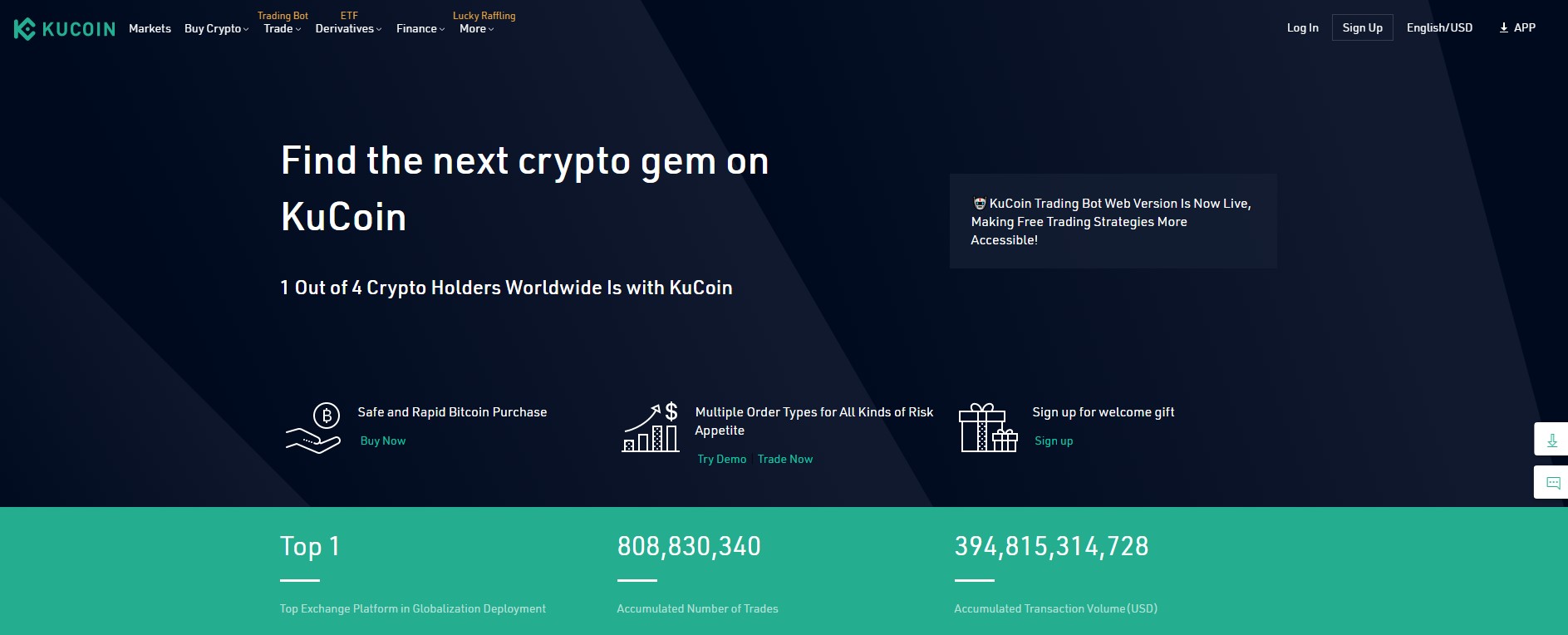 KuCoin promises to deliver all of these coins at low trading fees and through a plethora of advanced trading features. Users at KuCoin can engage in anything from swapping cryptocurrencies, margin trading with up to 10x leverage, spot trading, derivatives trading, staking, non-custodial trading, futures trading, as well as peer-to-peer (P2P), and IEO (Initial Exchange Offerings) trades. 
Even though the crypto exchange platform provides support for a multitude of advanced trading features and tools, KuCoin's UI doesn't look like an endless spider web that is impossible to navigate. Novice traders or traders that prefer a cleaner and simpler user interface have the option to engage with the trading platform's Light Mode platform skin, that keeps all of the advanced metrics and charts out of the way.
Even though they are out of sight, the data and graphs of the financial tools are still engaged in the background and follow the crypto market at all times. If traders are required to check a certain chart or preview the price histories of assets across multiple parameters, they can always enable the trading platform's Pro Mode.
KuCoin Futures and Margin Trading
KuCoin provides support for 35 trading pairs, with up to 10x margin leverage. The margin trade feature provides users with the opportunity to speculate on the trajectory of assets based on previous knowledge and up their investment up to 10x in order to capitalize on an opportunity.

Traders at Kucoin are able to make the most of the trading platform's KuCoin Mercantile Exchange (KME) where they can buy and sell Bitcoin and other digital currency contracts with up to 100x leverage. Futures at KuCoin are executed exclusively in BTC/ETH, however, the ratios and final calculations can be displayed in BTC/ETH, BTC/USDT and ETH/USDT.
KuCoin is a rare example of a decentralized crypto exchange that supports Ethereum 2.0 staking in its premises. Users that engage in staking and passive income strategies are in for ETH2 and POL mining prizes. The trading platform also supports lending features through KuCoin Lending. If traders decide to hold on to their digital assets and lead them out to the crypto exchange on an annual basis, they are in for a whopping 12% interest on all their USDT assets. The trading platform's API has been well thought through. Users will find the KuCoin interface very straightforward and easy to navigate.
In order to get started at KuCoin, new users have to register for an account at the platform. The registration process is pretty easy and straightforward. Once traders enter the platform and select the Sign In option, they have to provide the crypto exchange with a valid email address along with unique user credentials.
After they agree to KuCoin's Terms and Conditions agreement for fair use, they will need to validate their email address by activating the confirmation link sent to their address. Once inside, traders have to take part in a Know Your Customer test in order to prove their identity and whereabouts. This is done by providing the trading platform with a copy of a national ID card or passport and a utility bill that verifies the trader's territory of residence.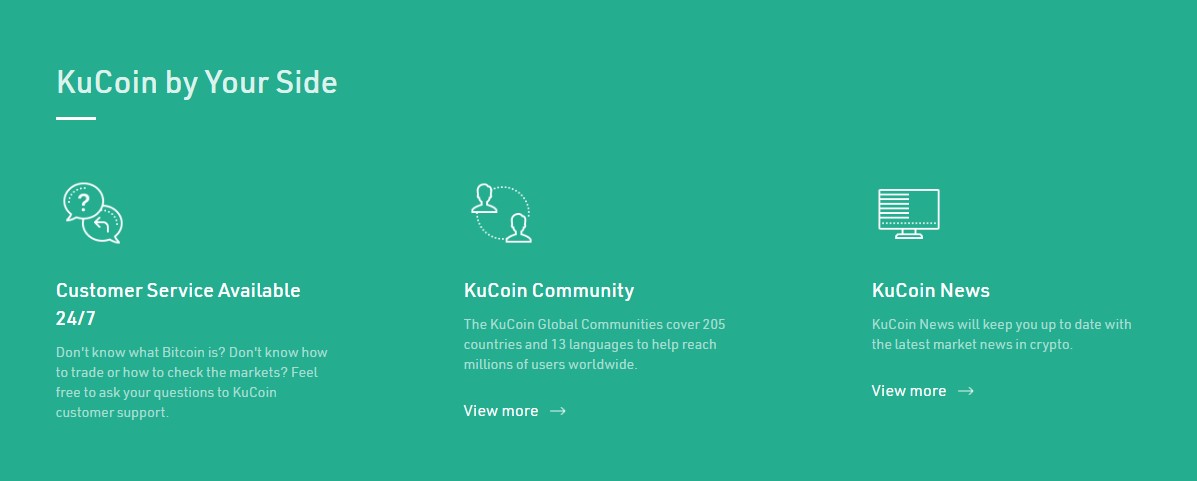 If the verification process is successful, users will be able to withdraw up to 100 BTC on a day to day basis and take full advantage of the trading platform's fiat-to-crypto deposit offering. Traders at KuCoin are able to purchase cryptocurrency by credit card or debit card. The leverage and margin trading positions for verified users go as high as 100x on leverage.
Traders are able to make deposits on KuCoin in the form of Bitcoin, Ethereum or USDT payments. Processing times vary and mainly depend on the employed cryptocurrency's blockchain network. When an order or deposit has been made, the blockchain that sees the action through has to confirm the order. This all comes down to network traffic.
In order to make a deposit on KuCoin users have to navigate to the Assets tab and select the Main Account option. From there, they will be asked to select their deposit currency and provide the crypto exchange with their unique crypto wallet address.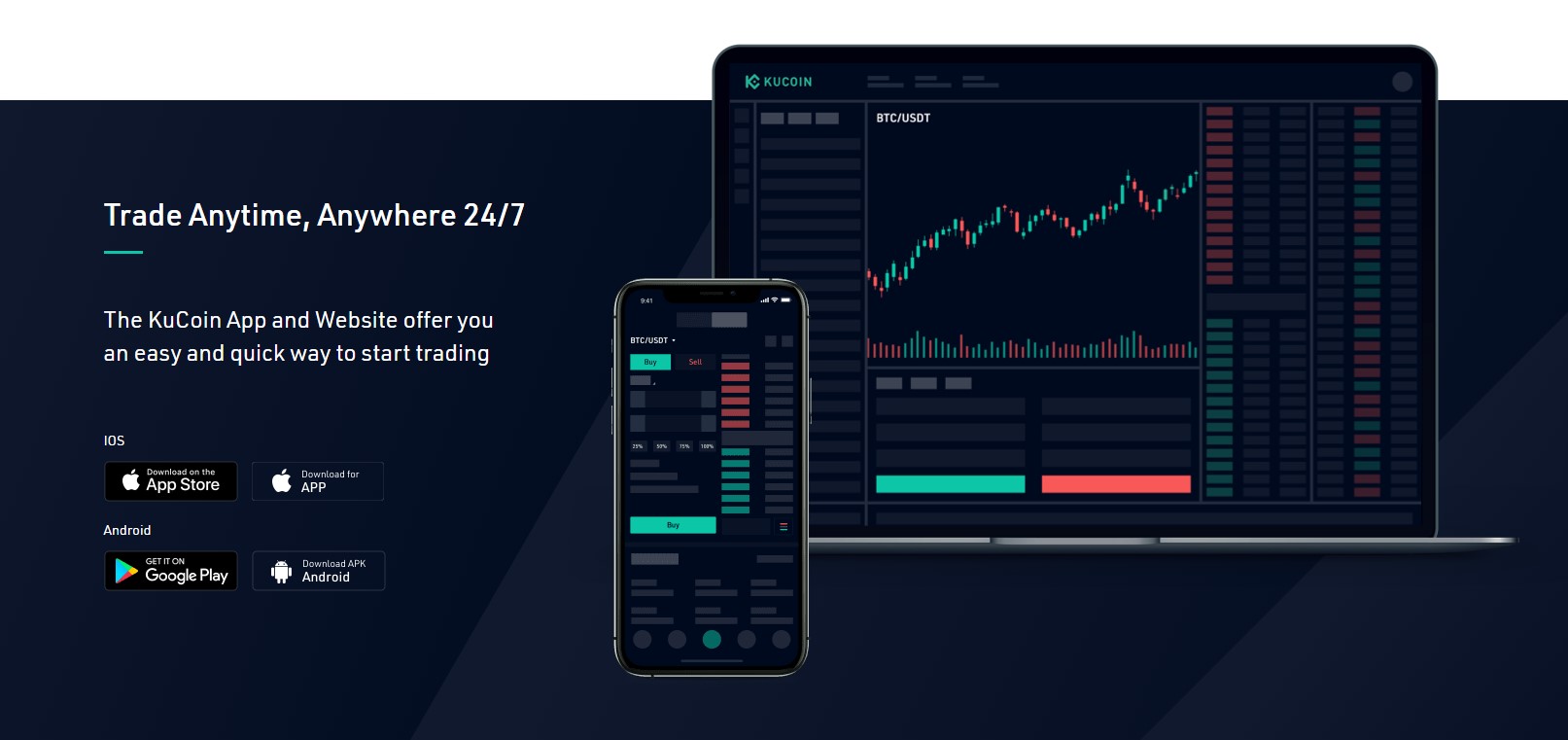 KuCoin also provides support for instant swaps through which traders are able to acquire their desired crypto immediately. The KuCoin Instant Exchange tracks down the best possible rates on the crypto market and offers users the best possible deals at no trading fees. The trading platform's instant exchange feature supports some of the most sought-after and utilized cryptocurrencies such as Bitcoin, Litecoin, Ethereum, and XRP. 
Payment Methods & Supported Cryptocurrencies
When it comes to payment methods, KuCoin provides a lot of options for users to choose from. Traders can acquire digital goods with their credit card or debit cards or go through instant swap providers such as Banxa, Simplex, and PayMIR, or make use of the platform's peer-to-peer exchange feature.
Users are also able to make the most out of Instant buys and sells through the Fast Buy feature. Fast Buy is optimized for trades at low fee rates in various currencies including Bitcoin (BTC), Cardano (ADA), Eos (EOS), Neo (NEO), Ethereum (ETH), Ripple (XRP), Litecoin (LTC), and Tether (USDT). Users can also employ the services of Alipay, WeChat Pay, SEPA wire transfers, ApplePay, and PayPal. The trading platform's exchange has a list of 46 supported fiat currencies that can be deployed from every corner of the globe.
KuCoin's API provides users with an excellent UI. The trading platform's interface is intuitive, easy to navigate and suited for both novice and veteran traders. In order to access the exchange books, traders will have to make a deposit and have some digital goods in their KuCoin wallet. Once they have made a successful deposit, traders are able to select between regular trades, spot trades and margin trades. KuCoin provides its clientele with a real-time live chart that displays a plethora of parameters. Users are able to further customize this chart by selecting the parameters that they wish to focus on and expanding it across multiple monitors.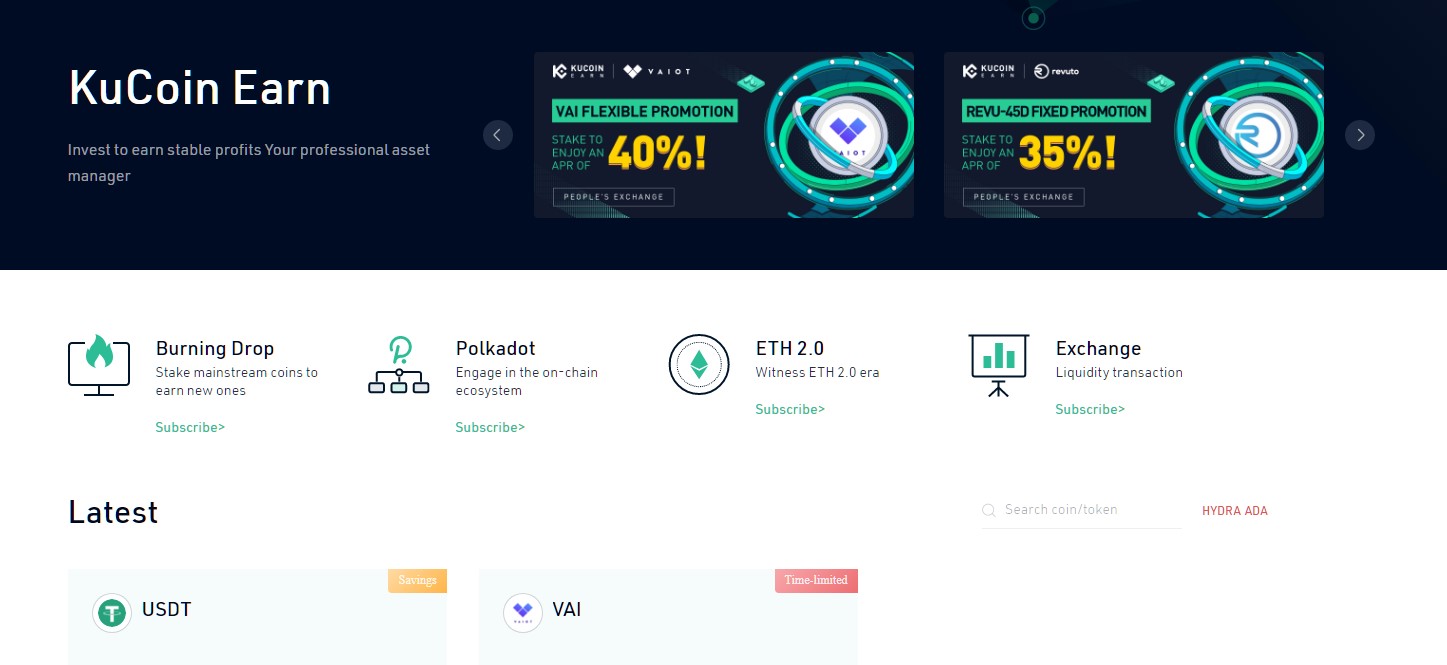 The KuCoin charting system makes use of candlesticks in order to display the patterns and latest crypto events. Traders are able to make the most out of the trading platform's TradingView feature that allows for a great deal of flexibility and provides all the necessary tools for cutting up trades and setting up strategies.
Traders are able to receive passive income streams by staking the trading platform's native KCS tokens. The KuCoin Shares or KCS are utility tokens that can be utilized in many different applications. The most frequent employment goes towards discounts on the trading platform's exchange and trading fees and passive income that is calculated in relation to KuCoin's trading fee profits. 50% of all trading fee profits go towards KCS token holders. 
When users stake their assets and become a supplier to KuCoin's Pool-X liquidity pools. They are lending their digital goods to the trading platform while collecting interest on the back end. 
One of the most important aspects when deciding on a crypto trading platform is its trading fees and employed limits. Traders at KuCoin are subject to low fees of 0.1% on both makers and takers. This number is even lower for the trading platform's stakers because, depending on the assets that they are staking, they are in for trade fee discounts. Stakers are able to customize their transaction fees and fee structures in order to get the best possible mix levels.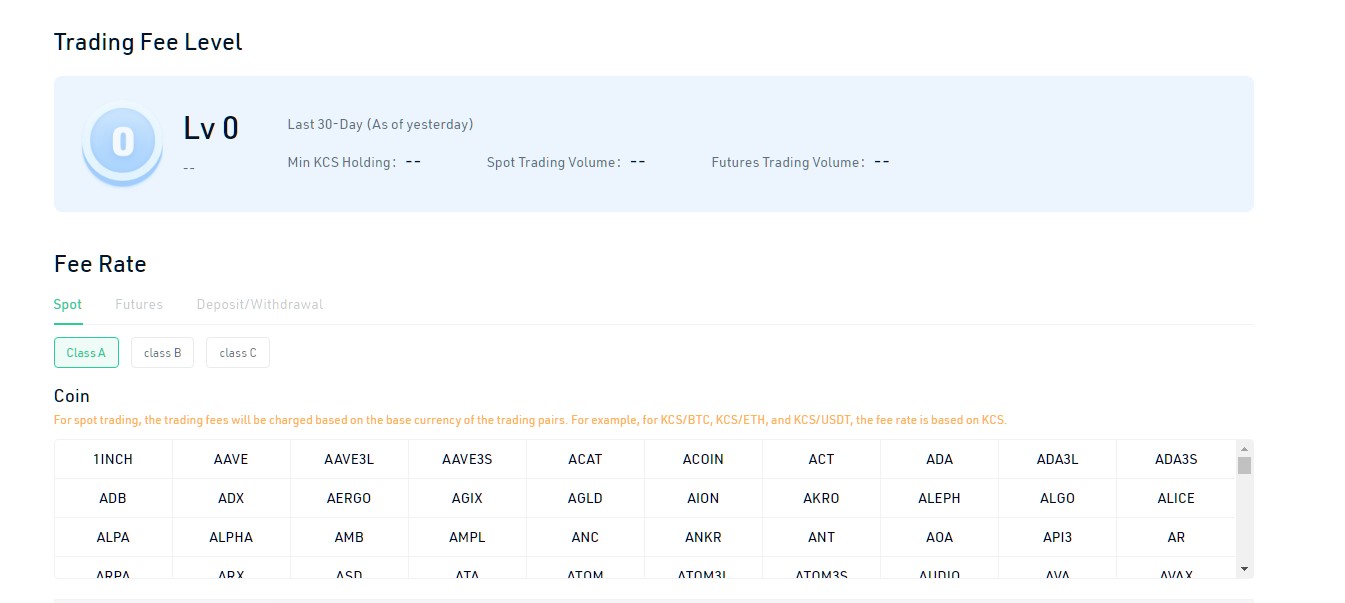 Another good thing about KuCoin is that it charges no deposit fees whatsoever. The withdrawal fees are tied in with the withdrawal method employed by the trader. KuCoin has no limits on either deposits or withdrawals, so users are free to deposit and withdraw as much and as frequently as they would like to.
Even though KuCoin employs the latest technological advances and encryption across all of its servers. The trading platform experienced a major breach in late 2020, during which $150 million USD in digital goods vanished from its premises. The breach occurred as a result of a leak that contained KuCoin hot wallet private keys. Nevertheless, Kucoin covered all of its clientele through its insurance fund. 
KuCoin is not a regulated trading platform, however, it does provide a lot of layers and features that pertain to users and platform safety and stability. The trading platform supports KYC test protocols, a two-factor authentication (2FA) security layer, an internal damage control section, and employs end to end encryption on all of its data.
The KuCoin support team can be contacted at any time, as the trading platform employs around the clock support for its clients. Traders are able to get in touch with the platform by reaching out through an email inquiry, dropping a message in the platform's Live Chat feature or by opening a support ticket and waiting for their turn.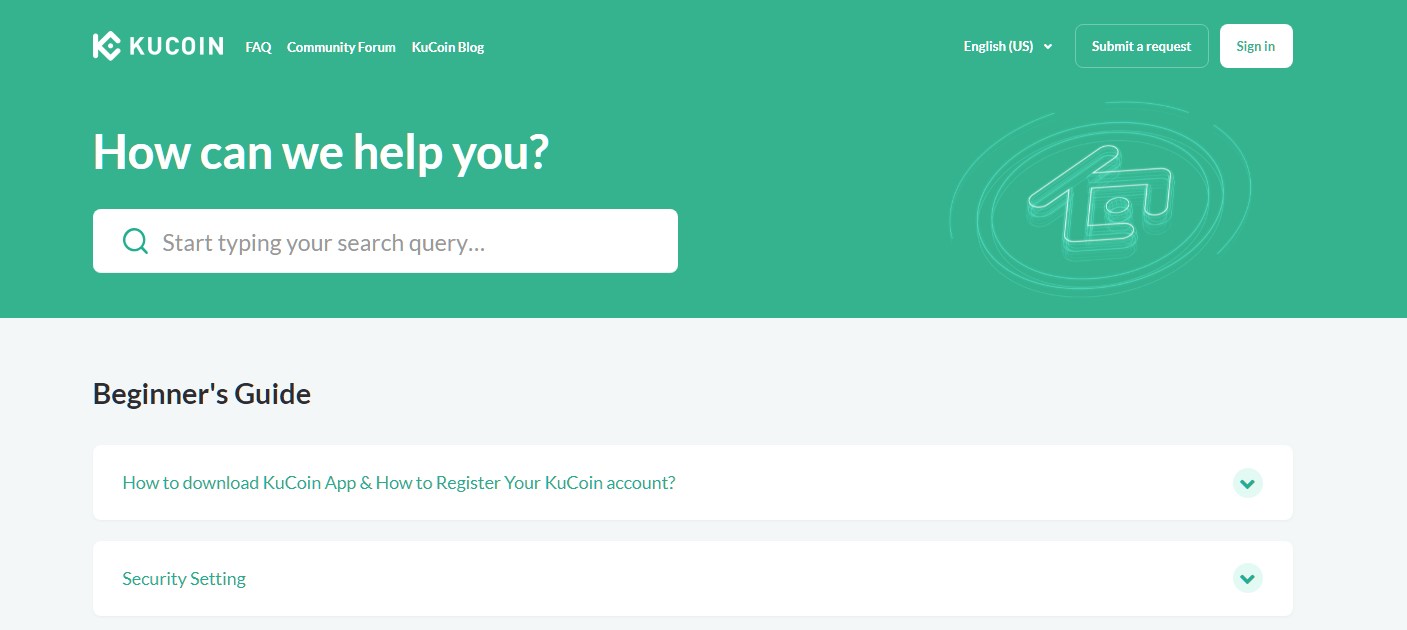 KuCoin does not list a phone number, which means that it does not provide support by telephone. This would be a welcome addition to the trading platform's support infrastructure, as they are known to have delayed response times due to high traffic.
Frequently Asked Questions
How to get the best KuCoin fees?
KuCoin employs one of the most affordable crypto trading fee structures on the market. The trading platform provides its users with some of the lowest trading fees that start at 0.1% for both makers and takers, however, this number can easily drop down to 0.08% if the fee is settled by utilizing the platform's KCS native token offering.
How does KuCoin compare to Coinbase?
Both KuCoin and Coinbase are well established and popular cryptocurrency trading platforms on the crypto market. Both exchanges are very capable and provide their users with a plethora of features in regards to trading fees, user security, and cryptocurrency selection. Another thing to consider is the trading fee structure. Coinbase does administer higher fees, however, it employs no fees on deposits and purchases. There is no clear winner. It comes down to where the traders reside and if they prioritize low trading fees or free fiat deposits.
Does KuCoin have a mobile app?
Yes. The platform also features a very capable mobile version of the trading platform that is available as a mobile app for both Android and iOS. With the app users are able to make the most of open positions on trades as well as keep an eye on their crypto wallet balance.
Is KuCoin an international trading platform?
Yes, KuCoin is an international crypto trading platform that is available from almost all corners of the globe. The list of supported territories includes the United Kingdom, Oman, Canada, Portugal, India, Japan, Singapore, Colombia, Norway, Turkey, etc.
Does KuCoin require KYC to withdraw?
KuCoin users aren't required to go through a KYC verification process if their daily withdrawals do not cross over the 1 BTC threshold. In order to remove this cap and lift the ceiling to an unprecedented 200 BTC per day, trades do have to verify their identity by providing the crypto exchange with a copy of their national ID card, passport, or driver's license.
A Few Words Before You Go...
The KuCoin cryptocurrency trading platform pertains to both beginners and experienced traders. Once users successfully register for a KuCoin account they will be able to buy crypto and take full advantage of the vast selection of altcoins, crypto assets, and referral programs. Let's not forget that KuCoin employs some of the lowest taker fees across the crypto industry and has one of, if not the greatest currency support when it comes to fiat purchases. It might not be the best exchange out there but it is certainly one that warrants your attention.
This page was last updated on June 2, 2022