Binance as well as KuCoin both are among the largest players in the market for cryptocurrency. Binance is the largest cryptocurrency exchange worldwide based on the volume of transactions, while KuCoin boasts an impressive 11. million users from all over the world. Two exchanges that are so alike, how do you determine which one is superior or which one you should choose to use?
I've done a thorough analysis with Binance and KuCoin taking into consideration a variety of aspects. I hope my research will help with making an informed choice regarding your cryptocurrency exchange. In summary, Binance wins this comparison as it does not charge fees for users to purchase crypto using fiat. Additionally, you can withdraw fiat currencies through the exchange while KuCoin doesn't allow this.
KuCoin vs. Binance Comparison Table
| Features | KuCoin | Binance |
| --- | --- | --- |
| | | |
| Supported Coins | 700+ | 600+ |
| Trading Fees | 0.1% | 0.1% |
| Deposit Fee | Depends on the 3rd-party provider | Free |
| Withdraw Fee | Free | Free |
| Payment Methods | ApplePay, Visa, MasterCard | PayID/OSKO |
| | | |
KuCoin Pros and Cons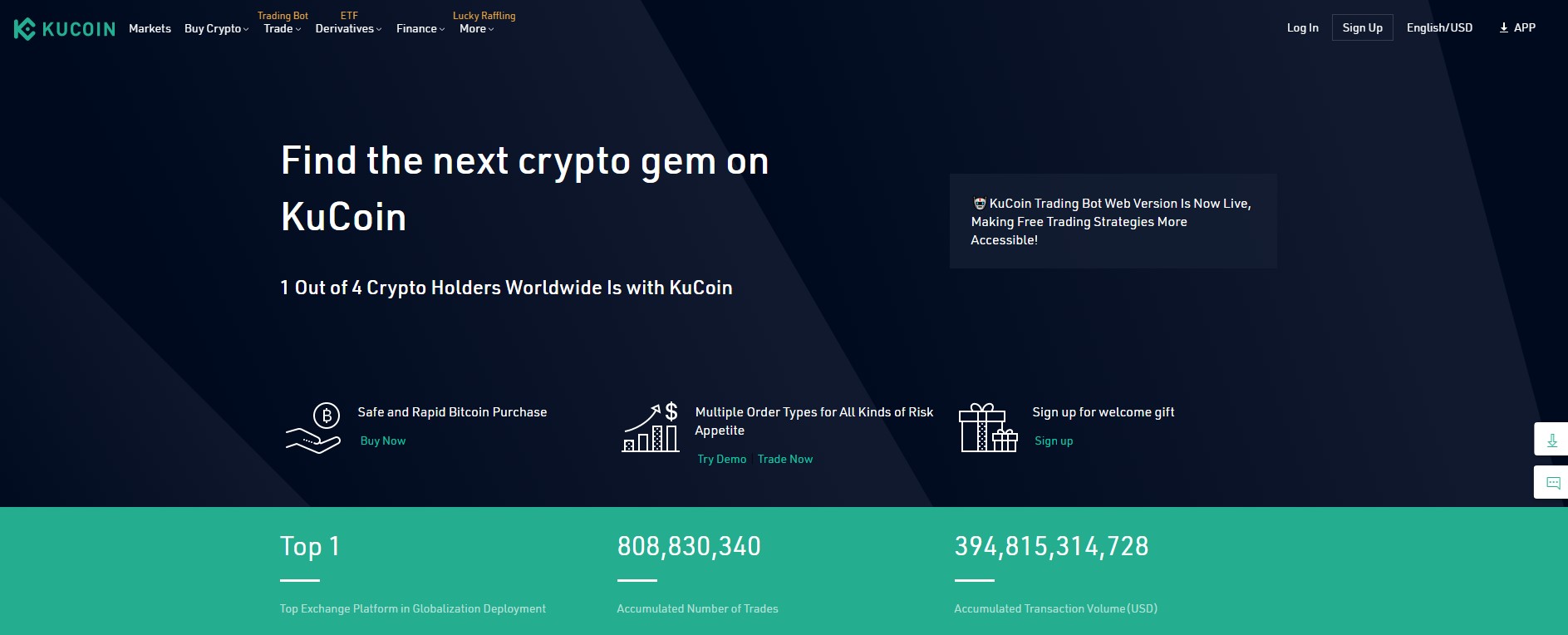 PROS
Option for stake profits
Strong user base (10 million-plus)
No KYC required for first-time users and crypto-to-crypto trades
A broad scope of trading opportunities and supported coins
Super-low trading fees
CONS
Not regulated in America or Australia
Binance Pros and Cons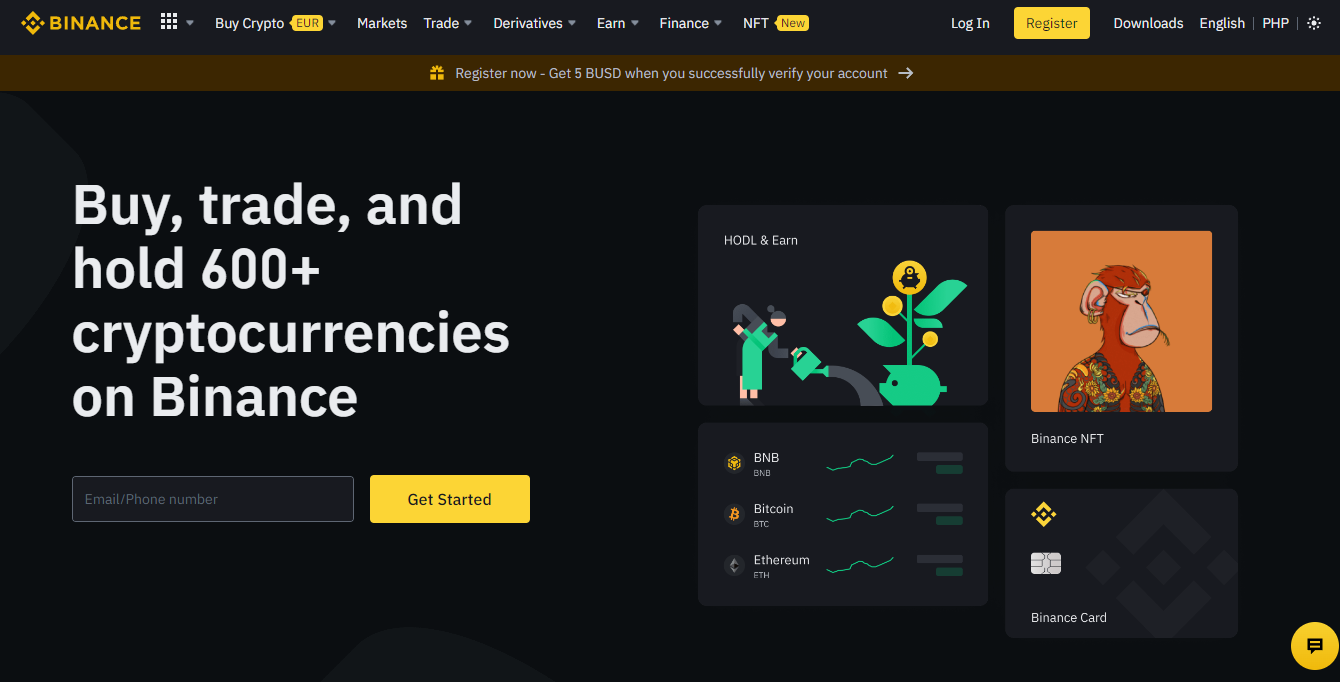 Pros
A huge spot market that includes more than 600 different cryptocurrencies
Affordable fee structure with the possibility to discount
Staking options to over 70 coins
Deposits and withdrawals that are sleek
Separate platforms for different markets
Advanced markets for professional traders
Cons
A complex platform design for novice
Excellent customer support
Features
Binance along with KuCoin are two highly feature-rich crypto exchanges which go over and beyond the essential requirements of investors who are just beginning their journey. They are well-known due to the wide array of offerings they offer; they both provide the renowned sophisticated trading platform, the P2P marketplace, margin trading, futures market, and a easy 'buy now' interface.
On Binance, you are able to earn interest on your cryptocurrency while you keep your crypto on Binance's exchange. It could be a great investment opportunity if you are planning to store your cryptocurrency.
Binance has created a credit card that works in conjunction with Visa which lets you use your cryptocurrency at 60 million retailers around the globe.
KuCoin is a great feature, with their trading bots that are free to boost your investment potential. KuCoin also offers options for earning interest from your cryptocurrency while it's being held on their exchange.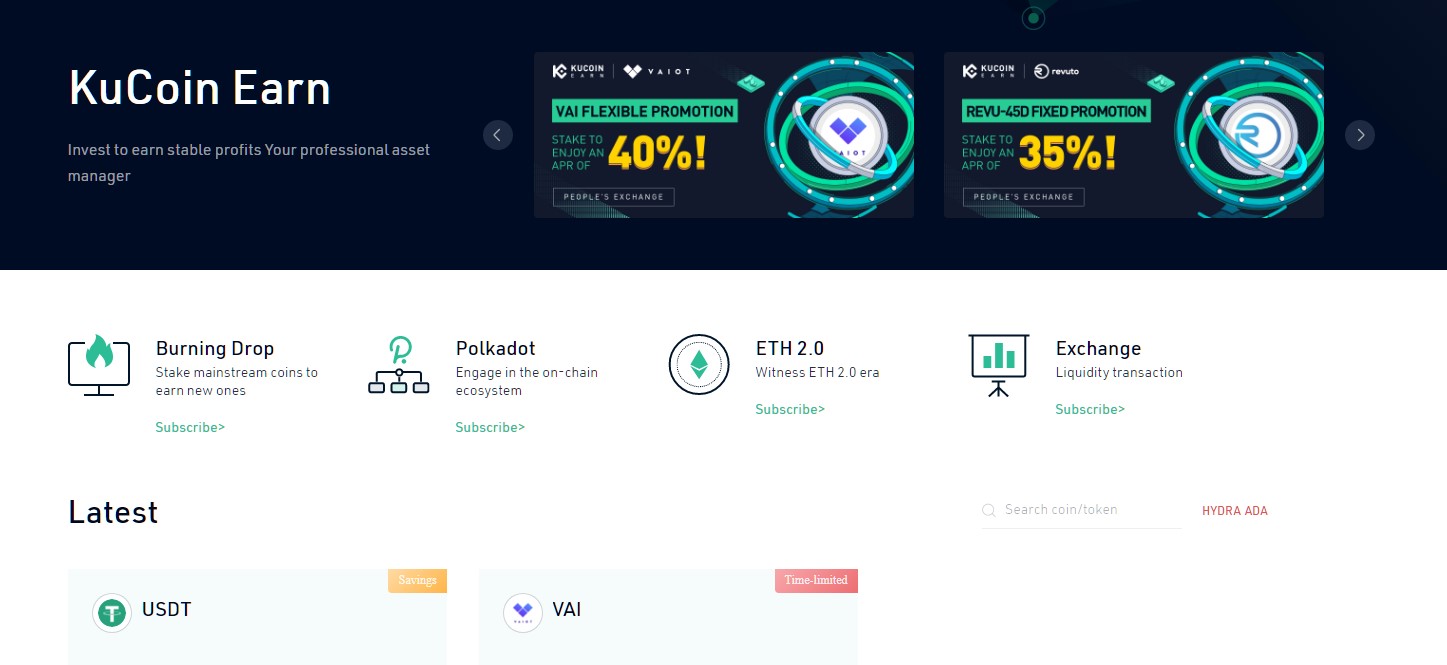 The most straightforward method is to purchase and keep KuCoin's token (KCS). If you own at six KCS at a minimum and earn interest every day, with an approximate APR of 22 percent. You may also lend your cryptocurrency to traders who aren't your own and earn interest on a daily basis.
Winner: Binance
Supported Cryptocurrencies
The Binance platform has more than 600 cryptocurrency supported.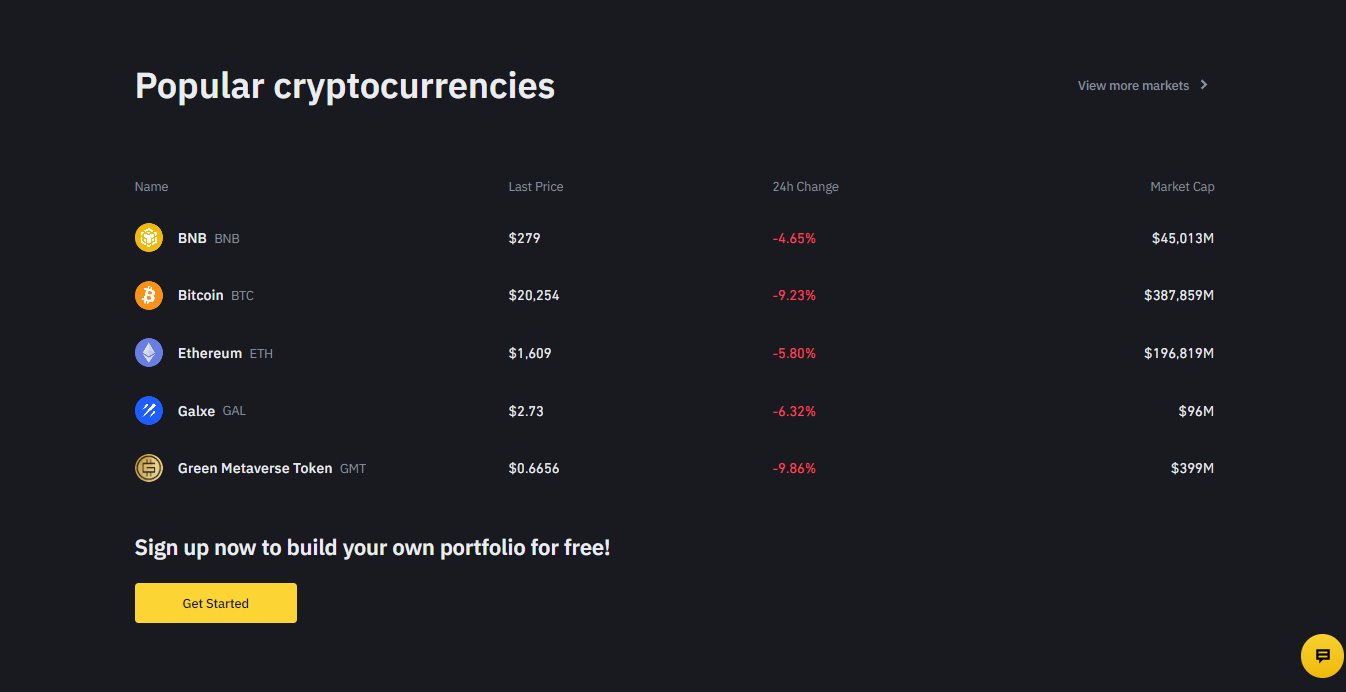 In addition, Kucoin has over 700 and more cryptocurrencies.
Evidently, Kucoin is the winner in this fight.
Winner: KuCoin
Fees
While Binance as well as KuCoin are comparable in their business models but they differ in terms of charges. Binance is more efficient in its fee structure than KuCoin.
If you make a deposit of the currency of your choice into Binance it could result in an additional charge based on the method of deposit and the currency.
KuCoin does not support fiat deposits. If you intend to use fiat currencies to buy cryptocurrency and pay for it in cash when you purchase without having to deposit money prior to purchase. The cost for a cryptocurrency purchase can range between 3% and five percent, depending on the method of payment you select.
The deposits of cryptocurrency through Binance or KuCoin are completely free.
Binance charges for trades begin at a minimal 0.1 percent, and you can get 25% off if you choose to use the Binance cryptocurrency (BNB) in order to settle for your charges.
KuCoin's fees for trading also start at 0.1 percent. Similar to Binance and Binance, you will benefit from a reduced trading fee when you pay with KuCoin's currency (KCS).
On Binance the fee for withdrawals varies based on the currency as well as the method of withdrawal.
Withdrawals of cryptocurrency through Binance will be subject to an unrestricted fee to cover the transaction cost of transfer of the currency into your personal account.
KuCoin is not able to allow withdrawals of fiat currencies this is among the most significant disadvantages for the currency exchange. It is only possible to withdraw cryptocurrency and pay a fixed fee, based on the currency you wish to withdraw.
Winner: Binance
Customer Support
Binance as well as KuCoin are frequently noted for having decent customer service, and it has frequently been the subject of fierce criticism of several popular cryptocurrency exchanges. I'm very happy the fact that both exchanges have live chat support that is extremely convenient, as well with email support for those who aren't interested in waiting for a chat with one of their friendly customer service representatives.
Binance offers an excellent self-service feature that allows users the ability to address some of their own issues like password resets, changing 2FA, or not having cryptocurrency deposits.
Winner: Tie
Deposit Methods
Binance as well as KuCoin both provide a range of deposit options to serve customers from all over the world. Both accept bank transfers (SEPA) and debit card, credit card, and cryptocurrency.
Additionally, Binance supports bank transfer (ACH), PayID, SOFORT/iDEAL and SWIFT.
KuCoin will also take PayPal, Apple Pay and Skrill.
Winner: Tie
Security
Binance has most the digital asset they manage in cold storage. They also give useful advice to customers on how to enhance security, such as instance, enabling 2-factor authentication (two-factor authentication) and whitelisting devices as well as handling withdrawal address, anti-phishing codes , and some even use U2F (universal 2nd factor authentication) that needs physical hardware access in order to connect to your bank account. But any cryptocurrency exchanges can be vulnerable to hacks that can be exploited. For instance, in the year 2019 Binance was the victim of an attack, in which they suffered losses of over $40 million of Bitcoin.
KuCoin utilizes various layers of security measures to ensure that their customers' funds are secure by using micro-withdrawal wallets that use industry-standard multilayer encryption, as well as multi-factor authentication that is dynamic and constantly changing. They also have internal risk control teams to supervise each transaction every day. In 2020, KuCoin became also the victim of a hacking attack, in which $150 million was taken. KuCoin reacted quickly and recovered a significant portion of the stolen funds and the rest was covered by the insurance policies. KuCoin's users didn't experience any financial losses as a result of this cyber-security security breach.
Winner: Binance
Conclusion
Binance as well as KuCoin are two of the biggest players in the field of cryptocurrency. Both offer thousands of cryptocurrency, massive trade volume and liquidity, and a myriad of features. I was expecting an extremely close match between them, but Binance wins this.
The primary reason for this was the fact that Binance charges a minimal fee (or even a zero fee in certain instances) to transfer fiat currency which allows you to purchase crypto with your currency for only 0.1 percent. KuCoin is a cryptocurrency that KuCoin it is not possible to access markets with fiat currency. To benefit from the 0.1 percent trading fee, you have to buy cryptocurrency using fiat, which comes with an incredibly high 3% – five percent fee. Additionally, you are not able to withdraw currency that is fiat from your KuCoin account.
Frequently Asked Questions
How to get the best KuCoin fees?
KuCoin employs one of the most affordable crypto trading fee structures on the market. The trading platform provides its users with some of the lowest trading fees that start at 0.1% for both makers and takers, however, this number can easily drop down to 0.08% if the fee is settled by utilizing the platform's KCS native token offering.
How does KuCoin compare to Coinbase?
Both KuCoin and Coinbase are well established and popular cryptocurrency trading platforms on the crypto market. Both exchanges are very capable and provide their users with a plethora of features in regards to trading fees, user security, and cryptocurrency selection. Another thing to consider is the trading fee structure. Coinbase does administer higher fees, however, it employs no fees on deposits and purchases. There is no clear winner. It comes down to where the traders reside and if they prioritize low trading fees or free fiat deposits.
Does KuCoin have a mobile app?
Yes. The platform also features a very capable mobile version of the trading platform that is available as a mobile app for both Android and iOS. With the app users are able to make the most of open positions on trades as well as keep an eye on their crypto wallet balance.
Is KuCoin an international trading platform?
Yes, KuCoin is an international crypto trading platform that is available from almost all corners of the globe. The list of supported territories includes the United Kingdom, Oman, Canada, Portugal, India, Japan, Singapore, Colombia, Norway, Turkey, etc.
Does KuCoin require KYC to withdraw?
KuCoin users aren't required to go through a KYC verification process if their daily withdrawals do not cross over the 1 BTC threshold. In order to remove this cap and lift the ceiling to an unprecedented 200 BTC per day, trades do have to verify their identity by providing the crypto exchange with a copy of their national ID card, passport, or driver's license.
Does Binance offer an account for cryptocurrency?
Since the year 2018 it has been the Binance wallet has been officially launched. Binance wallet has been Trust Wallet. It is free and simple to download via through the Internet, Trust Wallet is secure and private. It also can support thousands of different cryptocurrency.
Does Binance has a mobile application?
Yes. Binance's app is completely free and helps you trade and organize your cryptocurrency easy. It can be downloaded through both the Apple Store and Google Play.
How do Binance earn money?
In 2021, Binance reached a record revenue in the range of $20 billion from fees to trade in trades and fees. Additionally, Binance charges margin borrow interest, futures fees, trading, as well as cross interest rates for collateral.
Do you think it is safe to connect the bank account of a customer to Binance?
The transactions that take place on the internet is 100% secure, but according to the security measures that Binance has implemented, Binance is a reputable cryptocurrency venture.
How can I take my money from Binance?
The cash-out process using Binance is simple and rapid. Go to your Wallet page on your dashboard, and then select Spot Wallet. Just next to your AUD wallet you'll find the option to withdraw on cash Balance tab.
If your request is approved after which you'll get your money sent to your account within 3-5 business days.
How can I earn money with Binance?
Binance provides a variety of trading options so that you can purchase and sell cryptocurrency and benefit by profiting from the advantageous price difference. Additionally, you can speculate about prices of the assets available by trading on the derivative market. Additionally, Binance features a few options for passive earnings and stakes. It is true that Binance is a great platform to make a profit, with a sound trading strategy and some luck.
Related:
Top Crypto Exchanges Compared
| Exchange | Deposit Methods | Fiat Currencies | Cryptocurrencies | Trading Fees | Deposit Fees | Withdrawal Fees | Sign Up |
| --- | --- | --- | --- | --- | --- | --- | --- |
| Swyftx | Bank Transfer, Crypto, Credit and Debit Card, Osko, PayID | New Zealand Dollars and Australian Dollars | Over 320 | 0.6% | Australian Dollars Deposits: 0% Crypto: 0% | Australian Dollars Withdrawals: 0% Crypto: 0% | Visit Swyftx |
| Binance | Crypto, Credit and Debit Cards, Osko, PayID | 10 Fiat Including USD and AUD | Over 600 | 0% to 0.1% | 0% | Vary | Visit Binance |
| CoinSpot | Bank Transfer, Fiat, Crypto, POLi, and PayID | Australian Dollars | Over 370 | Instant Buy/Sell: 1% OTC: 0.1% Market Order: 0.1%* | Direct Deposit: $0 Cash: 2.5% PayID, POLi, and direct deposits: $0 BPAY: 0.9% Direct Bank Transfer: $0 | Australian Dollars Withdrawals: $0 | Visit CoinSpot |
| Bybit | Crypto, electronic funds transfer (EFT), wire transfer, bank transfer, credit card, and debit card | 50+ | 160+ | 0.1% spot trading 0.01% – 0.06% market makers/market takers fee | $0 | Does not support direct fiat withdrawals Crypto withdrawal fees: Network fees | Visit Bybit |
| Crypto.com | PayPal, Cryptocurrency, SWIFT, Fedwire, Wise, Debit Card, Credit Card, SEPA, BPAY, Bank Transfer (ACH) | USD, AUD, SGD, and 15+ more | 250+ | 0.04% to 0.4% | $0 | FREE via bank transfer. $25 for USDC withdrawal via SWIFT Network | Visit Crypto.com |
| Digital Surge | Bank Transfer, Crypto, POLi, Osko, PayID | Australian Dollars | Over 300 | 0.1% to 0.5% | Deposit Fees Bank Transfer: $0 POLi: $2 (capped at $3.30) | $0 for AU Bank Accounts Cryptocurrency: Depends On the Network | Visit Digital Surge |
| CoinJar | Fiat, Bank Transfer, Crypto, Credit or Debit Card, Apple Pay, Google Play | Pound Sterling and Australian Dollars | Over 50 | Maker: 0.04 to 0.1% Taker: 0.04 to 0.1% | Fiat: 1.5% CoinJar Users: $0 NPP: $0 | $0 | Visit CoinJar |
| Independent Reserve | Crypto, Osko, PayID, Electronic Fund Transfer, SWIFT | Australian Dollars, US Dollars, New Zealand Dollars | Over 25 | 0.05% to 0.5% | For SWIFT Deposit: $15 for deposits under Australian $5,000 equivalent $0 for deposits over Australian $5,000 equivalent For Electronic Fund Transfer: Australian $0.99 for deposits under $100 $0 for deposits more than Australian $100 | Crypto: Fees vary Bank Transfer: $0 for AUD $20 for non-AUD | Visit Independent Reserve |
| eToro | Bank Transfer, Debit Cards, Neteller, PayPal, Online Banking, and Skrill | 15 Fiat Currencies Including USD and AUD | Over 70 | Vary | Vary | $5 but minimum withdrawal of USD50 | Visit eToro |
| Coinbase | Debit Card | More than 20 Fiat Currencies Including USD and EUR | Over 200 | Vary | Credit Card and Debit Card: 3.99% | 2.49% | Visit Coinbase |
| Bittrex | Bank transfer (ACH) | Euro and US Dollars | Over 320 | 0.25% | $0 | Vary | Visit Bittrex |
| Bitfinex | Bank Wire Transfer, Crypto, Credit Card | US Dollars, Japanese Yen, Euro, Pound Sterling | Over 200 | Taker: 0.055% to 0.2% Maker: 0% to 0.1% | Crypto: $0 Wire: 0.1% (min 60 Euro/USD) | Crypto: $0 Wire: 0.1% Express Bank Wire (within 1 day on business days): 1% (min 60 Euro/USD) | Visit Bitfinex |
| Coinmama | Bank Card, SWIFT, Google Pay, SEPA, and Fedwire | 6 Fiat Currencies Including USD and AUD | Over 10 | 2.93% to 3.9% | 0% to 5% | N/A – assets are directly sent to the user's crypto wallet | Visit Coinmama |
| Kraken | Bank Transfer, Crypto, Wire Transfer, osko, SEPA, Apple Pay and Google Pay | 7 Fiat Currencies Including USD and AUD | Over 140 | Maker: 0% to 0.16% Taker: 0.10% to 0.26% | Vary | Vary | Visit Kraken |
| KuCoin | Crypto, PayPal, Wire Transfer, Credit or Debit Card, SEPA | 9 Fiat Currencies Including USD and AUD | over 645 | 0.1% | $0 | Vary | Visit KuCoin |
| Easy Crypto | Bank transfer, P2P, POLi, OSKO | AUD | 100+ | 0.5% – 1.6% | $0 | Fiat Withdrawal fees: $0 Crypto withdrawal fees: Network fees | Visit Easy Crypto |
| Coinstash | Crypto, PayID, Bank Transfer | AUD | 410+ | 0.85% | $0 | Crypto withdrawal fees: Network fees Fiat Withdrawal fees: $0 | Visit Coinstash |
This page was last updated on July 14, 2023