Ledger Nano S Review 2023
Ledger Nano S is one of the most affordable and popular hardware wallets on the market and its functionality is created by the French blockchain security firm, Ledger. It features a modern design and a smooth user interface, and it supports over 1,100 cryptocurrencies. So, whether you're new to cryptocurrency and searching for the ideal first wallet, or you've already purchased some cryptocurrencies and want to relocate them to a safer wallet, the Ledger Nano S is definitely the right choice for you. 
Ledger S seeks to secure the innovative digital asset class and so far, the company has sold over 1,500,000 wallets in 165 countries. Ledger has created a unique operating system known as BOLOS and takes pleasure in being the only market participant to offer this technology so far with. So, if you're wondering whether Ledger Nano S is the best cold storage solution for you, this article will address most of your concerns.
About the Ledger Nano S Hardware Wallet
The Ledger hardware wallet company was founded in 2014 by a group of eight crypto professionals with the objective of developing a solution that would simplify the process of safely storing crypto assets. The firm is based in San Francisco and employs approximately 130 people worldwide. 
Ledger Nano S is one of the company's most popular cryptocurrency hardware wallets, which allows users to store their currencies offline. Not only that, but it also lets you transfer and receive a variety of currencies.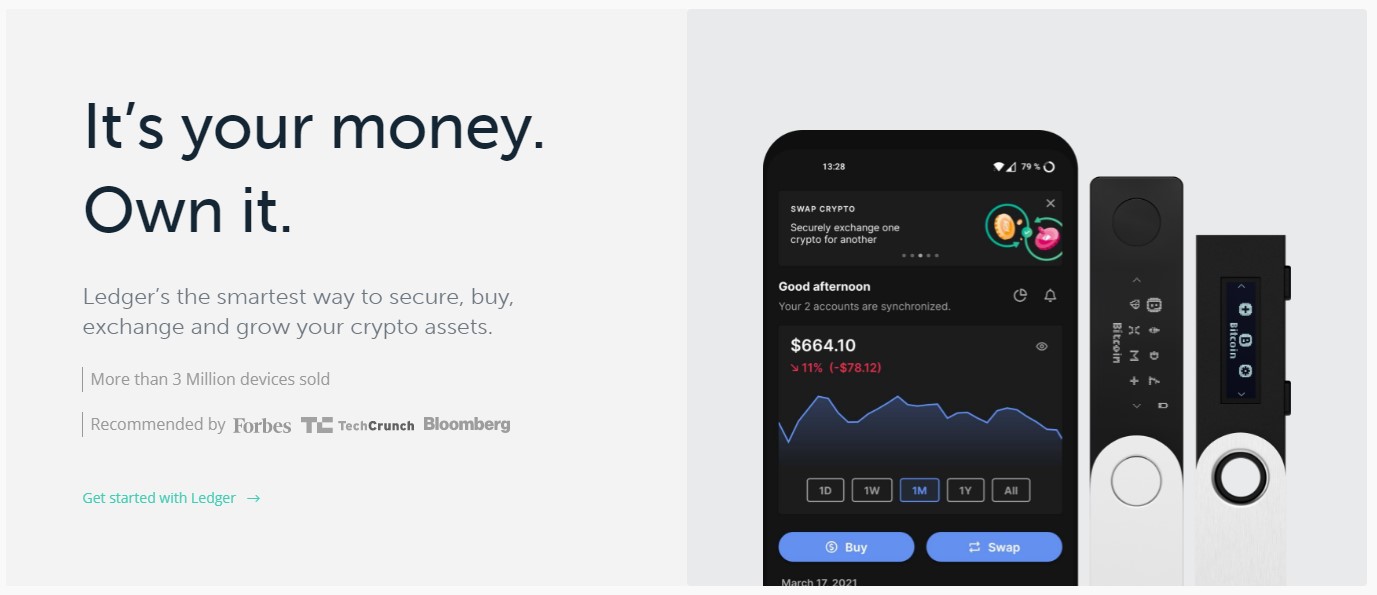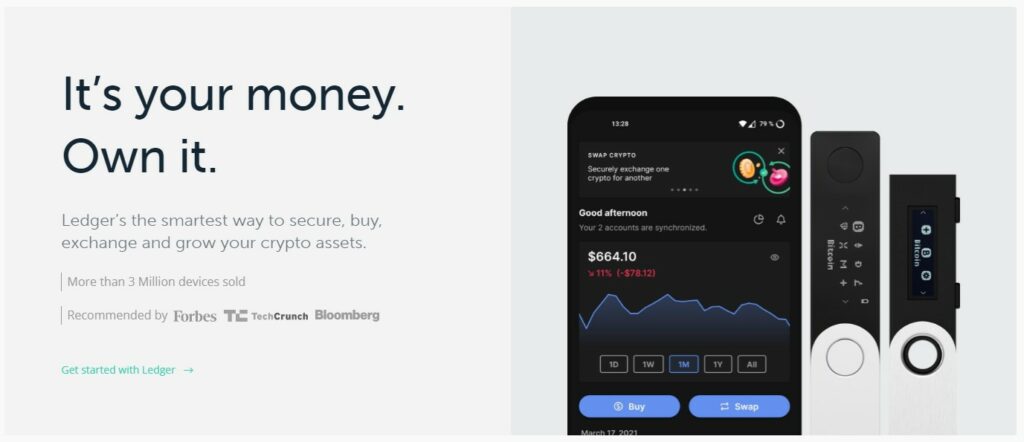 This wallet provides you with complete control over your crypto assets and offers greater protection against fraud. You are, however, still in charge of keeping your money secure and backing up your wallet.
Nano S is one of the cheapest hardware wallets on the market, with a price of only USD 59. In comparison to wallets such as TREZOR One and KeepKey, Nano S is the cheapest wallet out of the three. It has a simple user interface, a clean design and supports over 1,100 currencies. It also connects with Ledger's proprietary desktop program, the Ledger Live app, which makes accessing your balance a breeze. It's most appropriate for beginner users and holders looking for a low-cost opportunity to store cryptocurrencies in a safe way.
How Does Ledger Nano S Work?
To get started with Ledger Nano S, you must first create a new crypto wallet and come up with a backup phrase. As a next step, you must download the Ledger Live application and install one to three apps on your device, one for each crypto you choose to use.
Ledger Live is available for Windows, Mac OSx, and Linux. Although most wallet operations take place on Ledger Live, customers will need to use the Ledger device itself to browse other applications and complete transactions. Every wallet on Ledger Live needs the installation of an "app" in order for customers to deposit, withdraw, or trade that cryptocurrency.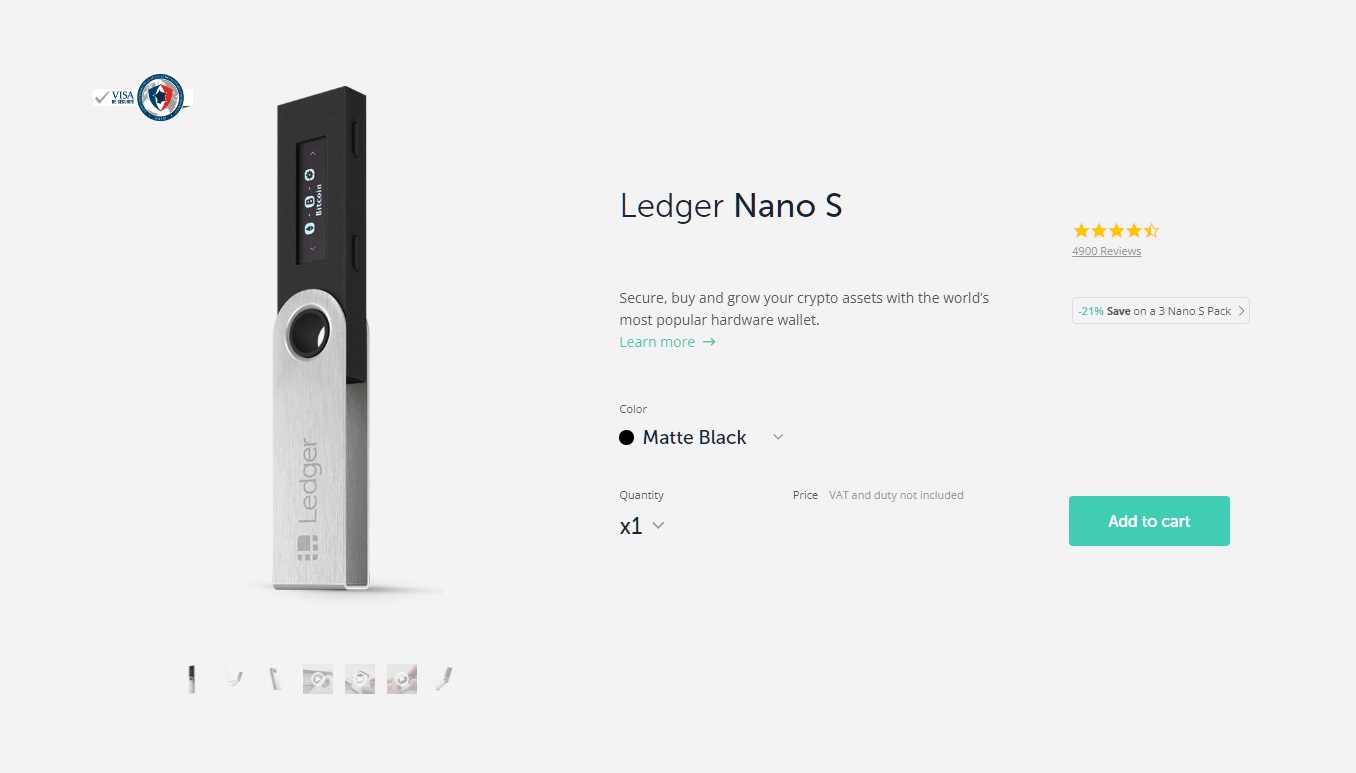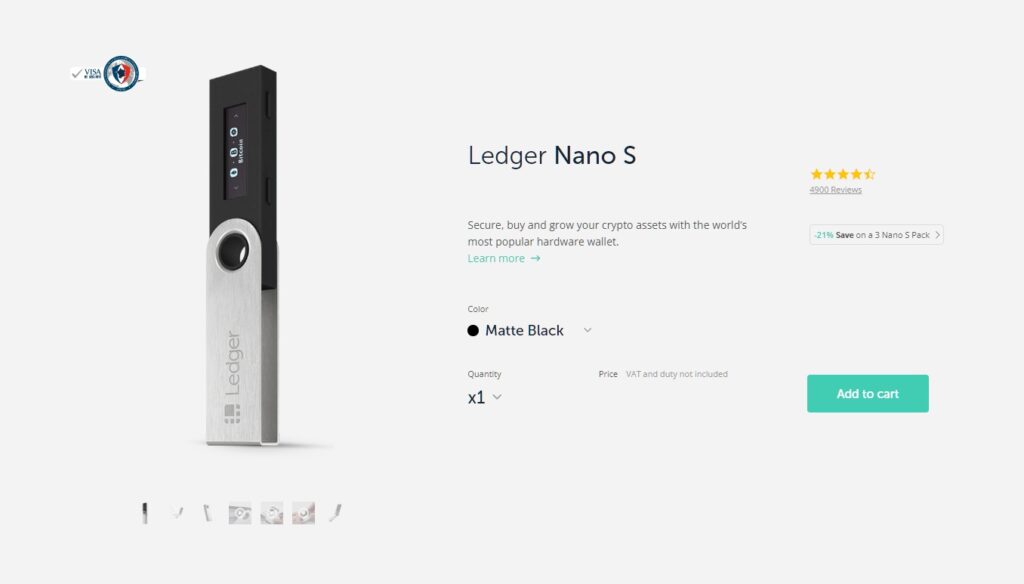 Nano S can keep no more than three loaded applications at once. Therefore, if you want to use a higher number of apps, you can install the app, deposit the cryptocurrency it supports, and then uninstall the program. Your balances will remain intact, but in order to move those currencies again, you'll have to reinstall the relevant app.
Bitcoin and Other Supported Cryptocurrencies
Ledger Nano S supports the largest number of different cryptocurrencies such as Bitcoin (BTC), Ethereum (ETH), all ERC-20 tokens, Litecoin (LTC), Ripple (XRP), Bitcoin Cash (BCH), Stellar (XLM), Tether (USDT), DASH, IOTA, EOS, etc.
Despite the wide range of digital currencies available, the primary disadvantage of Ledger Nano S is its low internal memory. It only allows you to install up to 3-5 distinct cryptocurrency wallets.
After examining the multi-currency capability of this wallet, it is apparent that Ledger Nano S is a great device for cryptocurrency novices and traders who deal in a restricted selection of crypto assets. 


It's worth noting that having a restricted amount of internal space is not without benefits. For one, it improves the security of Ledger Nano S and makes it a more affordable cold storage option for users who wish to minimise the chances of fraud by storing digital assets in numerous cold wallets.
Except for a few small modifications, Ledger Nano X is almost identical to the Nano S. Here are some qualities of Nano X that Nano S lacks:
Nano X has a Bluetooth connection is supported by the Ledger Nano X.
Its hard drive can store up to 100 applications.
Its chassis features a stronger build quality.
Evidently, the Nano X has a considerably bigger hard drive than the Nano S, which only has 5 app storage. It is also significantly stronger and larger and has Bluetooth. Since Ledger Nano S lacks Bluetooth, it must be connected to a computer or Android device through a USB cable.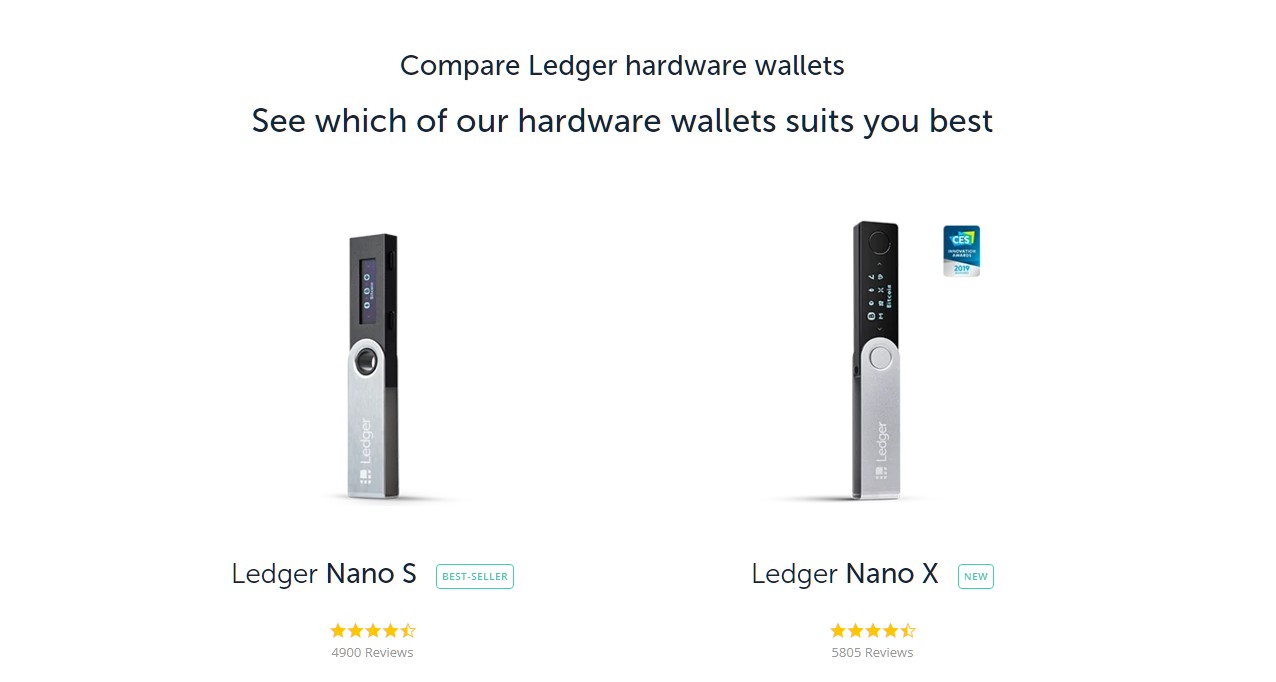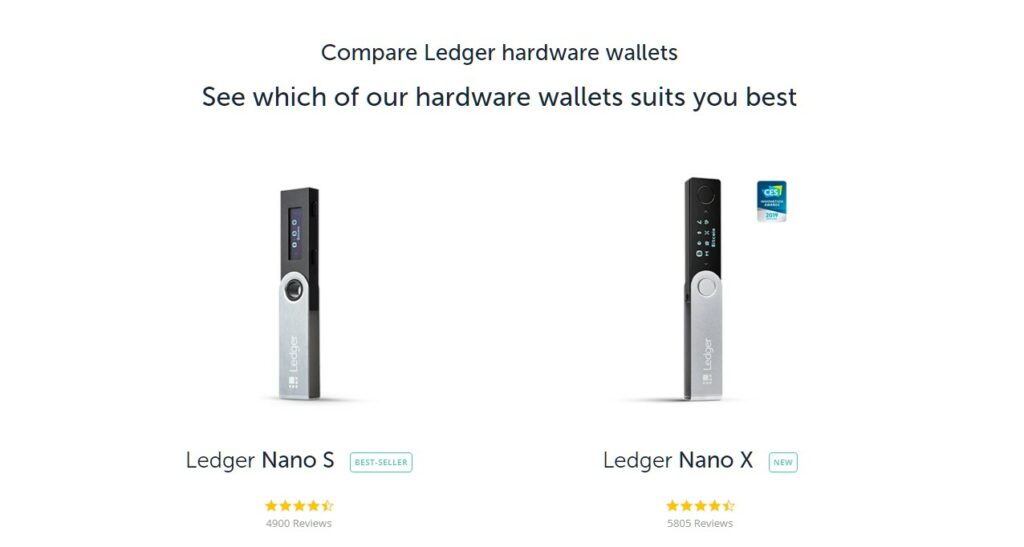 With this, you may send and receive transactions while on the go by connecting the Nano X to your device. It could connect through Bluetooth to Android and iOS devices, so you don't need a computer to configure it. However, many traders consider its Bluetooth abilities to be an extra risk rather than a benefit.
It's your choice to determine if the increased simplicity of Bluetooth is worth the possible loss of safety, though Ledger assures this is not the case.
You are not restricted to utilizing the Nano S with only Ledger Live. The hardware wallet also works with online wallets like MetaMask, MyEtherWallet, and MyCrypto.
By installing the FIDO U2F software, you could also use the Nano S as a security key for two-factor authentication (2FA). This allows you to use your hardware wallet to confirm your login information on a variety of web platforms, like Facebook, Dropbox, and Google.
You must enter your selected 4 or 8-digit pin code to gain access to the system. All transactions must be manually verified by pressing the buttons on the Ledger Nano S device. This implies that no hackers can transfer funds from your accounts unless they have physical access to your device and private key.
Nano S, much like Nano X and Ledger Blue, features a physically isolated secure element that is CC EAL5+ certified—the highest possible grade regarding penetration testing.


These security components are comparable to those found in credit cards, passports, and SIM cards; moreover, Ledger has its own unique operating system, BOLOS, integrated into secure chips. This guarantees that the different programs operating on the Nano S, as well as the 24-word recovery phrase (also known as seed phrase or passphrase), are separated from one another, and necessitates physical confirmation for every transaction.
Besides, the French cybersecurity organization ANSSI has officially approved the Ledger Nano S.
Regarding customer support, you can access the Ledger Nano S website's comprehensive help files. If you require help, you may submit a request on the customer support page. Please keep in mind that the support team is only accessible from Monday to Friday, 9 a.m. to 5 p.m. CET.
A Few Words Before You Go...
Ledger Nano S is a compact, safe, and simple hardware wallet to use and is well recognized for being a secure method of storing cryptocurrency in cold storage. It has an added degree of protection, as you must choose not only a pin number but also a 24-word recovery phrase. Furthermore, the device is built from strong materials, so you need not worry about it getting damaged. For the typical cryptocurrency enthusiast, the wallet may serve as a stepping stone into the world of hardware wallets.
This page was last updated on August 23, 2022