Built upon some of the best financial technologies available on the global market, the Margex crypto trading platform appeared in the crypto sphere in 2020 and was headquartered in Seychelles. Margex was created with the ultimate mission of making sophisticated cryptographic systems simpler to comprehend and more accessible to everyone. 


The team behind this project wanted to create a platform where traders could take advantage of equal and unfettered capital-making chances, regardless of where they live or what their professional background is.
What are the underpinning security protocols of this crypto trading and investment platform, what services does the Margex crypto exchange provide to its customers, and have the developers succeeded in establishing a solid footing for their crypto initiative – all these questions and more will be answered in our review.
About the Margex Exchange
Derivatives trading and leveraged trading are the primary objectives of the Margex crypto exchange. This trading platform is characterized by an intuitive user interface, comprehensive features such as TradingView charting and open position monitoring, three different order types (profit orders, maximum leverage, and stop-loss orders), competitive fees, as well as a robust security protocols, which is particularly important for service managing finances and sensitive information.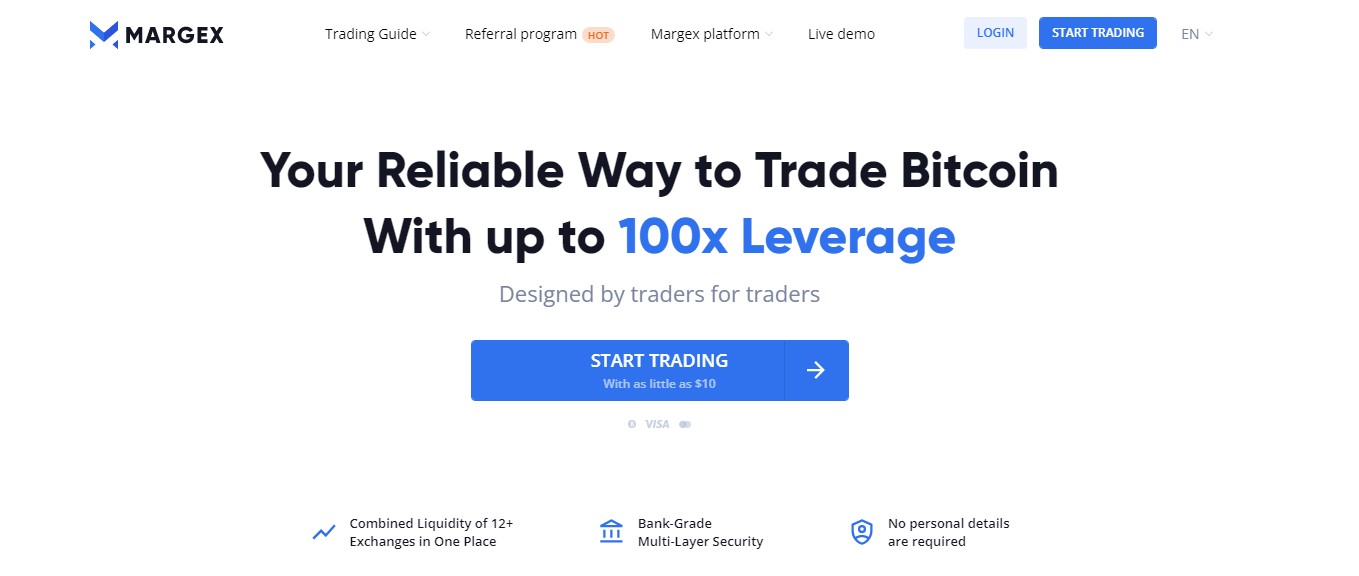 In addition to having an average transaction execution time of 8 milliseconds, Margex boasts a capacity of 100,000 transactions per second and a 40,000,000 USD order book depth, which is built up by pooling the liquidity of more than 12 different trading exchanges. As a result, the exchange is able to provide its clients with the best possible pricing across the whole range of available trading pairs.
The live deal flow and high liquidity of this platform, in addition to preventing cryptocurrency price manipulation by crypto whales who want to pump or dump the price of a particular asset, help to maintain the stability of a trade's value made through Margex. 
How to Open a Trading Account on Margex
In order to start trading on Margex, you do not need to comply with the stringent KYC requirements of identity verification, which makes this platform ideal for traders who value their privacy and do not want to divulge their documents over the Internet with unknown people. 
To begin with, you'll need a valid email address and a strong password in order to sign up for a trading account. For the sake of full disclosure, if you visit the registration form from an affiliate link, you will be eligible for a $100 USD incentive. Fill out the form with your email address and a password of your choosing, and then click on the 'Register' button, whether or not you used an affiliate link to do so.

After you have finished the sign-up process, you will receive an email with a verification code. Please keep in mind that you have a limited amount of time to enter this code into the dedicated box. This completes the registration procedure, and you are free to start trading with Margex immediately.
Beginners can practice their trading abilities by demo trading on Margex's test account, with the same feel as trading on a regular account. The difference is that with these test accounts, new Margex users can trade with paper money instead of investing real money.
Margex's trading interface is comprised of three modules: chart and order placement (highlighted in yellow), order and transaction management (highlighted in green), and order book and history of your trades (highlighted in blue). 

Traders can venture into placing limit orders, market orders, stop market orders, as well as protective stop loss and take profit orders through the platform. Also, Margex offers you to exchange Bitcoin with up to 100x leverage on margin trading.
To begin with, trading with leverage increases the earning potential of the crypto brokers by allowing them to buy, sell or swap cryptos and profit from larger trading volumes than wouldn't be possible if they just used their own money.
Margex offers an isolated-margin system of trading. This trading technique is favored by most crypto traders over the riskier cross-margin system of trading since it gives them control and independence to execute their trading strategies. Namely, when you make your order using Margex's isolated margin, you will know the liquidation price as well as the exact sum of money that is at risk.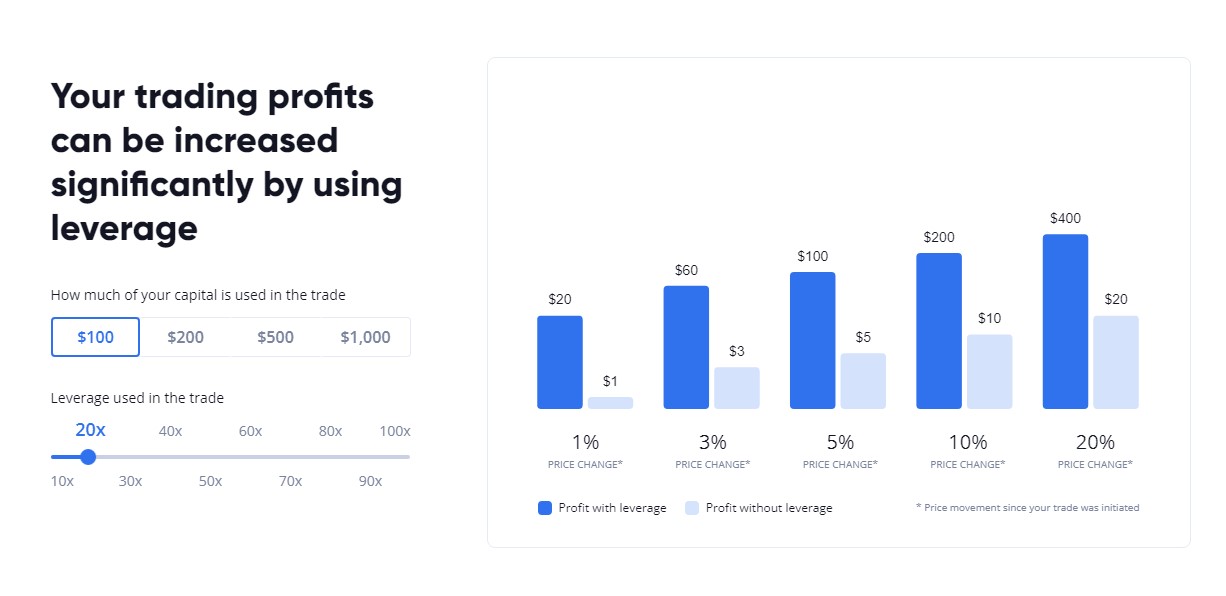 More specifically, the isolated margin mode indicates that the margin applied to a position is segregated from the investor's outstanding balance. This margin indicates the number of funds that are necessary and reserved in order to establish a trading position. 
People who invest in crypto can use this trading method to better protect themselves from price fluctuations because the largest amount of digital assets the broker could lose from liquidating a position is limited to the position margin set for that open order book position. Leverage at Margex can range from 1:5 to 1:100, depending on the number of crypto assets you want to stake.
Isn't it true that all good things should be shared with friends? If you have been a good friend and have shared the referral link for this exchange, Margex will reward you with a percentage of the trading commissions paid by your friends equal to 40% of the commissions paid by your affiliates.
You will get the fixed compensation every time one of your registered friends pays the transaction fee for their trades, regardless of how many transactions they make. The more they trade, the more your wallet grows.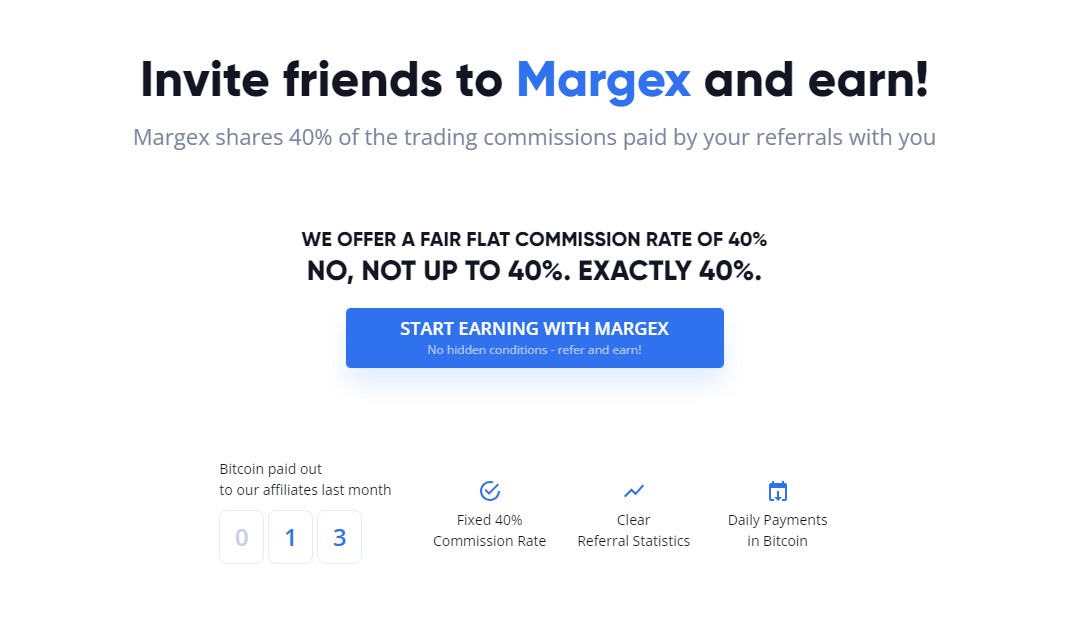 If you'd want to devote more time and effort to creating passive income through this program, the Margex exchange provides you with a variety of tools to help you expand your popularity and establish yourself as one of the exchange's influencers who helps to attract liquidity to this platform. All you have to do is get in touch with the Margex team, and you'll be given detailed instructions on how to become one of the company's most successful affiliate partners.
Supported Cryptocurrencies
This crypto exchange does not offer crypto assets that have poor liquidity or that are heavily influenced by market fluctuations of price. Hence, Margex presently offers just six cryptocurrencies for trading over its platform: Bitcoin (BTC), Ethereum (ETH), Litecoin (LTC), Ripple (XRP), Yearn (YFI), and Eos (EOS).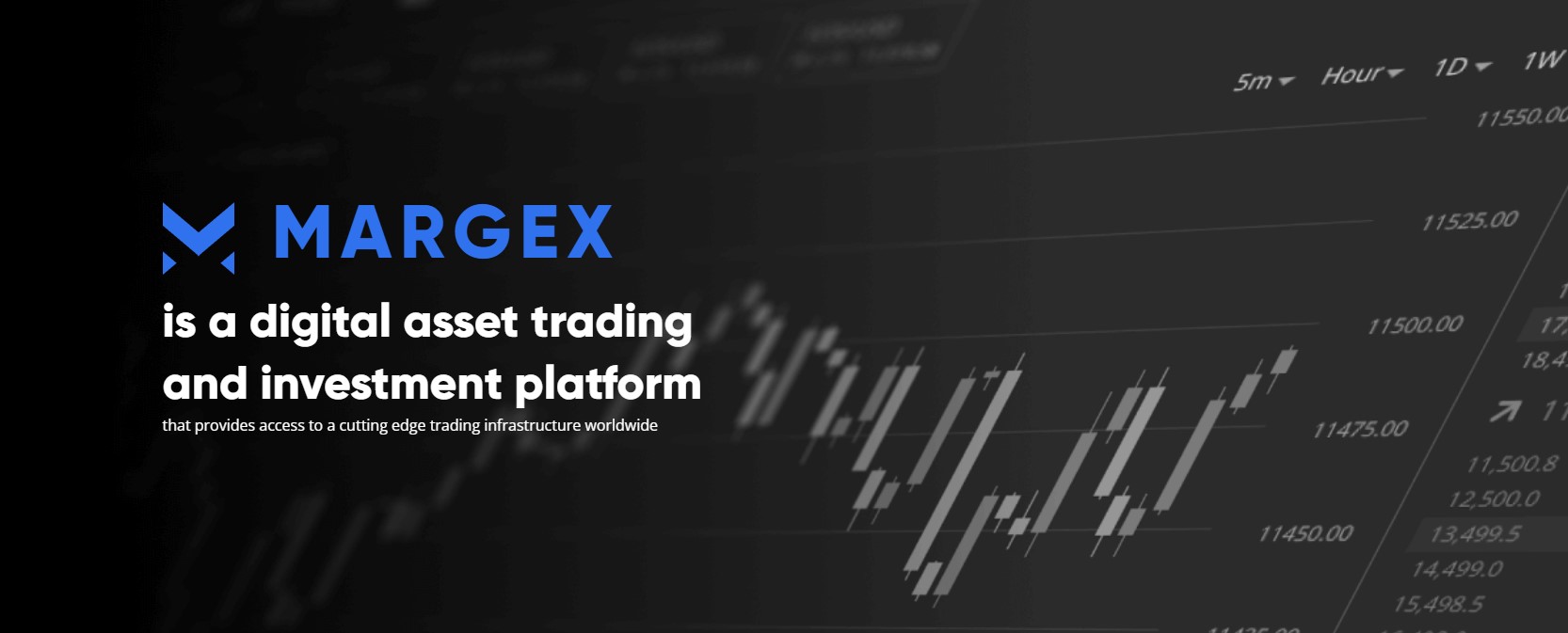 All of the coins mentioned above may be traded against the US dollar (USD) only, as crypto-to-crypto trading is not supported. Thus, the most liquid currency pairs on this exchange are BTC/USD, LTC/USD, ETH/USD, XRP/USD, YFI/USD, and EOS/USD. 
With the help of this decentralized exchange, you can automatically identify the best available deals in over 150 fiat currencies and pay for them in more than 400 forms of payment. PayPal, credit cards, wire transfers, and the OpenMonet peer-to-peer payment solution are all accepted as payment methods on the site, along with a wide variety of other options.
The exchange charges you a trading fee each time you submit an order. As Margex doesn't facilitate spot trading, both the taker fee and maker fee pertain exclusively to contract trading. According to this fee structure, takers pay 0.06%, while makers pay 0.019% for conducting a transaction through the Margex platform.
As evident from the table below, the maker/taker fee schedule is identical for all of the trading pairs listed on this exchange:
| | | |
| --- | --- | --- |
| Trading Pair | Maker Fee | Taker Fee |
| BTC/USD | 0.019% | 0.060% |
| LTC/USD | 0.019% | 0.060% |
| ETH/USD | 0.019% | 0.060% |
| YFI/USD | 0.019% | 0.060% |
| EOS/USD | 0.019% | 0.060% |
| XRP/USD | 0.019% | 0.060% |
The funding fees, on the other hand, are payable across every opened position in line with the following table:
LTC/USD – 0.27% for long position, 0.2% for short position;
ETH/USD – 0.07% for long position, 0.05% for short position;
XRP/USD – 0.07% for long position, 0.075% for short position; 
BTC/USD – 0.07% for long position, 0.05% for short position;
YFI/USD – 0.038% for long position, 0.04% for short position;
EOS/USD – 0.033% for long position, 0.035% for short position.
To begin trading on Margex, you must first make a deposit of at least $10 into your trading account.
Withdrawals made through the Margex exchange are completely free and can only be made in Bitcoin or fiat currencies. You will, nonetheless, be required to pay the mining charges to the network of the coin included in your transaction. Consequently, these mining fees are defined by the network you want to use for your withdrawal.
The security systems integrated into the Margex crypto trading platform consist of several layers: account security, custodian security, infrastructure security, and fraud prevention. In addition to their own set of security procedures and controls, each of these levels is subject to regular and rigorous auditing by in-house and external security specialists.
When it comes to account security, Margex uses the two-factor authentication protocol (2FA), email confirmation whenever a sum is taken from a user's balance, real-time alerts and notifications to notify users of all account activities, SSL data encryption for all data provided to the exchange via the Internet, and a number of other security measures for an ultimately safe user experience with this exchange.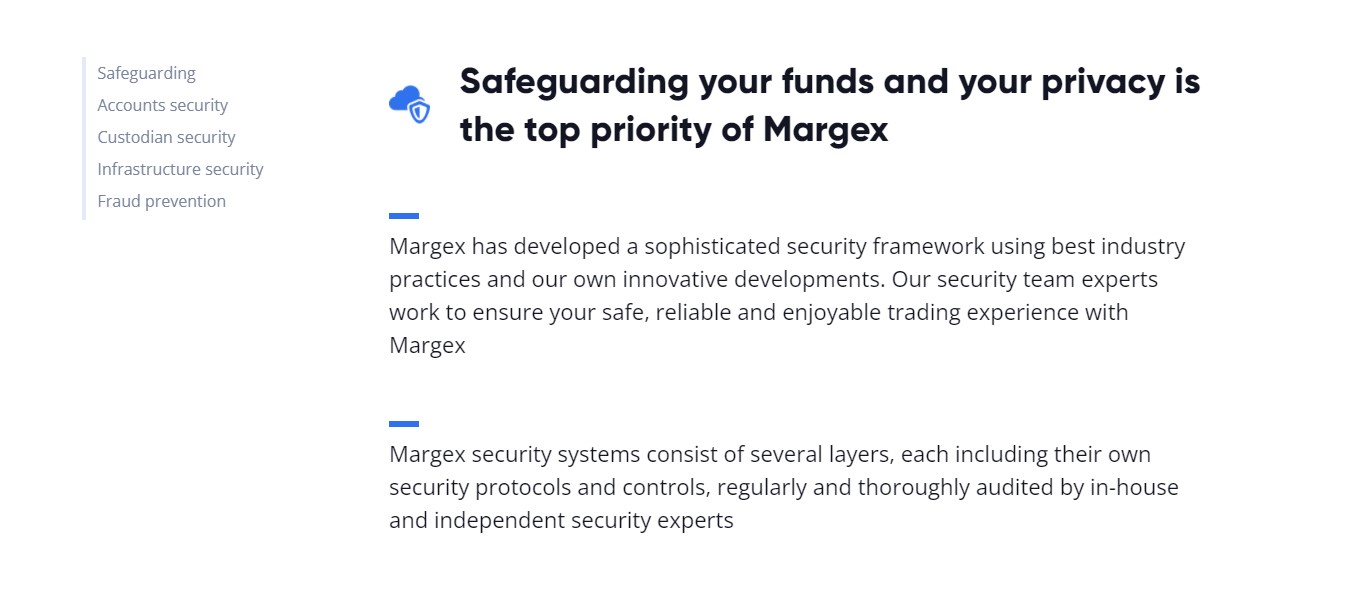 Furthermore, all of the user's digital assets (i.e. 100% of their funds) are kept in multi-signature cold storage to provide an additional layer of safety to this blockchain-based platform. Additionally, real-time monitoring enables the team of Margex security professionals to respond quickly and take the appropriate steps anytime they detect unauthorised removal of a user's assets from the platform or scams.
Additionally, Margex provides its clients with the MP Shield system protection, a real-time machine learning system capable of detecting any price feed or questionable trading activities (like spoofing or bluffing).
While the Margex Help Center on its website does not provide more than the basic answers to their operations and services offered by this crypto exchange, it does have a series of YouTube video tutorials that provide interactive explanations for a better (visual) understanding of the crypto trading processes.
Margex's customer support is available via live chat to all of its users worldwide. You can conveniently reach them by opening a live chat, or by sending an email request to the company's multilingual customer service staff. Margex also provides an email address for anyone who is involved in the media and wants further information about this cryptocurrency exchange, or those who have a business proposal.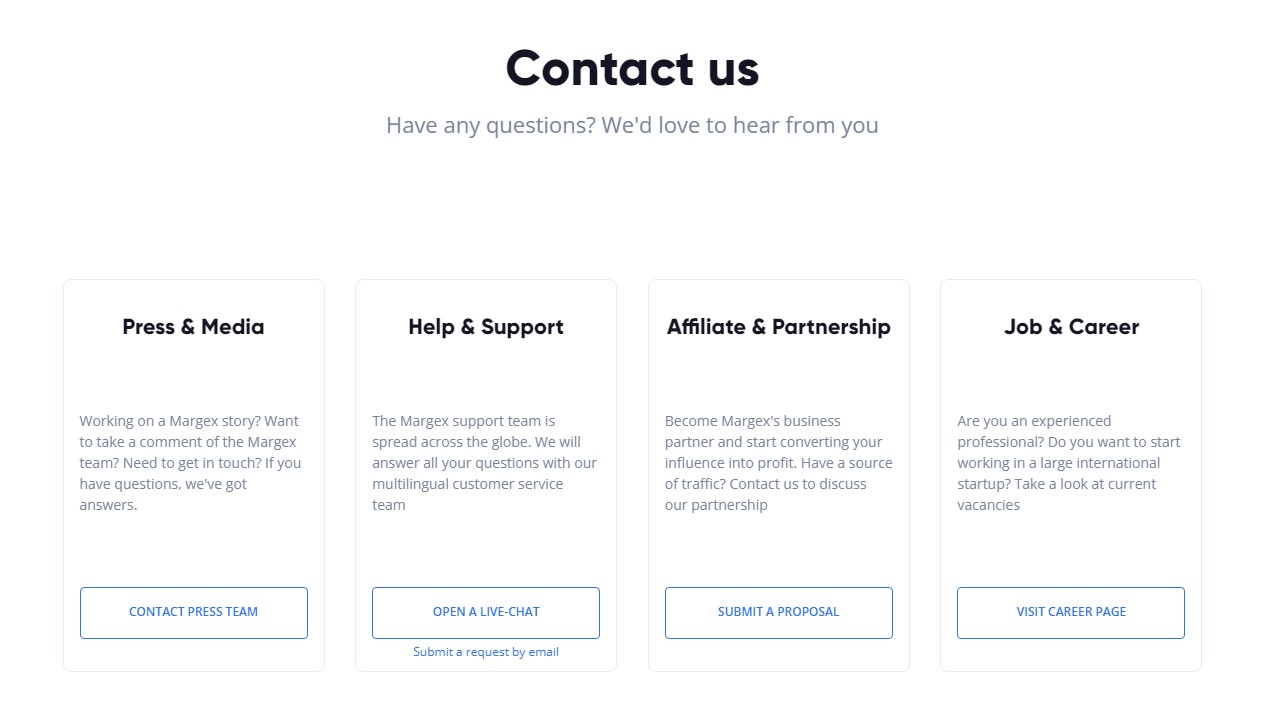 Alternatively, you may contact the support team via some of their social media channels, like Facebook, Twitter, or Telegram. The customer service is available to you 24 hours a day, seven days a week.
Frequently Asked Questions
Does Margex have a mobile app?
No. Being in its early phases of development, this exchange does not yet provide its consumers with a mobile application. Margex, on the other hand, provides a user-friendly interface for its web platform, which can be accessed from any smart device that is connected to the Internet.
What countries are supported by Margex?
Margex is a global cryptocurrency trading and investment platform that provides access to its financial services to people all over the world.
How to buy Bitcoin on Margex with a credit card?
You can buy BTC with a bank card using the Changelly widget embedded on the Margex platform or through an alternative third-party payment provider. The Changelly widget lets you buy bitcoins with your credit card and deposit the coins immediately to your Margex wallet.
How to become Margex's market maker?
One of the most significant features of the Margex trading platform is its high level of liquidity. When traders place limit orders for buying or selling a digital asset, they create liquidity for the crypto commodity in question. If there is a significant amount of liquidity in an asset's order book, Margex will adapt the fee level for executing a transaction based on the liquidity. 
Upon completion, a positive fee is paid on limit order trades to further incentivise brokers to incorporate limit orders in their trading strategies. This way, crypto investors not only add to the exchange's liquidity but are also able to generate higher capital gain while trading with limit orders.
In addition to the competence, MMs are expected to have a minimum operational capital of 500 BTC (or the sum's equivalent in ETH, EUR, or USD) to become market makers.
The Margex derivatives and margin trading platform is a pretty recent addition to the world of digital money exchanges. By providing low fees and high leverage trading as its key features, along with strong security and privacy protocols, and combined liquidity of more than 12 liquidity providers, this exchange could be seen in the future as one of the leading crypto swapping platforms out there. The exchange also pledges to facilitate 100x leverage, which is backed by Margex's exclusive endorsement of cryptocurrency initiatives with strong liquidity only.
Moreover, Margex offers a user-friendly interface for both beginners and experienced crypto investors and is one of the fastest transaction processing engines in the industry. However, a greater range of trading pairs, as well as a mobile app and a more comprehensive Help Center, would be welcome additions to this exchange in the future. 
We are confident that all of these aspects, together with their affiliate scheme, which provides an extra (and high-paying) passive revenue source for traders, will help Margex become one of the most popular crypto trading platforms – a route that the Margex developers are following successfully so far.
This page was last updated on August 23, 2022