MyCelium Wallet Review 2023
As the crypto trading platform offering has been exponentially growing and expanding on the market, the need for a solid, stable and trustworthy storage space has become a paramount priority for crypto traders. Just as crypto trading platforms come in very different packages and offer a variety of different features, so, too, do crypto wallets aim to accommodate what the crypto exchanges are able to provide to their clientele. 


It should come as no surprise that Bitcoin crypto wallets are at the forefront of web based blockchain wallets. However, the most employed and trusted wallet type is the hardware wallet. That being said, not all hardware wallets are created equal. The more distinct digital assets and features developers come up with, the greater the need for adequate and suitable crypto storage offerings.
One such multicurrency wallet with impeccable security measures, which leave it at the forefront of the industry, is the MyCelium wallet. Let's take a closer look at its features and learn what makes him a favourite among traders worldwide. 
How to Choose a Bitcoin wallet
It goes without saying that the most important feature of any crypto wallet is the security and protection it can provide. Once that box is checked, the next important parameters come down to ease of use, features and accessibility. 
The first thing that you should get out of the way is whether you will be using a hot storage wallet, a cold storage wallet, or as in most cases, both. The main difference between wallets that employ hot and cold storage is the space that they occupy when storing user funds and assets. Hot wallet storage is a way of keeping digital assets under encrypted digital spaces online, while cold storage wallets are physical devices that are able to store user funds offline. 
While hot wallets do come across as more convenient and are much quicker to deploy or withdraw BTC from, the fact that they are online at all times makes them a much easier target for malicious attacks, scams and hacks. 
The MyCelium is a cryptocurrency wallet that provides hot storage and functions as a compact mobile device app. The wallet's build is completely open-source, very accessible and, as far as hot wallet storage goes, has an excellent security infrastructure in place. 
The MyCelium wallet was one of the pioneers of third-party BTC storage when it came out, back in 2013. This comes as no surprise because the crypto app's founders were present on the tech scene before Bitcoin was even a thing. MyCelium was founded by Alexander Kuzmin, Andreas Petersson and Jerome Rousselot, all of whom are accomplished engineers in their own right.
The Mycelium wallet was rolled out as an Android exclusive app, however, it didn't take long before its founders expanded their offering and launched the MyCelium iOS app. The wallet was accompanied by two other crypto service apps: a paper wallet called Entropy, as well as a widget payment processor called Gear.
The crypto wallet has proved to be a valuable asset for traders all over the globe as it offers its users an enjoyable and simple to use interface paired with a hot storage ecosystem at the best encryption that technology has to offer. The wallet was recognized In 2014 when it was crowned the "Best Mobile App" according to Blockchain.info.

Because the Mycelium crypto wallet is open-source by nature, anyone can see and alter how it functions. This has been largely beneficial for the MyCelium company because their product has consciously been scrutinized and improved. The crypto wallet provides its clientele with four different levels of transaction history so users that are nitpicky can dive deep and get every statistical advantage that they can muster. This way users are able to compare charts and graphs with other crypto trading platforms, crypto wallets and payment providers. 
The app provides its users with access to the FIO network, through which they can disable outbound traders and transactions and have a clear view of their stocks. The wallet comes with a Bitcoin address book and employs SPV (Simplified Payment Verification), which greatly speeds up processing times on transactions because there is no need for the app to download the blockchain network on which the assets are being processed.
How to Get Started With MyCelium
The first thing that traders need to do in order to get started on the MyCelium wallet is to download the wallet app from the Google Play store app store or Apple store. Once they have the app on their device they should open it and come up with a unique twelve-word sentence that will serve as a backup should they get locked out of their accounts, or lose their private keys. The next step is to come up with a PIN that they will be using in order to enter the app and verify their logins. 
Once the user account is set up and has been backed up, traders are able to process transferring funds and digital goods to their balance sheets. In order to do this, all that they need to do is tap the Balance tab feature and navigate to the Send button. The wallet app will then ask them to provide the destination address. This can be done automatically by scanning a QR code that links to the designated Bitcoin address or added manually.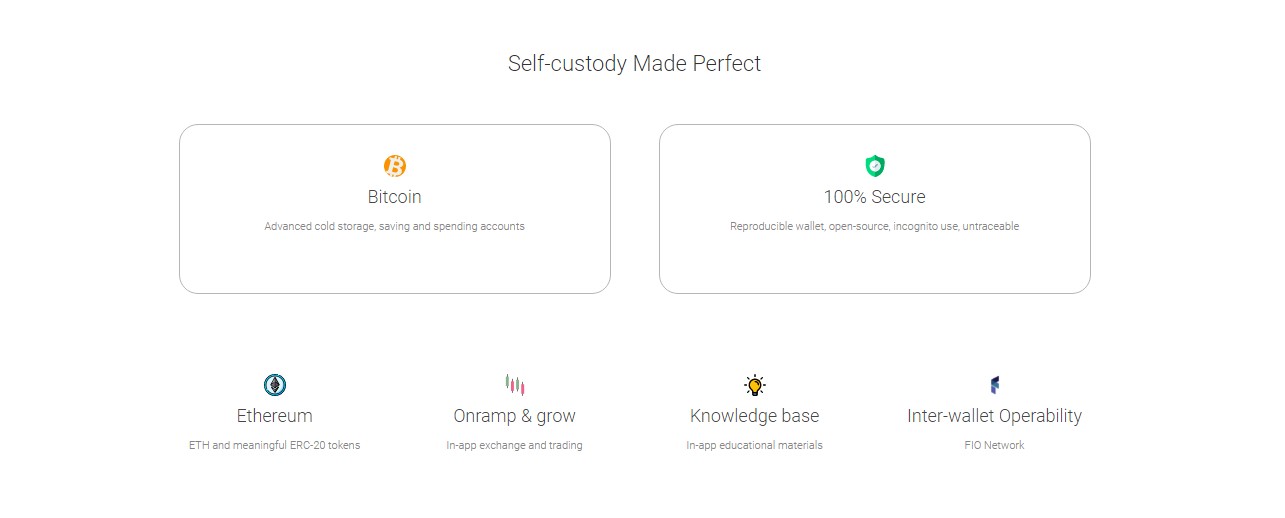 Once the destination has been established and set, users will be asked to provide the app with the BTC sum that they will be parting with, as well as choose their mining fee type on execution. If everything goes down as it should, users will be able to confirm their request by entering their unique PIN code.
MyCelium General Features
The MyCelium crypto wallet app has very strong features such as an intuitive interface, competitive exchange rates, and various send and receive options. The crypto wallet supports a multitude of BTC address types such as:
HD or Hierarchical Deterministic wallet that functions as a master seed from which all BTC addresses stem;
Bit ID or open protocol wallet that employs a significantly more complex and advanced security structure; 
Single Address wallet account that serves as a direct link and secures user assets:
Watch Only wallet account that stores all user addresses without storing the private key that opens the accounts up. This way traders are able to monitor all of the changes and activities while keeping their private keys far away from prying eyes.
Hardware Account wallet which provides the option of pairing the platform's crypto app wallet with a third-party hardware wallet. As far as hardware wallets go, MyCelium is compatible with Keepkey, Ledger Nano S, and Trezor. The app also makes use of quick payment processors such as Cashila and Glidera that are fully integrated with the wallet app's protocols.
MyCelium provides its users with an advanced feature that allows them to take their trades to the next level. The Local Trader feature makes it possible for users to buy and sell crypto from other Bitcoin traders that happen to be close by at more favourable rates. This feature is completely decentralized and works on a P2P protocol. So, in a sense, it's the closest thing you'll find to analog world trading. Nevertheless, traders do have to know how to set up and execute a trade by themselves by employing the Local Trader feature, as in this case MyCelium does not serve as a medium. 
Bitcoin and Other Supported Cryptocurrencies
Even though Bitcoin is MyCelium's bread and butter, the wallet also supports some of the most popular and sought after currencies on the market such as Ethereum (ETH), Tether (USDT), as well as ERC-20 tokens the likes of Binance USD, Hoboken, and Bitfinex LEO.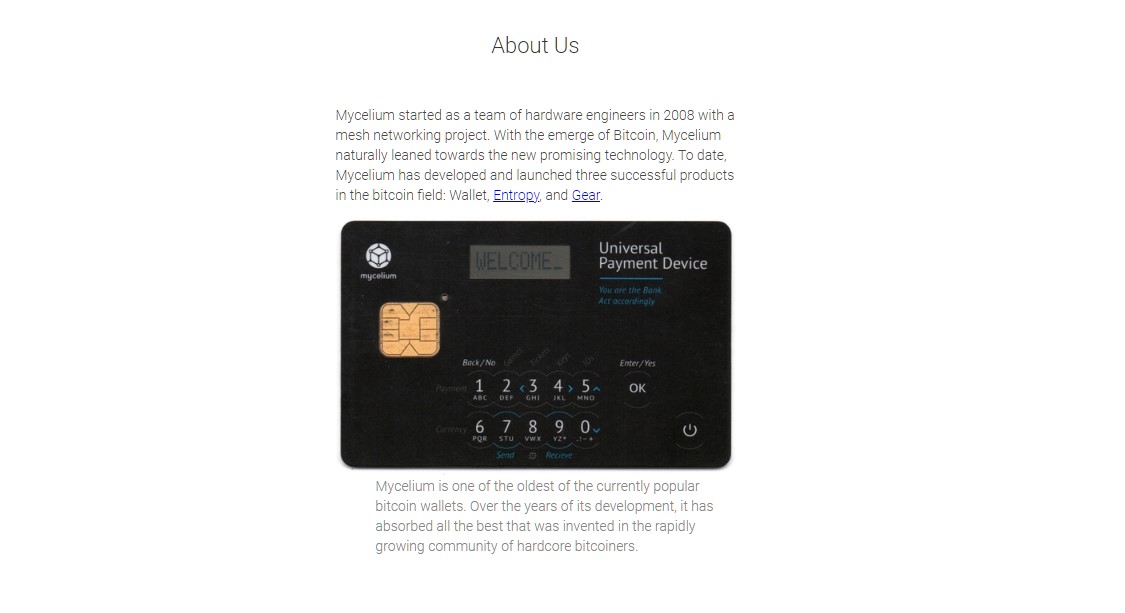 That being said, the MyCelium crypto wallet app is not geared towards multi-currency trades. Traders who are interested in swapping and storing different currencies and altcoins are better off taking a look at some crypto wallets that have been designed from the ground up as a multi-currency platform. A good place to start is the Coinbase Wallet.
The MyCelium employs its own fee structure that makes it possible for traders to participate in instant Bitcoin exchanges at a variety of rates. The main factor on the employed fee structure is the monthly user trading volumes.
Users can expect to be dealt miner fees that usually come at anywhere between 129 and 600 satoshis/bytes. Traders also have the option to pre-set and choose their miner fees by selecting one of the four provided options: Priority, Low Priority, Normal, and Economic. Each one of these has a different speed to fee ratio, so as a user, you can always go with the one that suits your needs best at any given moment. 
The fact the MyCelium wallet is an online mobile app wallet makes it a target for breaches and malicious attacks. However, the wallet does provide Bitcoin storage in a non-custodial manner. This means that the servers of the app itself never touch or come across any of the funds that go through it.

The wallet provides users with total and utter control over their private keys which by extension places all of the responsibility tied to the private keys on the user. This means that they are as safe as your employed device. The PIN and 2FA (two-factor authentication) layers are a good investment on MyCelium's part, as they make it more difficult for anyone to log in or make a withdrawal incognito.
So, while the MyCelium Crypto wallet is a mobile wallet, it makes a serious effort to provide as much security and stability as possible. Users should always opt for hardware cold wallet storage for long storage or holding positions.
The MyCelium wallet app platform can be reached via filling in for a support ticket or direct email at support@mycelium.com. The platform support team is highly attentive and is known to resolve queries very quickly. The MyCelium app wallet does not have a social media presence or an official Facebook and Twitter account.
Frequently Asked Questions
Is MyCelium wallet anonymous?
The MyCelium app wallet does not store any user funds or personal data on its servers. This makes it impossible for someone to steal your sensitive information should an unfortunate event take place. The app automatically generates a new address upon every transaction and allows users to store their own private keys. That being said, the MyCelium crypto wallet does not provide users with complete anonymity. Traders that are interested in remaining fully anonymous should look into third-party hardware wallets instead.
Can you store your crypto in more than one wallet?
Users should always consider multiple storage points for their funds. On long storage and holding positions, it's much better to employ offline cold storage. In order to get the best out of both worlds, users should employ the services of both hardware and web or app-based crypto wallets. That way they can execute quick trades at fast processing times on direct transactions and store their assets in maxim security wallets, offline.
Are hardware wallets worth investing in?
Every trader that is serious about crypto trading should consider investing in a hardware Bitcoin wallet. Traders that deal in large sums or take long holding positions cannot afford to be compromised. To this end, investing in a hardware crypto wallet should be a priority.
A Few Words Before You Go...
The MyCelium Bitcoin wallet offers some of the best security features and transaction fees for Bitcoin users. The app user interface makes it super convenient for single address accounts to navigate through the Bitcoin network and engage in cryptocurrency trades. As far as cryptocurrency wallets go, the mobile wallet might not be the best one for beginners due to its extensive feature offering. Nevertheless, for traders who are looking for a dedicated BTC wallet in app form, it's still one of the best all-around app wallets on the market today.
This page was last updated on August 23, 2022