MyCrypto Wallet Review 2023
The MyCrypto wallet stands as one of the industry's best and most sought-after crypto wallets. The wallet features an open-source design and is perfect for storing Ether (ETH), and other tokens run on the Ethereum blockchain network. The software itself comes at no additional cost and allows traders complete control over their digital goods.  


Join us today as we uncover its stellar features in this detailed MyCrypto review!
The MyCrypto wallet was launched back in 2018 by co-founders Taylor Monahan and Kosala Hemachandra. The platform came about as an altered and improved idea of the MyEtherWallet (MEW), which during its heyday was regarded as one of the most prominent and revered Ethereum based storage units. The forked construction of MyCrypto wallet is nothing new and shouldn't come as a surprise because this is quite a common practice with open-source coding.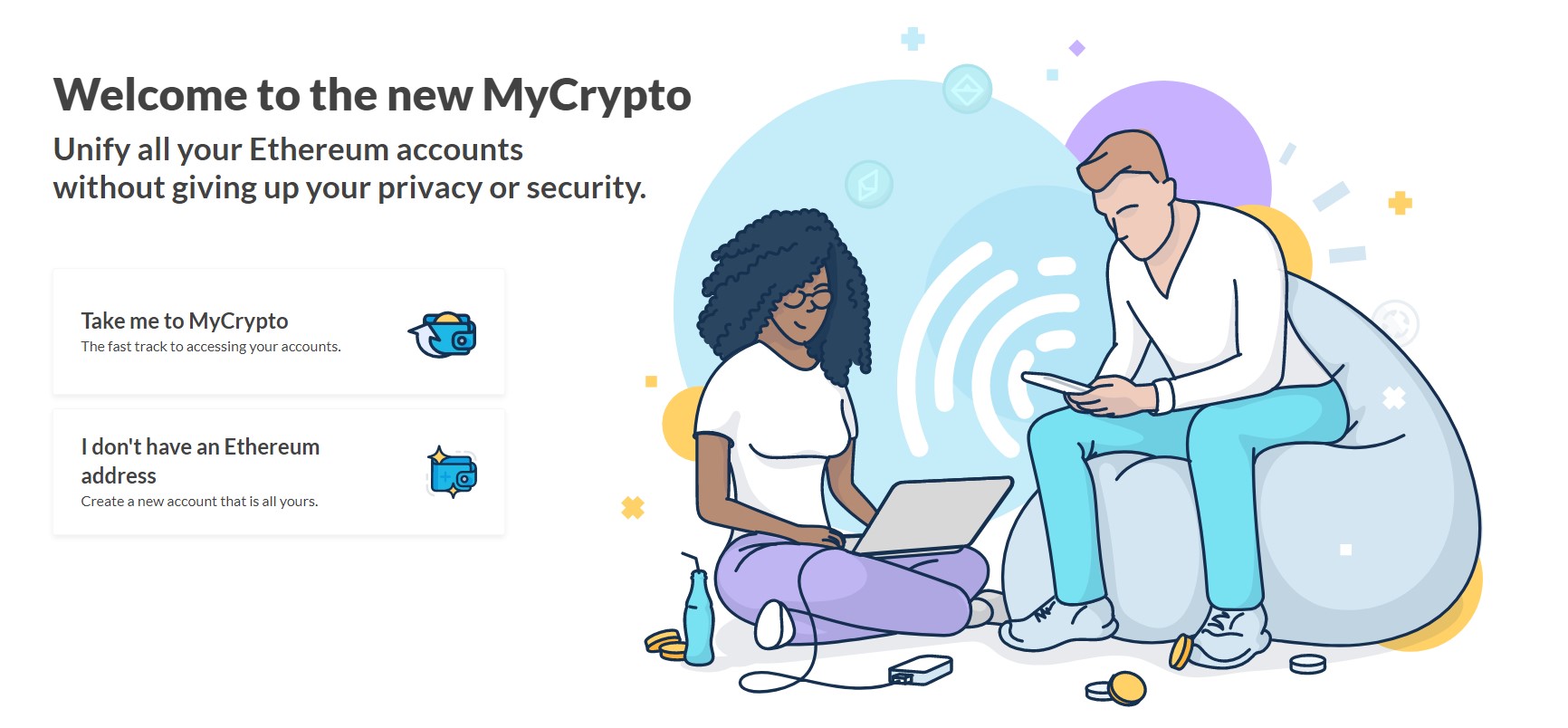 The crypto wallet retains the intuitive and straightforward construction of the MEW wallet; however, it also introduces a great deal of innovation and overall improvement to the product. These changes struck a chord with the Ethereum ecosystem crypto crowd that has resulted in exponential growth in the popularity of the wallet since its launch.
In order to get a hold of the MyCrypto wallet, users have to head over to the app's official website and download the desktop app software for free. Traders can use the wallet and its features without registering for an account with the MyCrypto wallet. All of the data that the wallet processes and systemises never leave the user's platform. So, the only thing that goes out into the ether is the blockchain data. 
Ethereum Name Service (ENS) integration and widgets such as the Coinbase Buy Widget, which makes it possible for traders to instantly swap and buy crypto with fiat without the need of a credit or debit card are just some of the features offered by MyCrypto.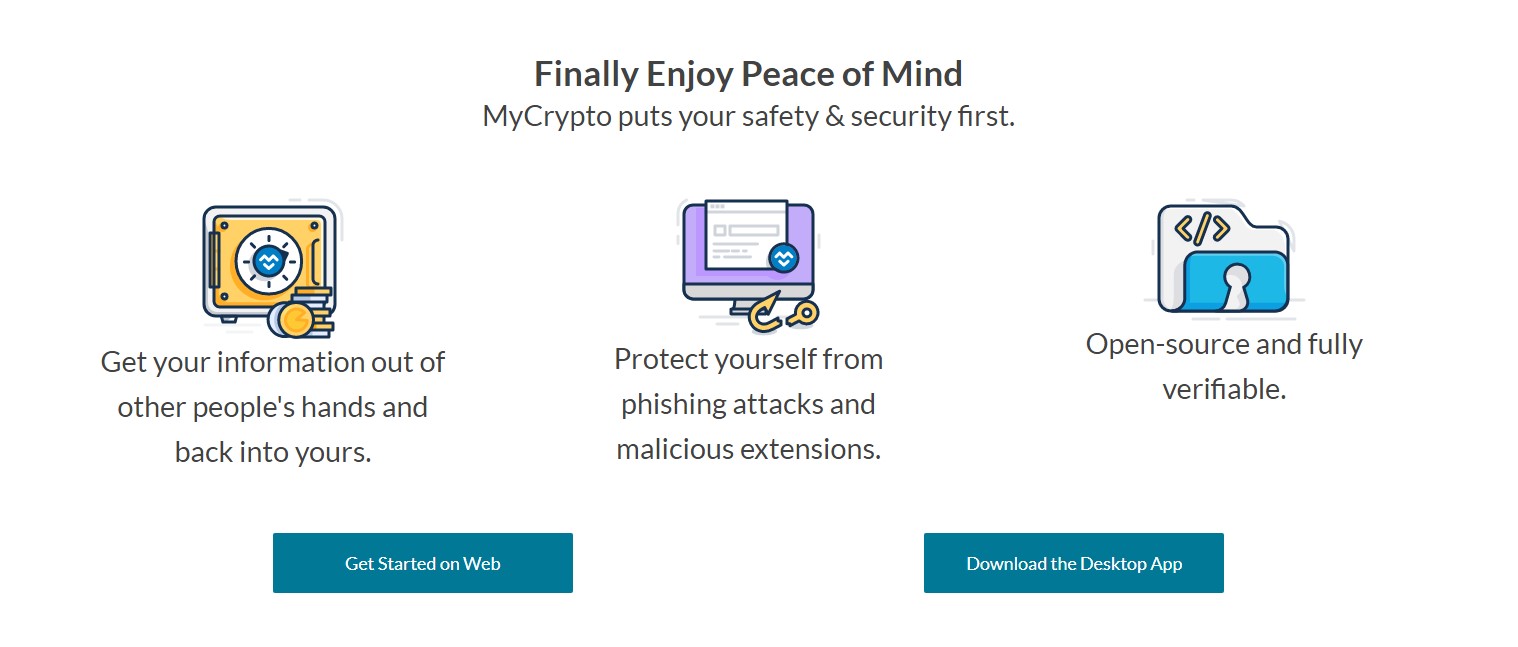 The wallet is compatible with a multitude of third parties and outside sources such as renowned hardware wallets like Ledger Nano S, Trezor, Metamask, WalletConnect, and Frame. The wallet also allows for immediate token swaps that can be executed on some of the most in-demand decentralised crypto exchanges, such as ShapeShift.
Once you visit download.mycrypto.com, make sure that you are on the official page by checking the SSL certificate and downloading the software. The next step is to install the app on your device and activate your new wallet. The app itself will generate a default new crypto wallet; however, traders are also able to create an access point for their third-party independent wallet through the MyCrypto wallet. 
Once you choose whether you want to go with a completely new crypto wallet or connect an already existing wallet to MyCrypto, you can proceed by tapping the Generate a Wallet button to activate your private keys. This can either be done by employing your unique phrase or loading a Keystore file.
If you find it more convenient to set up a unique access phrase, you need to navigate to the View & Send tab and punch in the phrase to gain access to your crypto wallet. Traders that have encrypted their access point through the Keystore file approach simply need to load in the Keystore file. Traders are able to store their private keys as a paper wallet that comes as a unique QR code. Once these steps are over and done with, users are able to set up the wallet addresses that they wish to transfer funds to and from. Once the addresses are placed, the MyCrypto wallet is fully set up and ready to go. 
Supported Cryptocurrencies
The MyCrypto wallet runs exclusively on the Ethereum network. The supported roster of coins and tokens includes the native Ethereum (ETH) and Ethereum Classic (ETC), as well as ERC-20 tokens. Traders who are interested in dealing with currencies that reside outside of the Ethereum blockchain network, such as Litecoin (LTC), Ripple (XRP), Bitcoin (BTC), Cardano (ADA), and Dogecoin (DOGE), are out of luck and will be forced to jump ship to another wallet provider.

In order to execute transfers with the MyCrypto wallet and swap currencies between crypto wallets, traders have to navigate to the Send section and unlock their wallets.
Next, they'll need to add the recipient address to the fold, specify the exact amount of currency that they wish to transfer, choose their transaction fee structure anywhere between 0.1 gwei and 999.9 gwei and execute the transaction. If everything goes smoothly, they should be prompted with a message that informs them of the successful transfer.
Trading Fees and Limitations
The MyCrypto wallet comes as a free for all app purchase that doesn't administer any deposit or withdrawal fees. However, traders interested in employing the platform's MyCrypto card transactions or using ATM withdrawals are in for some fees on the back end of transactions.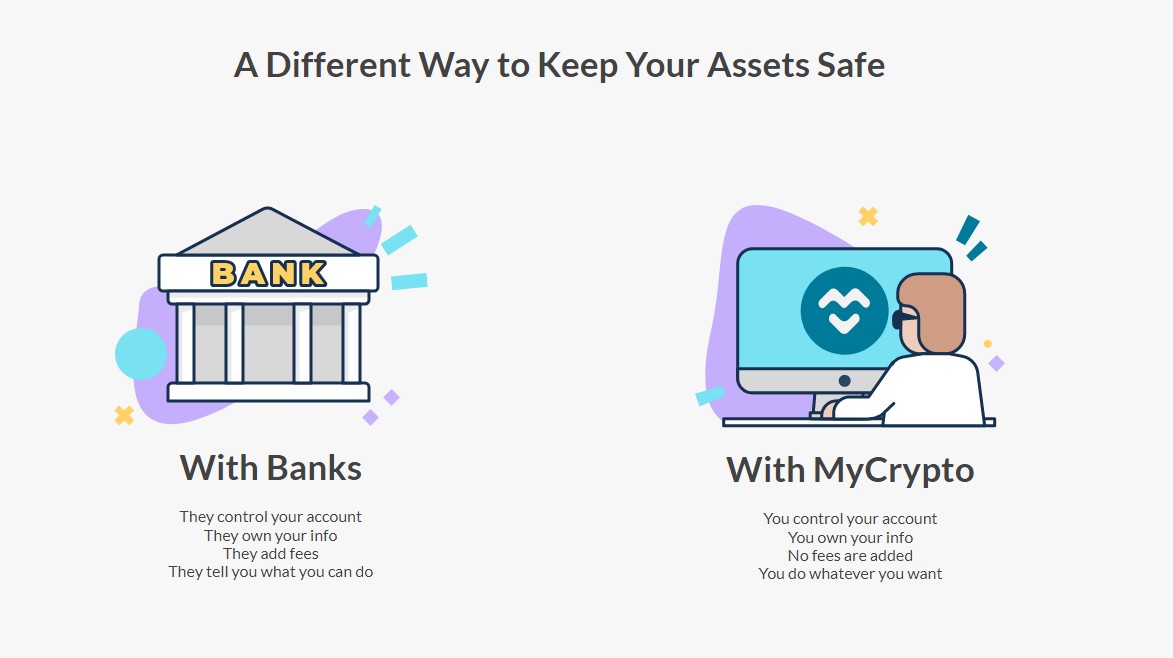 Outbound crypto transactions come with designated network fees calculated in GAS that vary and completely depend on the blockchain they occupy. The crypto wallet system has no limits or thresholds on transactions or transaction fees; however, the Ethereum network has a minimum priority fee of 0.000441 ETH.
The good news is that the MyCrypto Wallet is a client-side wallet, which means the platform itself does not store any private data or information on its servers. As such, traders are fully responsible for the safety of their digital goods and assets. In essence, user credentials and private keys are as safe as the private desktop devices that they are stored on. 
Even though the MyCrypto wallet features a stable and dependable security infrastructure, there is only so much that a software wallet is able to do to go against malicious attacks and scam phishing links. That's why traders should always invest in a separate hardware wallet, where their assets will be kept securely offline, in cold storage. All user data that resides on the MyCrypto Wallet is heavily encrypted, so users can rest assured that no one is able to steal their identity even in an unfortunate event of a security breach. 

The crypto wallet's software system stores the user's credentials and passwords under full encryption at all times and provides its users with multiple recovery points and backup features that can come in handy should things go cyber-south.
Because the MyCrypto wallet is non-custodial, the platform has an extensive knowledge base in place that should be able to tackle even the most obscure of entanglements. In order for users to gain access to this knowledge base, they will have to head down to the Help and Support tab and browse the many instructional how-to videos and tutorials. Although the customer care section of the platform might seem geared towards individual users, it is also a goldmine for development teams because of its open-source nature.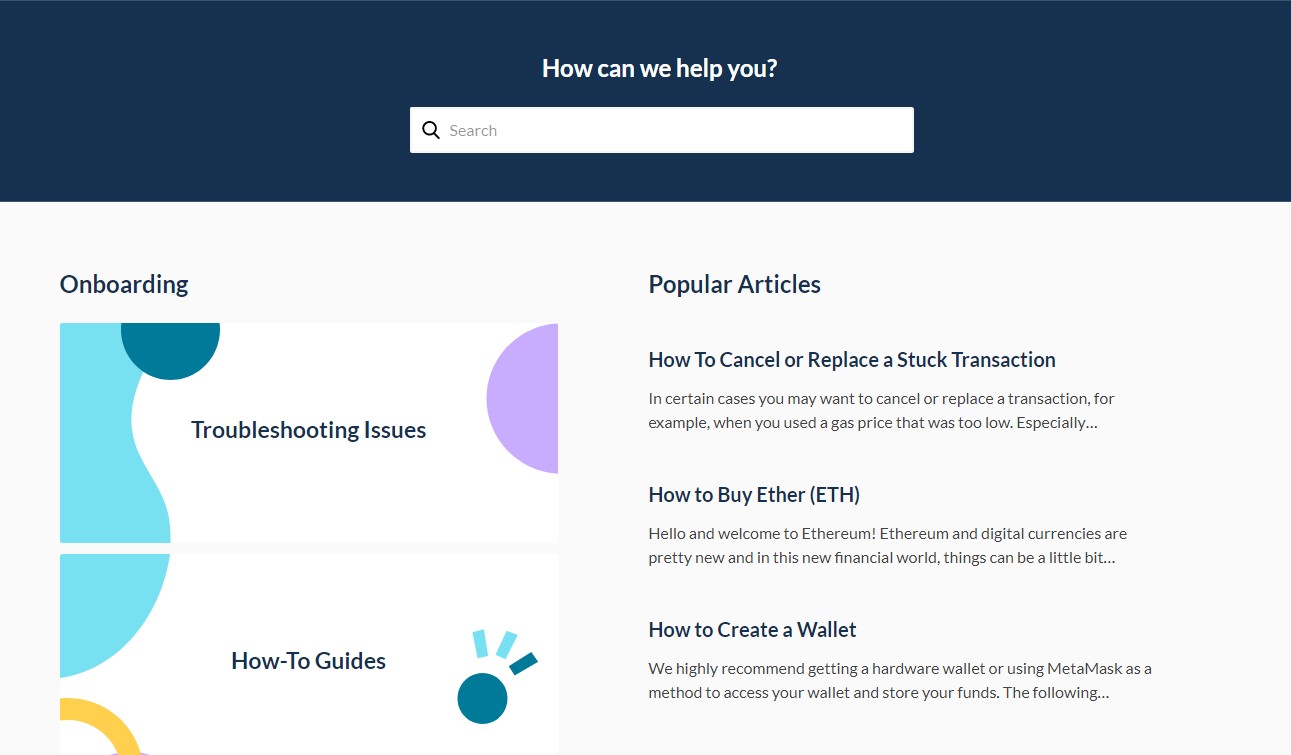 Traders that require personal assistance can reach out to customer support via email by checking in a ticket under the Contact Us section around the clock. The MyCrypto wallet also has official social media planners on the most popular social networks such as Facebook, Twitter, and Reddit. If all else fails, these are pretty solid outlets that would help users to resolve their pending problems or uncertainties. 
Frequently Asked Questions
Can I cancel a declined transaction with MyCrypto?
Traders have full control over their funds at all times. This means that if a trader changes their mind and decides to cancel or stop a transaction from going through, they are able to do so at will. Once the transaction has been successfully terminated, the user will receive a zero-sum receipt for the cancelled trade. This is a sure-proof way that guarantees there is no way that someone else is able to execute an already cancelled transaction in the future. 
Can MyCrypto wallet stop working?
Traders do not have to worry that their wallets can be impacted or compromised by internet connection stability because MyCrypto Wallet is not a web-based application. Once users download the wallet and have it on their designated device, they should simply reinstall the software in case the wallet malfunctions for any reason, and use their wallet recovery points to transfer their data and digital assets to their new wallet.
Is MyCrypto wallet fully anonymous?
Yes. The MyCrypto wallet is a fully non-custodial wallet service that is available to all traders residing in the territory of Australia and New Zealand. Traders aren't required to share or submit any information with the wallet service or go through privacy-invasive AML and KYC tests in order to unlock the full potential of the MyCrypto Wallet.
A Few Words Before You Go...
Traders that are dealing in Ethereum or Ethereum-based tokens and currencies would definitely strongly consider the MyCrypto wallet. The app provides traders with a robust and dependable place to crypto assets before transferring them to their personal bank account or hardware wallet. What started as a MyEtherWallet fork has grown into a crypto wallet that is fully compatible with almost all cryptocurrency exchanges and trading platforms, where digital currency swaps are a breeze to execute.
This page was last updated on August 23, 2022