MyEtherWallet Review 2023
A cryptocurrency wallet is a safe digital wallet that enables cryptocurrency users to store and access their digital currencies. The majority of cryptocurrency exchanges provide users with their own software wallets, which are directly linked to the users' trading accounts. Alternatively, if the crypto exchange is trustworthy enough, users may decide to keep their assets in the exchange's personal vaults rather than move them to their own wallets. 


But what if you could generate your own crypto wallet rather than downloading one from the website of a crypto exchange? MyEtherWallet offers precisely that – it's a free, open-source client-side interface that enables cryptocurrency users to establish new Ethereum blockchain wallets. In this MyEtherWallet review, we will go over all of the key details about the source platform, how it operates, its features, advantages, and so on.
About MyEtherWallet (MEW)
MyEtherWallet is not a cryptocurrency wallet in the traditional sense; rather, it is an interface that enables users to store Ethereum and any ERC-20 token that has been created on the Ethereum platform. Unlike other cryptocurrency wallets, which hold cryptocurrency coins in an online or web-based wallet, MEW (MyEtherWallet, as it is more popularly known) is an open-source interface that allows cryptocurrencies to be kept on the trader's device rather than online.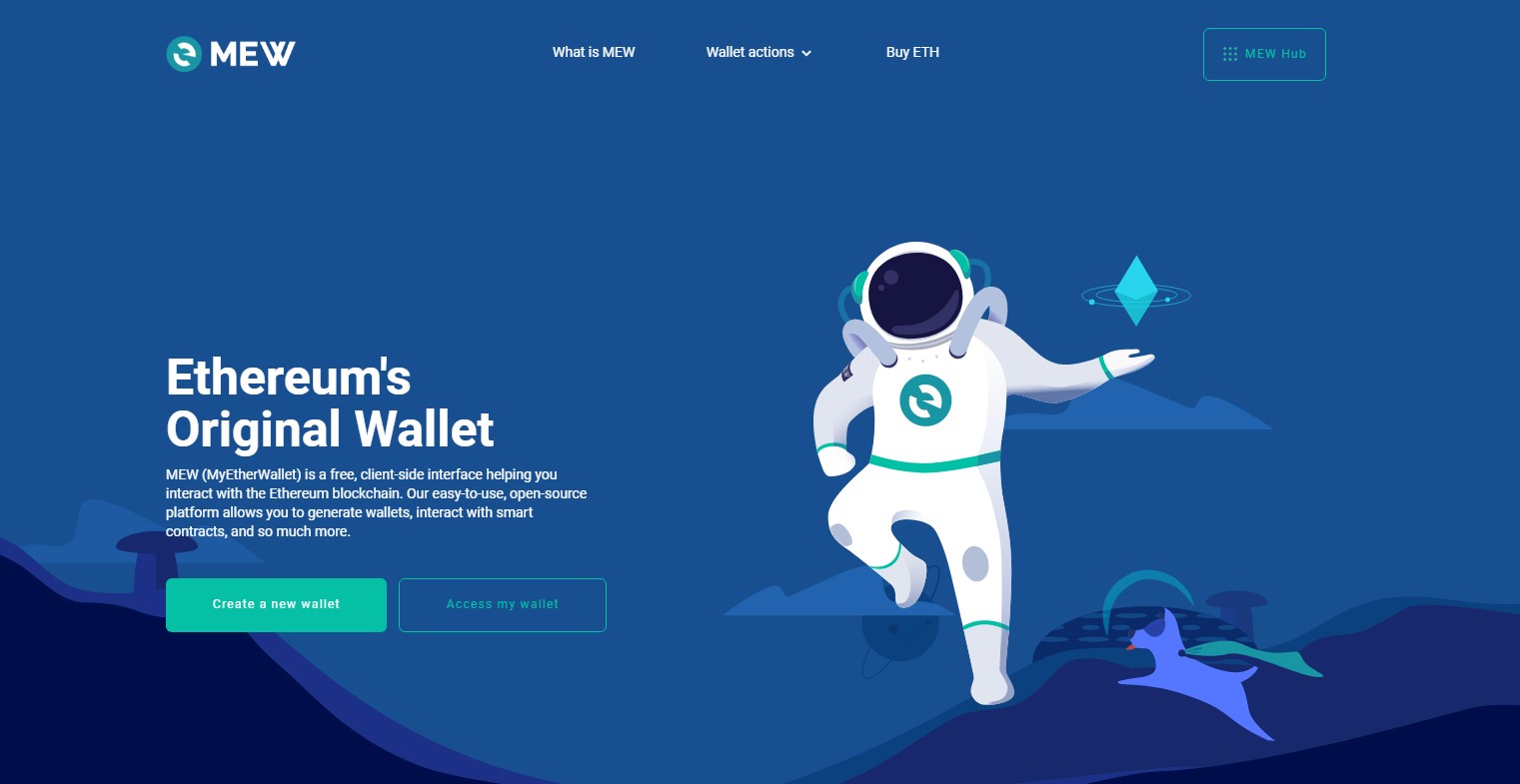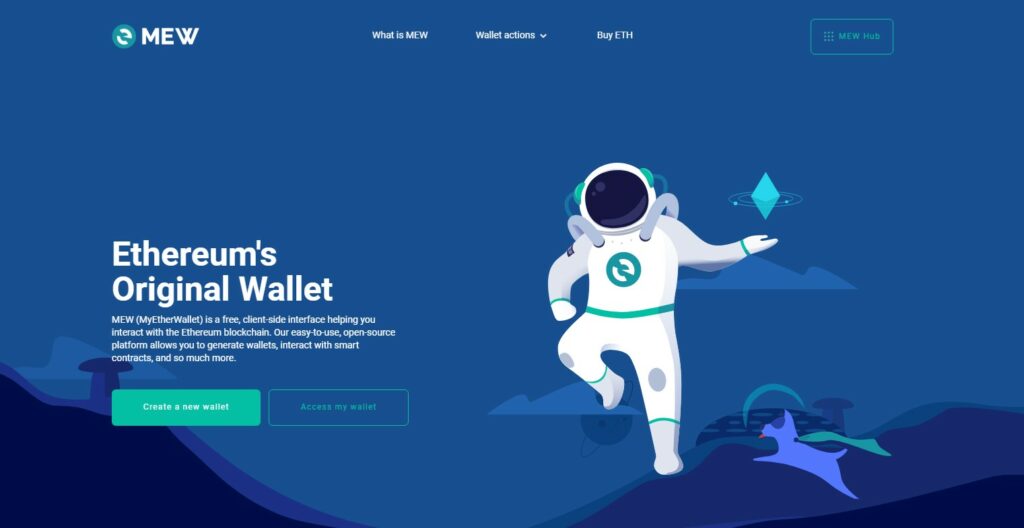 MEW's headquarters are in Los Angeles, California, USA. Currently, the wallet is available in over 190 countries. Popular wallets like Coinomi, Jaxx, Coinbase, and Exodus are among its major competitors.
How Does MyEtherWallet Work?
Visit the official website at https://www.myetherwallet.com and click on Create a New Wallet. You will be taken to a new page that gives you a brief tutorial. You can either finish the tutorial and click Next, or you may skip it if this is all familiar to you. On the following page, you will be able to create a new wallet using MEW Connect, KeyStore, or Mnemonic Phrase.  
A KeyStore file, also known as a UTC file, is an encrypted version of your private key. They are produced by encrypting your private key with your password. A mnemonic phrase serves as the key to your wallet. It's all you need in order to have complete control over your assets and be able to recover your wallet if your device gets lost. Finally, MEW Connect is the most user-friendly solution. The other two require the creation of a password first. Select MEW Connect and install the MyEtherWallet companion app on your Android or iOS phone.
When you register for an account, MEW doesn't save your account details or wallet information. Instead, you may print them and save them in paper wallets or on your PC.
Supported Cryptocurrencies
At the time of writing, the MyEtherWallet interface supports Ethereum, Ethereum Classic, and other Ethereum (ERC-20) currencies such as Basic Attention Token (BAT), OmiseGo (OMG), Holo (HOT), Chainlink (LINK), Dai (DAI), Augur (REP), etc.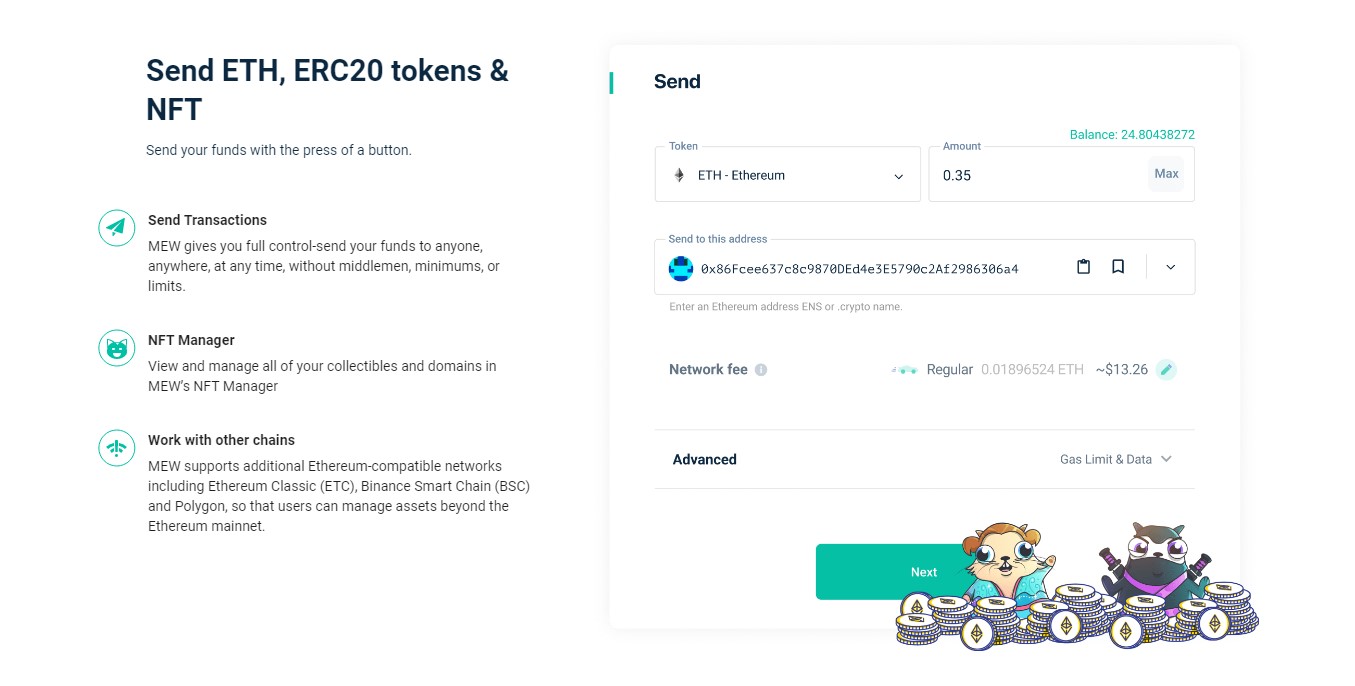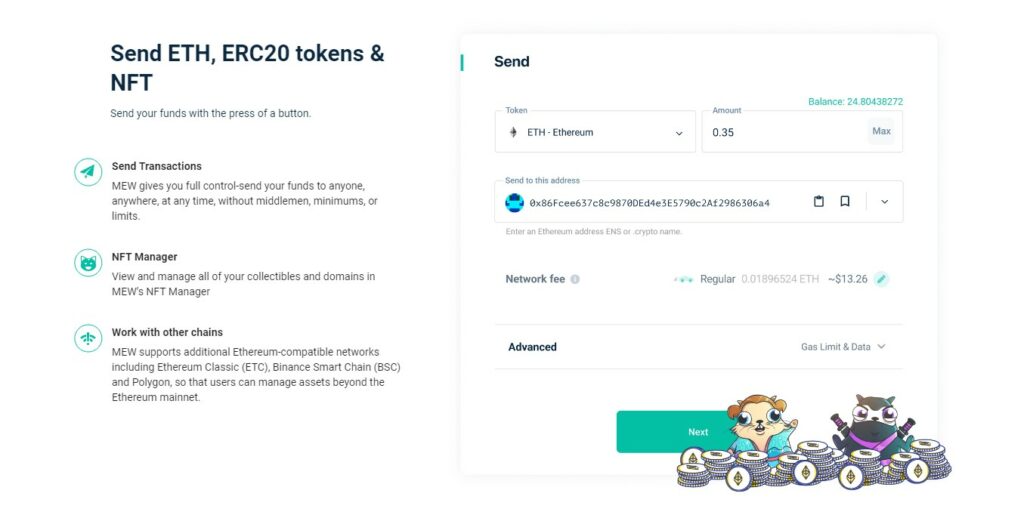 If you want to trade Ether for other cryptocurrencies like Bitcoin (BTC), you need to do it through an authorized crypto exchange. MEW has no plans to expand its interface functionality because it was originally intended to operate only on the Ethereum network.
MyEtherWallet Fee Schedule
This open-source platform is completely free. When you send Ether, you will be charged transaction fees, but they go to the miners who operate on the Ethereum blockchain, not to MEW. The charges are minimal amounts paid in ETH. So, before you place an order, make sure you have enough ETH in your wallet. Users can also set custom fees to speed transaction confirmation.
Making payments with the MEW wallet is a simple process that takes only a few minutes. Users may access MyEtherWallet via the website or the MEW Connect app.
As an online wallet, MyEtherWallet includes an easy-to-use web and mobile interface. You won't need to proceed through the inconvenience of changing interfaces to open your Ethereum and ERC 20 tokens since they're all on hand via one screen.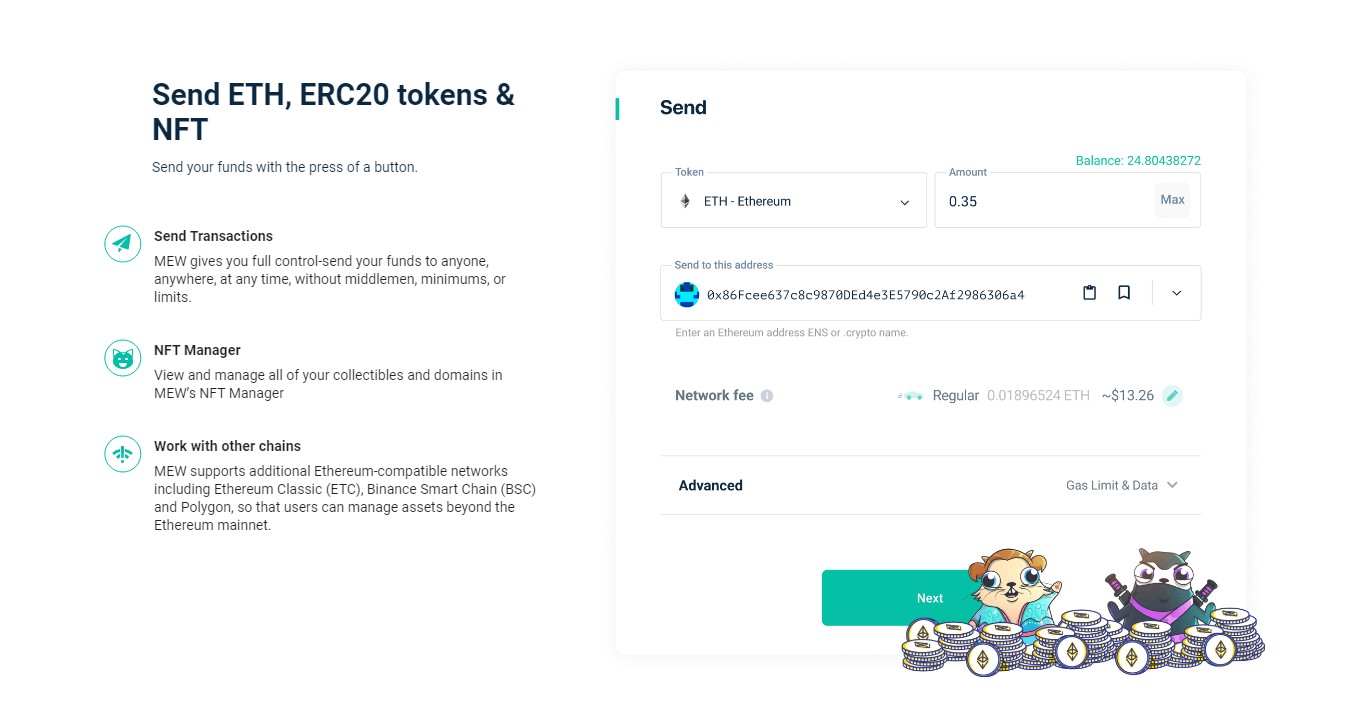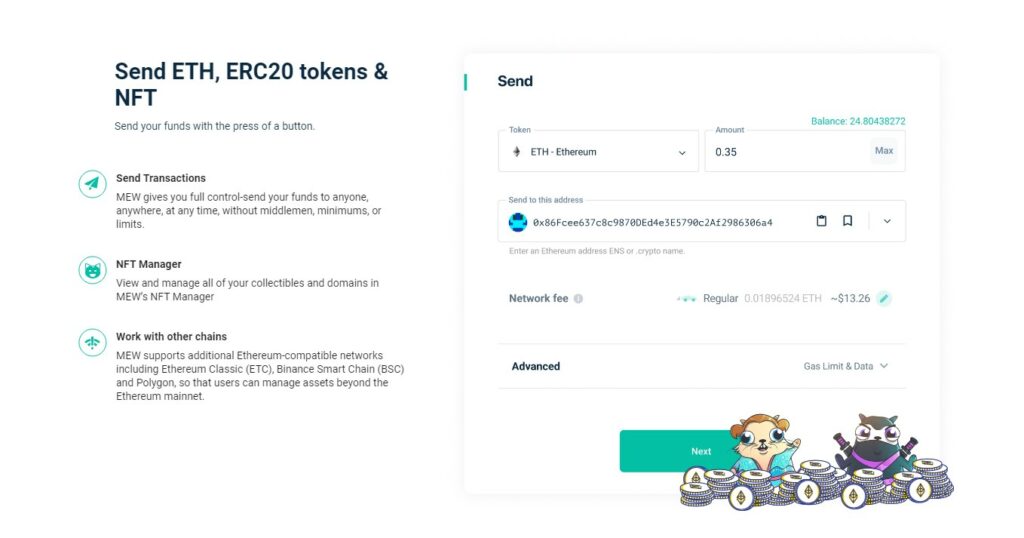 MEW's integration with an assortment of alternate wallets, which includes hardware wallets and third-party wallets like MetaMask, makes a great improvement. Due to this fact, in case you have a Ledger Nano S or maybe Trezor wallet, you'll have permission to access your tokens by linking it with MEW.
Anybody with a good internet connection may use the MyEtherWallet portal, regardless of the technology you use (desktop or mobile). The MEW team has released a beta version of an iOS MyEtherWallet app, but there are no updates accessible for any official mobile app that will be released anytime soon.
Is MyEtherWallet Safe to Use?
MEW Connect is a fantastic new method for consumers to take control of their crypto that comes in useful when creating a new wallet. MEW Connect allows users to connect their smartphones to their wallets. All they need to do is download the app on their Android or iOS smartphone and connect it to their MEW account.
Moreover, MEW stores confidential information in cold storage offline. Unfortunately, no two-factor authentication (2FA) is used as security measures.The wallet also includes detailed guidance on how to conduct offline transactions.


Unlike its competitors, MEW enables users to keep their wallet's private keys, which may be kept on a USB drive or a paper wallet. Some users tend to write their private keys down on paper so that hackers cannot gain access to them.
If you still feel like you could use some help, there is substantial documentation available on the MyEtherWallet website under the "Help" page that might give further insight into the suggested security procedures.
The customer support team frequently updates the platform's Knowledge Base by including questions in the website's FAQ area. Traders may get ready-made answers to their questions about the registration process, account setup, security measures, token generation, gas fees, etc.
Frequently Asked Questions
How can I use MetaMask with MEW?
Many customers use MetaMask because of its simplicity of use and easy integration with many major crypto sites, but they also want the features that MEW provides. If you want to connect the two wallets but lack the MetaMask extension, look for it in the Google Chrome store. Create your wallet by making sure you select a strong password and place it on physical paper, just in case. Read the instructions carefully and make a note of the 12-word recovery phrase provided by the extension. Log in to MetaMask and become familiar with your new wallet. Now you can start using MetaMask with MEW.
What is MyEtherWallet used for?
MyEtherWallet is used for safely storing, transferring, and receiving Ethereum and ERC20 tokens, as well as enabling customers to interact directly with Ethereum smart contracts.
Can you integrate MEW with hardware wallets like Ledger?
MEW supports a wide variety of wallets, including hardware wallets like Ledger Nano S, Digital BitBox, Trezor, and others. It also provides numerous ways of accessing Ethereum wallets. 
Where can you purchase, sell or trade ETH and other crypto tokens through MyEtherWallet?
A Few Words Before You Go...
Despite the fact that this is open-source free software, MyEtherWallet provides enough protection for users' cryptocurrencies. This wallet's security is strengthened by the use of personal passwords and private keys. Furthermore, user wallets and funds are kept on the Ethereum blockchain, ensuring a maximum level of security for customers. 
Users can also save time by integrating their wallets straight into the Google Chrome browser via an extension. Most significantly, MyEtherWallet supports Ethereum ERC20 tokens, which means that any initial coin offerings may be easily added to the wallet. 
Finally, MyEtherWallet is free to use. As a result, even a complete novice may install and utilize MyEtherWallet without having to spend a lot of money from the start.
This page was last updated on August 23, 2022