Nexo is a crypto exchange and an online crypto loan service that enables users to earn interest rates on their cryptocurrency investments. 


This lending platform is among the most advanced platforms for instant cryptocurrency loans, as well as the only blockchain business that offers its services in over 100 fiat currencies across 200 countries. Nexo provides digital asset holders with the best of both worlds: quick cash access and control over their assets. Some of the direct competitors of the exchange are Crypto.com, BlockFi, and Celsius.
Nexo allows thousands of individuals to exploit the underlying value of their digital currencies with the help of their team and benefit from their expertise.
To register for an account, you'll need to click on Create Account and complete a Know Your Customer (KYC) check as part of the Anti-Money Laundering (AML) process. The exchange simply requires your name, address and phone number for basic confirmation. If you want to enhance your limits, you'll need to use advanced verification using your ID card. After you complete the verification process and activate 2FA (two-factor authentication) you may top up your account.


The exchange is accessible to desktop traders via its website Nexo.io. You may also download the mobile app for Android or iOS. The desktop and mobile versions are both clean, modern, and simple to use.
Nexo provides a relatively low fee to create a cryptocurrency savings account. In contrast to a typical savings account, Nexo doesn't impose any account service charges and users may withdraw their fiat or crypto at any moment without incurring any fees.
The customer only has to pay a brokerage charge when transferring funds from their exchange wallet to their Nexo account. These fees differ and are dependent on the broker being employed. There is no minimum amount of cryptocurrency that a customer should put into their account to start earning interest.
Bitcoin and Other Supported Cryptocurrencies
To borrow funds, you need to deposit some cryptocurrency first. All fiat loans are secured by a minimum of 200% crypto collateral. This implies that if you want to loan $25,000, you'll need to put up at least $50,000 in Bitcoin or another cryptocurrency as collateral.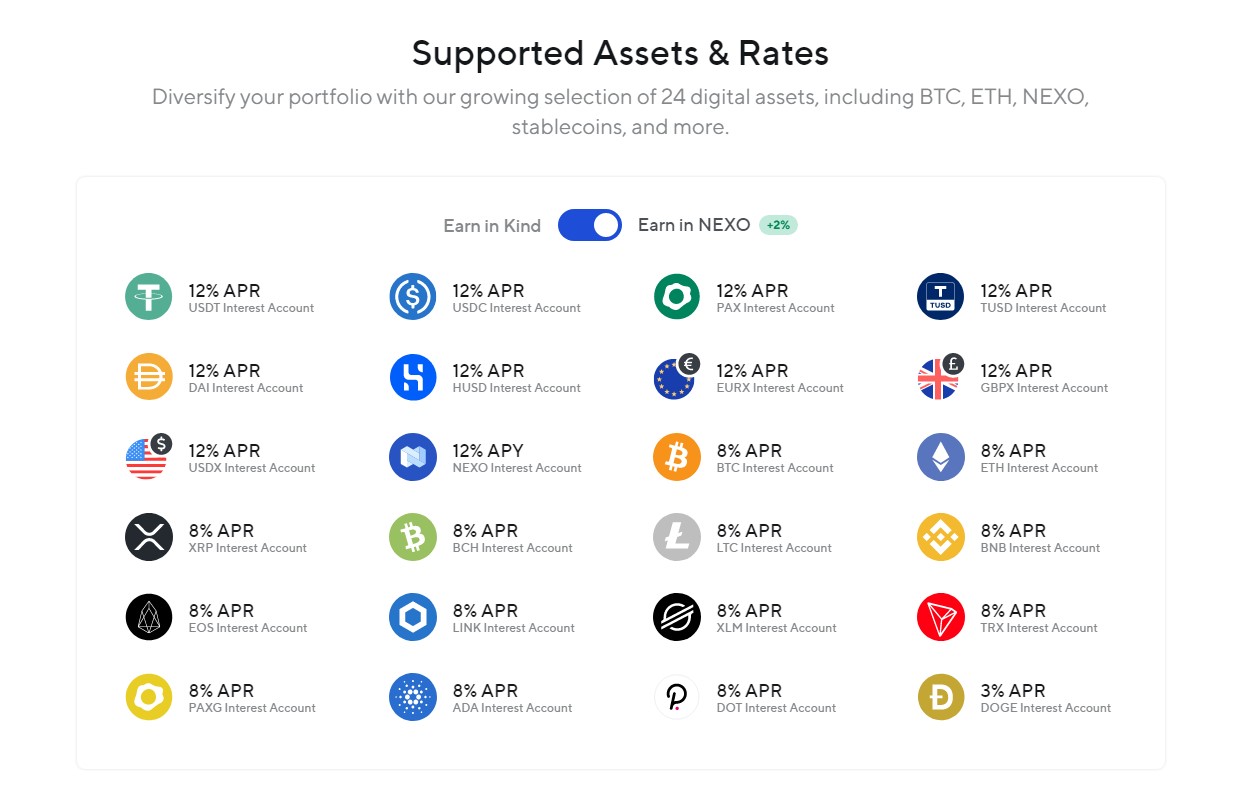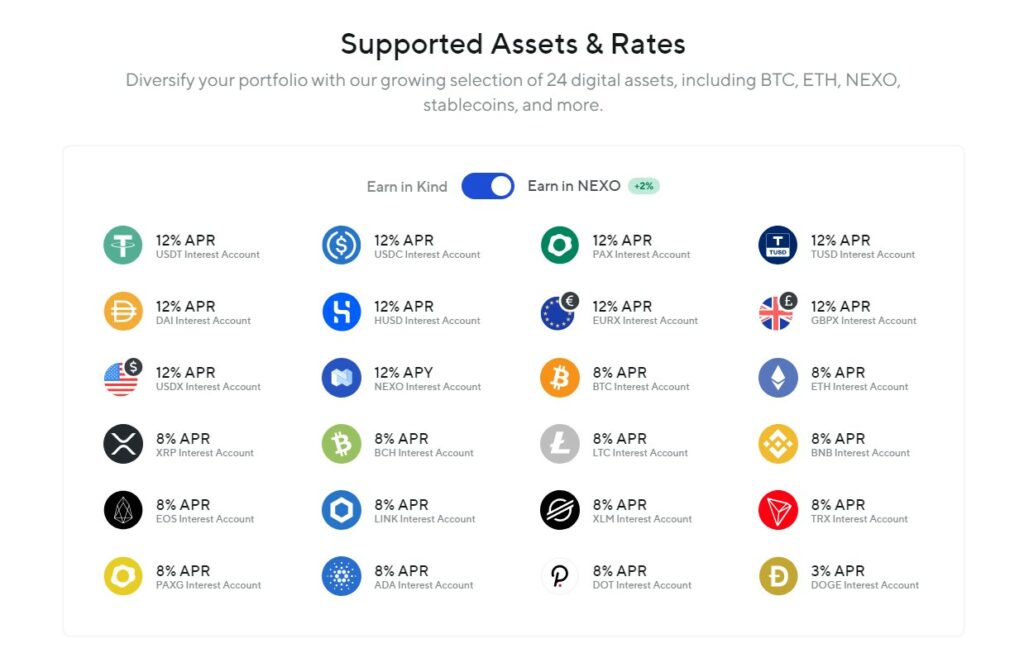 Nexo supports Bitcoin (BTC), Ethereum (ETH), Ripple (XRP), Litecoin (LTC), Stellar (XLM), Bitcoin Cash (BCH), EOS (EOS), Chainlink (LINK), TRON (TRX), Binance Coin (BNB), Paxos Gold (PAXG), and its native coin, NEXO, but new cryptocurrencies are introduced regularly as well.
Nexo also has a separate exchange interface where users can purchase, sell or trade the supported crypto assets.
Nexo allows users to obtain immediate cash borrowing by lending digital currencies ranging from $10 to a total of $2 million. Lending cash or stablecoins with Nexo comes with flexible repayments and no hidden fees or credit reports, making it highly appealing to many cryptocurrency investors.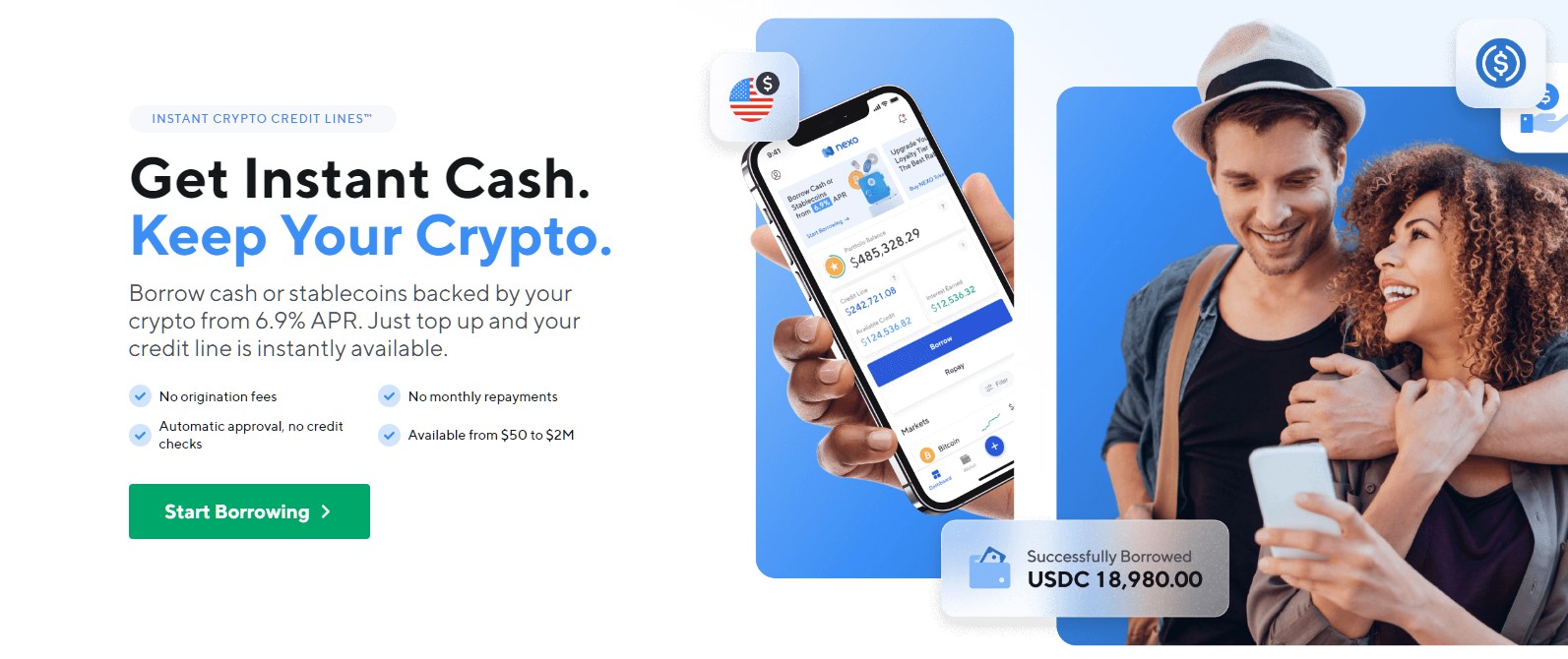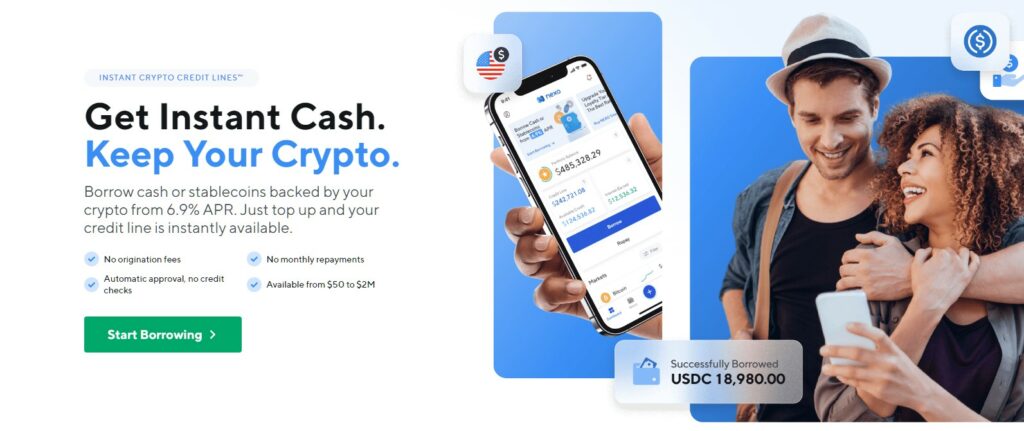 Nexo provides high-interest savings account for cryptocurrencies as well as fiat currencies like the EUR, GBP, and USD. Customers' savings are protected by an insurance policy, providing tranquillity while making up to 12% interest.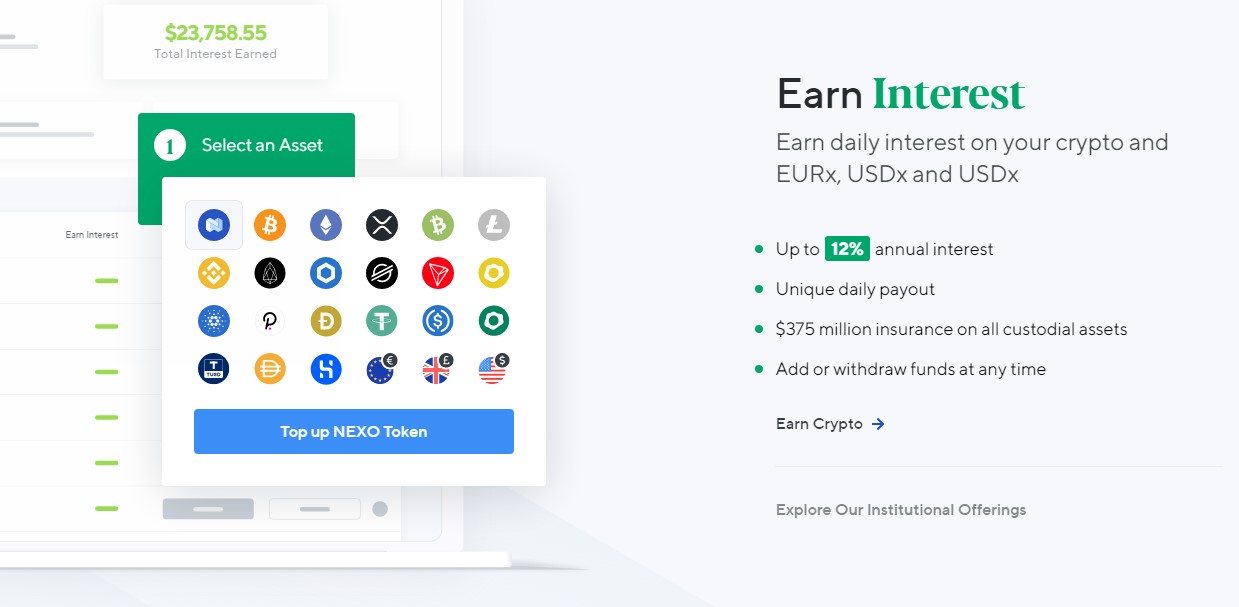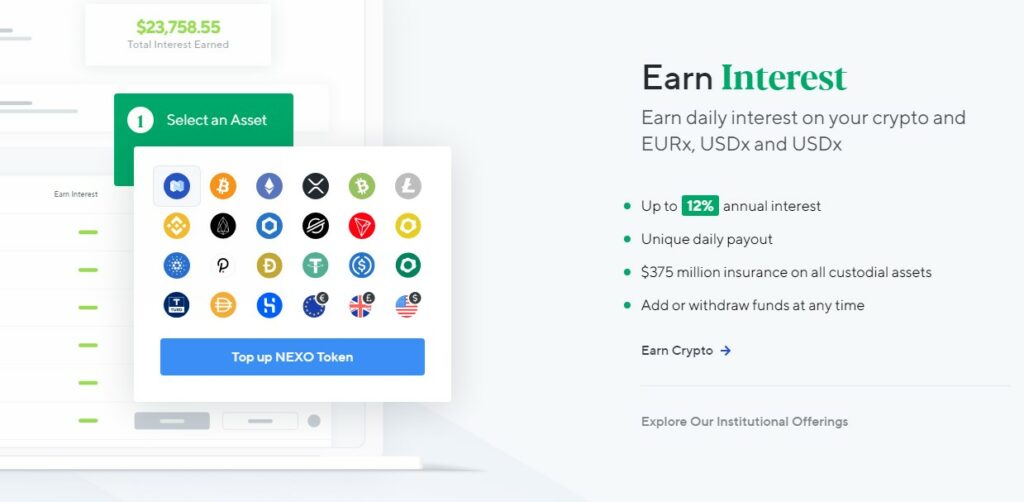 Interest rates vary depending on distribution mechanism and cryptocurrency, however, users should plan to earn between 6% and 12% APY on their investments. The platform also features a one-of-a-kind daily payout model, in which users are credited every day.
The Nexo credit card is tied directly to the Nexo account, allowing users to convert their crypto funds into fiat directly, without having to withdraw them to their bank account first. Users may access all Nexo card features and transactions using the Nexo Wallet app. The card is accepted by more than 40 million merchants worldwide and there are no foreign exchange fees since the payment is accessible in the local currency.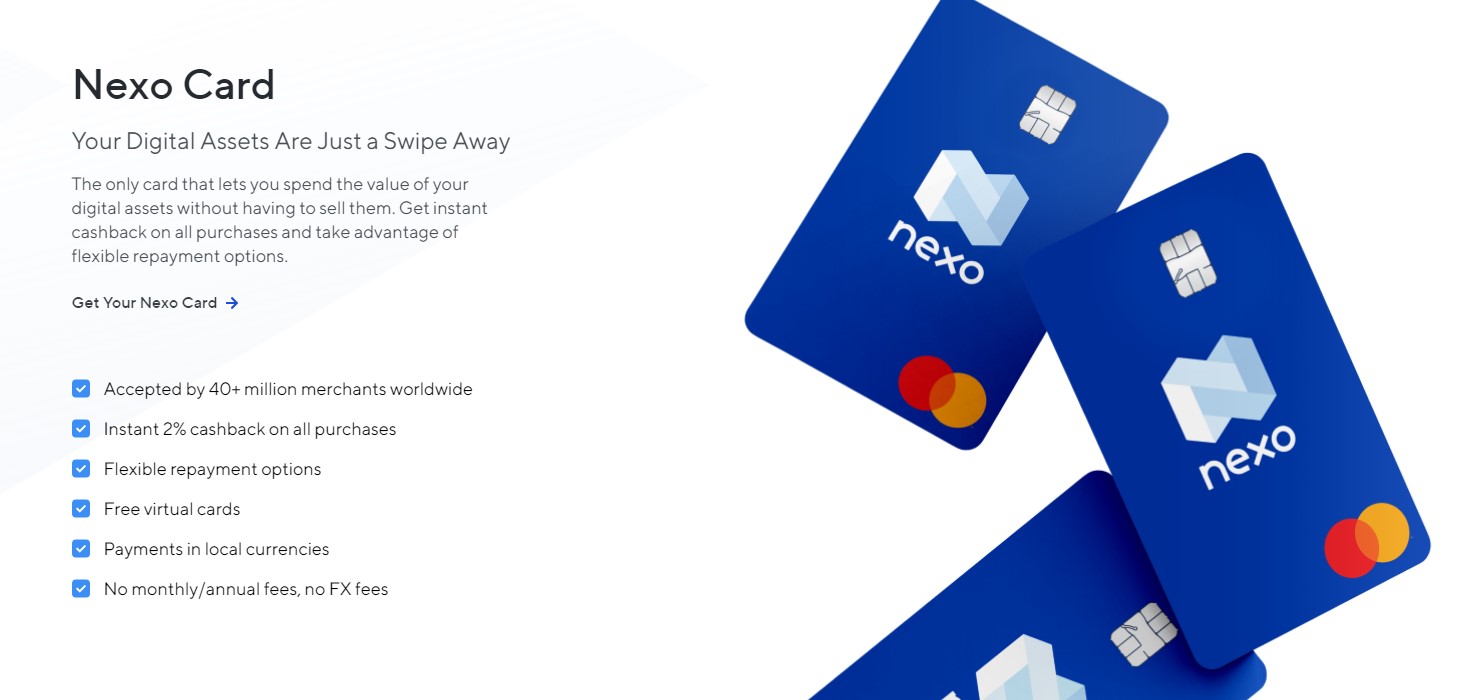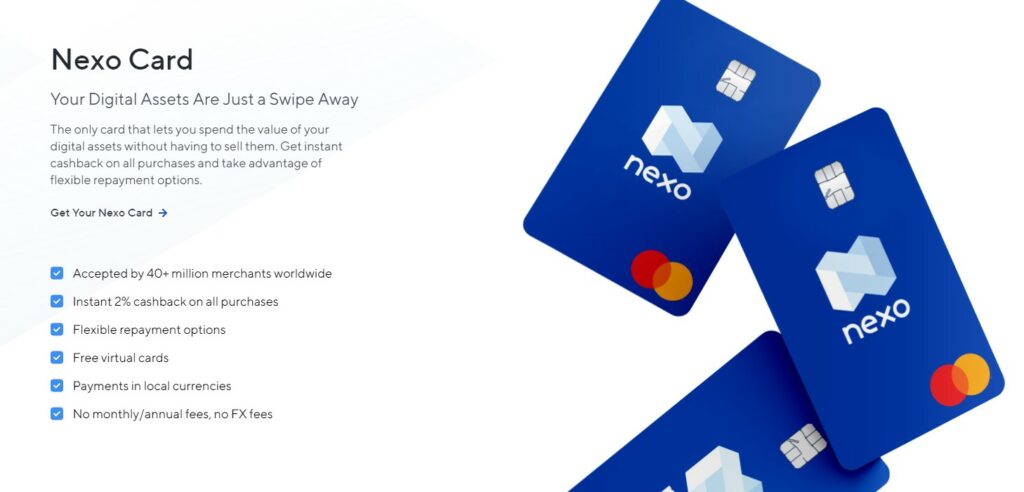 Nexo offers a 5% cashback bonus to customers who use the card to make payments. This cashback incentive has been a great motivation for many users who are new to the card.
Nexo's EARN function will attract anyone who wants a more passive approach to their cryptocurrency holdings. Rather than hoping for a higher price to sell your coin (which is never guaranteed), you may earn up to 12% interest on it.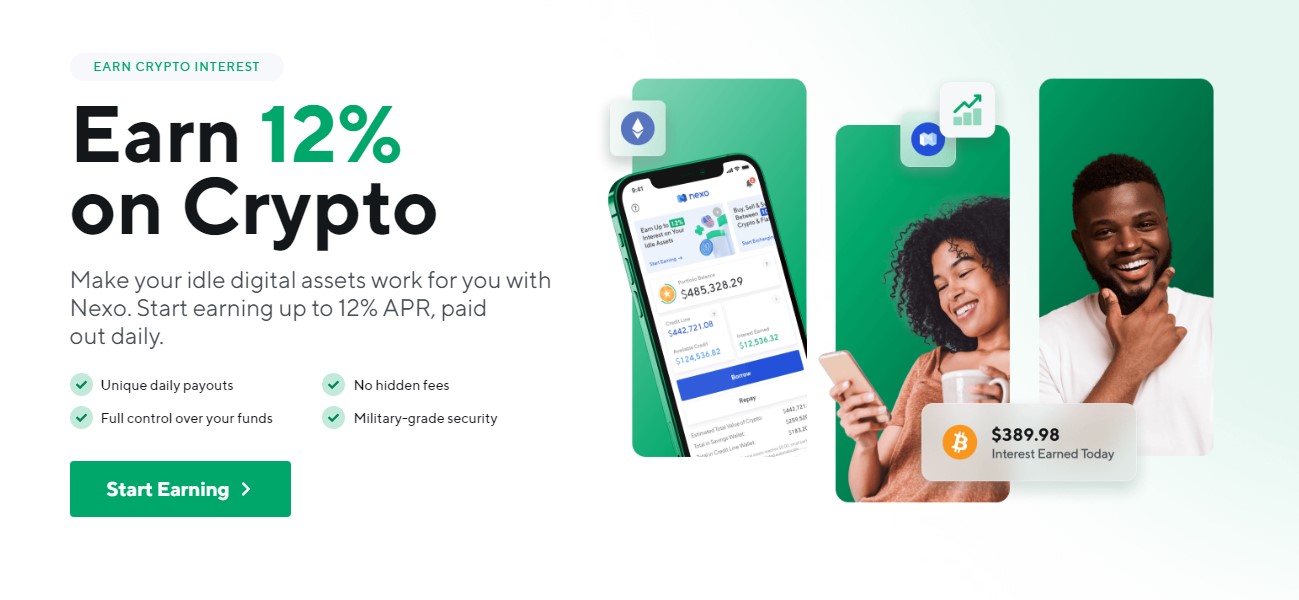 Nexo offers interest rates ranging from 4% to 8% on digital currencies, ETH, and XRP, and from 10% to 12% on stablecoins such as USDC, USDT, and DAI, as well as cash deposits in GBP, USD, and EUR.
BitGo, the market leader and pioneer of multi-signature technology, handles Nexo clients' crypto assets. This company protects users' cash from hackers, thefts, and loss of private keys, as well as insider robbery. The platform also safeguards its assets and clients by utilizing a secure cloud, cold storage, a transfer infrastructure, and a data security infrastructure.
Nexo is regulated by several financial institutions around the world, such as the United States Financial Crimes Enforcement Network and the Australian Securities and Investment Commission (ASIC).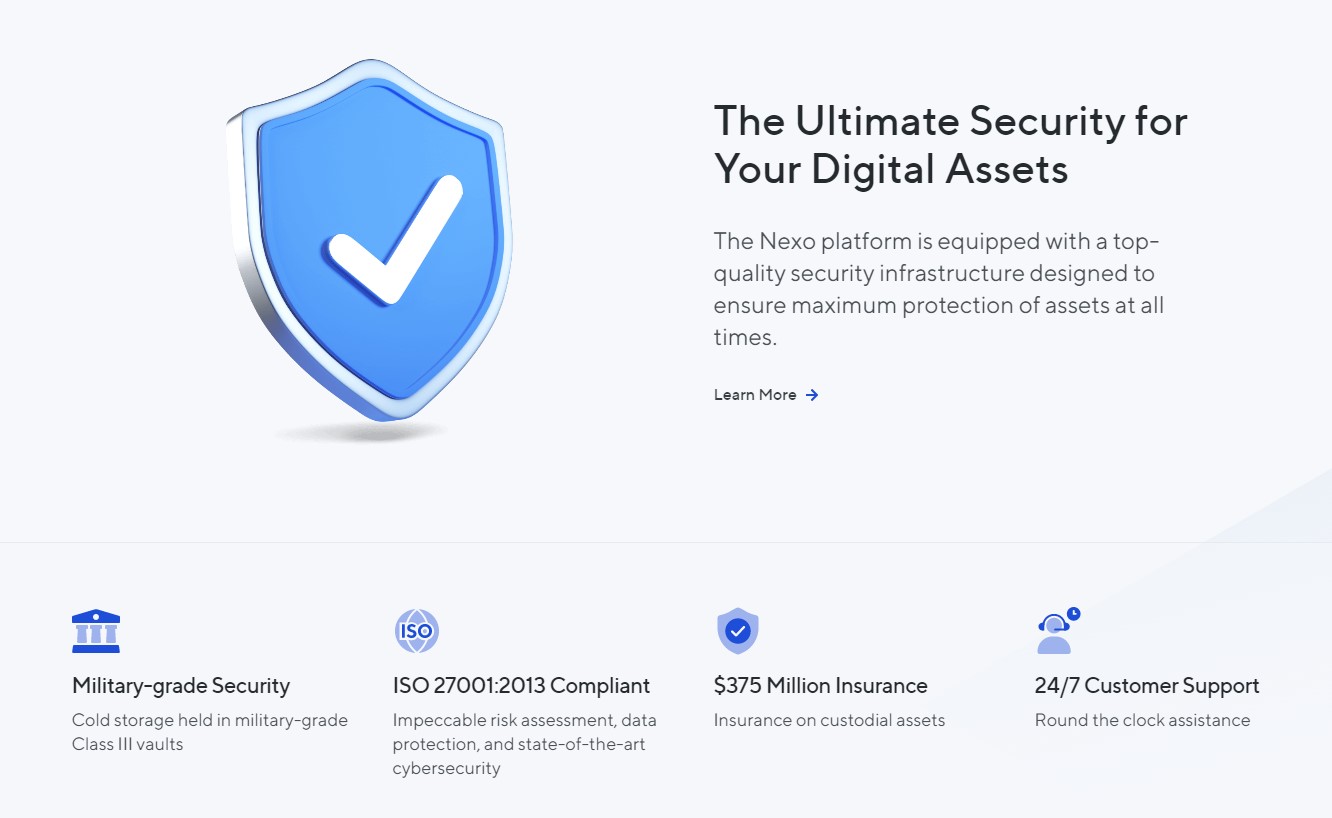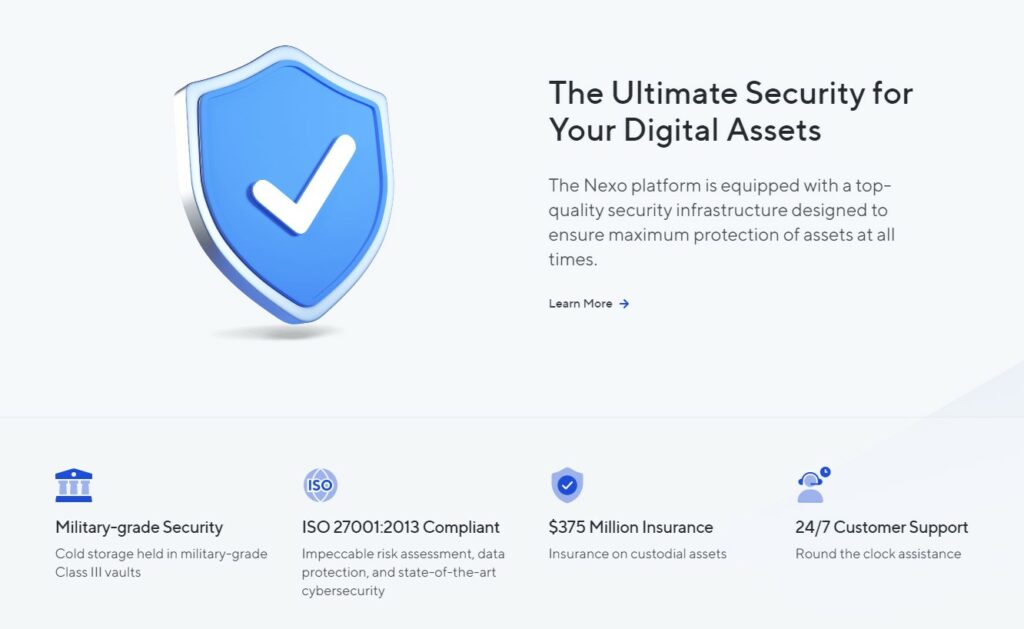 Moreover, Nexo has teamed with Ledger to offer a vault solution for storing digital currencies that are protected up to $150 million through a unique insurance policy. As a result of its rapid development and dedication to deliver a high level of safety, the firm intends to expand its insurance coverage to more than $1 billion in 2021.
You can reach Nexo's customer support by filling out an online form or sending an email to support@nexo.io. When you're logged in, you may also use a 24/7 live chat service.
Nexo also provides a few unique options for learning more about the crypto market and its platform. Some of the tools include:
YouTube demonstrations. Registering your Nexo account is simple with the exchange of on-demand YouTube videos where you can learn about the platform, as well as access advanced account features.
Nexo's blog is also maintained daily with news of the crypto market and how the platform has been developing and adapting to meet the changing demands of investors.
Highlights from the cryptocurrency news. Nexo's app not only provides strategies and suggestions for utilizing the platform but video updates on significant crypto events as well to keep you in the loop.
Frequently Asked Questions
How can you use the Nexo Token?
The NEXO Token is the exchange's native token, and token holders receive various perks on the Nexo platform. NEXO tokens are traded as restricted securities. Users also earn a 50% discount on interest rates in case they use these tokens. Moreover, holding NEXO alone grants a customer the right to enjoy a better mortgage limit and a small payout, as Nexo distributes 30% of its profits to NEXO holders.
How does Coinbase compare to Nexo?
Coinbase had been the very first beginner-friendly exchange and is the easiest place to buy and sell cryptos. However, Coinbase's fees are relatively expensive in comparison to Nexo. Plus, Coinbase currently doesn't have anything to offer in terms of borrowing and lending cryptocurrency, unlike Nexo. 
A Few Words Before You Go...
Nexo is a major player in the crypto interest account market for lenders and borrowers alike. With attractive interest rates for stablecoins, BTC, ETH, other cryptocurrencies, and even fiat, a platform is a viable option for anyone seeking to make money on their cryptocurrency.
Generally, the Nexo website is simple to use and provides features and rates that standard banking systems do not provide. Nexo is expected to lead the DeFi market and become a pioneer in digital currency lending and borrowing in the future.
This page was last updated on August 23, 2022