NiceHash Miner Review 2023
One of the downfalls of the African economy through the years has been directly tied in with labour distribution and management. Someone somewhere figured out that if they can get someone to do their job for less than they've been paid, they could just kick back, relax and reap the benefits without lifting a finger. It goes a bit like this; If a farmer is getting paid $500 to attend to a plantation, the first thing that they do is go out and turn over heavens and earth in order to find someone who would take on the job for $400. They pocket the monthly $100 and go searching for another job. 


NiceHash is a company that offers traders just a way of profiting by providing power to miners and reaping the benefits. The same model, only in the digital realm. Users at NiceHash can take full advantage of the mining platform's offering and lend their power to join forces in groups in order to provide GPU mining with the huge bang for their buck.
In a nutshell, NiceHash provides its clientele with its network, means and gear. It provides an opportunity to become a miner without the need to invest anything or run the process. For all intents and purposes, crypto mining and crypto trading don't have all that much in common, so there is a steep learning curve when jumping from one to the other. Well, at least there used to be, now we've got NiceHash. But is it really all that it presents itself to be? What about the potential drawbacks? Let's take it one step at a time. Onto the beginning.
NiceHash isn't a brand new piece of software; in fact, it has been around since April of 2014. It stands as the most popular and relevant hash power provider in the crypto market. The platform easily counts over 250,000 active miners on a per diem basis. It deals with numbers such as the execution of 3.3 million orders and approaching 200,000 BTC in payouts.

NiceHash has a leg up on its competitors largely due to two main factors. The hash power juggernaut has made it very easy for new users to navigate its premises and get started, and it has provided a stable and reliable platform. NiceHash's data servers are spread out across multiple locations in Europe and the US, which makes it almost impervious to any downtime whatsoever.
When new users register for an account at NiceHash, they automatically get a BitGo crypto wallet for their BTC transaction rewards. The crypto funds stored in the wallet are insured by the platform so there is no space for worry of any kind.
NiceHash provides an abundance of features that can be put to good use, regardless of whether traders are looking to acquire BTC or be privy to detailed insights and stats on tokens and currencies and get ahead of the curve on the trader market. 
The NiceHash mining software provides a pool of miners that have the option to come together and join forces in a multitude of ways. Traders are able to establish a price on mined coins and acquire it by placing orders. The platform employs a string of complex power hashing algorithms and repacks them as easy-to-use and quick-to-understand commands in its NiceHash software.
The NiceHash ecosystem is based on the interaction between traders and miners (users of the NiceHash platform). Miners are able to set their prefered automated hashing algorithms through the platform's automation tools feature.
Getting Started on NiceHash
NiceHash's services work both ways in that users are able to both purchase or sell hashing power. This alone doubles the opportunities and traffic that the NiceHash platform enjoys. Sellers are able to become buyers and vice-versa at the drop of a dime. Once registered users who want to start their crypto mining venture as buyers are able to immediately make hash power orders. Users who would like to use NiceHash exclusively as sellers do not have to register for an account on the platform, and are able to do so anonymously. 

Buyers are able to take their pick in regards to which currency they would like to mine and employ any of the available 34 NiceHash algorithms. The most employed and utilized algorithms on the platform are Equihash, X11, X13, X15, Scrypt, SHA-256, and Blake. Users can track down the profitability of altcoins and currencies at different times and preview which algorithm is the most profitable one for Bitcoin payments. All of these parameters are constantly in flux, which means that users that want to make the most out of every situation have to be quick on their toes and react accordingly. 
Another parameter that is up for adjustment is the mining pool to which the miners will be lending their services. NiceHash supports an excess of 23 mining pools. The platform makes sure that all of these run smoothly and provide miners with an uninterrupted workflow. 
Parameters and Supported Currencies
Once users decide which currency they would like to mine, choose their preferred algorithm for the job, and settle for a mining pool, the last thing that they need to do is make a Bitcoin deposit on the platform in order to verify their action. The minimum initial deposit at NiceHash comes at 0.01 BTC. Users are able to make a choice between U.S. and EU marketplaces, as well as set a threshold limit on the amounts that they are willing to take on. Bitcoin is the default currency at NiceHash, so all the prices are displayed in Bitcoin.
Users who are more interested in selling their hashing power are able to do so by selecting which faucet of their engine power they are willing to part with and choosing between CPU, GPU, and ASIC mining. They don't have to settle for one. They are able to employ all of them at once. When choosing a server, it's best to select one in close proximity to your actual physical location to minimize waiting and processing times.
Cloud mining is the platform's bread and butter. By making use of cloud mining, users are able to get a hold of their profits and navigate their mining positions. There is nothing difficult when setting up cloud mining. Miners set free mining contracts that reap the transaction fees of the successfully executed mining operations. The more power a miner expands, the greater the piece of the transaction pie they get.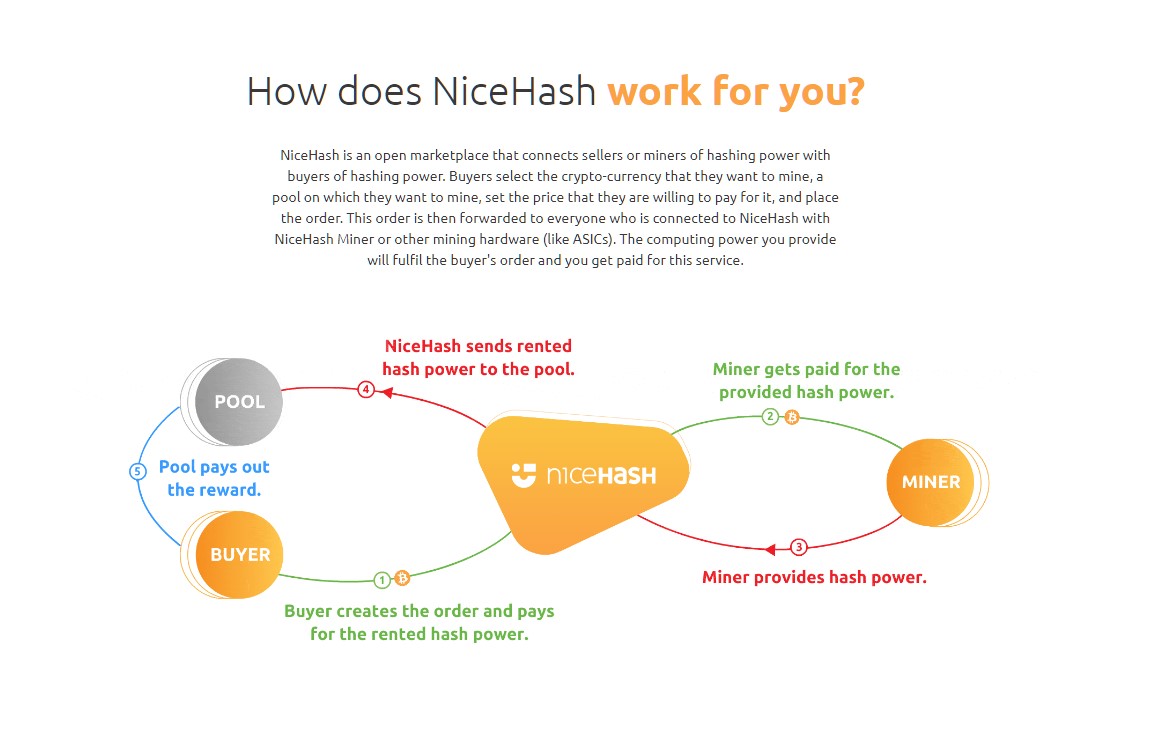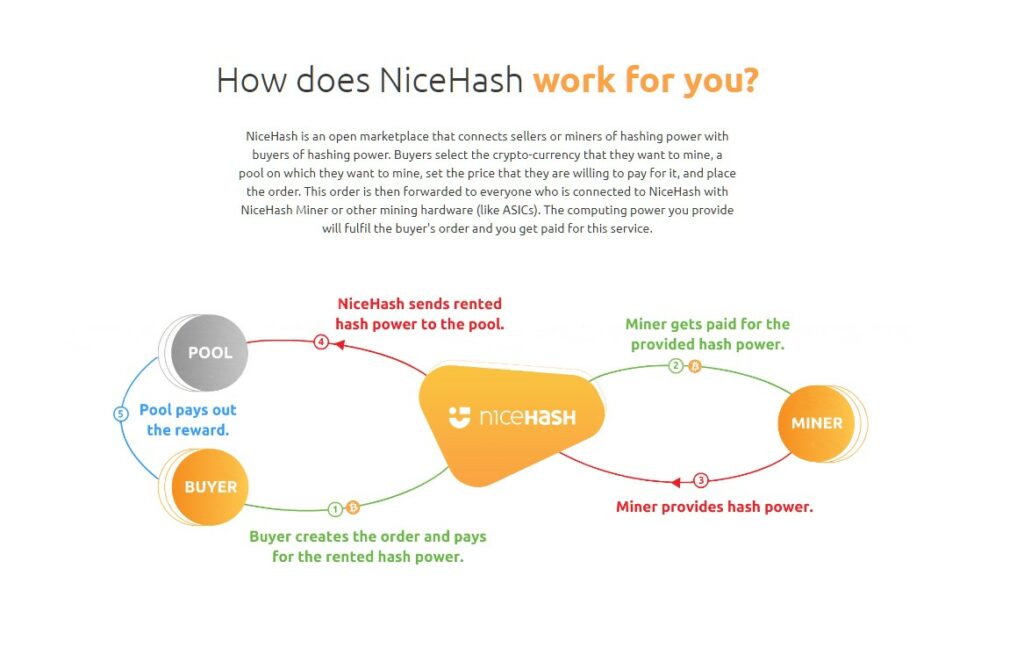 Contract-Less Crypto Trading
Another feature that comes quite handy for traders is the platform's contact-less crypto trading option. NiceHash completely omits smart contracts, and, as a result, it opens the doors to a lot of possibilities across the board. In a sense, the platform also provides its users with a safer and more stable platform to do business through because it removes the vulnerability of poor coding. If we could only see the expressions of the crypto hackers who wasted their time trying to track down the platform's smart contracts.
The NiceHash crypto mining pool is garnered by both beginner and veteran miners. The pool itself is an amalgamation of everyone's efforts. This way, the pool supplies always stay as high as possible and can offer a much higher collective hash rate. The miners are rewarded for their work through the platform's employed blockchain and are distributed in regard to each individual user's pull.
GPU mining is probably the most advanced feature that NiceHash has to offer. Through it, miners are able to program their machines to solve and resolve complex problems by employing their graphics cards. When a payment is set to be verified the blockchain draws on the miner GPU power in order to come up with processing power. Miners can also make use of their GPU mining in regard to the creation of new digital assets and coins. Miners who possess tools that can deliver a lot of GPU are able to instantly rid the blockchain of recurring tasks and even spread their efforts across different problems at the same time.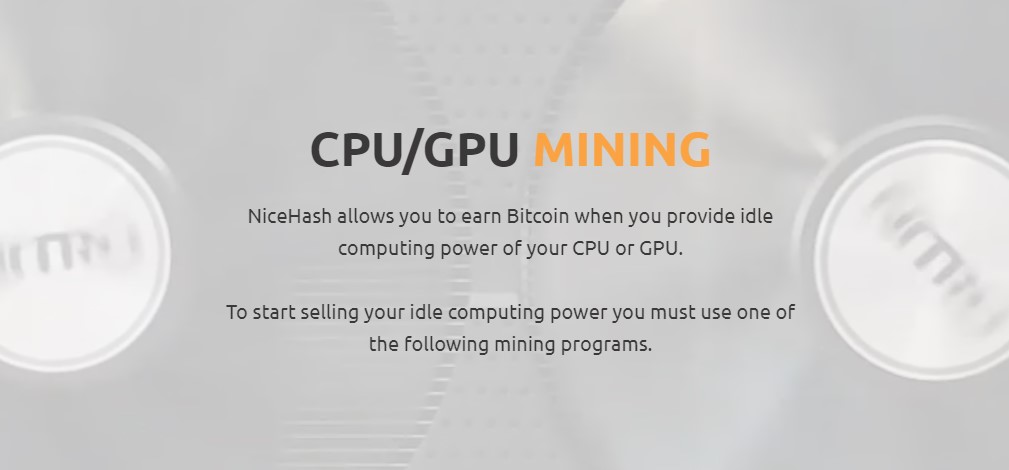 Finally, miners who use the platform's features to do their job are billed for the tools they employ. NiceHash administers a tiny fee on its users that's in line with the services it offers.
The NiceHash QuickMiner feature is a next-generation mining service that was created by NiceHash. Through the Excavator feature, the QuickMiner sets all of the computing power towards GPU mining, while the XMRig is in charge of CPU mining. The Excavator feature acts as an internal miner that is completely safe and malware-free. The XMRig miner is the complete opposite. The rig is an open-source coded CPU miner. The NiceHash QuickMiner does not employ closed sources or codes that haven't been previously tested or verified. 
NiceHash Miner v.s NiceHash QuickMiner
The NiceHash Miner does not function as a standalone mining operation. The software has to be complemented with a slew of third-party mining services, features and plug-ins in order to execute its purpose. Because these third-party extensions cannot be verified or accounted for by NiceHash, the platform recommends that users employ its native Excavator offering.
The main problem that inexperienced miners face is the setup and configuration of the Excavator. The software is pretty complex, and it takes a user who knows exactly what they're doing in order to drive it. This is why the platform came up with an alternative in the NiceHash QuickMiner. The QuickMiners configures and dials itself up, so that novice miners do not have to spend weeks on end in order to figure out how to set it up.
NiceHash also comes with its own native crypto trading platform known as NiceX. On it, users are able to choose between two main types of interfaces that they will interact with. Namely, the Simple View platform is suitable for beginners and traders who do not have a lot of mileage under their belts, while the very popular and established Trade View platform is geared towards experienced crypto traders who want every possible parameter and chart within reach.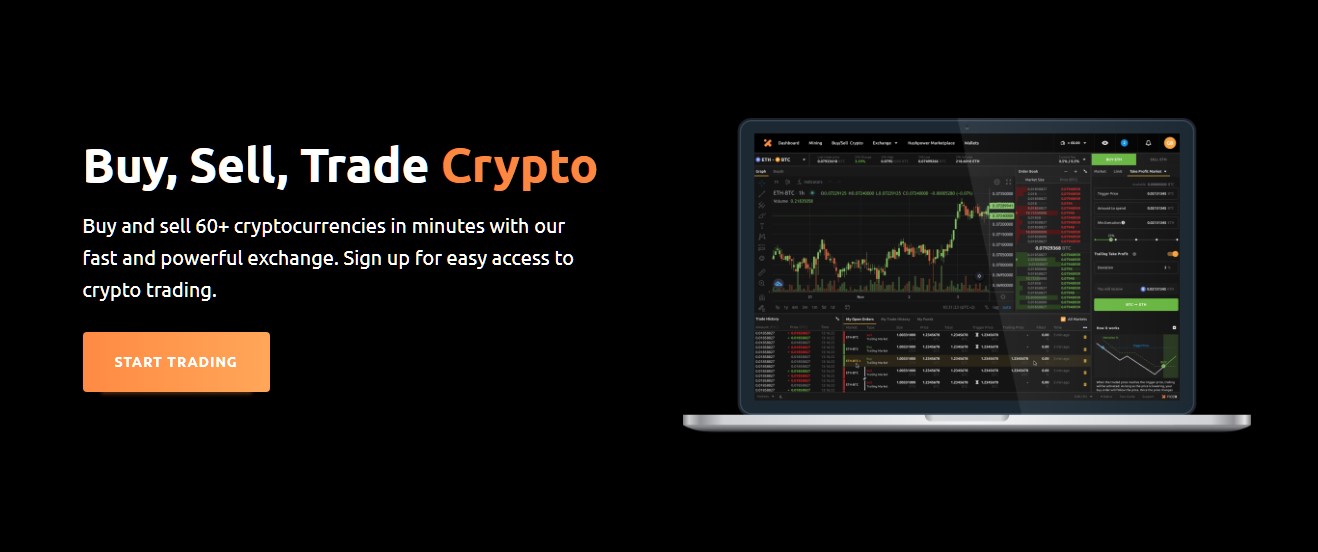 The Simple View mode is a breeze to set up. Users only have to select their trading pair of choice, set the amount that they would like to trade and confirm their purchase. The Trade View, on the other hand, is a much more sophisticated interface that allows users to comb through the platform order books and charts. By making use of Trade View, users are able to fine-tune every last detail. The great selection of tools necked up by extensive analytics make it possible for traders to arrive at the very best points of purchase. 
The NiceHash wallet is linked to both the Simple View and the Trade View interface. The platform's native crypto wallet is also connected to the miner balances, which means that users are able to mine while trading, trade while mining, and directly trade their mining rewards as they are coming in. The crypto trading platform supports over fifty different currencies that users can choose from.
The platform's crypto trading exchange supports credit card purchases, as well as traditional wire and bank transfers. Users that opt for a wire transfer will have to shout out a bank that does provide crypto services or employs an e-wallet on fiat currency purchases. 
Naturally, the crypto trading exchange fees are tied to the employed payment method. Credit card purchases come at higher fees, and transaction fees vary in accordance with the deposit providers and withdrawal services. The trading platform recommends that its clientele stick to verified and beetle tested crypto wallets such as Trezor and Exodus for their storage points. 
Since NiceHash is geared towards the European crypto market geographically, the fiat currency with the best rates is the Euro.
The platform makes use of quite a favourable fee schedule, even though the fees start out at a pretty high 0.5%. Once users cross the €1,000 threshold, the fees start to drop, coming in at 0.4%. Trading volumes of €10,000 and beyond are in for a 0.3% fee, and after €100,000, the fees drop to 0.2%. Traders with more than a billion in spending get to pay only 0.01% in fee returns. These are no annual numbers, as the platform calculates them on a lifetime basis, so these numbers aren't as big as they might seem at first glance.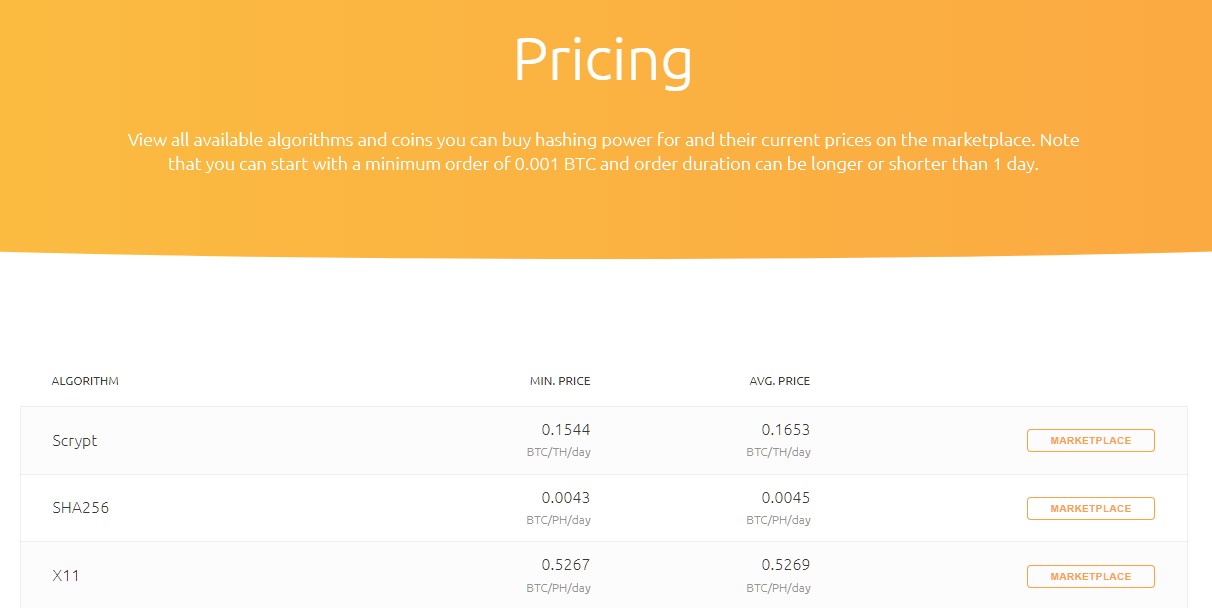 The platform is widely known for its state-of-the-art security infrastructure. Even though NiceHash doesn't mandate a KYC test process, users are still welcome to partake in one if they feel like establishing their positions transparently. The trading platform provides its clientele with end-to-end SSL encryption on all orders and supports a 2FA (two-factor authentication) protective layer that notifies users by SMS of any activity on their accounts.
However, the platform is not wholly unscaved. In 2017, the trading platform fell prey to a malicious attack in which hackers managed to steal more than $75 million in cryptocurrencies and digital assets. All users were immediately reimbursed, and NiceHash patched up and upgraded its firewall in a matter of days.
NiceHash provides its clientele with excellent customer support around the clock. The platform's support team is very attentive and can be reached 24/7. The quickest and easiest way to get in touch is the platform's live chat bubble feature; however, users are also able to reach out to the platform by sending an email at support@nicehash.com, becoming part of the official Telegram group or contacting NiceHash via its official social media platforms.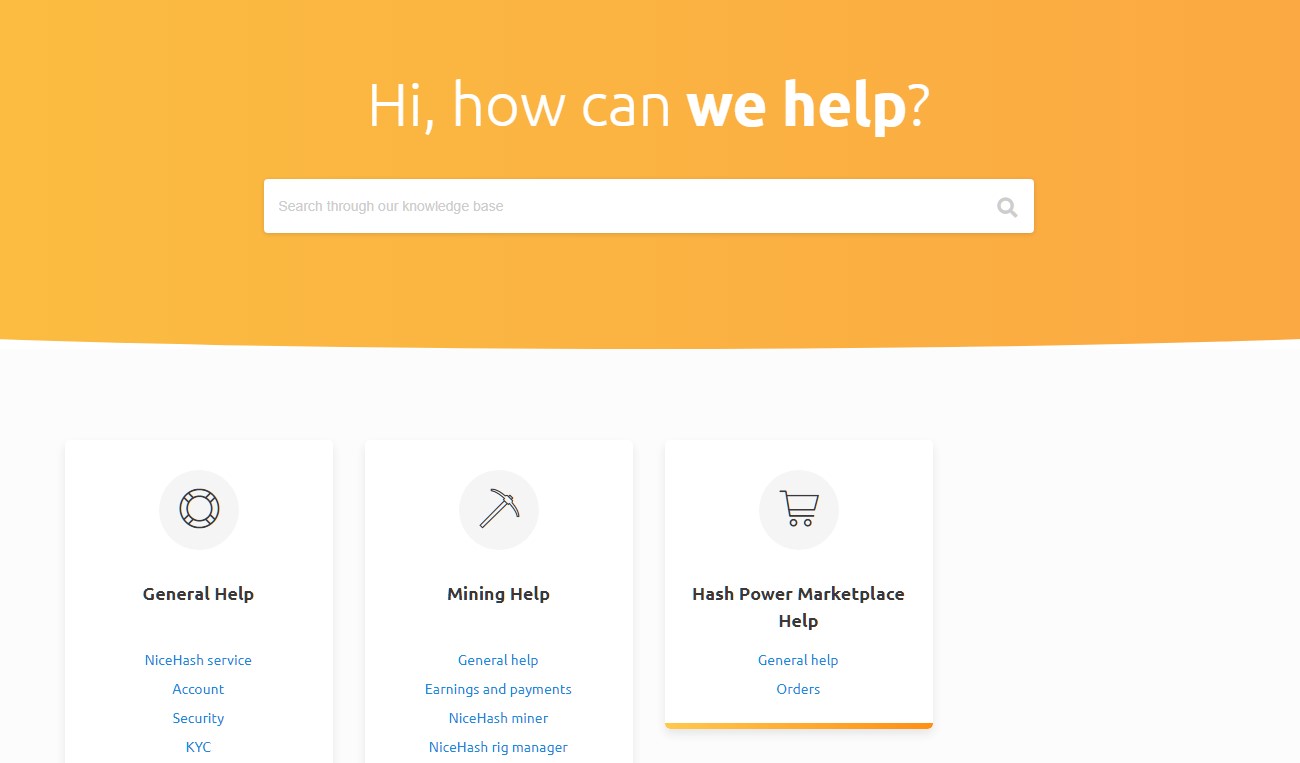 The platform also provides an extensive knowledge library in the form of a FAQ section. Here, users are able to make use of the NiceHash search features and quickly track down any problem or issue that they may be facing. Users who would like to educate themselves on the ways of NiceHash or mining, in general, can dive into the many educational articles on the NiceHash website.
Frequently Asked Questions
Does NiceHash provide a mobile app?
The platform's native NiceHash mobile app is set towards overseeing and monitoring operations, rather than mining. This comes as no surprise because smartphones do not yet possess a great deal of computing power. 
The platform's mobile app is divided into five sections. Users are able to manage their mining rig remotely through the NiceHash Rig Manager feature, make deposits and withdrawals through the NiceHash Wallet feature, oversee all hash-power operations and place or cancel orders through the Hash-Power Marketplace feature, get instant notifications on all Nicehash activities in the Notifications tab, and manage their personal or institutional accounts through the User Profile section.
Yes. NiceHash is registered in the British Virgin Islands under the name NiceHash.ltd. It also has a subsidiary H-BIT, d.o.o. By all accounts, the company is liable and regulated by all finance laws that are in place in the British Virgin Islands and Slovenia. 
A Few Words Before You Go...
NiceHash stands as a benchmark for cryptocurrency mining. Before it came to the crypto scene, it was all but impossible to use your AMD and NVIDIA processors as mining hardware. First-time traders have the best possible environment to start mining because they are able to immediately take full advantage of the platform's stratum servers, profitability calculator, mining algorithms, mining farms, mining power and real-time support on Bitcoin and Ethereum mining. On the traders' side of things, the platform's cryptocurrency exchange provides its users with a dedicated wallet address, a Bitcoin wallet and a great selection of currencies to choose from. 
Regardless of how the crypto industry develops in the future, NiceHash users can always bank on the premise that the company will continue to strive for innovation, adopt the latest groundbreaking features, improve its API and expand on its proof-of-work verification protocols.
This page was last updated on August 23, 2022