OKEx is a global cryptocurrency exchange and a true leader in blockchain technology, which has retained its position as one of the biggest trading platforms in terms of both spot trading and derivatives. Initially founded in China, the platform and its sister platform, OKCoin, relocated to Hong Kong when the Chinese government prohibited ICO launches. Today, OKEx has moved on and focused on the international crypto market. 

OKEx provides innovative financial services and trading options as well as great primers for those who are new to cryptocurrency. It offers a long variety of services, including flexible lending and methods to earn interest on staked tokens. OKEx offers basic and advanced trading tools, as well as an on-ramp into Proof of Work cryptocurrency mining and DeFi liquidity mining for those interested.
In 2018, OKEx introduced its utility token that customers can use to pay their trading fees or pay for exclusive services on the exchange platform such as increased API rate limitations and customer support. All this and more has drawn many institutional investors such as VentureLab, which has made a run of successful early-stage investments in businesses such as Hotmail, Tesla, and Baidu.
To learn more about OKEx's various offerings, read our complete OKEx exchange review.
OKEx exchange, as one of the world's largest cryptocurrency platforms in terms of trading volume, provides access to a number of tokens and trading pairs to millions of users in over 100 countries. It offers a variety of services such as futures trading, margin trading, spot trading, lending, decentralized finance (DeFi) tokens, options, perpetual swaps, and cryptocurrency mining services.


Creating an OKEx account is a pretty straightforward process. To get started, all you need is a valid email account. You will be required to sign in to your selected email account and input the verification code. Unless you want to withdraw more than 100 BTC in a 24-hour period, there is no need to submit any identity (KYC) documents.
One of the options you can select from the exchange main page is "Basic Trading" which enables spot and simple options trading.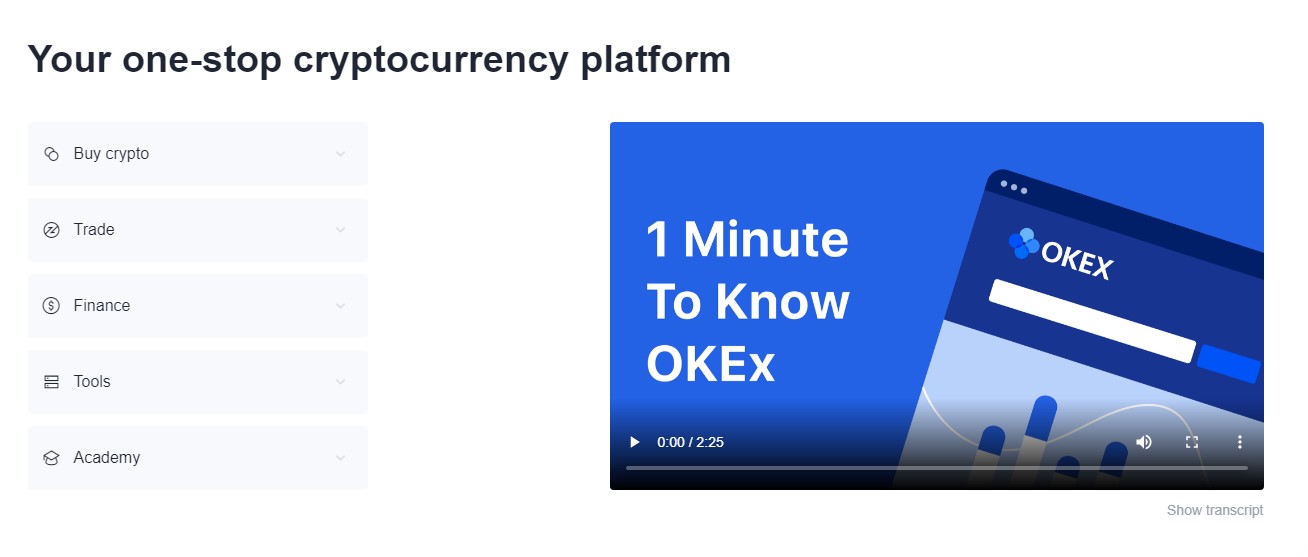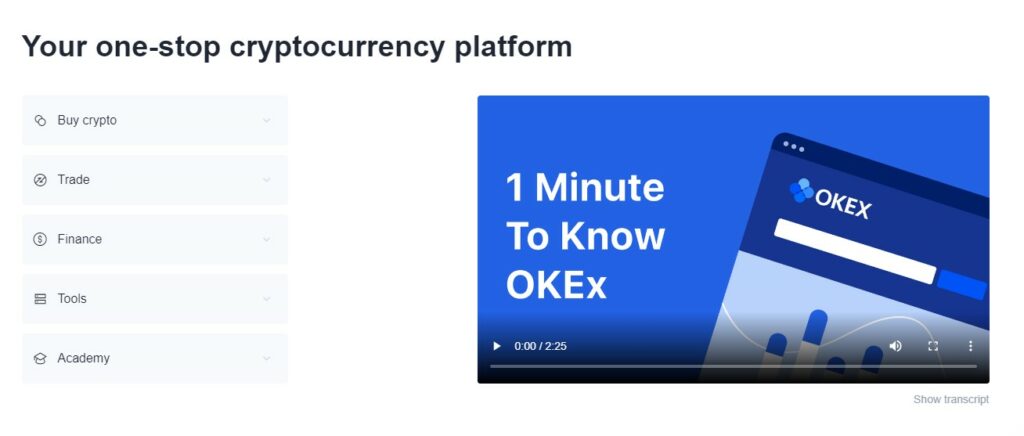 As another alternative, you may also choose "Margin Trading." This way, you will be able to utilize leverage to try to increase your returns when trading futures, advanced options, and perpetual swaps. The advanced service enables experienced traders to participate in sophisticated multi-currencies transactions to optimize earnings.
Users must apply for account verification before gaining access to the advanced functions. For new users, there's also a "demo trading" option, which allows beginners to experience trading without risk.
Bitcoin and Other Supported Cryptocurrencies
OKEx allows you to purchase, sell, or trade hundreds of tokens and currency pairs with leverage or your own on-chain portfolio. It provides an instant buy/sell box for the most popular crypto for the following digital assets: Bitcoin (BTC), Litecoin (LTC), Ethereum (ETH), Ripple (XRP), Dogecoin (DOGE), Tether (USDT), Bitcoin Cash (BCH), Polkadot (DOT), Cardano (ADA) and Polygon (MATIC).


Please note that you can only fund your account with digital currency. There is no way to send fiat currency to the exchange, so forget about any USD, AUD or GBP deposits. OKEx offers two ways to finance your new trading account: purchase cryptocurrency using a credit card on the site via Simplex or Koinal or transfer cryptocurrency from a hardware wallet.
OKEX trading costs differ in various ways, but after you log in, you'll notice that the two biggest distinctive elements that differentiate the fees are the type of trading and your standing with the platform.
When it comes to perpetual swap, options, and futures trading, where you do not buy the cryptocurrency at the time of the trade, you pay the same maker and taker's fees regardless of whether you are a VIP customer or not. For example, as of this writing, the Lv1 verification pays 0.02% and 0.05% as a maker and a taker, respectively. The higher the verification level, the lower the fees. Furthermore, OKEx has the lowest withdrawal fees of any major platform (0.0005 BTC).


The situation is significantly distinct with more common spot trading, which involves purchasing or selling crypto at the time of the deal. Because this form of trade is more common, it is also more pricey. The maker fee charge for level 1 verification is 0.1%, while the taker's fee is 0.15%. The maker's fee for Level 2 verification is 0.09%, while the taker's fee is 0.135%.
OKEx allows users to purchase cryptocurrencies directly on the crypto trading platform using a number of payment methods like transferring money to the platform via a credit/debit card, bank transfer, PayPal, or Google Pay, based on the fiat currency used for payment.
OKEx's user interface is user-friendly, easy to navigate and mimics high-quality typical financial market trading platforms like Binance. A charting tool built by its parent firm and sister exchange OKCoin is also a key feature that anyone with trading expertise would enjoy. The site is pretty simple and placing an order is a real walk in the park. 


The UI on the mobile app is also customer-oriented and can be downloaded through the App Store and Google Play Store and is available on iOS and Android devices. It enables traders to purchase cryptos in different ways – whether through spot or derivative trading, offers a good view of streaming quotes, stores crypto coins on its own built-in digital wallet, and allows users to subscribe to the latest crypto news. Furthermore, the application offers an easy-to-use design that appeals to both novice and experienced traders.
On the other hand, the crypto exchange lacks several features that would be ideal, such as user exchange data and a news feed. However, because the majority of traders use a direct trading view portal, the latter complaint is hardly game-changing.
OKEx is one of the safest cryptocurrency exchanges protected by bank-level encryption and cold storage for digital assets.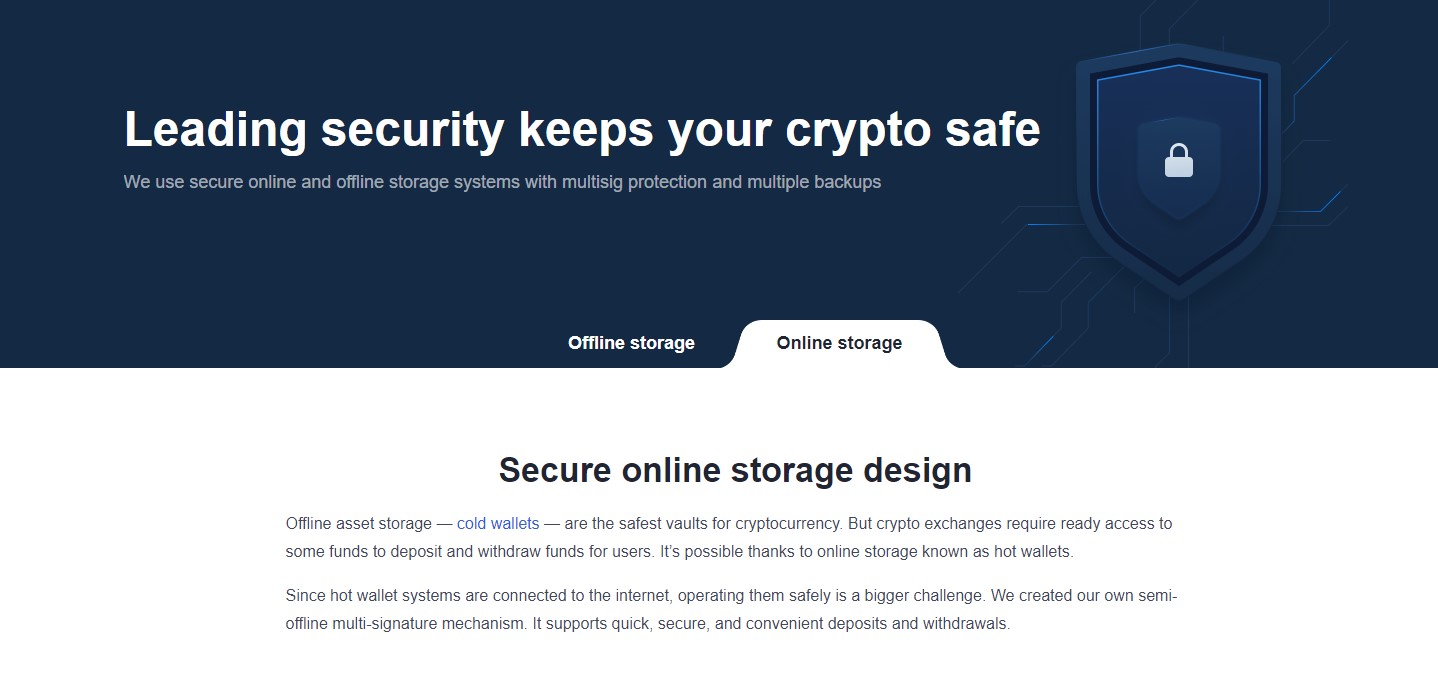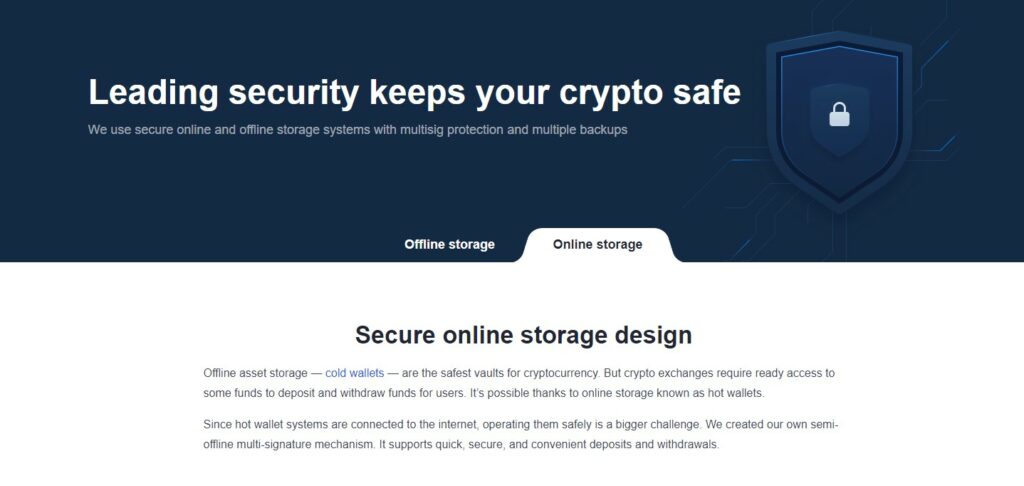 The team has developed the most sophisticated security encryption technology in the industry, which supports the following features: two-factor authentication (2FA), mobile verification code for security settings and withdrawals and codes for email verification.
Furthermore, the exchange is subject to the Virtual Financial Asset Act ("VFAA") and is governed by the Malta Financial Services Authority.
OKEx provides customer support via phone, What's Up, live chat and an email-based ticketing system. The opinion on support levels varies, with some customers complaining about poor response times or the team's inability to fix their issues. In general, it appears that the exchange's methods and approach are fairly rigid, but customers who understand this and behave appropriately report minimal issues.
There is also a separate FAQ section that serves as a starting point for all users and answers all trading issues. Aside from that, there are plenty of beginner tutorials and videos available to assist you when getting started. OKEx also offers relevant articles, industry trends, and the possibility to become an OKEx broker.
Frequently Asked Questions
What are the available payment methods?
The exchange supports a range of payment options such as credit card, bank transfer, Apple Pay, wire transfer, PayPal, Skrill, among other alternatives.
What is the list of supported countries by OKEx exchange?
OKEx is a worldwide crypto exchange that accepts customers from all over the world, except a small number of nations owing to crypto jurisdictional constraints. Cuba, North Korea, Hong Kong, Syria, Iran, the United States, Ecuador, Crimea, Sudan, Bolivia, Malaysia, Bangladesh, and Kyrgyzstan are among the nations and territories that may not trade on OKEx.
What are some of the features provided by OKEx?
The OKEx trading platform provides numerous features that have helped it become one of the world's leading crypto exchanges. The platform's user-friendly design allows both novice and expert traders to exchange cryptocurrency on it. Moreover, the exchange provides a diverse range of cryptocurrency trading assets, numerous payment methods such as debit/credit card, Google Pay, wire transfers, etc, affordable pricing structure, no deposit fees and low withdrawal fees, excellent security and an educational section for new users.
A Few Words Before You Go...
In terms of liquidity, supported currencies, and banking services, OKEx is one of the most popular platforms on the market. The exchange is more than just a place for spot and derivatives trading. The exchange is one of the most versatile and is considered a leading platform offering features such as easy to use interface for new users and advances traders, margin trading, lending, staking, Decentralized financing (DeFi), options, perpetual swaps, and futures market.
They also provide an educational platform where you can learn about crypto trading in general. Overall, OKEx provides all of the tools you need as a beginner while also providing a wide range of alternatives for those seeking to become expert traders.
This page was last updated on August 23, 2022