Ever since mining Bitcoin has become associated with specialized and expensive equipment, as well as significant expenditures and efforts, an increasing number of consumers have turned to peer-to-peer crypto trading platforms for their Bitcoin purchases.


Paxful is one of those direct, peer-to-peer decentralized cryptocurrency exchanges. At first glance, this crypto trading platform has a lot to offer. Namely, it enables crypto traders to buy Bitcoin with over 350 financial tools, while online marketers may also use it to take Bitcoin payments on their websites. Moreover, this crypto exchange boasts over 6 million happy users, more than 12,000 trusted vendors, high media coverage, trading volume expressed in billions, and a user-friendly environment.
But, what is the underpinning security architecture of the platform that started as a simple Bitcoin exchange? How about the support team and the fees? And, what's all the media hype around this crypto exchange? Let's find out.
About the Paxful Exchange
With the main mission to provide financial freedom to millions of people around the globe, Paxful is a peer-to-peer exchange that literally brings people together – and not only through trading coins. The first thing we would like to point out about this exchange is its noble mission of giving back to society. 

To begin with, what started as a spur to change the world of finances, turned out to be a mission to change the world for the Paxful creators – Ray Youssef and Artur Schaback. Their crypto quest is driven by three main motifs:
To be a hero,
To build for the people, and
To stay connected to the streets.
Namely, Youssef and Schaback are not your typical IT guys in a suit – they like to be among the people and ask them for their feedback so they could build for the people – not build profits for themselves only, which makes both them and the common people heroes working together to transform more than just the world of finances. 
The Paxful Alliance For Social Good
In this regard, these guys have pledged to provide schooling opportunities, clean water supply systems, new infrastructure, and entrepreneurial incubators through their mammoth #BuiltwithBitcoin initiative. Together with the ZamZam Foundation, their goal is to build over 100 such facilities for the people in Africa, while also assisting them in coping with the Covid-19 outbreak with supplies of food, hand sanitisers, and other protective equipment to those in need.
Anyone is welcome to join Youssef and Schaback in their noble endeavour, as well as in their quest to create a society where everyone has equal financial access. For this, the CEO and the CPO of Paxful have come up with several peer-to-peer programs that bring crypto traders together for easier financial advancement on the crypto market.
Paxful Reward Programs for Individual Users
The Paxful Reward program offers several ways for a trader to grow with this cryptocurrency exchange. This incentive system is made up of two basic tiers (the trader and peer levels) and an affiliate program that delivers a distinct set of rewards for the participants.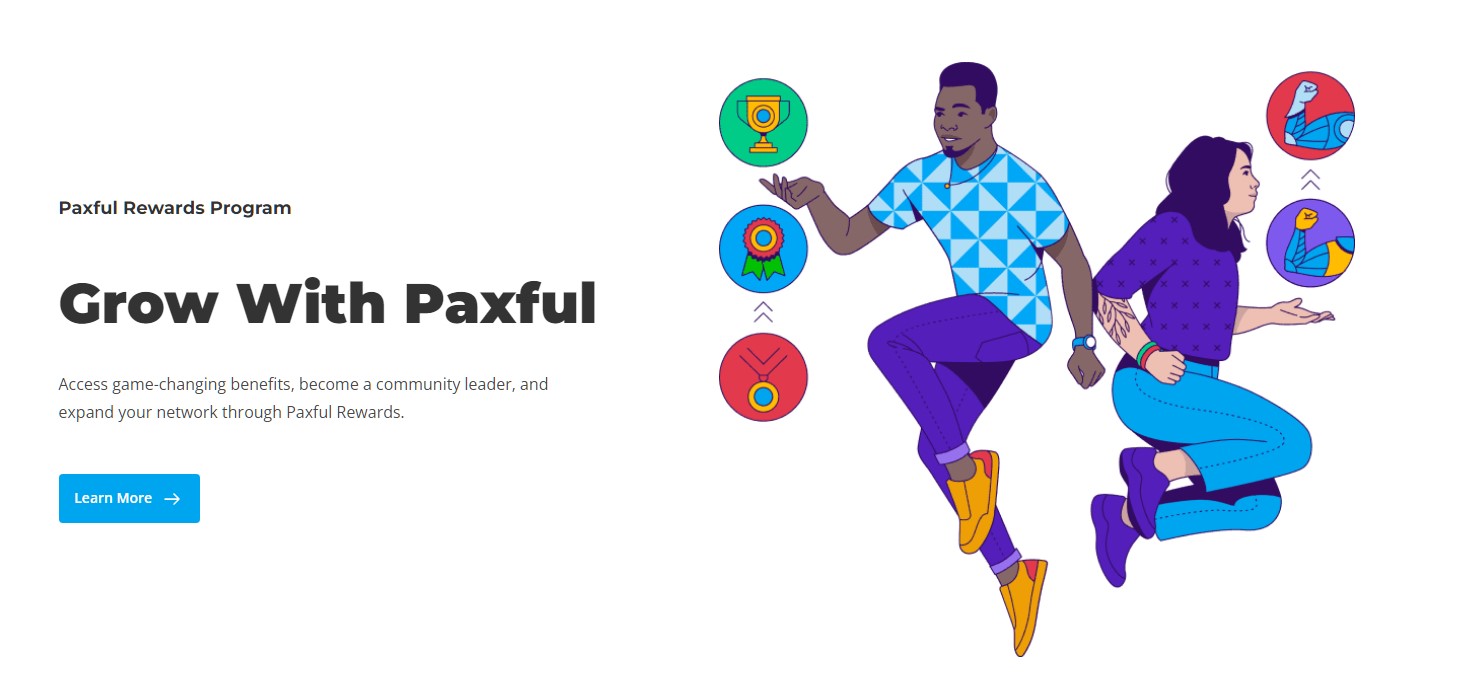 The participants of this program start as Power Traders and are able to unlock their way up to the Expert Trader title and earn exclusive benefits such as lower fees, a badge on the trader's profile, featured offers, no bond requirement, a dedicated account manager, as well as the ability to dispute trades immediately. 
There are a number of conditions that users must meet in order to earn and keep their Trader Program badges. The first and most important requirement is that users adhere to Paxful's Terms of Service. They also must have a verified ID and proof of address and have a trading account on the platform for at least 90 days. Additional requirements include internal verification, 250 trades every 90 days, 1,000 trades every 90 days, and 125 trade partners every 90 days.
Paxful users are automatically registered in this program after meeting the qualifications listed above, and they may immediately take advantage of the benefits it has to offer.
The Paxful Peer program is intended to provide traders with more power by assisting them in growing their community and earning up to 2,000 USD worth of Bitcoin. 
There are three tiers of this program: 
Peer (Level 1) – To reach this level, the Paxful user must bring 7 new traders to the platform;
Ambassador (Level 2) – To reach this level, the Peer must bring 20 new traders to the platform;
Associate (Level 3) – To reach this level, the Ambassador must bring 100 new traders to the platform.
Paxful clients may easily become members of the peer program by submitting an application and having a fully verified account on the platform. After the moderators review it, the 'game is on' – you will be invited to participate in a brief interview with the Paxful Peer program team via one of their communication channels or meeting applications (Zoom, Telegram, Google Meet, or WhatsUp).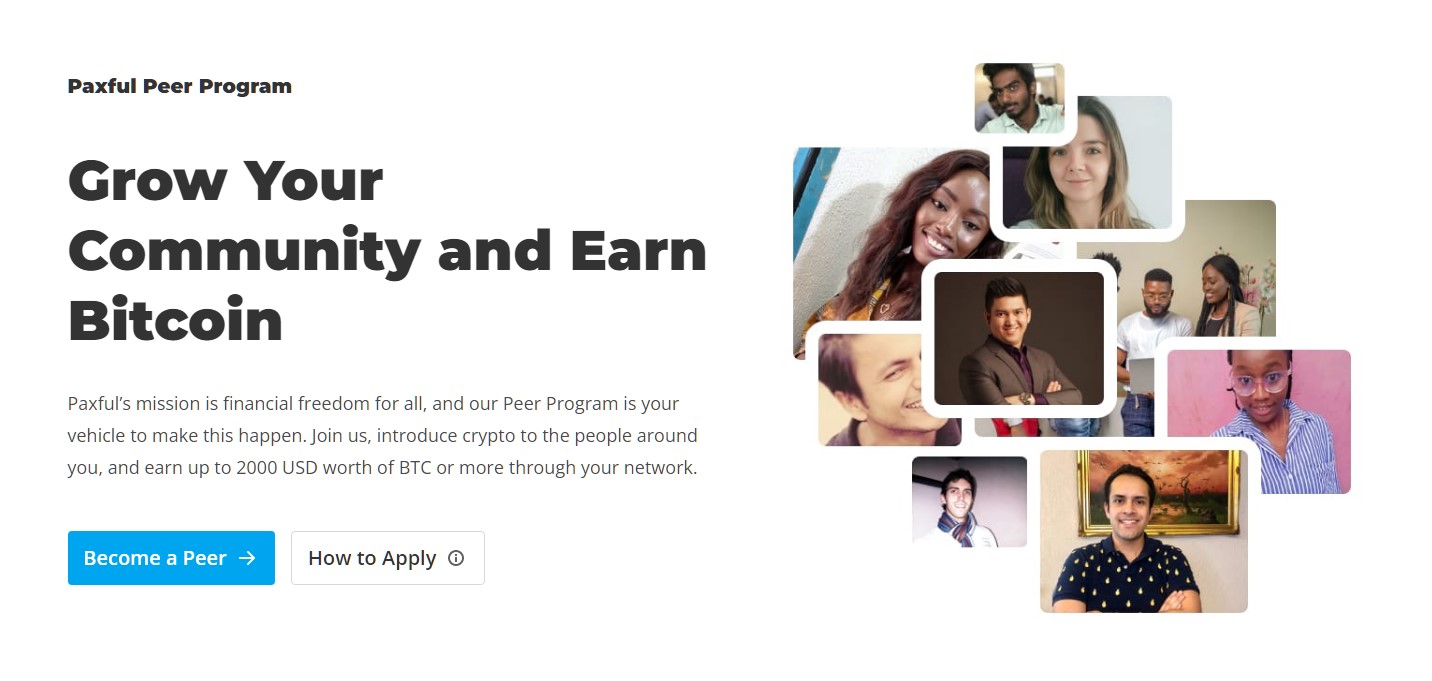 If your application is approved following the conversation, you will be presented with an agreement to sign, and then you will be officially accepted into the Paxful Peer program.
The Paxful Affiliate program enables you to earn an instant income if the individuals you've brought to Paxful by sharing the affiliate link, or the people they've referred to this peer-to-peer trading network, perform a transaction. 
Namely, you can earn a 50% escrow fee for each time someone you have invited to the platform purchases Bitcoin through it, or 10% when friends of your friends obtain their bitcoins via Paxful. When you've made at least 10 USD worth of Bitcoin, you may transfer the profit to your Paxful wallet whenever you like and exchange it for other fiat or cryptocurrencies.
Users can also embed the Paxful Virtual Kiosk widget into their website, smartphone app, YouTube channel, or social media account. Your kiosk (that serves as a referral to the platform) generates a 2% commission on any transaction that is processed through it.
Paxful Financial Services for Your Business
In addition to simple swaps of your favourite currencies, this cryptocurrency trading platform also offers unique solutions for your company, including the Paxful Pay service or the Paxful Wallet.
The Paxful Pay service brings together three parties: 
Merchants (i.e. sellers), 
Buyers, and 
Paxful vendors (i.e. service providers who facilitate the exchange of buyer payments to BTC). 
This Paxful service is unusual in that the transactions are processed via the peer-to-peer Paxful platform, which requires no intermediary, or even a bank account. All parties can conveniently track the payments online or through the Paxful app. Moreover, users of this flexible service may safely house their funds in the Paxful wallet or any other crypto wallet of their choice.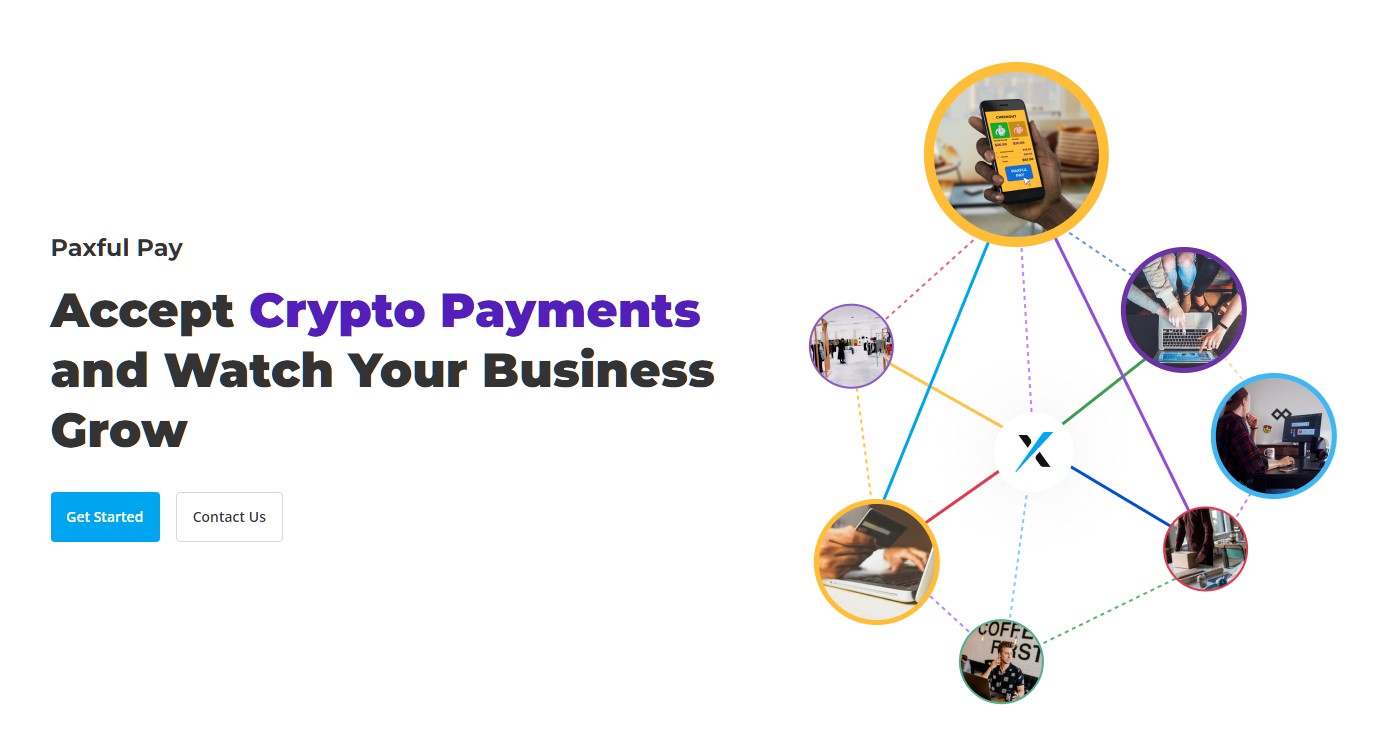 Using the Paxful Pay service for your business will require your clients to select the Paxful Pay check box during the checkout process on your website, sign in to their Paxful account, select their chosen digital wallet, and then confirm their payment. As soon as they have completed all of these processes, the payment will be automatically sent to your account by the escrow service.
You can integrate this patent solution to your platform using the Paxful Pay API, or e-commerce plugins like WordPress.
When it comes to the management of your funds, the Paxful Bitcoin wallet maintained by BitGo is a convenient digital solution where you can safely store your coins. You may get it for free on any of your smart devices that run on the Android or iOS operating systems, depending on your preference.
With only a couple of clicks, you can effortlessly manage your funds and top them up securely through the Paxful peer-to-peer platform, as well as receive and send Bitcoin from other users. 
Supported Cryptocurrencies
Currently, you can buy Bitcoin (BTC), Ethereum (ETH), or Tether (USDT) through the Paxful crypto platform with more than 100 altcoins that are supported by this exchange. The list includes Ethereum (ETH), Litecoin (LTC), Dogecoin (DOGE), Bitcoin Cash (BCH), Ripple (XRP), DASH (DASH), and many other altcoins. Other than trading cryptocurrencies, you can also swap nearly everything you own through this site in exchange for Bitcoin (eg. cars, gold, appliances, etc). 
When it comes to the payment options that are available through this exchange, Paxful leaves nothing to be desired. With over 350 different payment methods to choose from, each trader is guaranteed to discover the most appropriate one for financing their account. Crypto traders who prefer Paxful as a platform to swap coins may choose to buy cryptocurrencies with some of the following payment methods: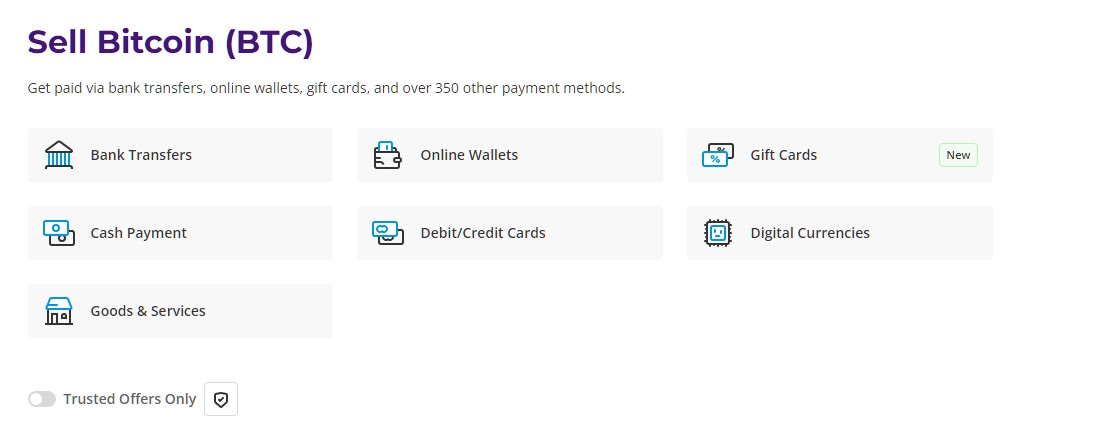 Bank transfer;
Online wallets;
Fiat currencies (cash payment);
PayPal;
Debit card/credit card (issued by Visa or MasterCard);
Wire transfers;
Neteller;
Western Union;
Skrill;
Amazon gift cards;
iTune gift cards;
Cash by mail; 
Cashier's check;
Money Gram;
Bitcoin ATM;
Cash in-person;
Digital currencies (such as ETH, DOGE, or LTC, to name a few), etc.
Generally, the fees on Paxful depend on whether you are the seller or the buyer of Bitcoin. The transactions made through the Paxful pay service with a debit card, online wallet or in fiat currencies, for instance, can be as low as 1% – a fee paid by the seller. 
The fees imposed by the other payment options may incur fees ranging from 0.5% to 5%, depending on the payment provider. This means that buyers are not required to pay any fees while making a purchase through the Paxful exchange unless they are making the transaction through a financial institution. 
In this situation, the bank will more than certainly levy a service fee. You can help yourself with the Bitcoin fee calculator to assess the value of your cryptocurrencies against fiat currencies by applying real exchange rates.
Regarding the limits, Paxful provides 4 verification tiers – all with various limits:
Level 1 – It requires only email and phone number verification and has a limit of $1,000 USD. 
Level 2 – It requires email, phone number, and ID verification, and has a limit of $10,000 USD.
Level 3 – It requires email, phone number, ID verification, as well as address verification, and has a limit of $50,000 USD.
Level 4 – It requires email, phone number, ID verification, address verification, plus additional due diligence. There are no limits imposed for this level.
Paxful exchange has a rigorous KYC verification procedure that helps guarantee they know their clients and a highly professional team of dispute and fraud prevention experts to make sure transactions flow by all rules of trading, as well as to keep scammers off from the platform.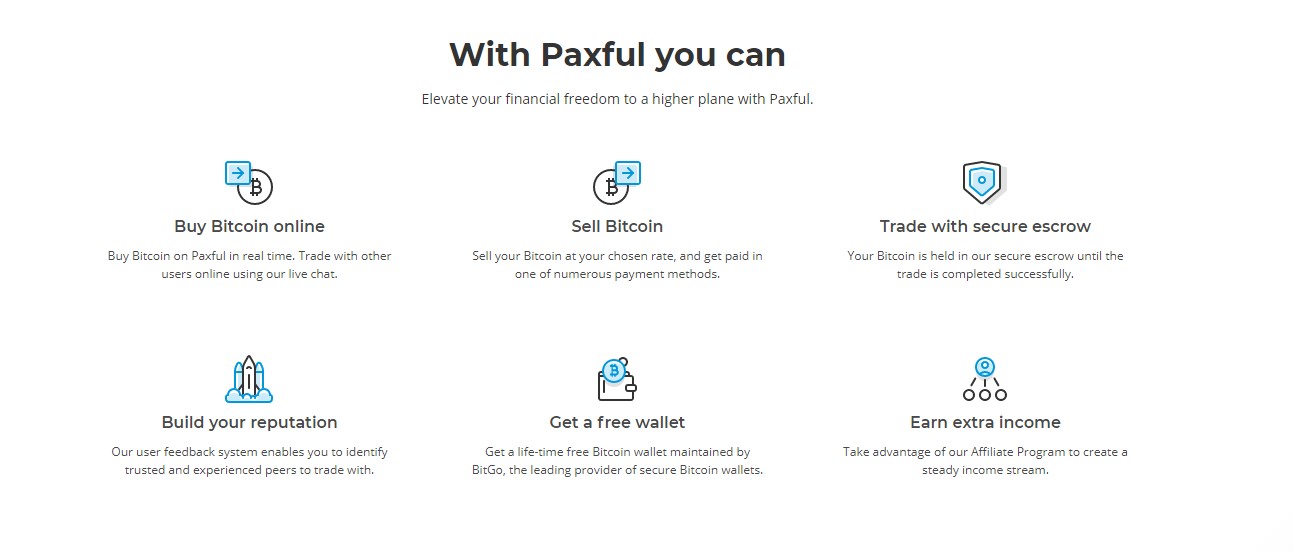 They also have an escrow service in effect in which the transferred coins are securely stored until the deal is finalized. This not only protects users' funds but also ensures that the cryptocurrency funds reach the correct individual or business in case of a dispute.
Additionally, Paxful empowers you with every other popular online security method to safeguard your coins within your Paxful account, such as the ability to set up two-factor authentication (2FA) whenever you log into your trading account or move cryptocurrencies from your Paxful Bitcoin wallet.
In addition, the Paxful Bug Bounty Program provides its users with an opportunity to get a reward for detecting technical bugs in order to enhance Paxful and the capabilities of this crypto peer-to-peer network.
Is Paxful.com Legit or Scam?
Paxful is a licensed financial company with an Anti-Money Laundering (AML) policy in place. Furthermore, this cryptocurrency trading platform conforms with the penalties imposed by the Office of Foreign Assets Control (OFAC). Finally, over 5 million people believe that Paxful is a reputable cryptocurrency exchange, which is an impressive amount in and of its own right.
Paxful offers its users a rich Knowledge Center in which they can find detailed elaboration on almost every significant matter, technical issue, or administrative question regarding this peer-to-peer exchange or any of the crypto operations and concepts.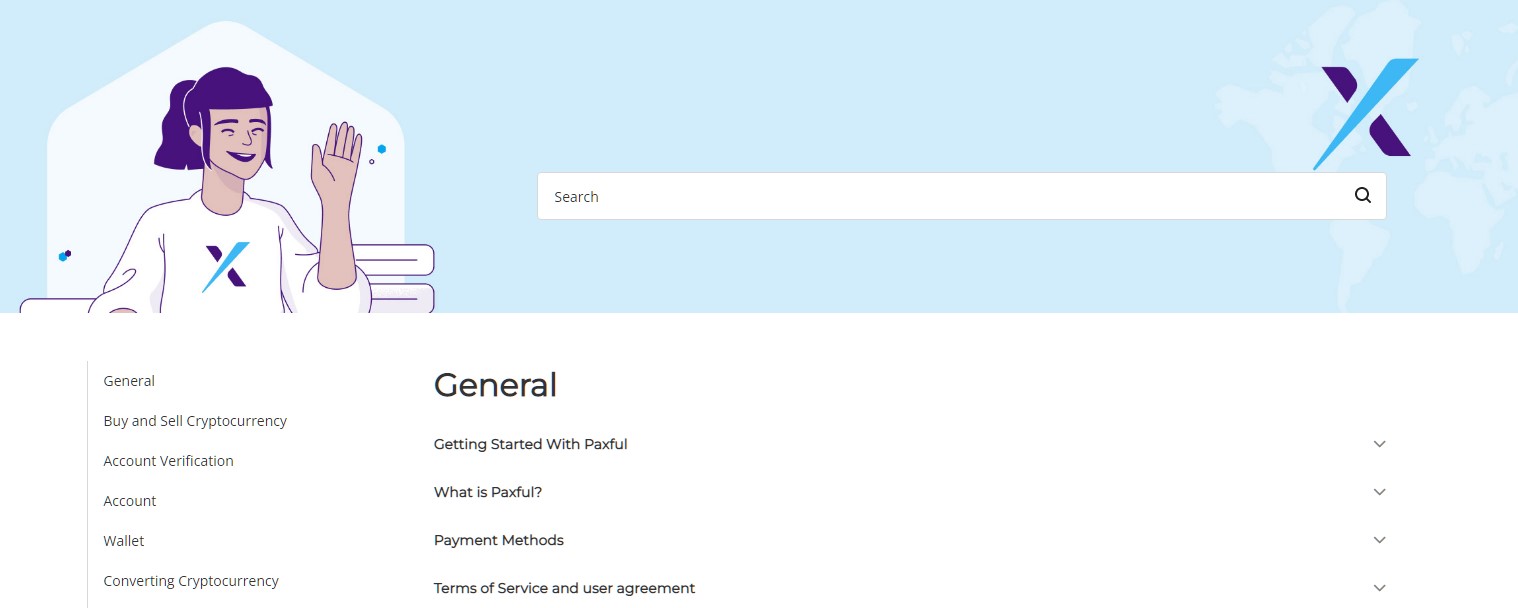 If by chance, you cannot find the answer you were looking for in this vast knowledge base that also includes video guides, there's a dedicated customer support team and a virtual assistant named PaxBot to provide you with instantaneous professional help. 
You can submit your inquiry ticket to the Paxful support team on their e-mail address, or ask the PaxBot for help by clicking on the chat icon located down on the right side of the Paxful website. 
Frequently Asked Questions
Does Paxful have a mobile app?
Yes. To trade Bitcoin or other altcoins with your smartphone is an easy thing to do with the Paxful Mobile Wallet App. Supported by both Android and iOS smart devices, this mobile software operates excellently as a personal mobile crypto wallet. While you can simply trade your coins for BTC, ETH, or USDT on the fly, the mobile wallet software also enables you to safely keep your digital assets and have complete control over them at any point of your day.
What countries are supported by Paxful?
Established in 2015, Paxful is a global crypto trading platform headquartered in New York City (USA), Hong Kong, Tallinn (Estonia), and Manila (Philippines). This peer-to-peer exchange connects people from all walks of life and all corners of the world. The only exception from this, due to the differing financial regulations and legislatures are the residents of the following countries: Iran, Sudan Iraq, Burundi, Republic of Congo, Central African Republic, Lebanon, Cuba, Crimea, Yemen, Libya, North Korea, Somalia, Darfur, and Syria.
Hands down, everything about this cryptocurrency trading platform is for the people. The Paxful peer-to-peer crypto exchange presents an encouraging departure from the constant scramble for money over people that characterizes the work of most financial institutions and exchanges nowadays. 
From giving its users complete freedom to choose their preferred payment option to establishing several rewarding programs and noble initiatives to give back to our society, Paxful is undeniably a platform that prioritizes its clients over profit, while giving them complete control over their assets in the true spirit of the digital money concept.
This page was last updated on August 23, 2022