Established in 2014 in Delaware, USA by Tristan D'Agosta, Poloniex is a cryptocurrency exchange that has historically catered largely to U.S based users but, recently, has been getting traction among crypto traders from around the globe. 


What's great about the Poloniex exchange is that it probably offers some of the lowest fees on the market, as well as numerous trading pairs and useful trading features. Nevertheless, it lags behind some other exchanges with regards to customer service and has encountered a security breach in 2014. In reaction to the loss, Poloniex declared that the company accepts responsibility and is "dedicated to recovering the BTC debt.
After changing owners in 2019, the exchange moved to Seychelles and implemented an open, loosely controlled approach that enabled it to offer a broader array of providers and support more cryptocurrencies. It achieved this by abandoning compulsory AML/KYC checks, making it possible to trade on Poloniex without verification. Furthermore, the platform added new features shutting down access for US users, implying that it had discarded the objective of becoming a fully regulated exchange.
To start trading, you need to register an account with Poloniex. Poloniex provides two stages of account verification: Level 1 and Level 2.
When you join up for Poloniex, you automatically receive level one verification. This level gives you unrestricted spot trading, deposits, a daily withdrawal limitation of up to 20,000USD, as well as other Poloniex features.
Level 2 gives you access to all Poloniex services, such as daily deposits of up to 750,000USD.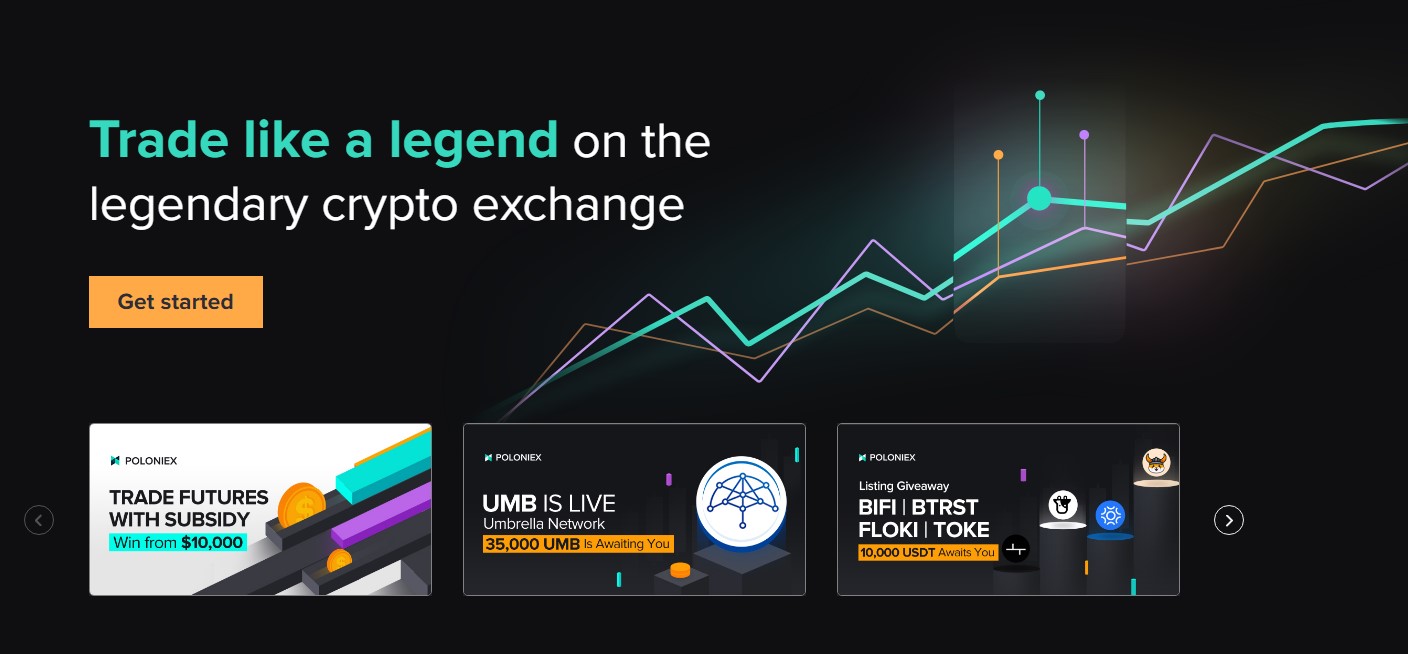 For level 1, you simply have to register on the platform with a legitimate email account. For level 2, you'll need to submit the following info and documentation: your home address, date of birth, phone number, evidence of address and ID or driver's license. Please note that Poloniex offers two methods for funding your Exchange Account: on-chain cryptocurrency deposit or buying Bitcoin or other digital cryptocurrencies with fiat currencies using Simplex. 
Large-volume users could also register for Poloniex Plus Silver, Market Maker accounts, or Gold accounts. Poloniex Plus services include reduced transaction fees, enhanced features, account managers, greater withdrawal limits, and much more. 
Bitcoin and Other Supported Cryptocurrencies
This trading platform was primarily imagined as a digital-currency-to-digital-currency exchange. 
The exchange offers various cryptocurrency pairs and a wide range of assets. You may purchase, sell, and trade, not just Bitcoin (BTC) and Ethereum (ETH), but also a variety of lesser-known tokens like Ripple (XRP), Litecoin (LTC), Tether (USDT), Monero (XMR), Bitcoin Cash (BCH), Dash (DASH), Stellar, (XLM), and Tron (TRX).
Targeting better liquidity, Poloniex trading fees consist of a volume-based maker and taker fee schedule that calculates fees by analyzing users' crypto trading activity over the previous 30 days and determining whether they are a maker or a taker. Taker fees are often greater than maker fees since they reduce the platform's liquidity by matching with current orders. Maker fees, on the other hand, contribute to the cryptocurrency exchange's liquidity pool. Makers create a market for other traders and bring liquidity, while takers eliminate liquidity by taking existing orders that are instantly filled.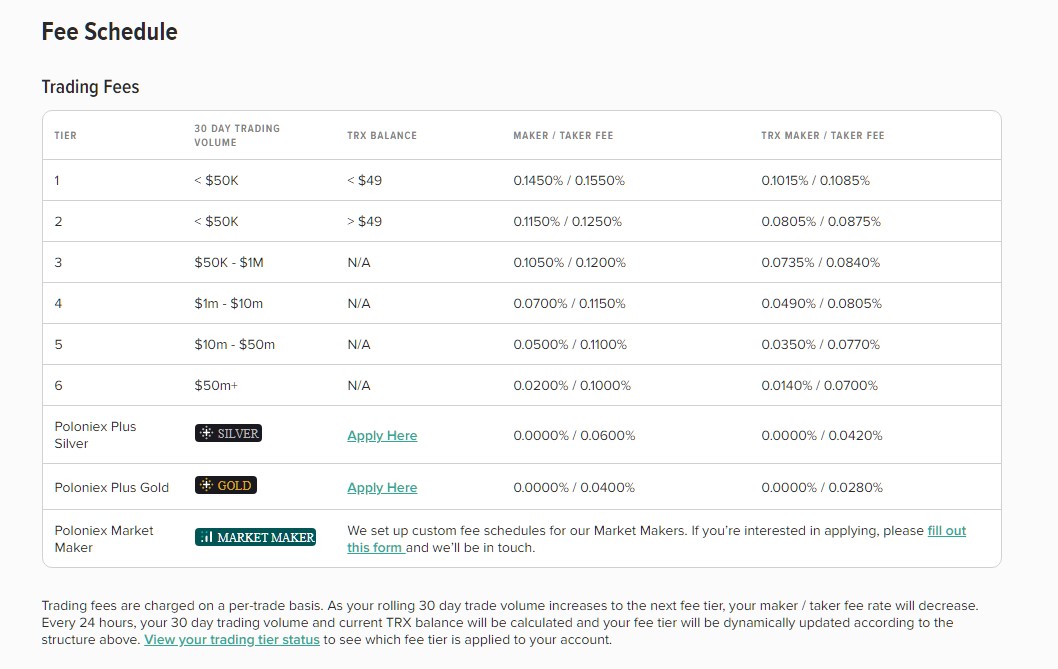 For instance, if your trading volume is less than 600 BTC, Poloniex will apply a 0.15% maker fee or a 0.25% taker fee to each deal.
Deposit and Withdrawal Fees
Poloniex does not impose fees for transferring cryptocurrency to a Poloniex account. There is a predetermined fee per asset when you remove crypto assets from your wallet to cover the expense of broadcasting a transaction to the network. More information may be found on Poloniex's support page.
Margin users pay their lender interest dependent on the quantity they loan. The loan offer specifies the interest rate, which is charged once your margin position is closed.
Poloniex will receive 15% of the interest generated by a lending user as a lending fee.
Poloniex was hijacked in 2014, and 12.3% of the digital assets stored on the platform were stolen. Despite the fact that this was a serious blow to the platform's security, Poloniex was quick to take action, stopping the attack and fully reimbursing customers.
This breach forced Poloniex to work on tightening security all around. As a result, the exchange today has two-factor authentication (2FA) which works as an additional layer of protection, DoS protection, IP lockouts, cryptographic signatures for DNS cache protection, session log history, and email confirmations. Also, the majority of users' funds are stored in cold storage wallets.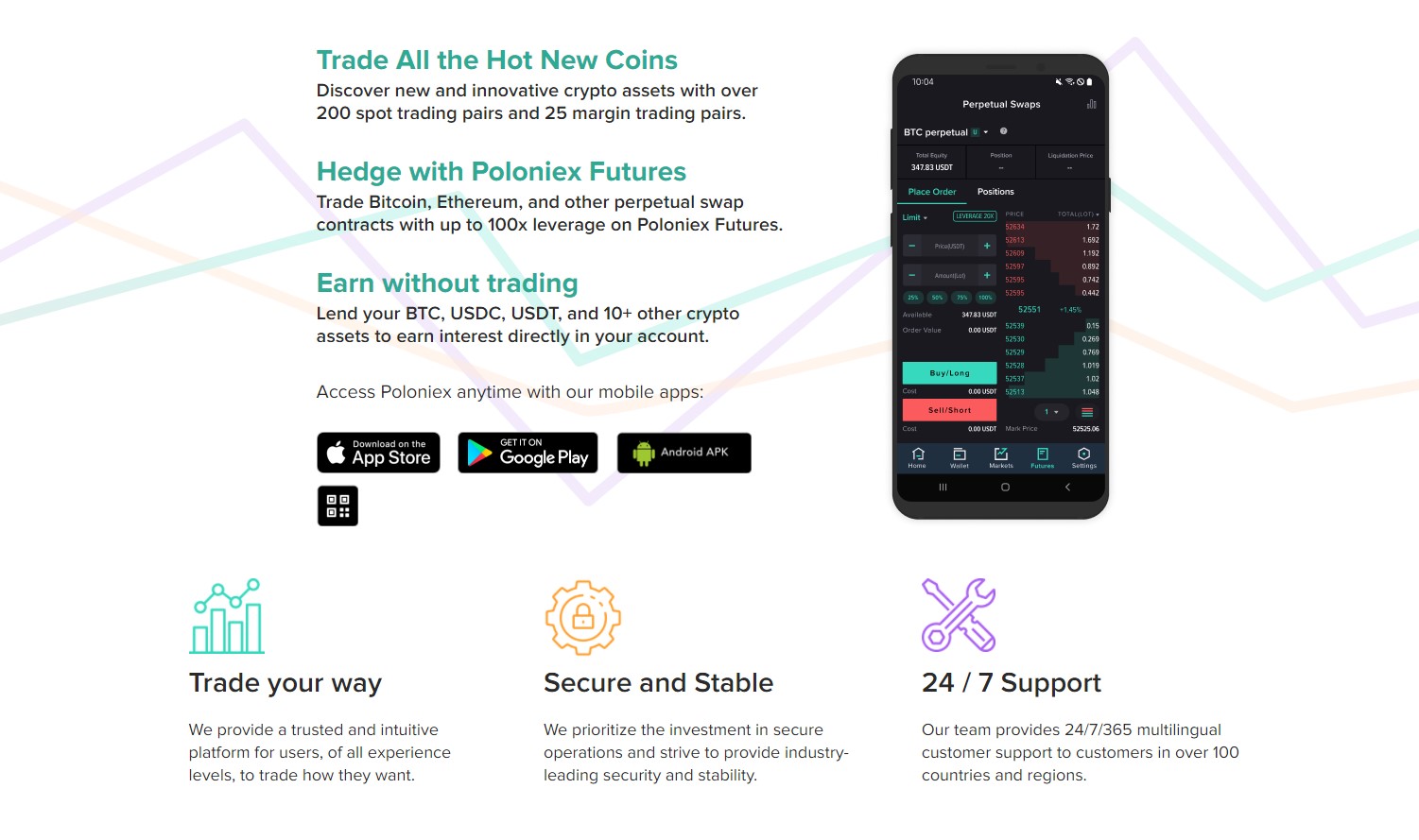 Poloniex's activities are governed by the Financial Services Authority (FSA) of Seychelles and other countries where it operates, the Financial Industry Regulatory Authority (FINRA) and the Financial Crimes Enforcement Network as a result of its activity in the United States (FinCEN), and their operations are protected by European Economic Area (EEA) authorities.
Also, Poloniex doesn't require KYC/AML checks, allowing users to maintain their privacy and anonymity.
Overall, it is safe to say that Poloniex takes safety seriously.
Poloniex gives its customers a full and well-rounded trading experience – the only caveat being that it doesn't offer fiat-to-crypto exchanges. That being said, users may still purchase cryptocurrencies with a credit card and trade a variety of fiat-pegged stablecoins.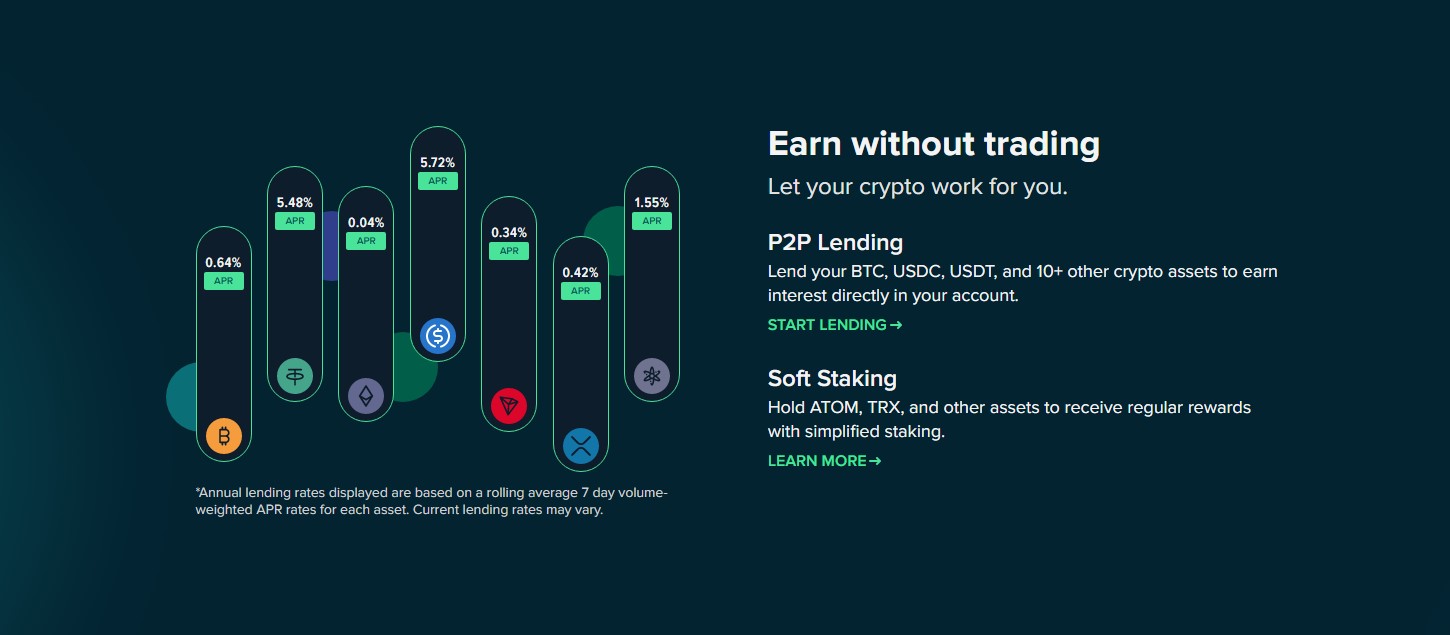 The Poloniex trading platform has a sleek user interface and provides websocket APIs that allow users to start interacting with the platform. This makes it simple for customers to explore, analyze, and perform quick trades, regardless of whether they are total beginners or experts with plenty of experience under their belt. The exchange also provides multi-platform accessibility, with users being able to log in to their accounts on both desktop and mobile devices.
Moreover, the Poloniex site and trading platform were upgraded in 2019. Since then, the platform has become exceptionally rapid as a result of the improvement, with user withdrawals that originally took 5-10 minutes currently getting processed in only 1-2 minutes.
Poloniex provides its users and traders with 24/7 customer support. They may also get in touch with support via Trollbox, its large FAQ information base, Twitter, and other social media networks.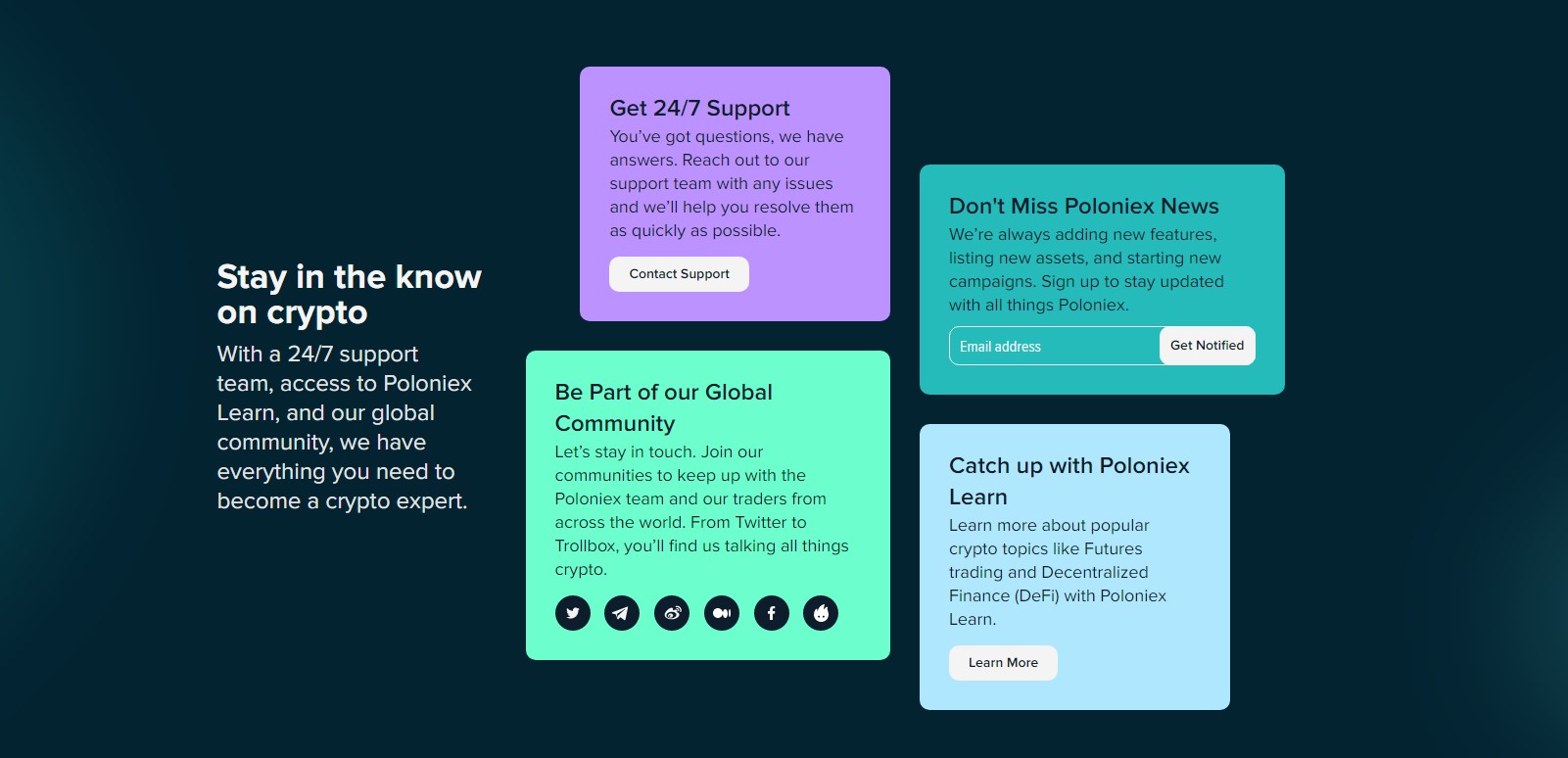 The platform also provides its members with educational materials on all things crypto and trading through its blog. In addition, the exchange provides a help centre, and support staff for additional user's assistance. On the exchange's help website, you can also get free guides and videos on how to verify accounts and buy cryptocurrency using card payments.
However, in practice, Poloniex's customer support team seems to leave much to be desired, with a number of users reporting they would not hear back from the platform for months on end after submitting a ticket and allegedly waiting up to 90 days for the support team to resolve their issue.
Frequently Asked Questions
Does Poloniex provide a mobile app?
Yes, Poloniex offers a mobile app for either Android or iOS devices, which is quite user-friendly, particularly for beginners. However, the mobile app currently only supports core functions like spot trading, creating alerts, managing accounts, and managing your cryptocurrency finance and doesn't support margin trading, the margin lending option, and buying and selling crypto with a debit card or credit card.
In 2014, the platform fell victim to a hack. However, ever since, it has implemented additional security, which makes it a reliable and safe exchange overall. 
What are Poloniex payment methods?
On Poloniex, customers may purchase cryptocurrencies using a variety of payment options supported by the platform. The available options include credit card, bank transfer, SEPA, Faster payments, and SWIFT.
A Few Words Before You Go...
Poloniex has had a rocky few years, but it appears that the exchange is finally ready to recover and reclaim its customer base. The trading platform provides some of the lowest crypto trading fees on the market and provides one of the biggest selections for altcoin trading.
Its simple design makes the exchange an ideal starting place for both new and more experienced users. If you want to give it a go, you have the green light from us! Besides, it only takes a few minutes to register and begin trading. 
This page was last updated on August 23, 2022