Established in 2019, PrimeBit is one of the newer kids on the crypto block. Designed as crypto, stocks, commodities, and forex exchange, the platform offers a range of financial services that enable you to buy or sell Bitcoin, Ether, Facebook or Apple stocks, gold, oil, and dozens of other hot assets with up to 200x leverage. At first glance, PrimeBit appears to be a one-stop-shop for every dedicated crypto trader. 


However, it is worth noting that this innovative exchange is registered in a country where the crypto financial services are rather loosely (if at all) regulated. The fact that this 'you name it – you can trade it' exchange is located in Saint Vincent, and the Grenadines triggered our curiosity and made us explore even deeper. 
We were genuinely interested in finding out whether the highest financial authorities regulate the PrimeBit offerings or do they intuitively follow some industry-standard guidelines. Also, what is the underpinning safety architecture of this trading platform and are all these innovative trading services beneficial to traders, or they are simply a collection of boastful taglines to advertise the platform? You're about to find out in this PrimeBit review.
That being said, if you're looking at signing up with a local exchange, check out our list of the best cryptocurrency exchanges in Australia.
About the PrimeBit Exchange
PrimeBit is a P2P (peer-to-peer) crypto margin trading exchange where you can invest your BTC and USDT in over fifty assets through this trading platform. The central concept of PrimeBit is to make contract trading simple, fast, and accessible to everyone.
Apart from the fact that you can trade directly with other traders through this platform, PrimeBit also provides an intuitive user interface enabled by PrimeBit WebTrader. It does not only make it easy and convenient to glide through the dashboard, but it also allows users to access the exchange through any smart device, regardless of its operative system.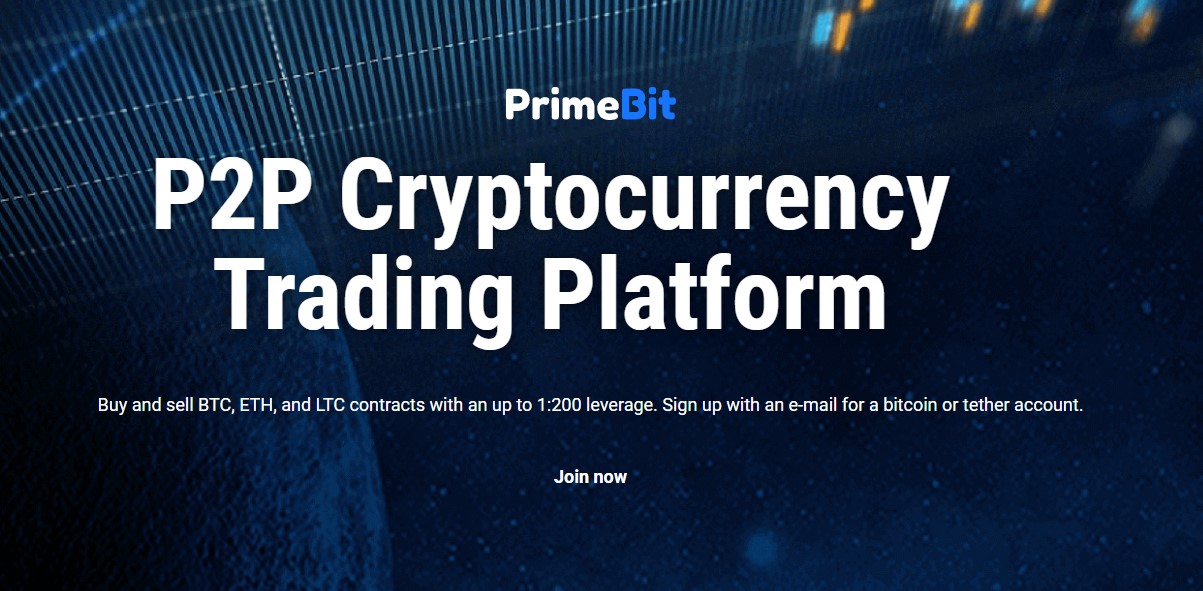 This crypto brokerage lets people trade perpetual contracts in Bitcoin, Ethereum, and Litecoin with up to 200x leverage through peer-to-peer trades. Users can make stop-loss orders, trade forex, stocks, commodities, indices, contracts for difference (CFDs), and futures via the MetaTrader 5 trading application integrated into the PrimeBit's platform. If you want to analyse prices, use trading bots, or copy other traders' strategies, this is the best software for beginners and experienced traders.
PrimeBit Lightning Payments
When you move bitcoins from one wallet to another, you can't know the exact fees or the exact time it will take for the system to validate the funds. This is a characteristic of the decentralized Bitcoin blockchain, inherent in its design. The Lightning Network protocol used by PrimeBit provides a solution to this issue.
The Lightning Network is an add-on that operates as a second layer on top of the Bitcoin blockchain and allows for transactions to be completed in microseconds or less. Through the use of this protocol, the PrimeBit exchange can execute peer-to-peer micropayments, i.e. a service that would be difficult to provide through on-chain transactions.
PrimeBit Affiliate Program
Through your referral link, every affiliate you bring onboard is eligible for a 30% revenue split, plus an additional 5% from the affiliates they bring on board. To keep tabs on your earnings and obtain immediate rewards, you can access real-time click and conversion data on the PrimeBit site.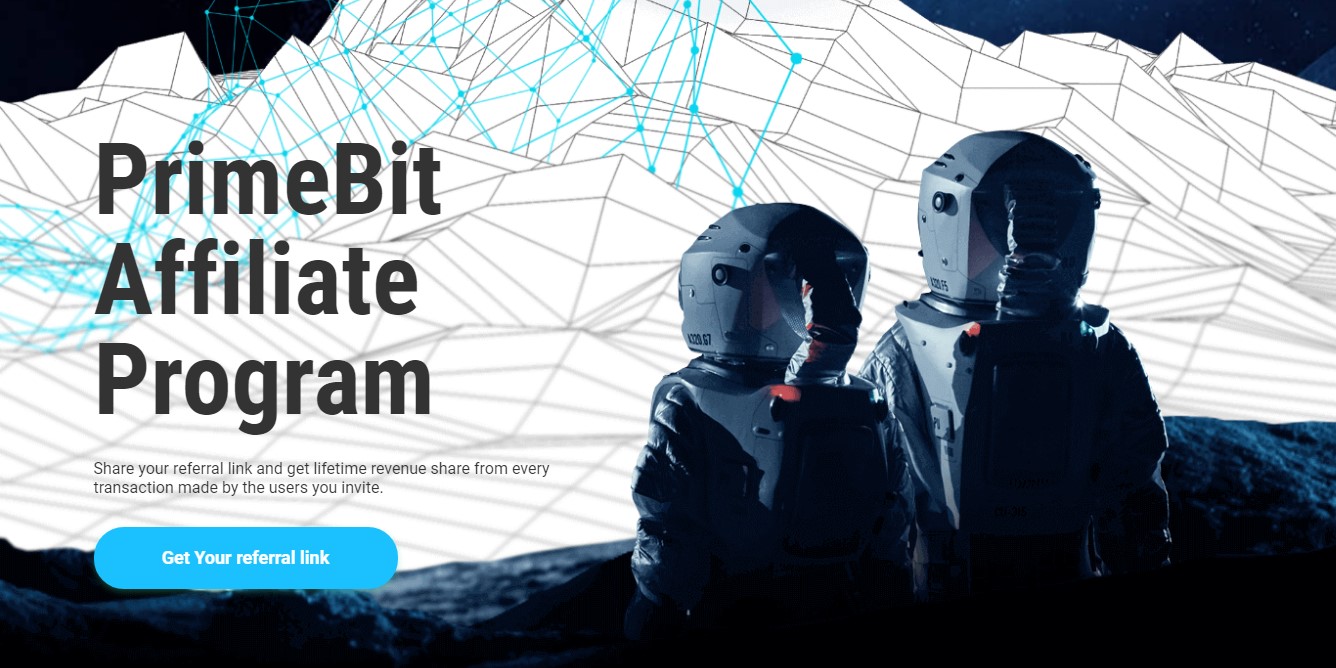 Supported Cryptocurrencies
PrimeBit supports several most popular coins on the market: Bitcoin (BTC), Ethereum (ETH), Tether (USDT), Litecoin (LTC), etc. This exchange also provides ten different cryptocurrency contracts for trading over its platform. The most popular traders include BNB/USD, BTC/USDT, BTC/USD, DOT/USD, and BNB/USD. 
You can also trade the following crypto-to-crypto and crypto-to-fiat currency combinations: BTC/USDT, BTC/USD, ETH/USDT, ETH/USD, LTC/USD, LTC/USDT, DOT/USD. 
To start trading on PrimeBit, you can deposit Bitcoin (BTC) only on your PrimeBit account. As an option, you can exchange fiat currency for BTC on another fiat-to-crypto exchange first and afterwards move the bitcoins to PrimeBit to complete the depositing transaction. With the Match2Pay service, you may also buy Bitcoin via a bank transfer. This exchange does not support fiat currency deposits.
In addition, PrimeBit doesn't require you to go through the KYC procedure to authorise your account, which means you only need to deposit funds to begin trading.
There is no minimum deposit tier set for funding your trading account. In addition, all withdrawals are executed swiftly and without delays to your wallet, unlike traditional bank transfers. 

While there is no expiration date for PrimeBit's contracts, payments are made linearly based on four well-known and reliable exchanges' prices, used to generate the Fair Price spot indexes. These exchanges include bold names, like the Gemini Exchange, Kraken, Coinbase, and Bitstamp.
Furthermore, due to the lightning-fast processing time made possible by the Lighting Network protocol, all transactions completed through the PrimeBit platform are completely free. The fact is, there are some minor mining fees, but PrimeBit compensates them for you. On the other hand, you'll need to pay a withdrawal fee of 0.0005 BTC, which is convenient for traders.
In addition, the taker fee/maker fee scheme is also one of the most convenient ones in the industry. Specifically, with PrimeBit, takers pay 0.075% of the transaction cost, whereas the maker fee is 0.025%. BitMEX and ByBit are the closest rivals to PrimeBit in terms of fees, as they offer 0.075% and 0.025% rebates for the liquidity makers and charge 0.25% and 0.075% respectively for completing market taker trades.
Even though you can track every transaction on the Bitcoin blockchain since it is accessible to everyone, the Lightning Network protocol that's integrated into the PrimeBit trading platform can offer users far greater anonymity than on-chain transactions.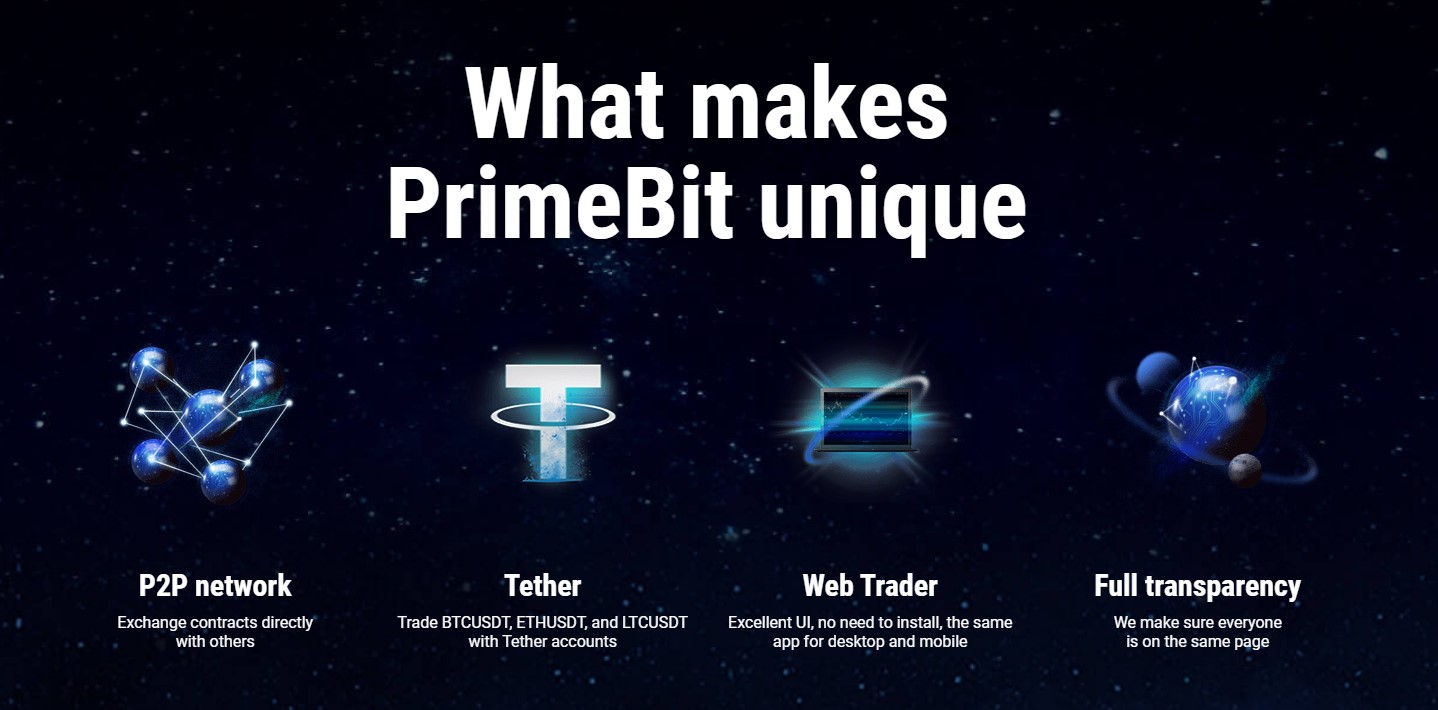 Moreover, 99.9% of the assets on PrimeBit are housed in cold wallets. This prevents hackers and thieves from taking advantage of the platform. PrimeBit employs all of the industry-standard practices and security measures, such as data encryption and two-factor authentication (2FA), configuration file protection, password protection, and more.
Is PrimeBit.com Legit or Scam?
As trading platforms are merely intermediaries in a peer-to-peer context, they are not involved in the transaction itself. As long as traders create quotations, there can be no price manipulation inside such an ecosystem. On the contrary, it may be possible for an exchange to affect the value of cryptocurrency derivatives to its advantage when it acts as both a market maker and a competitor. 
Every trader should be aware of this when it comes to peer-to-peer trading. Thus, PrimeBit makes a profit only after a transaction is completed and enjoys the trust of its users despite being an unregulated brokerage. 
If you have a pressing issue with a payment or a platform feature, this service is a boon because of its 24/7 availability. You can contact the PrimeBit staff via their live chat or by email. Reaching the PrimeBit exchange's customer service staff is also possible, or their social media channels.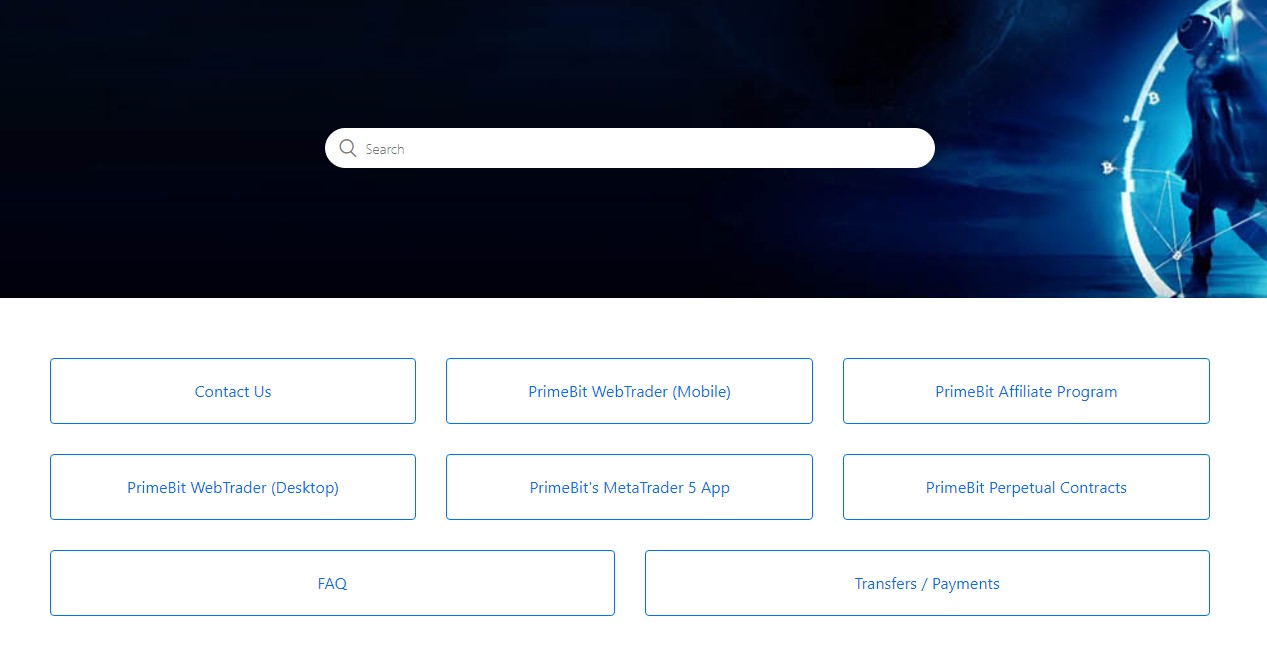 Frequently Asked Questions
Does PrimeBit have a mobile app?
Yes. PrimeBit cryptocurrency exchange provides you with an MT5 mobile app for trading on the go. With the PrimeBit Webtrader, you can seamlessly realise your trading strategies via any platform (Android or iOS). 
What countries are supported by PrimeBit?
Due to the current US Securities Act of 1933, PrimeBit is not accessible to crypto investors from the United States. Among the countries that PrimeBit doesn't support, we also find: Japan, Canada, the Bahamas, Afghanistan, Botswana, Cambodia, Ecuador, Algeria, Ghana, Ethiopia, Iran, Crimea, Myanmar, Iraq, Cuba, North Korea, Serbia, Sri Lanka, Pakistan, Sudan, Yemen, South Syria, Tunisia. 
Does PrimeBit provide a cryptocurrency wallet?
As not all digital wallets are supported by the Lighting Network protocol implemented in the PrimeBit's platform, the developers suggest using open-source, non-custodial wallets, such as BlueWallet, Muun, Phoenix, or Breez. In addition to being user-friendly, all of these wallets are compatible with both Android and iOS operating systems.
PrimeBit is a peer-to-peer crypto exchange built on the well-known multi-trading MT5 platform. This trading app enables the trading of cryptocurrencies, commodities, forex, indices, and stocks with high leverage of up to 200x. This margin is the highest margin available in the crypto market, and there is no minimum amount you need to deposit to begin trading either. So far, so good. 
The less positive news is that this trading platform lacks financial controls. However, even several more established exchanges do well on the market without first-tier financial regulations (like BitMEX, Huobi, or OKEx, for instance). Finally, PrimeBit stands as a unique trading platform in the crypto ecosystem. All traders may securely trade anything they believe would earn them a profitable transaction due to its extensive offering of trading alternatives and user-friendly interface. Insert the low PrimeBit fees here, and – count us in.
This page was last updated on August 23, 2022