StormGain was founded in 2019 and in London, UK, where its headquarters remain today. The platform is a part of the Blockchain Association for Finance and has grown rapidly in popularity due to its advanced trading tools.

StormGain is one of the most popular cryptocurrency exchanges in the UK due to its distinctive features and user-friendly layout. The crypto trading platform provides customers with advanced features such as leveraged and futures trading options for cryptocurrencies.
Additionally, this all-in-one platform offers a Cloud Miner tool, a loyalty program, a simple login procedure, and a variety of order types and trading tools, making it suitable for both novice and expert traders. 
It's easy to create an account on StormGain, the exchange doesn't require Know Your Customer (KYC) verification – all you need to do is provide some basic information to get started. To start trading, visit Stormgain's official website at stormgain.com and click on the Get Started section. Next, enter your email address and phone number. The platform will also request 2FA verification which functions as an additional layer of safety once you enter your login information and password. To gain access to the system, you must enter a one-time password that will be sent to your smartphone. You're done! Your account has been created and you can begin trading right now.
If you're a novice or feeling a bit rusty, you can take advantage of StormGain's demo account that provides you with 50,000 USDT in virtual assets to expand or refresh your trading knowledge, or simply try out some tactics. A risk-free demo account is an excellent resource for newbies who want to give it a shot before settling into a live account. The demo account can be activated for as long as necessary, and customers can simply shift between demo and live accounts from the dashboard whenever they like.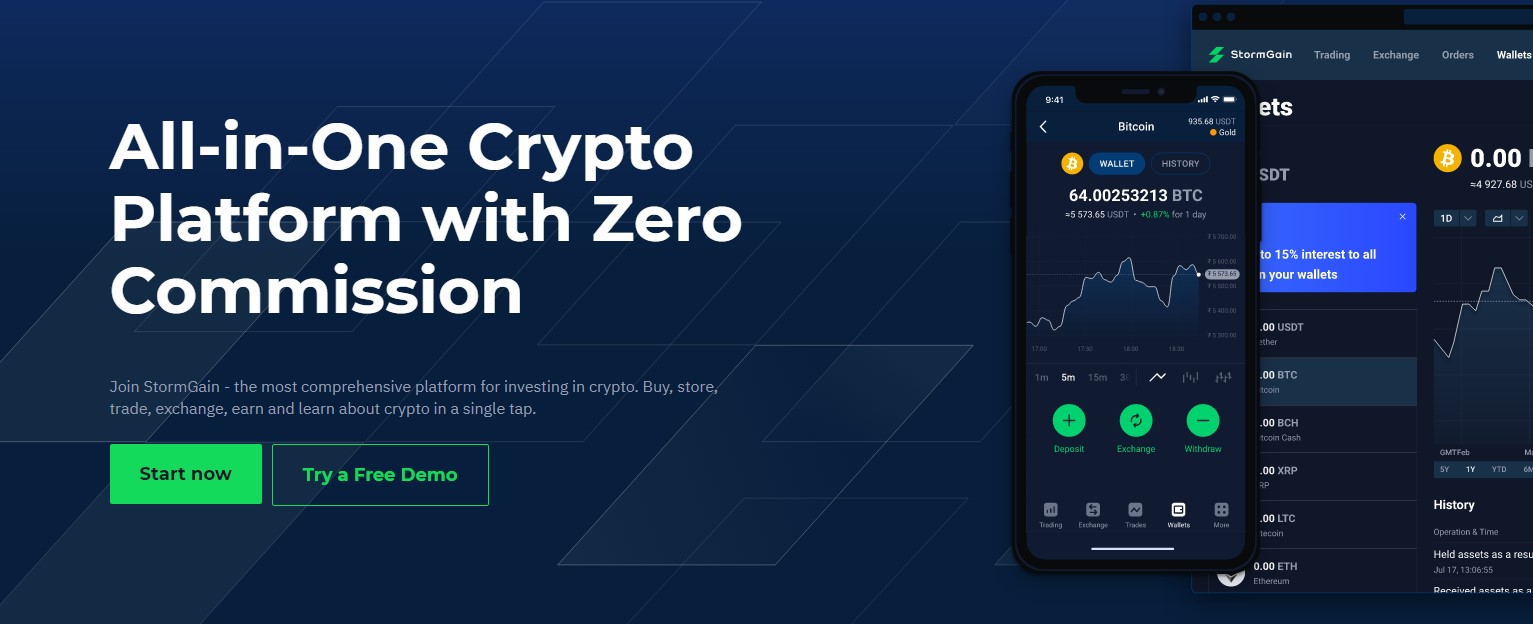 Regarding depositing money to your StormGate account, if you live in Europe, you may use your credit card or a SEPA transfer to buy crypto in exchange for fiat money.
The sleek, intuitive user interface and versatile features make this crypto exchange a good choice for both beginners and seasoned traders.
StormGain is a major cryptocurrency exchange platform due to its straightforward design, secure wallet, two-factor authentication, trading signals, and outstanding user experience. Here are a few of its standout features.
StormGain offers an outstanding user experience, as this crypto exchange combines powerful tools with an easy-to-use interface. The charting system, which you can view in full screen, offers advanced cryptocurrency trading tools and indicators.
High Leverage & USDT Settlement
StormGain is among the few exchanges worldwide that allow up to a 200x leveraging on cryptocurrency trading. Although margin trading with leverage may be quite risky, skilled traders can optimize their potential earnings by longing or shorting cryptos. Since leveraged trading might be risky, the cryptocurrency exchange provides useful risk-mitigation features, including automated stop-loss and take-profit limit order options.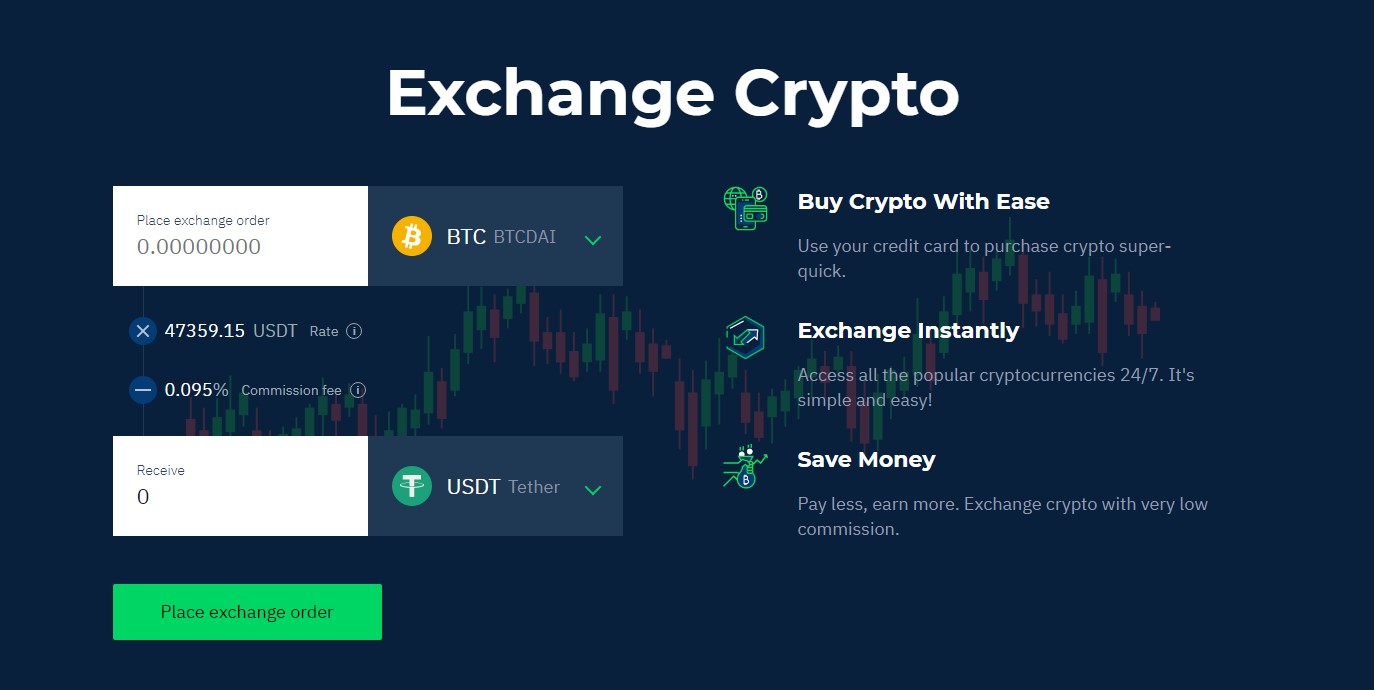 Another noteworthy feature is the option to settle in the stable cryptocurrency tether (USDT), which is tied to the US dollar (USD). This enables users to participate in the unpredictable cryptocurrency market without over-exposing their money and to protect their portfolios against unanticipated price fluctuations.
Practice With a Demo Account
There are numerous crypto exchanges, but not all of them provide a trial account where you can practice trading with digital assets. StormGain's demo mode simulates risk-free trading and allows clients to become familiar with the platform before financing a real account.
StormGain has broadened its service offering to include a cloud mining program, which allows customers to mine Bitcoin without the need for pricey hardware. To begin, all you need is an account. It doesn't cost anything and uses no client-side resources.
Bitcoin and Other Supported Cryptocurrencies
StormGain offers trading in all major cryptocurrencies, including Bitcoin (BTC), the first and most famous digital currency worldwide, Bitcoin Cash (BCH), Ripple (XRP), Binance Coin (BNB), Litecoin (LTC), Dash, Dogecoin (DOGE), Shiba Inu Coin (SHIB), and Tether (USDT), with a 200x multiplier and an institutional level of liquidity. They are mutual funds that invest in high-quality, short-term financial instruments, providing investors with accessibility to a diverse and liquid portfolio. Also, the exchange features a custodial, free crypto wallet that supports BTC, ETH, USDT, LTC, BCH, and XRP.

Although you may be disappointed by the restricted number of digital cryptocurrencies, offering only the most prominent cryptocurrencies protects clients against fraud like cryptocurrency pump-and-dump. This is particularly important in protecting new traders, but professional traders can also work around this kink, especially if they mostly trade in popular cryptos anyway.
Next, we'll discuss trading fees. It's critical for crypto traders to comprehend how transaction fees operate in order to make effective choices and lower the cost of purchasing, selling, and trading digital assets.
StrormGain's fees are quite affordable, particularly in comparison to other crypto exchanges in the UK. The favorable fee structure is one of the reasons StormGain became a major crypto exchange so fast.
The fee for depositing with a credit or debit card is 5% of the full amount or a flat $10 USD, whichever is greater. The minimum deposit limit is $50 USD, after which you may begin trading immediately.


Nevertheless, because the platform doesn't require identification verification, fiat currency withdrawals are not supported. When you withdraw crypto assets to another cryptocurrency exchange platform, there is a 0.1% withdrawal charge. Based on the currencies you are depositing/withdrawing, the lower and upper limits vary.
StormGain features a unique pricing structure. The exchange's fees on instant swaps for cryptocurrency pairings vary based on the crypto, although they are typically cheaper than the fees on other trading platforms in the region.
The best part is that there aren't any additional trading costs. Rather, StormGain takes a 10% commission from trades that are successful. This ensures that customers only pay a trading charge for deals in which they benefit. More information about the pricing model may be found here.
Is StormGain Safe to Use?
StormGain is a legitimate cryptocurrency trading exchange. The platform is a member of the Financial Commission's Blockchain Association.
In addition to the platform's own security measures, they also provide resources where customers can learn how to keep their digital currencies secure on the exchange. Among the recommended measures users can take are using a strong password, activating two-factor authentication, and creating a separate email address for their SG account.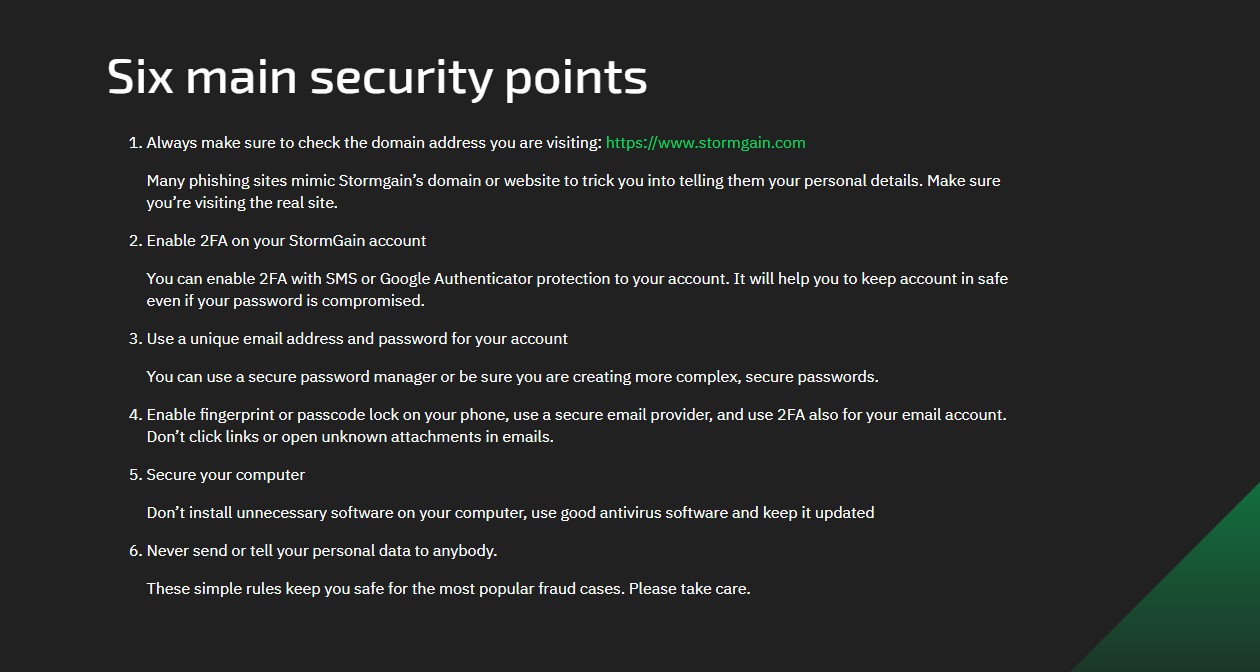 This platform also has data safety measures in place, and users must follow stringent security procedures while signing up on the site by enabling 2FA (two-factor authentication). StormGain also complies with the EU General Data Protection Regulation (GDPR).The GDPR is an EU legal legislation on data privacy and protection in the European Union and the European Economic Area.
Lastly, StormGain keeps users' assets in cold wallets, which are secure offline storage for all digital assets
Overall, we are confident in recommending StormGain as a secure exchange.
StormGain offers answers to technical questions through a very responsive live chat customer service, but it's only available in English and Russian. Assistance is also available through phone, telegraph, and email.
This platform also offers lots of learning materials, In fact, the built-in teaching resources in StormGain are some of the best. Users can easily access videos teaching fundamentals such as how to browse StormGain, execute orders, differentiate cryptos, and make deposits and withdrawals, among other things. There are additional videos on sophisticated trading methods for both long-term and short-term trading.
According to the reviews, the platform's customer support services are excellent. User response has been great, and the support team has sufficient practical expertise to assist traders even when they're practising on the demo account.
The exchange is known as a sponsor for the Newcastle United Football Club (NUFC) during the 2019-2020 season
Frequently Asked Questions
Does StormGain provide a mobile app?
Yes, StormGain provides a mobile app, which is free and available for both iOS and Android phones. The StormGain app connects to a customer's trading account via an API, allowing them to make trades, place orders, and monitor active positions from their mobile device. Its main features include trading in the available cryptocurrencies: Ethereum (ETH), BTC, BCH, XRP, LTC, USDT; crypto trading with up to 100x leverage; tailored cryptocurrency trading signals; simple sell/buy options; depositing and withdrawing of cryptocurrencies without additional fees; 24/7 customer support; and 2FA.
Does StormGain have a referral program?
Yes, StormGain has a referral program that works similarly to a loyalty program in that it rewards existing customers for bringing in new customers via their unique referral link. The referral bonus is 15% of the trading fees of the referred customers.
Is StormGain considered a safe exchange?
Stormgain has a strong reputation in the industry and hasn't faced any security threats. In addition, the exchange provides 2FA security verification and cold storage for user assets.
A Few Words Before You Go...
StormGain's attractiveness stems from the fact that it provides superior trading features to all account types. Aside from limit orders, StormGain offers trade signals with the aid of AI (Artificial Intelligence) to help them improve their trading skills and success.
StormGain also has a very user-friendly interface that makes trading easy for all levels. What's more, when compared to other prominent crypto margin platforms, the fees for trading or exchanging cryptocurrency are quite affordable.
This page was last updated on August 23, 2022