Swyftx was established in 2017 in Brisbane, Australia by Alex Harper and Angus Goldman. However, operations began in 2019 with the platform.
It is packed with the most recent and greatest features on the market – it features an easy-to use and intuitive user interface that supports more than 260 crypto assets. The platform also boasts plenty of liquidity, favorable spreads and low fees.
They are one of the best crypto exchanges in Australia. We are glad you stopped by this review to see if they can handle your crypto needs.

The brokerage service that Swyftx offers is the best example of Swyftx expertise. It offers the best possible spreads and is easier to use than the whole platform, making it one the best cryptocurrency exchanges in Australia. It uses an SMSF (Self Managed Super Fund) to protect user funds and savers.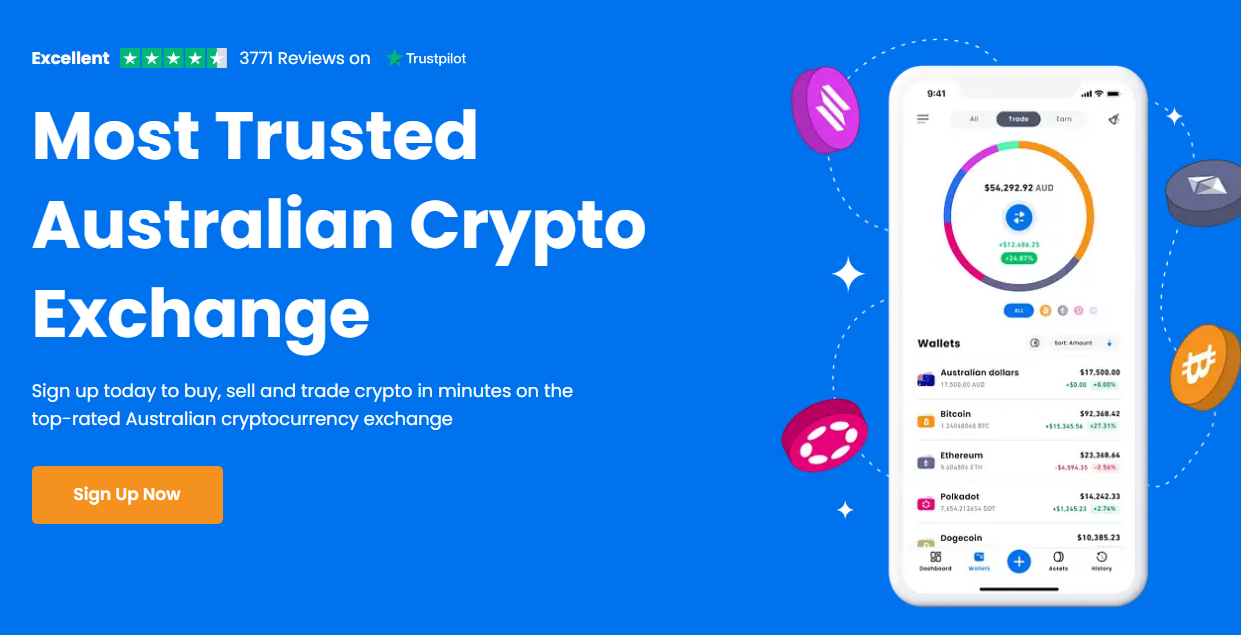 Swyftx hosts over 30,000 Australian crypto traders. The greatest feat of this company is the fact that it was able to achieve that number in a very short time.
Pros:
Very user-friendly
Quick verification
Live chat support available 24/7
There are many cryptocurrencies
Trading fees for instant trades start at 0.6 percent
Use your Credit Card or Debit Card to buy crypto
Trusted Australian exchange (regulated under AUSTRAC).
Cons:
There is no order-book (only instant purchasing)
Margin trading is not supported
Charge credit card deposit fees (at 2%)
Bitcoin and Other Supported Cryptocurrencies
Swyftx offers users access to over 300 cryptocurrencies, including Bitcoin (BTC), Ethereum(ETH), Filecoin [FIL], Mithril (MITH), Curve/CRV), Ripple/XRP, Civic (CVC), yearn.finance (YFI), and more.
Fiat Deposits can only be made in AUD and NZD. Swyftx does not yet have a feature that allows for leveraged trading, unlike Binance. There is an alternative: Swyftx users are able to buy Bitcoin using AUD, and then convert it by using a third-party cryptocurrency exchange that supports leverage or margin trading.
The platform recognizes the need for margin trading and leverage, and is working to provide this option to users as soon as possible.
Swyftx offers mobile apps for iOS and Android, which look great. Biometric security allows users to log in using a face scan and ID. You can choose which app you use to access your trades.
Fees on fiat currencies: AUD withdrawals and deposits incur 0 fees, with a daily limit up to 100,000 AUD. Free withdrawals
Cryptocurrency trading fees start at 0.45% and there are no trading limits. There is also a 0.6% trading fee.
Deposits and withdrawals of cryptocurrency incur a standard network mining charge, but there are no additional Swyftx fees.
Swyftx's large liquidity pool, which is a result of its global partners, means it has lower spreads. It offers an average 1.7% spread for all currencies and 0.45% Bitcoin. This compares to the 4.0% average spread offered to competitors.
Swyftx is very serious about security and requires that all users go through KYC as required by Australian law. Swyftx users who wish to create an account need to provide a telephone number, provide a password, verify their legal names, and provide an email address. Swyftx uses JWT tokens and supports 2FA verification. It also administers periodic self-imposed breaches to ensure that security systems are being tested and pushed.
Swyftx requests users to provide regular identity checks. Swyftx has a partnership agreement with Chainalysisand, a blockchain analysis company that is one of the largest security traffic monitoring companies in the world.
Swyftx's customer service is excellent, as shown by trust pilot reviews.
After more than 3600+ reviews they have an average rating of 4.8 stars. This is a testament to their exceptional customer service.
You can contact them by phone, email or live chat. The response times are generally very fast.
Frequently Asked Questions
Does Swyftx have an affiliate program?
Swyftx offers an affiliate program that gives users a 30% discount on all trade fees. This discount applies to all trades made through affiliate accounts. Additional discounts are available for affiliates who can also get a referral code through the platform.
Affiliates receive monthly payouts. When someone registers on the platform using their referral link, the platform's tracking system will inform them.
What is the Self-Managed Super Fund? How does it work?
New Brighton Capital has made it possible to create the SMSF, or The Self-Managed Super Fund. This fund offers multiple tax benefits. It is a savings storage account that provides multiple tax benefits. The SMSF fun offers users a 15% tax rate on digital assets. Registered SMSF traders are considered trustees. This means they must comply with both super laws and ATO tax regulations.
Does Swyftx have a Demo account?
Swyftx offers a demo mode where you can trade, stop and limit orders and make card deposits. You can also track your portfolio and see how two-factor authentication or biometric login feels. Swyftx allows you to fully experience all the features without having to deposit funds or purchase cryptocurrencies.
Related:
Swyftx Compared
Exchange
Deposit Methods
Fiat Currencies
Cryptocurrencies
Trading Fees
Sign Up

Swyftx



Bank Transfer, Crypto, Credit and Debit Card, Osko, PayID
New Zealand Dollars and Australian Dollars
Over 320
0.6%
Australian Dollars Deposits: 0% Crypto: 0%
Australian Dollars Withdrawals: 0% Crypto: 0%
Visit Swyftx

Binance



Crypto, Credit and Debit Cards, Osko, PayID
10 Fiat Including USD and AUD
Over 600
0% to 0.1%
0%
Vary
Visit Binance

CoinSpot



Bank Transfer, Fiat, Crypto, POLi, and PayID
Australian Dollars
Over 370
Instant Buy/Sell: 1% OTC: 0.1% Market Order: 0.1%*
Direct Deposit: $0 Cash: 2.5% PayID, POLi, and direct deposits: $0 BPAY: 0.9% Direct Bank Transfer: $0
Australian Dollars Withdrawals: $0
Visit CoinSpot

Bybit



Crypto, electronic funds transfer (EFT), wire transfer, bank transfer, credit card, and debit card
50+
160+
0.1% spot trading 0.01% – 0.06% market makers/market takers fee
$0
Does not support direct fiat withdrawals Crypto withdrawal fees: Network fees
Visit Bybit

Digital Surge



Bank Transfer, Crypto, POLi, Osko, PayID
Australian Dollars
Over 300
0.1% to 0.5%
Deposit Fees Bank Transfer: $0 POLi: $2 (capped at $3.30)
$0 for AU Bank Accounts Cryptocurrency: Depends On the Network
Visit Digital Surge

CoinJar



Fiat, Bank Transfer, Crypto, Credit or Debit Card, Apple Pay, Google Play
Pound Sterling and Australian Dollars
Over 50
Maker: 0.04 to 0.1% Taker: 0.04 to 0.1%
Fiat: 1.5% CoinJar Users: $0 NPP: $0
$0
Visit CoinJar

Independent Reserve



Crypto, Osko, PayID, Electronic Fund Transfer, SWIFT
Australian Dollars, US Dollars, New Zealand Dollars
Over 25
0.05% to 0.5%
For SWIFT Deposit: $15 for deposits under Australian $5,000 equivalent $0 for deposits over Australian $5,000 equivalent For Electronic Fund Transfer: Australian $0.99 for deposits under $100 $0 for deposits more than Australian $100
Crypto: Fees vary Bank Transfer: $0 for AUD $20 for non-AUD
Visit Independent Reserve

eToro



Bank Transfer, Debit Cards, Neteller, PayPal, Online Banking, and Skrill
15 Fiat Currencies Including USD and AUD
Over 70
Vary
Vary
$5 but minimum withdrawal of USD50
Visit eToro

Coinbase



Debit Card
More than 20 Fiat Currencies Including USD and EUR
Over 200
Vary
Credit Card and Debit Card: 3.99%
2.49%
Visit Coinbase

Bittrex



Bank transfer (ACH)
Euro and US Dollars
Over 320
0.25%
$0
Vary
Visit Bittrex

Bitfinex



Bank Wire Transfer, Crypto, Credit Card
US Dollars, Japanese Yen, Euro, Pound Sterling
Over 200
Taker: 0.055% to 0.2% Maker: 0% to 0.1%
Crypto: $0 Wire: 0.1% (min 60 Euro/USD)
Crypto: $0 Wire: 0.1% Express Bank Wire (within 1 day on business days): 1% (min 60 Euro/USD)
Visit Bitfinex

Coinmama



Bank Card, SWIFT, Google Pay, SEPA, and Fedwire
6 Fiat Currencies Including USD and AUD
Over 10
2.93% to 3.9%
0% to 5%
N/A – assets are directly sent to the user's crypto wallet
Visit Coinmama

Kraken



Bank Transfer, Crypto, Wire Transfer, osko, SEPA, Apple Pay and Google Pay
7 Fiat Currencies Including USD and AUD
Over 140
Maker: 0% to 0.16% Taker: 0.10% to 0.26%
Vary
Vary
Visit Kraken

KuCoin



Crypto, PayPal, Wire Transfer, Credit or Debit Card, SEPA
9 Fiat Currencies Including USD and AUD
over 645
0.1%
$0
Vary
Visit KuCoin

Easy Crypto



Bank transfer, P2P, POLi, OSKO
AUD
100+
0.5% – 1.6%
$0
Fiat Withdrawal fees: $0 Crypto withdrawal fees: Network fees
Visit Easy Crypto

Coinstash



Crypto, PayID, Bank Transfer
AUD
410+
0.85%
$0
Crypto withdrawal fees: Network fees Fiat Withdrawal fees: $0
Visit Coinstash
This page was last updated on July 14, 2023