Swyftx is among the top crypto exchanges available to Australians as is Coinbase is the most popular cryptocurrency marketplace in USA. Many Aussies are familiar with Coinbase because it's extremely well-known in America But which one is the best option for Australia? I've conducted a head-to-head comparison between these two exchanges to help you make your own decision.
Personally, Swyftx is the better choice, offering free deposits, cheaper charges for trading, a demo mode, and 20 free Bitcoin by signing-up with this link.
Swyftx vs Coinbase Comparison Table
| Features | Swyftx | Coinbase |
| --- | --- | --- |
| | | |
| Supported Coins | 320+ | 160+ |
| Trading Fees | 0.6% | 4.49% |
| Deposit Fee | Free | No fiat deposits |
| Withdraw Fee | $0 | No fiat withdrawals |
| Payment Methods | Credit/Debit card, Bank transfer, POLi, OSKO, PayID | Debit card |
| | | |
Swyftx Pros and Cons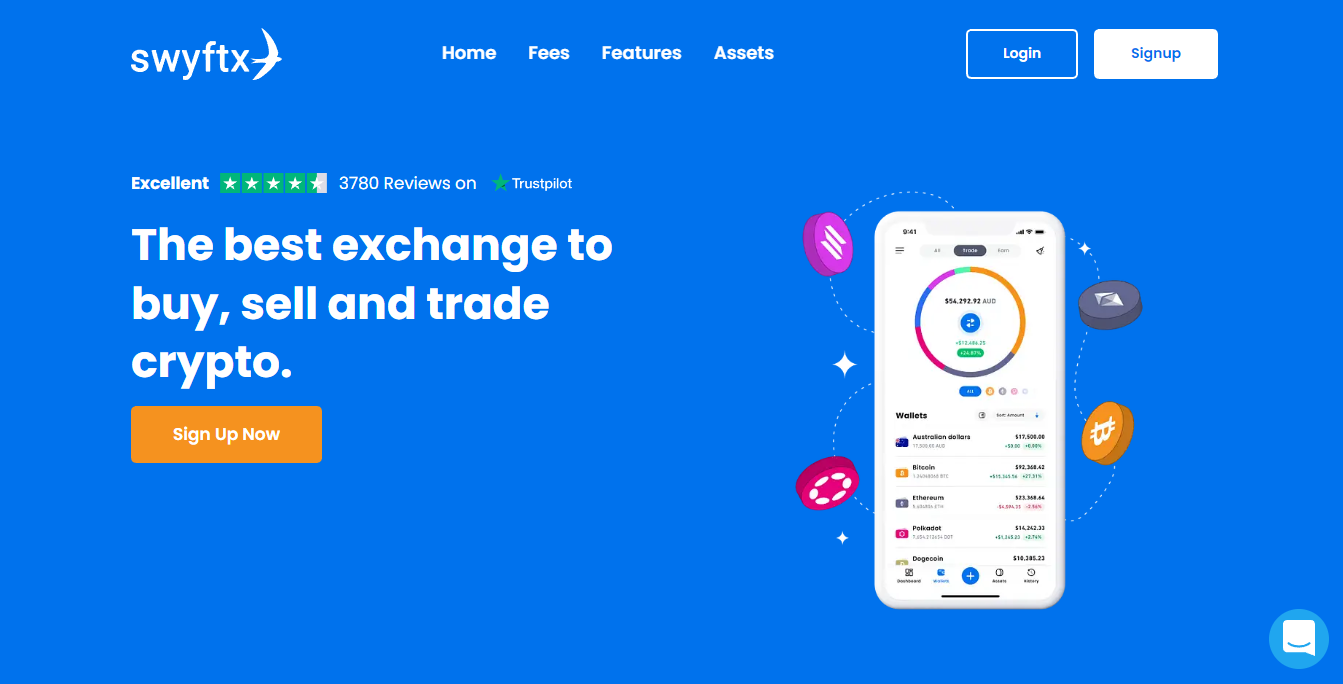 Pros:
Very user-friendly
Quick verification
Live chat support available 24/7
There are many cryptocurrencies
Trading fees for instant trades start at 0.6 percent
Use your Credit Card or Debit Card to buy crypto
Trusted Australian exchange (regulated under AUSTRAC).
Cons:
There is no order-book (only instant purchasing)
Margin trading is not supported
Charge credit card deposit fees (at 2%)
Coinbase Pros and Cons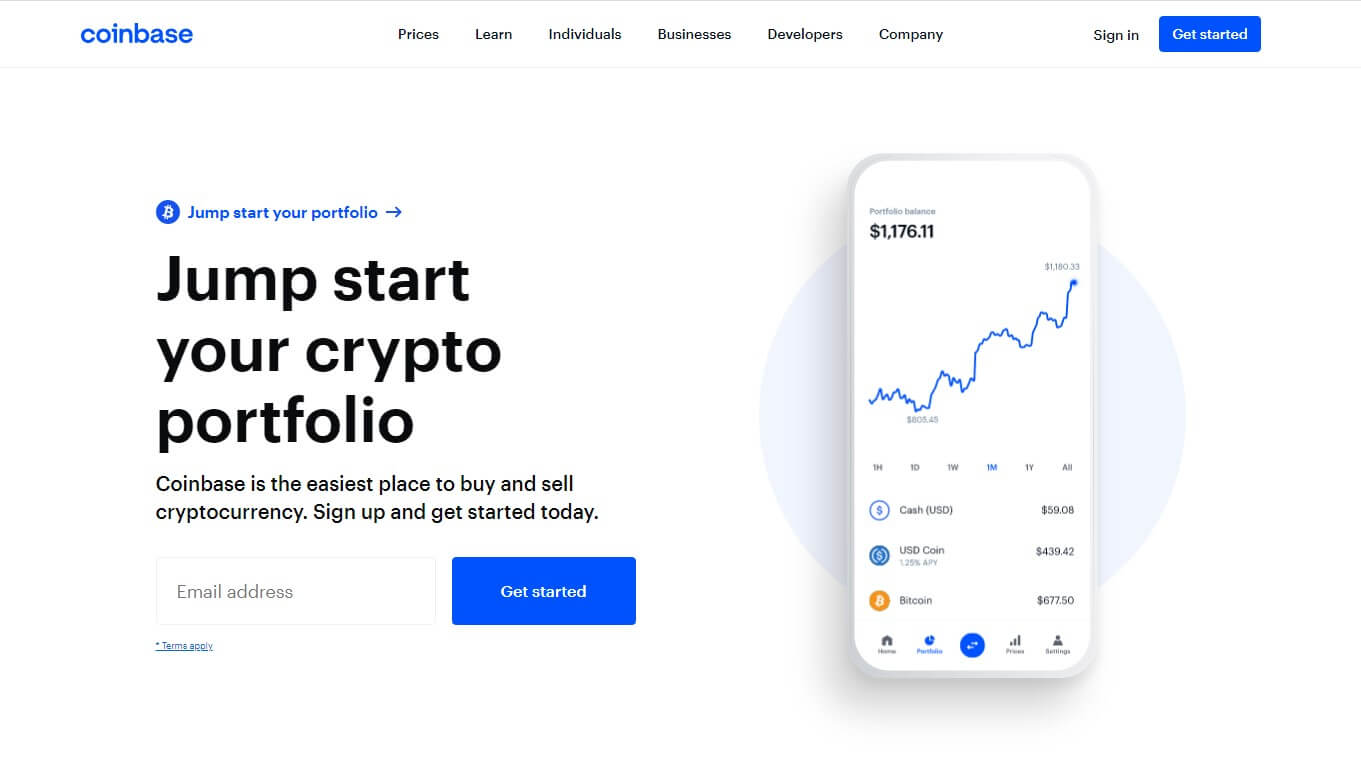 Pros
A low minimum amount is required to fund your account.
It is simple to use for beginners in cryptocurrency
Support for a wide range of cryptocurrency
Earning opportunities to get cryptocurrency
Lower rates are available when you sign up for Coinbase Pro
Simple and sophisticated trading
Earn free cryptocurrency
Educational content
The top-rated mobile app
Crypto-rewards
Offers Coinbase debit card
Cons
The fees are higher than those of other exchanges that accept cryptocurrency.
Potentially high transaction costs
Features
Swyftx is designed to simplify things for users. With a user-friendly interface as well as modern designs, Swyftx is the perfect platform for beginners to cryptocurrency. Also, with a demo version accessible, you can test your trading skills prior to placing any money in the market.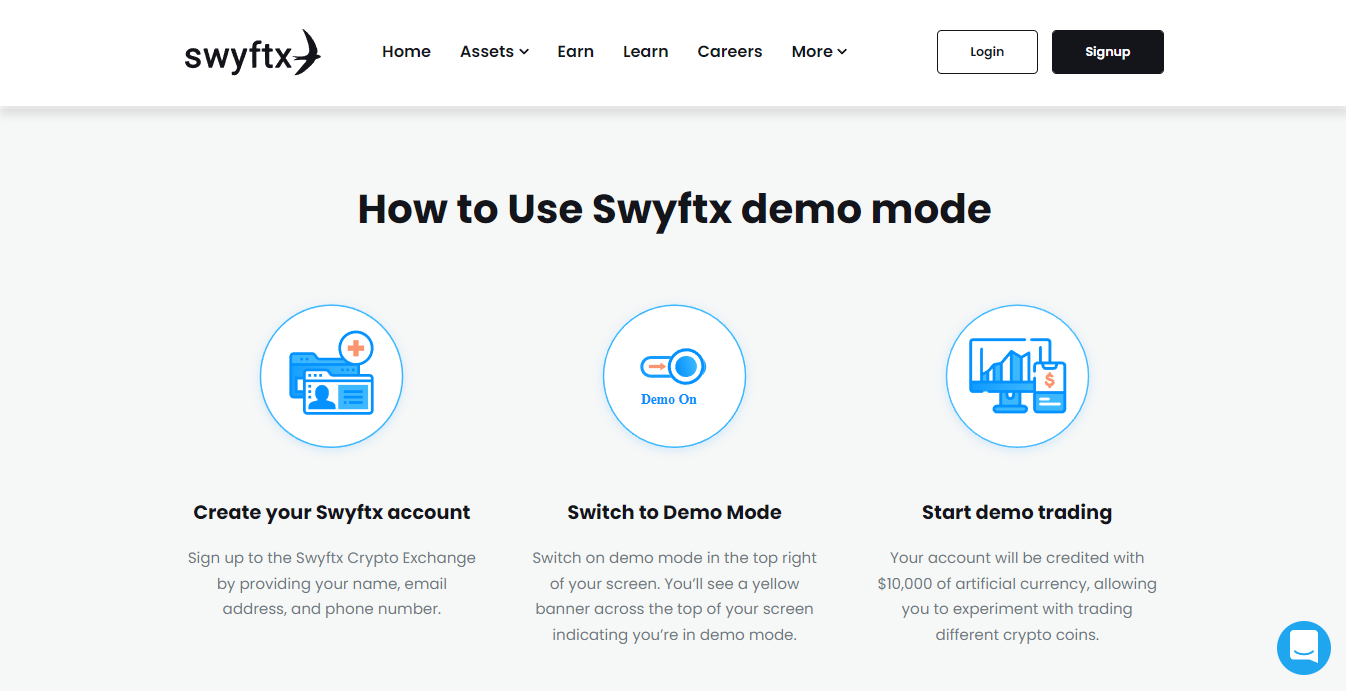 And not only that, Swyftx offers the option of staking on 20 different currencies. Therefore, not only will you be able to build your portfolio of investment assets without difficulty and ease, but you'll earn extra cash doing it.
Coinbase is a fantastic platform for people who want to start their journey into the realm of cryptocurrency. Through their Earn program it is possible to earn cryptocurrency through watching videos and doing simple tasks. This is an excellent method to start exploring cryptocurrency and understand how it functions. Their easy-to-use interface makes buying and managing your cryptocurrency easy.
Coinbase has their own Coinbase Wallet application, which lets you secure your coins and organize your crypto holdings.
If you're a seasoned crypto trader or investor, you can choose up into Coinbase Pro. With lower fees for trading and advanced charting tools and a variety of order types You can improve your trading experience to the highest level.
Winner: Swyftx
Supported Cryptocurrencies
Swyftx provides over 320+ cryptocurrency.
Coinbase provides more than 160 coins.
Swyftx is the clear winner in this regard since it has more currencies than Coinbase. That means Swyftx provides you with more choices when it comes to selecting which cryptocurrency to trade.
Winner: Swyftx
Fees
Swyftx has an unbeatable 0.6 percent fee for trading for all transactions, while deposits and withdrawals are absolutely free.
Coinbase does not support debit card transactions. It costs a total of 4.49 percent for purchasing directly cryptocurrency. Because Coinbase is not able to sell cryptocurrency in Australia You are unable to withdraw AUD.
Swyftx is superior to Coinbase in this area. It offers no-cost deposits and withdrawals, as well as an 0.6 percent trading fee. The fees charged by Coinbase are much higheras purchasing cryptocurrency can cost you 4.49 percent.
Winner: Swyftx
Customer Support
Swyftx promises to provide the live chat feature, however it makes use of robots. If you require assistance it is common to be in a chat room with a bot instead of an actual person. 
The customer service offered by Coinbase is extremely fast and reliable. It provides traders 24/7 accessibility to customer support via phone or electronic ticketing system for customers to use. Additionally to this, the Coinbase Customer Support team are available on the most popular social media websites including Facebook and Twitter and traders can reach them easily.
Winner: Coinbase
Deposit Methods
Swyftx accepts POLi as well as cryptocurrency, PayID, debit and credit card deposits.
Coinbase does not accept AUD withdrawals or deposits. However you can make use of AUD to buy crypto directly by using the debit card only.
Swyftx is the clear winner in this case, since it allows a broad range of deposit options. The great thing is Swyftx deposits are absolutely free which means that as well as offering many choices for depositing, you aren't required to pay charges.
Coinbase is, on the contrary side, is only able to support debit card transactions made with instant credit cards that result in the 4.49 per cent cost.
Winner: Swyftx
Security
Swyftx has put in place top-of-the-line security measures, such as biometric logins and two-factor authentication to ensure that your account is always secure. In addition their security team continuously examines and responds to any threats to the platform or the users.
In addition to having a solid security system for detecting passwords that have been breached and conducting penetration tests with third parties They also have a security team who continuously monitors and reacts to any possible dangers.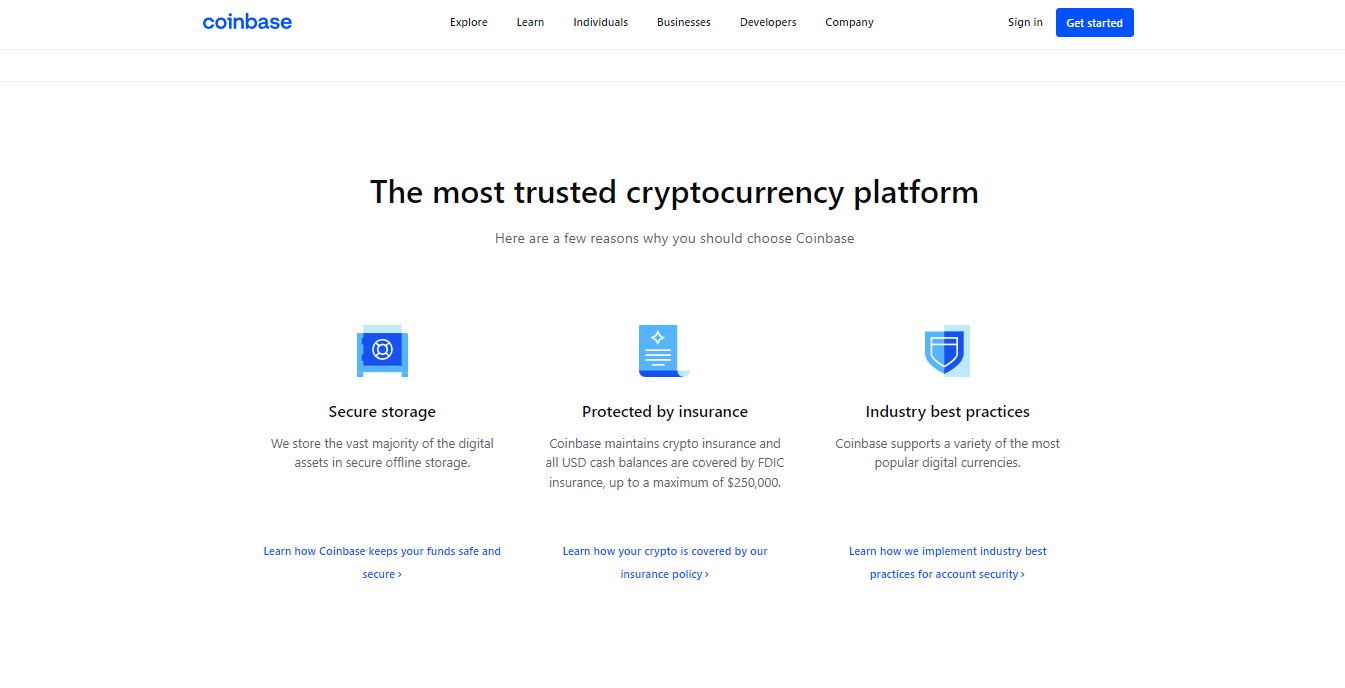 Registered with AUSTRAC and in compliance in accordance with KYC guidelines, Swyftx provides peace of assurance for both individuals and businesses seeking to safeguard their personal information online.
Coinbase is a dependable, secure and safe cryptocurrency exchange platform that utilizes the latest security technology to ensure your funds are an enjoyable and safe experience.
To begin, all employees are required to undergo an identity check, and also encrypt their drives. 98% of the customers' funds are kept offline. Crypto wallets are protected with AES-256 technology.
To provide an additional security measure the website has 2-factor authentication (two-factor authentication) feature that is in place. The website traffic is encrypted with SSL.
Additionally, they provide protection to all the digital asset that are stored on Coinbase and you can be confident that your funds are safe.
While Swyftx takes security very seriously, and has numerous layers of security to protect you, Coinbase runs a tight boat. The exchange is above and beyond the norm using offline cold storage and also offering security for the crypto that is stored on the platform.
Winner: Coinbase
Conclusion
While Coinbase is an internationally-established trading platform, Swyftx is much better suitable for Australians. Swyftx lets you stake 20 coins, lower fees, a demonstration mode, and 350 cryptocurrency coins, which makes it the best option for Australian cryptocurrency investors.
Coinbase however, on the contrary on the other hand, although it is an established currency exchange in the United States, has yet to be able to accept the Australian market completely. The exchange is only able to support debit card transactions with a much higher cost of 4.49 percent. Australian crypto traders are also not able to sell cryptocurrency on the exchange or take withdrawals of AUD through the platform.
If you're looking to know more about the exchange, read our article on Swyftx or read our Coinbase review. Also, check our review of the top cryptocurrency exchanges for Australians to determine if other exchanges might be right for you.
Frequently Asked Questions
Does Swyftx have an affiliate program?
Swyftx offers an affiliate program that gives users a 30% discount on all trade fees. This discount applies to all trades made through affiliate accounts. Additional discounts are available for affiliates who can also get a referral code through the platform.
Affiliates receive monthly payouts. When someone registers on the platform using their referral link, the platform's tracking system will inform them.
What is the Self-Managed Super Fund? How does it work?
New Brighton Capital has made it possible to create the SMSF, or The Self-Managed Super Fund. This fund offers multiple tax benefits. It is a savings storage account that provides multiple tax benefits. The SMSF fun offers users a 15% tax rate on digital assets. Registered SMSF traders are considered trustees. This means they must comply with both super laws and ATO tax regulations.
Does Swyftx have a Demo account?
Swyftx offers a demo mode where you can trade, stop and limit orders and make card deposits. You can also track your portfolio and see how two-factor authentication or biometric login feels. Swyftx allows you to fully experience all the features without having to deposit funds or purchase cryptocurrencies.
Are cryptocurrency transactions legal within the United States?
The legality of cryptocurrency is throughout the United States. However, unlike US currency or credit cards, crypto isn't restricted nor issued by a bank or a government. Instead, cryptocurrency utilizes encryption to ensure the authenticity and distribution of transactions using a decentralized system.
Which countries Coinbase supports? Coinbase supports?
Customers can utilize Coinbase within Coinbase in the United States, Canada, Australia, Singapore, and the majority of Europe. For the United States, Coinbase's USD wallet is available only to states that have licenses in the transmission of money or in states where licenses aren't issued or required by Coinbase. In the current Coinbase exchange review just the State of Hawai'i was waiting on Coinbase support.
Is Coinbase licensed in the United States?
Coinbase licenses are in all 42 US states and also Washington DC and Puerto Rico. It is still possible to access Coinbase in states that are not licensed.
Does Coinbase has a mobile application?
Coinbase offers a mobile application available for iOS as well as Android users. It is highly rated by customers in their Apple as well as Google Play stores. It lets users buy or sell and store crypto safely, with an intuitive layout and user-friendly platform.
Does Coinbase offer an online cryptocurrency wallet?
Coinbase Wallet is a mobile application that gives you a secure storage space for your cryptocurrency. It is possible to utilize Coinbase Wallet with or without an existing Coinbase cryptocurrency exchange account, however, you are able to connect to your Coinbase Wallet with you Coinbase exchange account to increase security in your crypto storage. It is available for Android as well as iOS devices.
What is the difference between Coinbase and Binance?
Binance was established in the year 2017 is the most renowned cryptocurrency exchange worldwide, while Coinbase is second-largest. Binance has more than 200 cryptocurrency and Coinbase Pro supports 36. The company also has low fees. It is worth noting that Binance has been the focus of one of the largest cryptocurrency thefts of 2019 and doesn't conform to Coinbase's policy of protection and self-regulation. In the past, Binance relocated to Malta in a country where it isn't subjected to the strictest regulations.
Related:
Top Crypto Exchanges Compared
| Exchange | Deposit Methods | Fiat Currencies | Cryptocurrencies | Trading Fees | Deposit Fees | Withdrawal Fees | Sign Up |
| --- | --- | --- | --- | --- | --- | --- | --- |
| Swyftx | Bank Transfer, Crypto, Credit and Debit Card, Osko, PayID | New Zealand Dollars and Australian Dollars | Over 320 | 0.6% | Australian Dollars Deposits: 0% Crypto: 0% | Australian Dollars Withdrawals: 0% Crypto: 0% | Visit Swyftx |
| Binance | Crypto, Credit and Debit Cards, Osko, PayID | 10 Fiat Including USD and AUD | Over 600 | 0% to 0.1% | 0% | Vary | Visit Binance |
| CoinSpot | Bank Transfer, Fiat, Crypto, POLi, and PayID | Australian Dollars | Over 370 | Instant Buy/Sell: 1% OTC: 0.1% Market Order: 0.1%* | Direct Deposit: $0 Cash: 2.5% PayID, POLi, and direct deposits: $0 BPAY: 0.9% Direct Bank Transfer: $0 | Australian Dollars Withdrawals: $0 | Visit CoinSpot |
| Bybit | Crypto, electronic funds transfer (EFT), wire transfer, bank transfer, credit card, and debit card | 50+ | 160+ | 0.1% spot trading 0.01% – 0.06% market makers/market takers fee | $0 | Does not support direct fiat withdrawals Crypto withdrawal fees: Network fees | Visit Bybit |
| Crypto.com | PayPal, Cryptocurrency, SWIFT, Fedwire, Wise, Debit Card, Credit Card, SEPA, BPAY, Bank Transfer (ACH) | USD, AUD, SGD, and 15+ more | 250+ | 0.04% to 0.4% | $0 | FREE via bank transfer. $25 for USDC withdrawal via SWIFT Network | Visit Crypto.com |
| Digital Surge | Bank Transfer, Crypto, POLi, Osko, PayID | Australian Dollars | Over 300 | 0.1% to 0.5% | Deposit Fees Bank Transfer: $0 POLi: $2 (capped at $3.30) | $0 for AU Bank Accounts Cryptocurrency: Depends On the Network | Visit Digital Surge |
| CoinJar | Fiat, Bank Transfer, Crypto, Credit or Debit Card, Apple Pay, Google Play | Pound Sterling and Australian Dollars | Over 50 | Maker: 0.04 to 0.1% Taker: 0.04 to 0.1% | Fiat: 1.5% CoinJar Users: $0 NPP: $0 | $0 | Visit CoinJar |
| Independent Reserve | Crypto, Osko, PayID, Electronic Fund Transfer, SWIFT | Australian Dollars, US Dollars, New Zealand Dollars | Over 25 | 0.05% to 0.5% | For SWIFT Deposit: $15 for deposits under Australian $5,000 equivalent $0 for deposits over Australian $5,000 equivalent For Electronic Fund Transfer: Australian $0.99 for deposits under $100 $0 for deposits more than Australian $100 | Crypto: Fees vary Bank Transfer: $0 for AUD $20 for non-AUD | Visit Independent Reserve |
| eToro | Bank Transfer, Debit Cards, Neteller, PayPal, Online Banking, and Skrill | 15 Fiat Currencies Including USD and AUD | Over 70 | Vary | Vary | $5 but minimum withdrawal of USD50 | Visit eToro |
| Coinbase | Debit Card | More than 20 Fiat Currencies Including USD and EUR | Over 200 | Vary | Credit Card and Debit Card: 3.99% | 2.49% | Visit Coinbase |
| Bittrex | Bank transfer (ACH) | Euro and US Dollars | Over 320 | 0.25% | $0 | Vary | Visit Bittrex |
| Bitfinex | Bank Wire Transfer, Crypto, Credit Card | US Dollars, Japanese Yen, Euro, Pound Sterling | Over 200 | Taker: 0.055% to 0.2% Maker: 0% to 0.1% | Crypto: $0 Wire: 0.1% (min 60 Euro/USD) | Crypto: $0 Wire: 0.1% Express Bank Wire (within 1 day on business days): 1% (min 60 Euro/USD) | Visit Bitfinex |
| Coinmama | Bank Card, SWIFT, Google Pay, SEPA, and Fedwire | 6 Fiat Currencies Including USD and AUD | Over 10 | 2.93% to 3.9% | 0% to 5% | N/A – assets are directly sent to the user's crypto wallet | Visit Coinmama |
| Kraken | Bank Transfer, Crypto, Wire Transfer, osko, SEPA, Apple Pay and Google Pay | 7 Fiat Currencies Including USD and AUD | Over 140 | Maker: 0% to 0.16% Taker: 0.10% to 0.26% | Vary | Vary | Visit Kraken |
| KuCoin | Crypto, PayPal, Wire Transfer, Credit or Debit Card, SEPA | 9 Fiat Currencies Including USD and AUD | over 645 | 0.1% | $0 | Vary | Visit KuCoin |
| Easy Crypto | Bank transfer, P2P, POLi, OSKO | AUD | 100+ | 0.5% – 1.6% | $0 | Fiat Withdrawal fees: $0 Crypto withdrawal fees: Network fees | Visit Easy Crypto |
| Coinstash | Crypto, PayID, Bank Transfer | AUD | 410+ | 0.85% | $0 | Crypto withdrawal fees: Network fees Fiat Withdrawal fees: $0 | Visit Coinstash |
This page was last updated on July 14, 2023