When it comes to Australian cryptocurrency exchanges two exchanges are always at the top 3 to 5, and they are Swyftx and CoinSpot. They aren't just the usual Aussie exchanges, but they are the most reliable available! 
In this article I've reviewed these two and my overall top choice is Swyftx. This is because it is more secure and has better trading fees. Moreover, you can get a bonus worth $20 in Bitcoin when you sign up! 
Swyftx is my favorite. However, CoinSpot offers advantages in certain ways over CoinSpot. Therefore, take a short review of this article and then make a decision for yourself. Maybe, CoinSpot might just be the right fit the right choice for you!
Read more!
Swyftx vs CoinSpot Comparison Table
Features
Swyftx
CoinSpot
Supported Coins
320+
360+
Trading Fees
0.6%
0.1% to 1%
Average Spread
0.50%
1.13%
Deposit Fee
Free
POLi, PayID, OSKO, Bank transfer: $0; BPAY: 0.9%, Cash: 2.5%
Withdraw Fee
$0
$0
Payment Methods
Credit/Debit card, Bank transfer, POLi, OSKO, PayID
PayID, Bank transfer, OSKO, BPAY, POLi, Cash Deposit
Extra Features

Live Chat support service
Demo mode
Staking on 20+ coins

NFT marketplace
24/7 Live Chat support team
Most trusted and secure exchange in Australia
Staking on 21+ coins
Swyftx Pros and Cons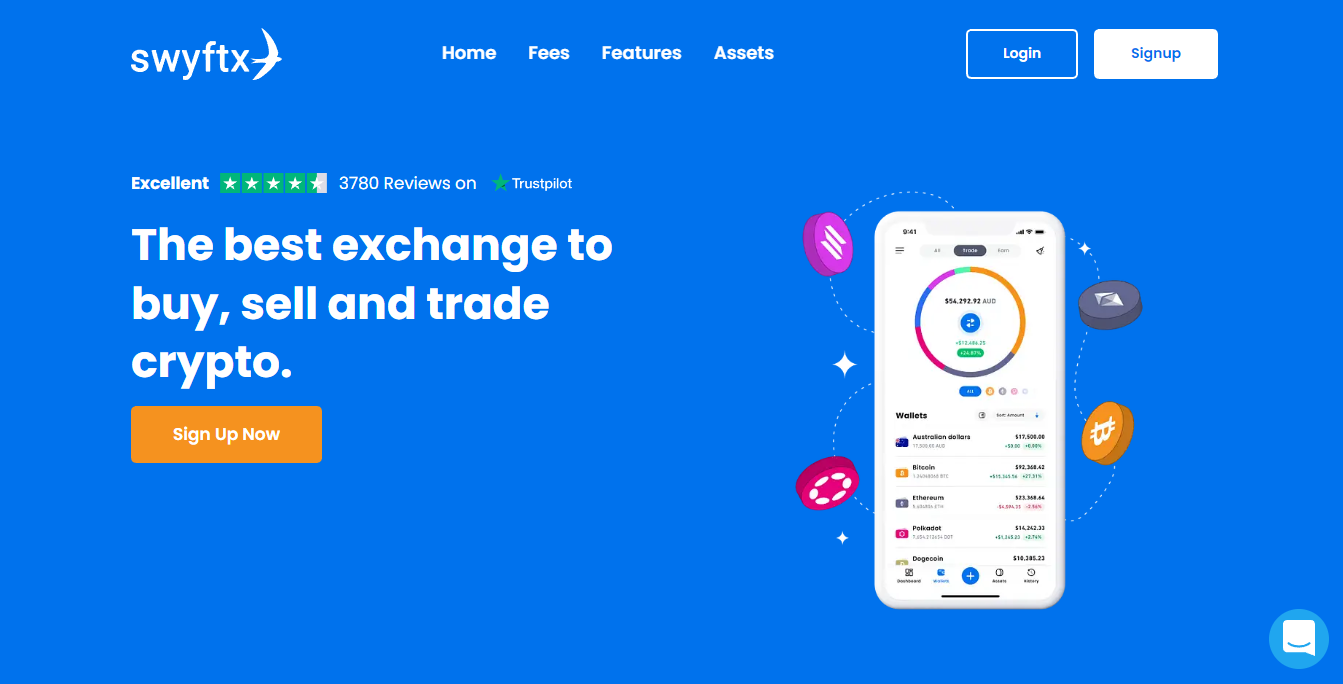 Pros:
Very user-friendly
Quick verification
Live chat support available 24/7
There are many cryptocurrencies
Trading fees for instant trades start at 0.6 percent
Use your Credit Card or Debit Card to buy crypto
Trusted Australian exchange (regulated under AUSTRAC).
Cons:
There is no order-book (only instant purchasing)
Margin trading is not supported
Charge credit card deposit fees (at 2%)
CoinSpot Pros and Cons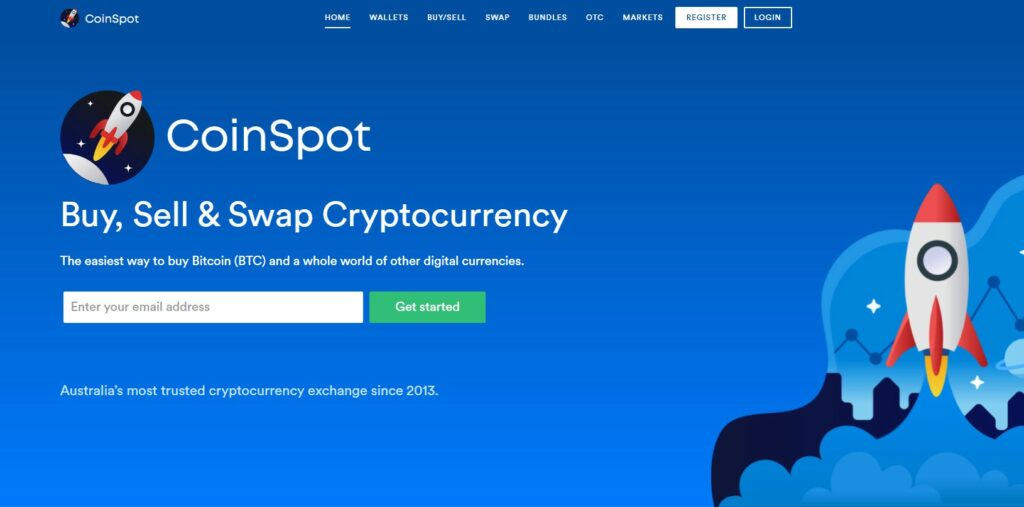 Pros:
An established track record as an honest company
A wide range of cryptocurrency options to make instant purchases and sales
Beginner-friendly design
Rapid withdrawals and deposits
NFT market available
Cold storage is used to keep the company's and user's funds inaccessible
Cons:
AUD withdrawals and deposits only
There is no option for credit or debit card deposits
Costs for purchase in a flash
Features
This Swyftx exchange was developed with the new cryptocurrency trader in mind. The platform is easy to use since it has an intuitive demo mode for users and a an efficient live chat support service as well as instant buys and sells and the best thing is that you can use it from your mobile device via their mobile application.
If you're new to the game the demo mode of Swyftx is sure to help you tremendously, especially when you don't want to gamble with your hard-earned cash since you're new to the game.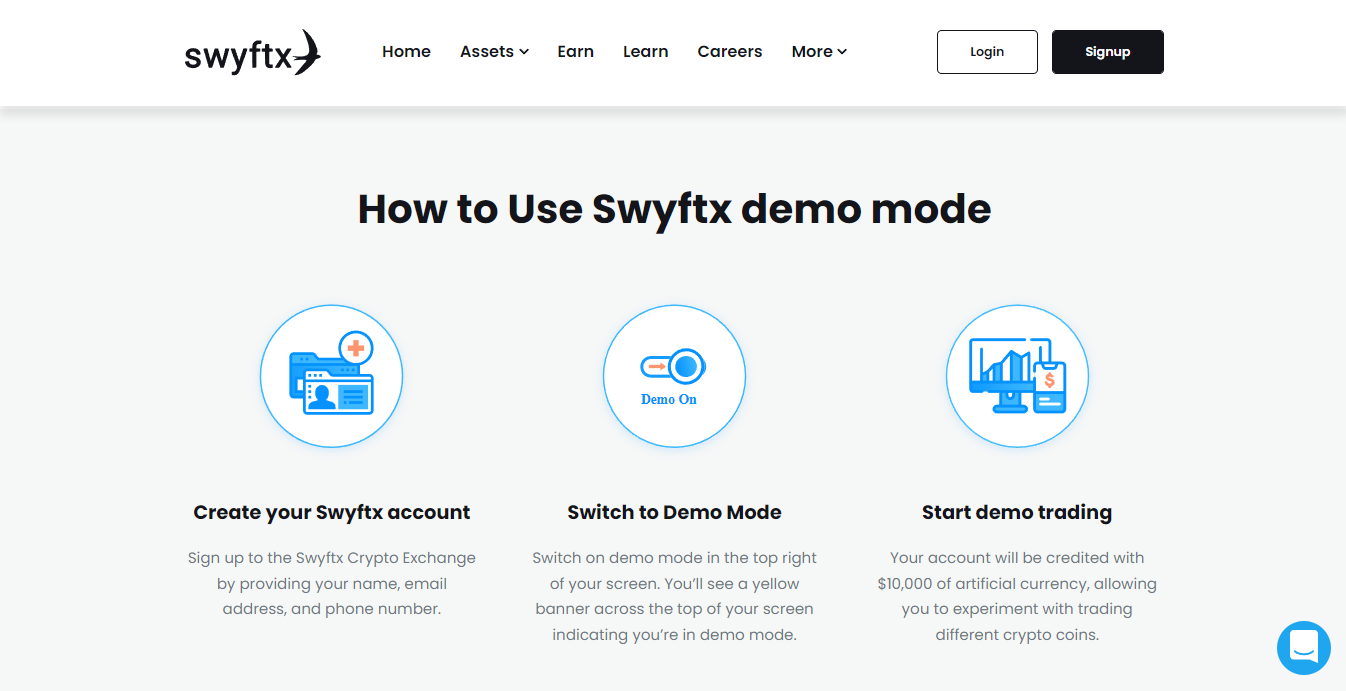 In their demo mode you can trade using no-cost virtual money prior to diving into the real world. If you're not interested in high-risk trading, instead put your money into 20 different coins so that you can earn a cash-flow from your investments.
In addition, CoinSpot is also a novice-friendly cryptocurrency exchange. Like Swyftx CoinSpot also provides immediate buy and sell options. If you're looking to trade from one currency to another it is easy to accomplish this through CoinSpot.
CoinSpot also has its own mobile app that is user-friendly that lets you trade on the go.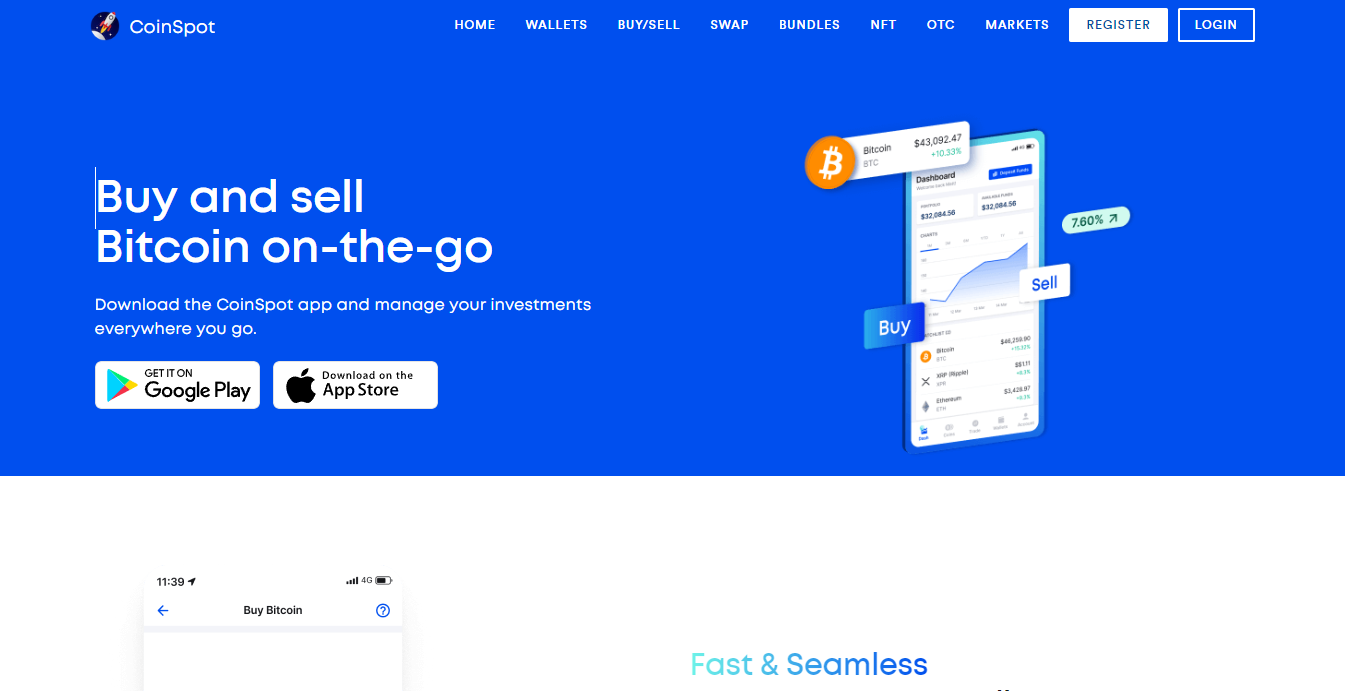 If you encounter any issues regarding or with your accounts, you don't have to stress as you can depend on CoinSpot's 24/7 live chat support service. As compared to the number of coins you are able to put your money in Swyftx, CoinSpot has 21 coins that you can bet on. In addition, if you're looking to invest in NFTs, the CoinSpot Aussie exchange also has the NFT marketplace.
Yes, Swyftx and CoinSpot have identical features in crypto. But, CoinSpot wins this because it provides more options, such as it's NFT marketplace.
To summarize, CoinSpot is the winner in terms of features.
Winner: CoinSpot
Supported Cryptocurrencies
Swyftx allows for a range that includes more than 320 cryptocurrency.
However, CoinSpot has a larger selection of crypto assets , it also supports 360+.
Naturally, CoinSpot offers more cryptocurrencies to trade.
The prize goes to … CoinSpot!
Winner: CoinSpot
Fees
Swyftx does not charge fees for deposits or withdrawals. In terms of fees for trading, they charge 0.6 percent per transaction.
For CoinSpot it doesn't charge fees in relation to withdraws. If you want to deposit Australian dollars into your CoinSpot account There are several options available that are completely free of charge. These comprise OSKO, PayID, and POLi. If you opt to use BPAY and pay with BPAY, you'll be charged an 0.9 per cent cost. In the case of cash deposits they charge 2.5 percentage. When you buy or sell coins in a flash the cost is one percent. The fees for trading are only 0.1 percent, but the disadvantage is that you can only trade 16 cryptocurrency in the marketplace.
Since Swyftx has lower trading costs of 0.6 percent and does not charge any fees for withdrawal methods and provides no-cost AUD deposit, Swyftx is the clear winner in the fee-based category.
Winner: Swyftx
Customer Support
Swyftx has a callback option and also has live chat support. If you're unfamiliar with the crypto world and would like to play it secure, contact Swyftx and get to know them better. You can ask them an inquiry and receive a response or chat live with them!
In terms of CoinSpot's customer service aspect it also has live chat capability. However, unlike Swyftx the latter doesn't offer the option to call. While they don't have the feature available, CoinSpot provides a FAQ page and a thorough knowledge base that lets you find answers to your questions.
In light of how vital it is to support live chat the winner is Swftx.
Winner: Swyftx
Deposit Methods
Each of Swyftx and CoinSpot offer a variety of deposit methods for you to deposit funds into your account. Deposits in crypto, POLi, PayID, and Direct Deposit are the deposit options both exchanges offer.
The distinction is that Swyftx allows debit and credit card deposits unlike CoinSpot is not.
On the other hand, CoinSpot supports cash deposits at a newsagent , with the 2.5 percent fee, and BPAY with an 0.9 per cent fee, and Swyftx doesn't.
Each of CoinSpot and Swyftx offers a variety of deposit options. Because they are dependent on your individual preferences, both exchanges share this aspect.
Winner: Tie
Security
Swyftx is a secure and legitimate cryptocurrency exchange that utilizes a variety of security measures to protect their customers' data and assets. This includes tests of penetration through external sources, consulting with security auditors of third-party, KYC verification, two-factor authentication and biometric authentication.
In the case of CoinSpoit it is well-known as the most secure and audited crypto exchange within Australia. CoinSpot was registered at AUSTRAC and is granted with the ISO 27001 certification and a recognized participant in Blockchain Australia. CoinSpot offers a variety of customizable security measures to safeguard their customers' assets. CoinSpot makes use of offline cold storage and session timeout settings. It also offers geo-lock logins and anti-phising phrases and custom withdrawal restrictions and two-factor authentication.
Since CoinSpot is one of the best secure and audited Australian cryptocurrency exchange and is the sole crypto platform that has ISO 27001 certification, CoinSpot is definitely the best choice. It is also important to note that the platform has been in operation since 2013 with more than 2.5 millions users. This speaks to the trustworthiness of the platform as well as security.
Winner: CoinSpot
Conclusion
Swyftx and CoinSpot are characterized by a variety of similarities across a variety of categories. Yet, Swyftx beats CoinSpot because it has lower trading fees, which is the most important when it comes to crypto trading.
If you're still unable to decide which cryptocurrency exchange to go with for your needs, look over this comprehensive Swyftx review as well as CoinSpot review for an in-depth look.
Frequently Asked Questions
Does Swyftx have an affiliate program?
Swyftx offers an affiliate program that gives users a 30% discount on all trade fees. This discount applies to all trades made through affiliate accounts. Additional discounts are available for affiliates who can also get a referral code through the platform.
Affiliates receive monthly payouts. When someone registers on the platform using their referral link, the platform's tracking system will inform them.
What is the Self-Managed Super Fund? How does it work?
New Brighton Capital has made it possible to create the SMSF, or The Self-Managed Super Fund. This fund offers multiple tax benefits. It is a savings storage account that provides multiple tax benefits. The SMSF fun offers users a 15% tax rate on digital assets. Registered SMSF traders are considered trustees. This means they must comply with both super laws and ATO tax regulations.
Does Swyftx have a Demo account?
Swyftx offers a demo mode where you can trade, stop and limit orders and make card deposits. You can also track your portfolio and see how two-factor authentication or biometric login feels. Swyftx allows you to fully experience all the features without having to deposit funds or purchase cryptocurrencies.
Is CoinSpot Regulated In Australia?
Crypto-currency exchanges are considered legal entities in Australia and are required to comply in accordance with Anti-Money Laundering and Counter-Terrorism Financing Act 2006 (AML/CTF 2006). CoinSpot is a seasoned player in the industry, CoinSpot operates in full conformity with Australian laws.
What kinds of NFTs are offered on CoinSpot?
CoinSpot isn't very closely linked with CoinSpot isn't closely linked to DeFi part of the cryptocurrency world , but it does have a selection of the hugely popular art tokens known as NFTs. You can locate about twenty NFT collection on sale on CoinSpot which includes Decentraland (MANA), ApeCoin (APE) along with Sandbox (SAND)
Are CoinSpot the best exchange to purchase Bitcoin?
It depends. CoinSpot is always the preferred option for Bitcoin transactions (and trading generally) for those who require the assurance of the services they utilize. Its attractive design and a highly efficient customer service which make CoinSpot among the most reliable Australian exchanges. If you're an Bitcoin trading day-to-day, you might want to look for a less expensive and more diverse option.
How do I withdraw my money through CoinSpot?
To withdraw funds from CoinSpot it is necessary to trade them to fiat. It's as easy as buying. All you need to do is click the Sell tab, type in the amount of cryptocurrency you wish to withdraw, then enter the bank details required. The exchange will calculate immediately the exchange rate at the moment and deposit the cash into your bank account once you've confirmed the transaction.
What are the acceptable payment methods on CoinSpot?
In a nutshell, nearly every thing you can think of as a legitimate payment method across Australia other than credit and debit card, ApplePay and PayPal. Its CoinSpot list of payment options that are accepted includes cash deposits, bank transfer (Blueshyft), BPAY, Osko, POLi, PayID and, of course cryptocurrency.
Related:
Top Crypto Exchanges Compared
| Exchange | Deposit Methods | Fiat Currencies | Cryptocurrencies | Trading Fees | Deposit Fees | Withdrawal Fees | Sign Up |
| --- | --- | --- | --- | --- | --- | --- | --- |
| Swyftx | Bank Transfer, Crypto, Credit and Debit Card, Osko, PayID | New Zealand Dollars and Australian Dollars | Over 320 | 0.6% | Australian Dollars Deposits: 0% Crypto: 0% | Australian Dollars Withdrawals: 0% Crypto: 0% | Visit Swyftx |
| Binance | Crypto, Credit and Debit Cards, Osko, PayID | 10 Fiat Including USD and AUD | Over 600 | 0% to 0.1% | 0% | Vary | Visit Binance |
| CoinSpot | Bank Transfer, Fiat, Crypto, POLi, and PayID | Australian Dollars | Over 370 | Instant Buy/Sell: 1% OTC: 0.1% Market Order: 0.1%* | Direct Deposit: $0 Cash: 2.5% PayID, POLi, and direct deposits: $0 BPAY: 0.9% Direct Bank Transfer: $0 | Australian Dollars Withdrawals: $0 | Visit CoinSpot |
| Bybit | Crypto, electronic funds transfer (EFT), wire transfer, bank transfer, credit card, and debit card | 50+ | 160+ | 0.1% spot trading 0.01% – 0.06% market makers/market takers fee | $0 | Does not support direct fiat withdrawals Crypto withdrawal fees: Network fees | Visit Bybit |
| Crypto.com | PayPal, Cryptocurrency, SWIFT, Fedwire, Wise, Debit Card, Credit Card, SEPA, BPAY, Bank Transfer (ACH) | USD, AUD, SGD, and 15+ more | 250+ | 0.04% to 0.4% | $0 | FREE via bank transfer. $25 for USDC withdrawal via SWIFT Network | Visit Crypto.com |
| Digital Surge | Bank Transfer, Crypto, POLi, Osko, PayID | Australian Dollars | Over 300 | 0.1% to 0.5% | Deposit Fees Bank Transfer: $0 POLi: $2 (capped at $3.30) | $0 for AU Bank Accounts Cryptocurrency: Depends On the Network | Visit Digital Surge |
| CoinJar | Fiat, Bank Transfer, Crypto, Credit or Debit Card, Apple Pay, Google Play | Pound Sterling and Australian Dollars | Over 50 | Maker: 0.04 to 0.1% Taker: 0.04 to 0.1% | Fiat: 1.5% CoinJar Users: $0 NPP: $0 | $0 | Visit CoinJar |
| Independent Reserve | Crypto, Osko, PayID, Electronic Fund Transfer, SWIFT | Australian Dollars, US Dollars, New Zealand Dollars | Over 25 | 0.05% to 0.5% | For SWIFT Deposit: $15 for deposits under Australian $5,000 equivalent $0 for deposits over Australian $5,000 equivalent For Electronic Fund Transfer: Australian $0.99 for deposits under $100 $0 for deposits more than Australian $100 | Crypto: Fees vary Bank Transfer: $0 for AUD $20 for non-AUD | Visit Independent Reserve |
| eToro | Bank Transfer, Debit Cards, Neteller, PayPal, Online Banking, and Skrill | 15 Fiat Currencies Including USD and AUD | Over 70 | Vary | Vary | $5 but minimum withdrawal of USD50 | Visit eToro |
| Coinbase | Debit Card | More than 20 Fiat Currencies Including USD and EUR | Over 200 | Vary | Credit Card and Debit Card: 3.99% | 2.49% | Visit Coinbase |
| Bittrex | Bank transfer (ACH) | Euro and US Dollars | Over 320 | 0.25% | $0 | Vary | Visit Bittrex |
| Bitfinex | Bank Wire Transfer, Crypto, Credit Card | US Dollars, Japanese Yen, Euro, Pound Sterling | Over 200 | Taker: 0.055% to 0.2% Maker: 0% to 0.1% | Crypto: $0 Wire: 0.1% (min 60 Euro/USD) | Crypto: $0 Wire: 0.1% Express Bank Wire (within 1 day on business days): 1% (min 60 Euro/USD) | Visit Bitfinex |
| Coinmama | Bank Card, SWIFT, Google Pay, SEPA, and Fedwire | 6 Fiat Currencies Including USD and AUD | Over 10 | 2.93% to 3.9% | 0% to 5% | N/A – assets are directly sent to the user's crypto wallet | Visit Coinmama |
| Kraken | Bank Transfer, Crypto, Wire Transfer, osko, SEPA, Apple Pay and Google Pay | 7 Fiat Currencies Including USD and AUD | Over 140 | Maker: 0% to 0.16% Taker: 0.10% to 0.26% | Vary | Vary | Visit Kraken |
| KuCoin | Crypto, PayPal, Wire Transfer, Credit or Debit Card, SEPA | 9 Fiat Currencies Including USD and AUD | over 645 | 0.1% | $0 | Vary | Visit KuCoin |
| Easy Crypto | Bank transfer, P2P, POLi, OSKO | AUD | 100+ | 0.5% – 1.6% | $0 | Fiat Withdrawal fees: $0 Crypto withdrawal fees: Network fees | Visit Easy Crypto |
| Coinstash | Crypto, PayID, Bank Transfer | AUD | 410+ | 0.85% | $0 | Crypto withdrawal fees: Network fees Fiat Withdrawal fees: $0 | Visit Coinstash |
This page was last updated on July 14, 2023