Swyftx vs Digital Surge 2023
If you've been interested in crypto for some time, you've probably had heard the names Swyftx as well as Digital Surge. These two Australian cryptocurrency exchanges rank among the top three to five in terms of cryptocurrency exchange options in Australia. Of the two exchanges, Swyftx has the edge because it offers an demo account with 20 coins to stake in order to make passive revenue as well as more than 320 different cryptocurrency. Additionally, Swyftx provides a no cost Bitcoin worth $20 when you sign up using the link below.
You may have different needs for crypto So read this article to find out which one is best for you!
Swyftx vs Digital Surge Comparison Table
| Features | Swyftx | Digital Surge |
| --- | --- | --- |
| | | |
| Supported Coins | More than 320+ | Over 300+ |
| Trading Fees | 0.6% | 0.5% |
| Deposit Fee | Free | $2 to $3.30 for POLi and $0 for PayID |
| Withdrawal Fee | $0 | $0 |
| Payment Methods | Bank Transfer, Credit Card, Debit Card, PayID, OSKO, POLi | POLi, PayID |
| | | |
Swyftx Pros and Cons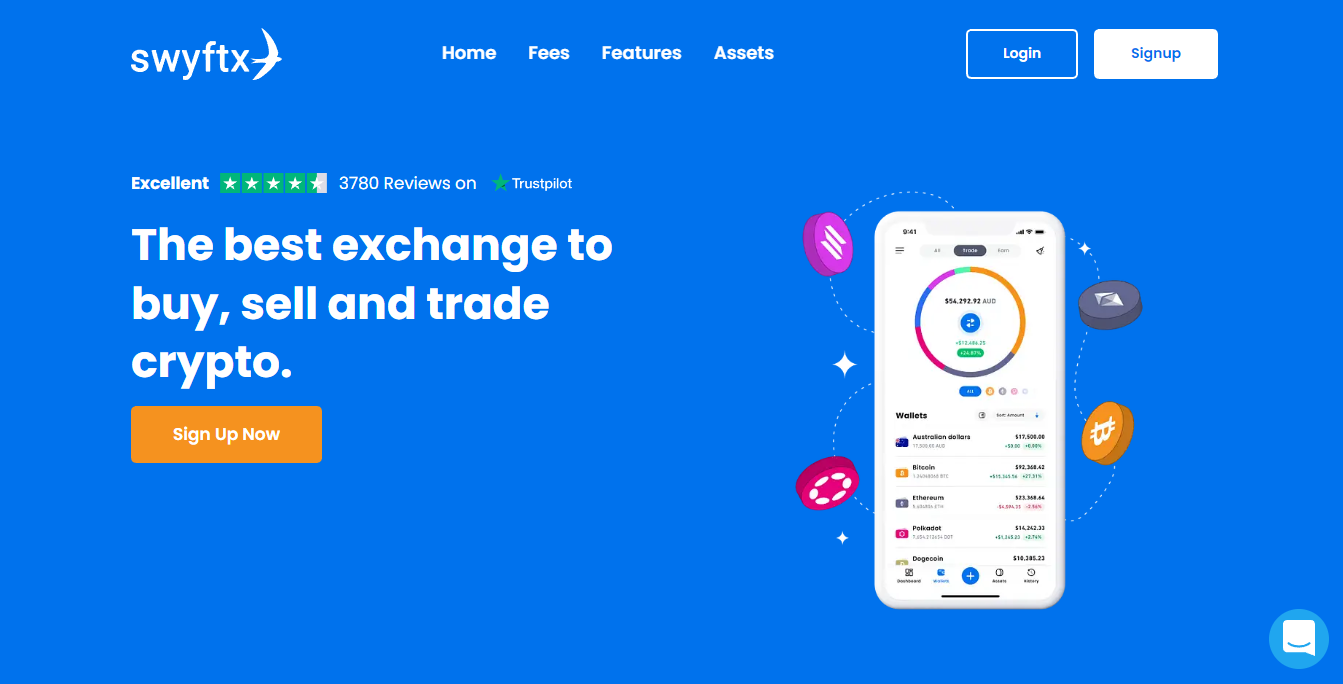 Pros:
Very user-friendly
Quick verification
Live chat support available 24/7
There are many cryptocurrencies
Trading fees for instant trades start at 0.6 percent
Use your Credit Card or Debit Card to buy crypto
Trusted Australian exchange (regulated under AUSTRAC).
Cons:
There is no order-book (only instant purchasing)
Margin trading is not supported
Charge credit card deposit fees (at 2%)
Digital Surge Pros and Cons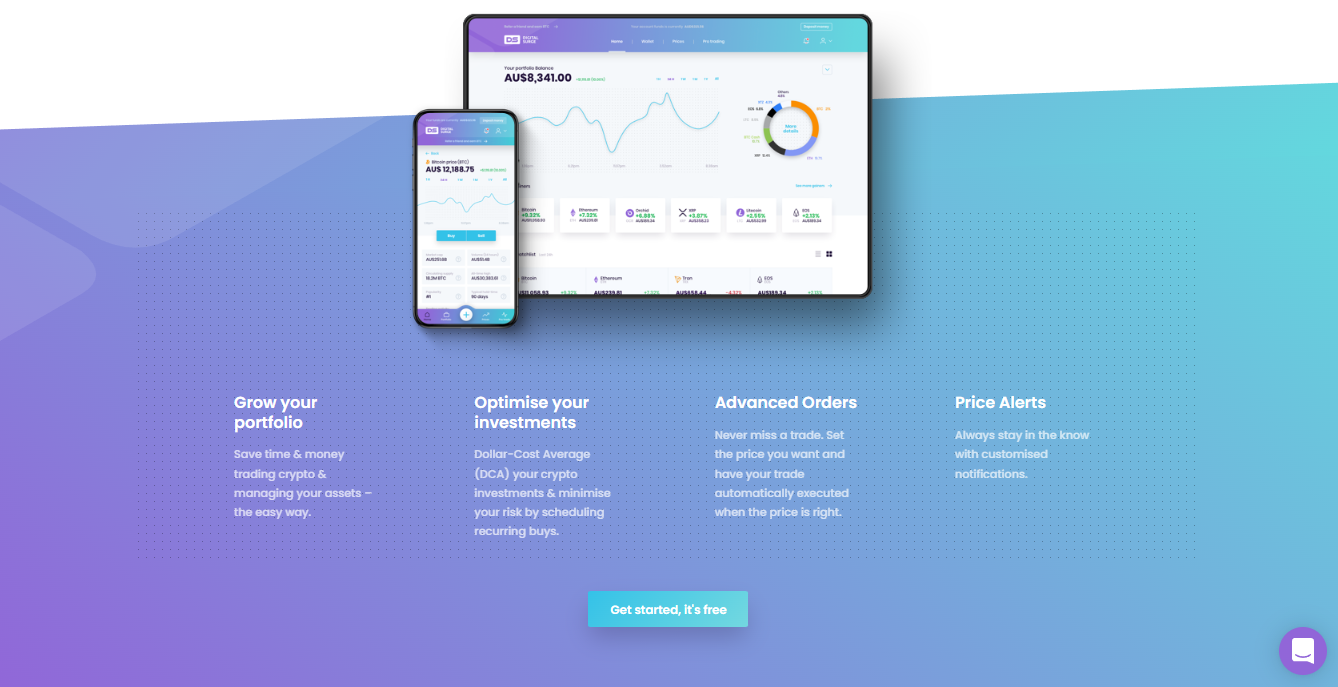 Pros
All-in-one beginner-friendly design
Advanced options for orders and a dollar-cost average, in conjunction with the standard interface for trading
The vast array of over 300 digital assets
SMSFs support
The lowest prices for instant purchases
Very responsive customer service
In-platform payment system to pay bills using cryptocurrency
Cons
There is no access to DeFi markets or NFTs
Only AUD fiat currency payments
There is no way to deposit credit cards
Features
Swyftx is a simple crypto exchange. It's easy to use, has instant sells and buys as well as a unique demo feature and live chat service, and even a mobile application. The demo mode of Swyftx is ideal for novice traders as it gives them the opportunity to try out their trading strategies and strategies with virtual $10,000 money.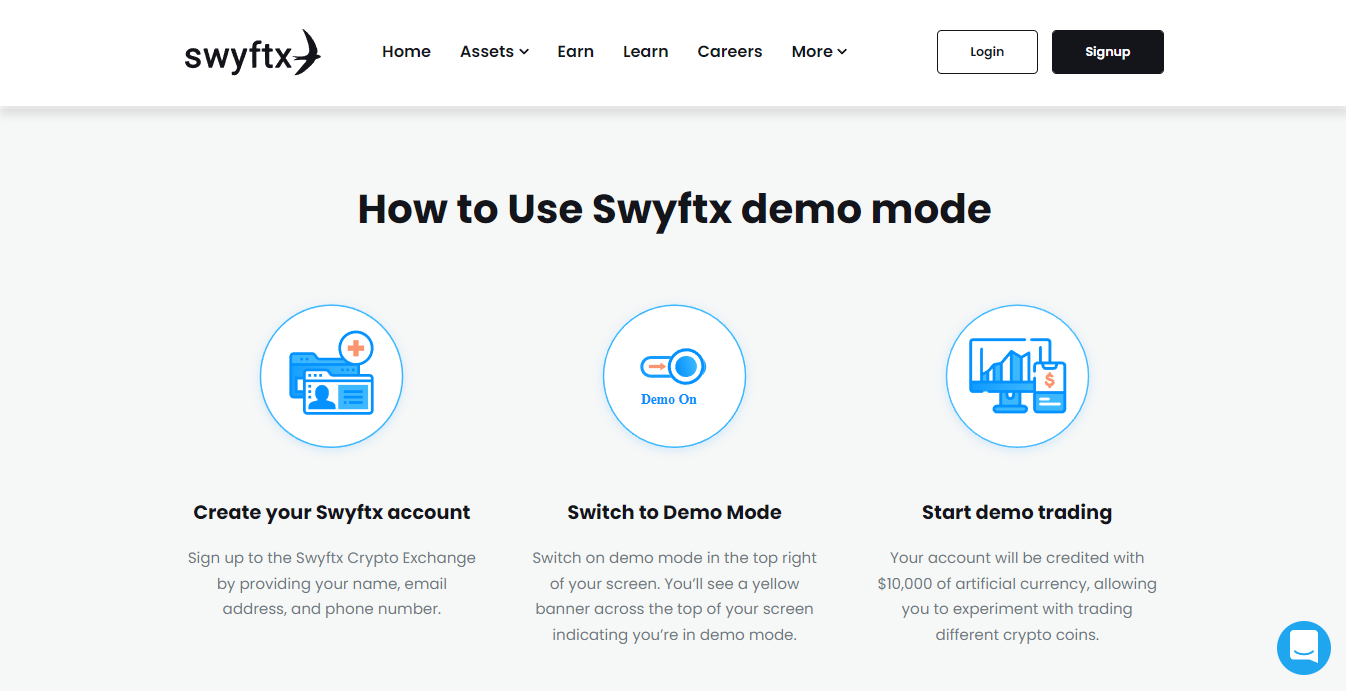 If you're not looking to take on any high-risk trade do not fret because Swyftx allows you to stake on 20 crypto coins, which means you can earn an income from the comfort of your home.
Furthermore, Digital Surge is also designed with cryptocurrency novices in mind. It features an interface that is basic enough for beginners can navigate easily. Additionally, Digital Surge come with 24 hour customer support. In addition, the exchange has a unique feature that lets you pay your BPAY bills with BTC.
Because Swyftx provides more than Digital Surge, it wins the category of features.
Winner: Swyftx
Supported Cryptocurrencies
Swyftx offers more than 320 cryptos, and Digital Surge has over 300more coins.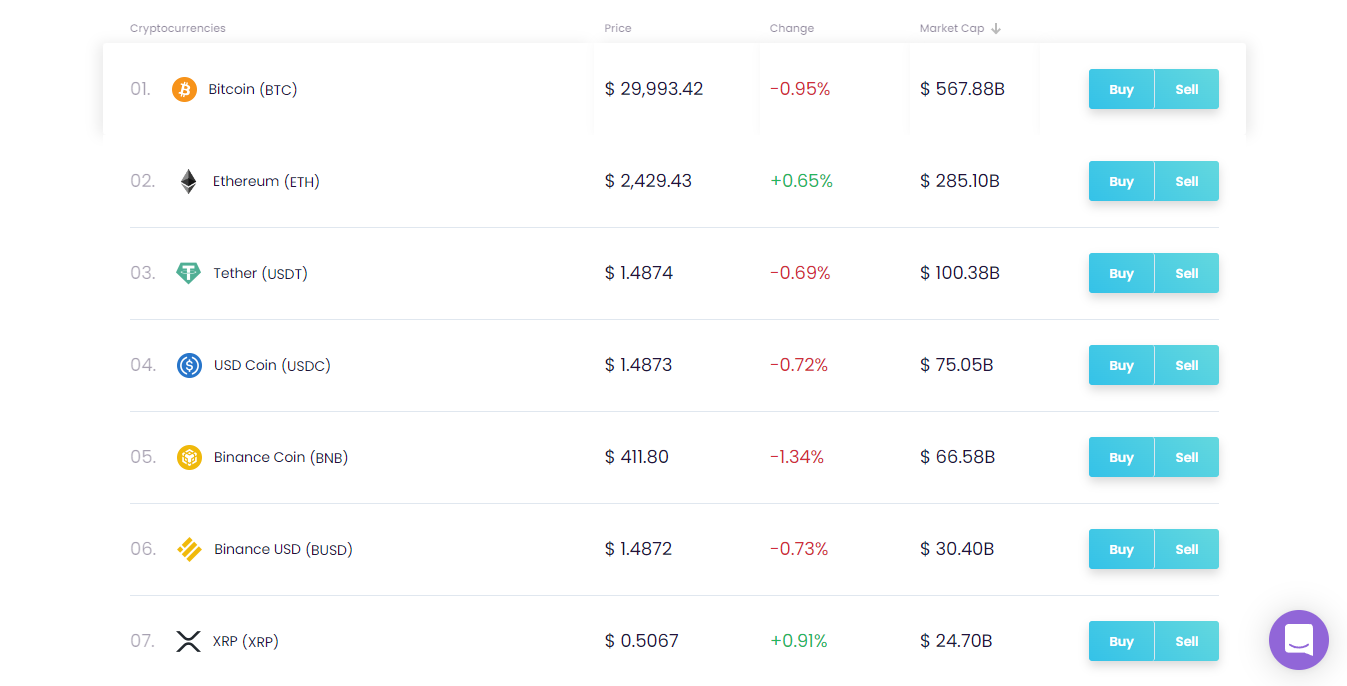 Because Swyftx has more cryptocurrencies on provide this is the clear winner.
Winner: Swyftx
Fees
Swyftx does not charge fees for deposits and withdrawals, their trading fees are 0.6 percent.
In the case of Digital Surge, they don't charge deposits fees for PayID. If you choose to use POLi, you will incur charges of $2- $3.30. Digital Surge withdrawals are free and trading charges are 0.5 percent. If you've traded a lot of crypto within the last thirty days Digital Surge can reduce the cost of trading.
Due to the fact that Digital Surge has low trading costs of 0.5 percent, and also offers no-cost deposits and free withdraws in AUD with PayID It wins this contest.
Winne: Digital Surge
Customer Support
Swyftx provides live chat service, however it utilizes robots for the majority of queries. If you have questions that are complex it is possible to get caught in a loop of conversation using an AI rather than an actual human. Of course, they've got real-time human support however, it could take a long time to respond to your an inquiry. There is also email support, if you're willing to sit and wait.
For Digital Surge, they have both live chat support and email support. The response time for their chat-based support for live chat is just under an hour, and that's quite quick. Additionally, Digital Surge offers an extensive knowledge base that answers various often asked-for questions.
Winner: Digital Surge
Deposit Methods
Each of Swyftx along with Digital Surge offer a number of deposit options to add funds to your account. Swyftx as well as Digital Surge allow deposits made with crypto, POLi, and PayID.
The differentiator is that Swyftx accepts debit or credit card transactions (with no fees for any deposit method) however Digital Surge does not.
Winner: Swytx
Security
Swyftx is a highly secure platform that has various security features to safeguard the assets of their users as well as information. The security features include tests of penetration through external sources, consulting with security auditors from third parties as well as know-your-customer-verification, two-factor authentication as well as biometric authentication.
In addition, Digital Surge is also a safe and reliable cryptocurrency exchange. They are always updating their multi-layered security system to safeguard their customers. A majority of their cryptocurrency assets are kept in an off-line cold storage system to protect against hackers from gaining access to their data.
The two Swyftx as well as Digital Surge have no reported hacks since their inception.
Winner: Tie
Conclusion
If you look at it this way, Swyftx and Digital Surge are quite similar to each their counterparts. Both are designed with the intention of helping beginners. they have greater than 300+ cryptocurrency, and have very low spreads and fees. The difference is that Swyftx offers a couple of additional features, including the demo mode and staking which make it the best exchange. Additionally, Swyftx offers free Bitcoin worth $20 to everyone who sign-ups using this link.
Take a look at our comprehensive Swyftx review as well as our Digital Surge review if you aren't able to make a decision on which exchange you want to choose!
Frequently Asked Questions
Does Swyftx have an affiliate program?
Swyftx offers an affiliate program that gives users a 30% discount on all trade fees. This discount applies to all trades made through affiliate accounts. Additional discounts are available for affiliates who can also get a referral code through the platform.
Affiliates receive monthly payouts. When someone registers on the platform using their referral link, the platform's tracking system will inform them.
What is the Self-Managed Super Fund? How does it work?
New Brighton Capital has made it possible to create the SMSF, or The Self-Managed Super Fund. This fund offers multiple tax benefits. It is a savings storage account that provides multiple tax benefits. The SMSF fun offers users a 15% tax rate on digital assets. Registered SMSF traders are considered trustees. This means they must comply with both super laws and ATO tax regulations.
Does Swyftx have a Demo account?
Swyftx offers a demo mode where you can trade, stop and limit orders and make card deposits. You can also track your portfolio and see how two-factor authentication or biometric login feels. Swyftx allows you to fully experience all the features without having to deposit funds or purchase cryptocurrencies.
How many customers do Digital Surge have?
Digital Surge counts an impressive number of more than 1 million users who have benefited from the exchange service.
Does Digital Surge a crypto wallet?
Digital Surge is a digital currency exchange that comes with an integrated wallet that you can manage and store the funds you purchase on the platform as well as deposit funds from a different cryptocurrency wallet that you have. There's a separate Wallet tab that lets you view your balance total and the balances of every crypto you own. The best part is Digital Surge allows you to purchase, sell or send electronic assets straight from wallets.
Who is the owner of Digital Surge?
Digital Surge is an ASIC-registered firm with the ABN (89 820 473109) that is operating as a legal entity under Digital Surge Pty Ltd. Digital Surge has its head office in Brisbane and has founder Dan Rutter as its CEO.
Related:
Top Crypto Exchanges Compared
| Exchange | Deposit Methods | Fiat Currencies | Cryptocurrencies | Trading Fees | Deposit Fees | Withdrawal Fees | Sign Up |
| --- | --- | --- | --- | --- | --- | --- | --- |
| Swyftx | Bank Transfer, Crypto, Credit and Debit Card, Osko, PayID | New Zealand Dollars and Australian Dollars | Over 320 | 0.6% | Australian Dollars Deposits: 0% Crypto: 0% | Australian Dollars Withdrawals: 0% Crypto: 0% | Visit Swyftx |
| Binance | Crypto, Credit and Debit Cards, Osko, PayID | 10 Fiat Including USD and AUD | Over 600 | 0% to 0.1% | 0% | Vary | Visit Binance |
| CoinSpot | Bank Transfer, Fiat, Crypto, POLi, and PayID | Australian Dollars | Over 370 | Instant Buy/Sell: 1% OTC: 0.1% Market Order: 0.1%* | Direct Deposit: $0 Cash: 2.5% PayID, POLi, and direct deposits: $0 BPAY: 0.9% Direct Bank Transfer: $0 | Australian Dollars Withdrawals: $0 | Visit CoinSpot |
| Bybit | Crypto, electronic funds transfer (EFT), wire transfer, bank transfer, credit card, and debit card | 50+ | 160+ | 0.1% spot trading 0.01% – 0.06% market makers/market takers fee | $0 | Does not support direct fiat withdrawals Crypto withdrawal fees: Network fees | Visit Bybit |
| Crypto.com | PayPal, Cryptocurrency, SWIFT, Fedwire, Wise, Debit Card, Credit Card, SEPA, BPAY, Bank Transfer (ACH) | USD, AUD, SGD, and 15+ more | 250+ | 0.04% to 0.4% | $0 | FREE via bank transfer. $25 for USDC withdrawal via SWIFT Network | Visit Crypto.com |
| Digital Surge | Bank Transfer, Crypto, POLi, Osko, PayID | Australian Dollars | Over 300 | 0.1% to 0.5% | Deposit Fees Bank Transfer: $0 POLi: $2 (capped at $3.30) | $0 for AU Bank Accounts Cryptocurrency: Depends On the Network | Visit Digital Surge |
| CoinJar | Fiat, Bank Transfer, Crypto, Credit or Debit Card, Apple Pay, Google Play | Pound Sterling and Australian Dollars | Over 50 | Maker: 0.04 to 0.1% Taker: 0.04 to 0.1% | Fiat: 1.5% CoinJar Users: $0 NPP: $0 | $0 | Visit CoinJar |
| Independent Reserve | Crypto, Osko, PayID, Electronic Fund Transfer, SWIFT | Australian Dollars, US Dollars, New Zealand Dollars | Over 25 | 0.05% to 0.5% | For SWIFT Deposit: $15 for deposits under Australian $5,000 equivalent $0 for deposits over Australian $5,000 equivalent For Electronic Fund Transfer: Australian $0.99 for deposits under $100 $0 for deposits more than Australian $100 | Crypto: Fees vary Bank Transfer: $0 for AUD $20 for non-AUD | Visit Independent Reserve |
| eToro | Bank Transfer, Debit Cards, Neteller, PayPal, Online Banking, and Skrill | 15 Fiat Currencies Including USD and AUD | Over 70 | Vary | Vary | $5 but minimum withdrawal of USD50 | Visit eToro |
| Coinbase | Debit Card | More than 20 Fiat Currencies Including USD and EUR | Over 200 | Vary | Credit Card and Debit Card: 3.99% | 2.49% | Visit Coinbase |
| Bittrex | Bank transfer (ACH) | Euro and US Dollars | Over 320 | 0.25% | $0 | Vary | Visit Bittrex |
| Bitfinex | Bank Wire Transfer, Crypto, Credit Card | US Dollars, Japanese Yen, Euro, Pound Sterling | Over 200 | Taker: 0.055% to 0.2% Maker: 0% to 0.1% | Crypto: $0 Wire: 0.1% (min 60 Euro/USD) | Crypto: $0 Wire: 0.1% Express Bank Wire (within 1 day on business days): 1% (min 60 Euro/USD) | Visit Bitfinex |
| Coinmama | Bank Card, SWIFT, Google Pay, SEPA, and Fedwire | 6 Fiat Currencies Including USD and AUD | Over 10 | 2.93% to 3.9% | 0% to 5% | N/A – assets are directly sent to the user's crypto wallet | Visit Coinmama |
| Kraken | Bank Transfer, Crypto, Wire Transfer, osko, SEPA, Apple Pay and Google Pay | 7 Fiat Currencies Including USD and AUD | Over 140 | Maker: 0% to 0.16% Taker: 0.10% to 0.26% | Vary | Vary | Visit Kraken |
| KuCoin | Crypto, PayPal, Wire Transfer, Credit or Debit Card, SEPA | 9 Fiat Currencies Including USD and AUD | over 645 | 0.1% | $0 | Vary | Visit KuCoin |
| Easy Crypto | Bank transfer, P2P, POLi, OSKO | AUD | 100+ | 0.5% – 1.6% | $0 | Fiat Withdrawal fees: $0 Crypto withdrawal fees: Network fees | Visit Easy Crypto |
| Coinstash | Crypto, PayID, Bank Transfer | AUD | 410+ | 0.85% | $0 | Crypto withdrawal fees: Network fees Fiat Withdrawal fees: $0 | Visit Coinstash |
This page was last updated on July 14, 2023