Swyftx is among the top bitcoin exchanges available in Australia, while eToro Australia is a popular broker that provides cryptocurrency as an instrument for trading. Which one is the best option for Australians wanting to start their journey into the cryptocurrency market? I'll be comparing the two platforms against each other with a variety of parameters so that you can the decision for yourself.
My suggestion is Swyftx which is a dedicated crypto exchange that offers more than 320 coins, less costs, a demo mode as well as a $20 free Bitcoin by signing up here.
Swyftx vs eToro Comparison Table
| Features | Swyftx | eToro |
| --- | --- | --- |
| | | |
| Supported Coins | 320+ | 75 |
| Trading Fees | 0.6% | 1% |
| Deposit Fee | Free | Free (currency conversion applies) |
| Withdraw Fee | $0 | $5 (plus currency conversion) |
| Payment Methods | Credit/Debit card, Bank transfer, POLi, OSKO, PayID | Credit/Debit card, Bank transfer, PayID, POLi |
| | | |
Swyftx Pros and Cons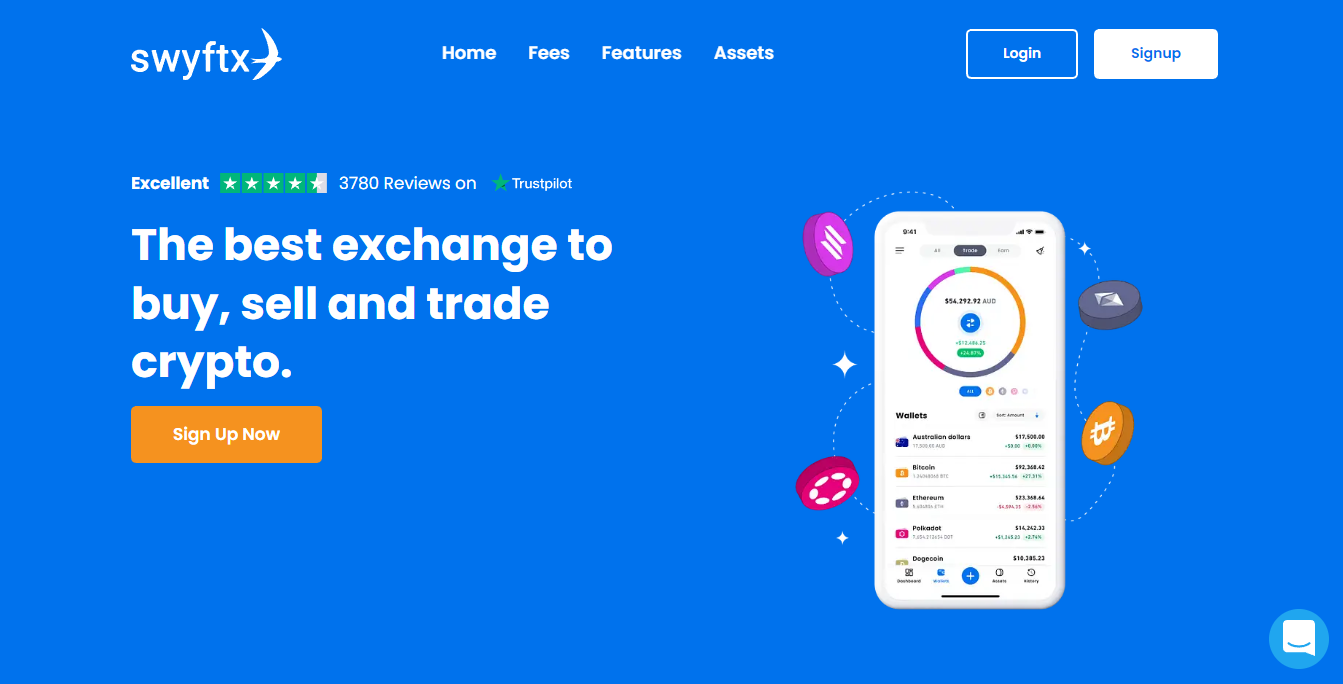 Pros:
Very user-friendly
Quick verification
Live chat support available 24/7
There are many cryptocurrencies
Trading fees for instant trades start at 0.6 percent
Use your Credit Card or Debit Card to buy crypto
Trusted Australian exchange (regulated under AUSTRAC).
Cons:
There is no order-book (only instant purchasing)
Margin trading is not supported
Charge credit card deposit fees (at 2%)
eToro Pros and Cons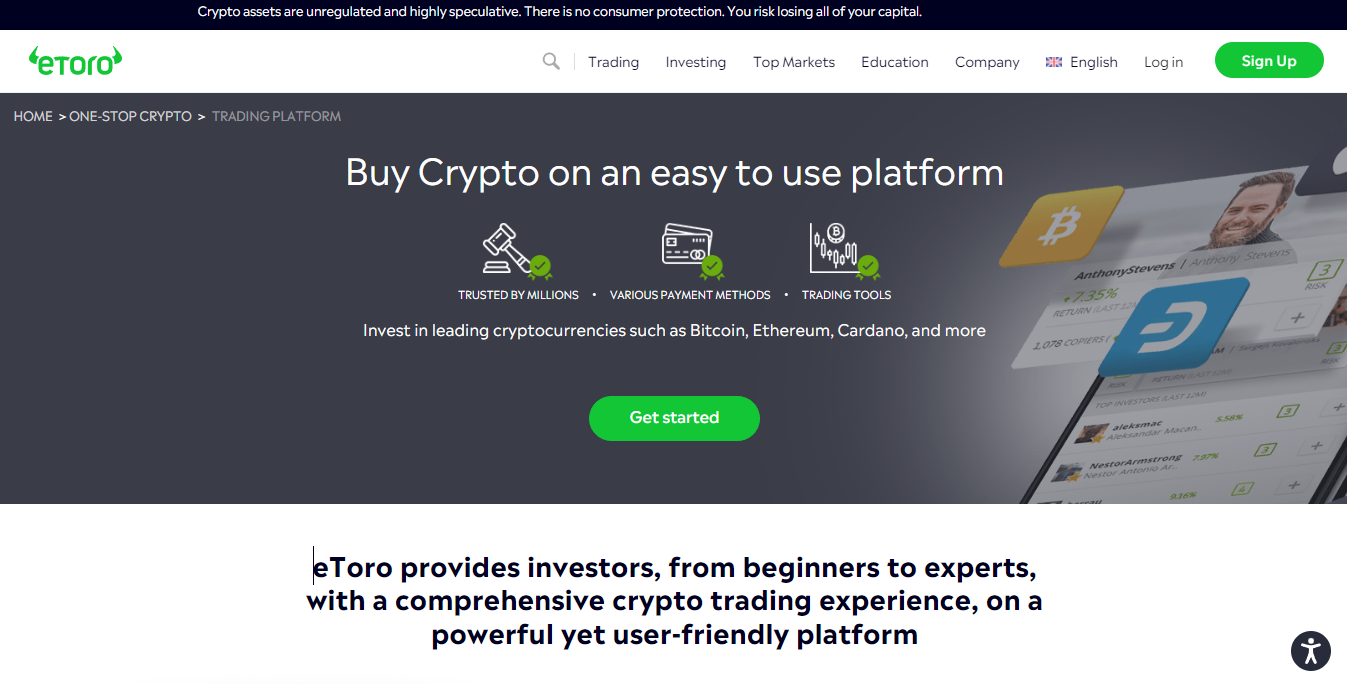 Pros
Provides access over 30 cryptocurrency.
Minimum amount to open an account and start investing.
Social investment ability to track the movements of traders who are popular.
Established platform
Regulated in a variety of jurisdictions
Cons
Stock, ETF and cryptocurrency trading is only accessible only in the only 44 U.S. states
Margin trading isn't accessible for U.S. users
Features
Trading in cryptocurrency should be easy and accessible to anyone and that's the reason Swyftx was designed. The platform was designed for people who are new to crypto in mind, meaning that it is possible to instantly buy or sell your coins in only a few clicks.
The modern, sleek interface can be customized which means you can customize it to operate exactly the way you'd like. With its demo feature, you are able to test your trading skills prior to placing any money on the line.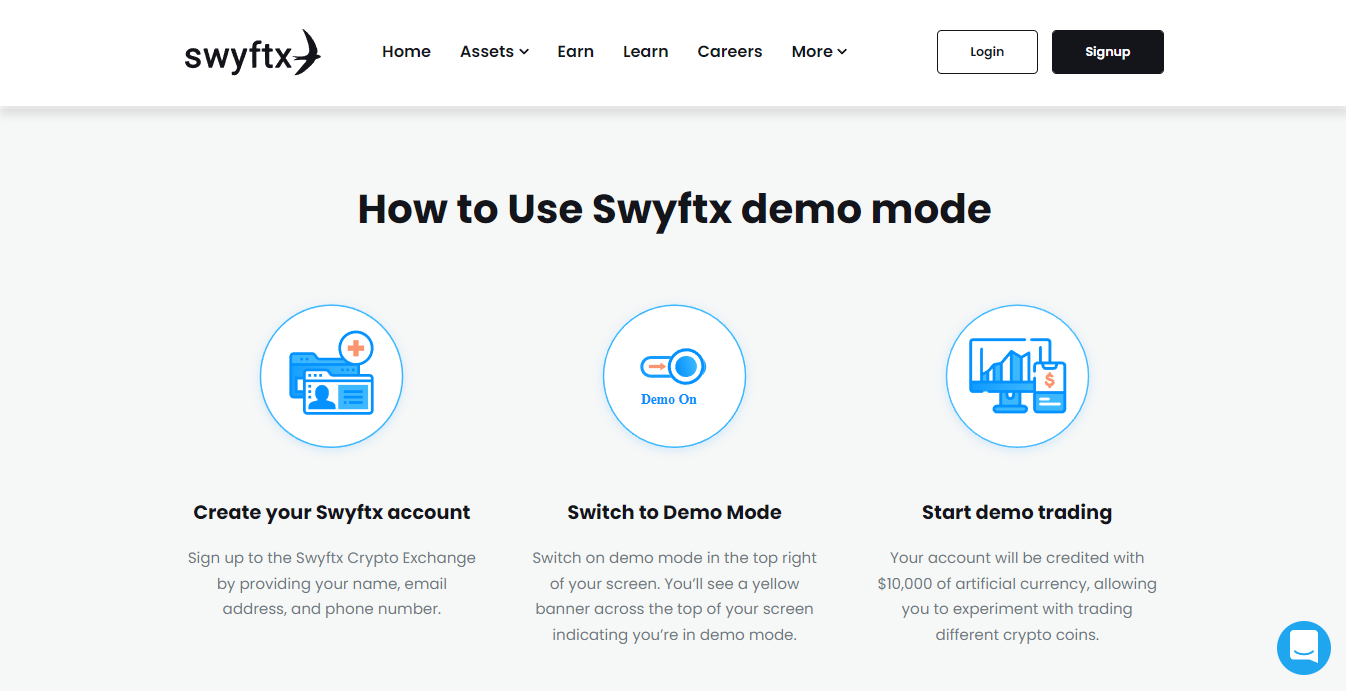 Swyftx also offers mobile apps that are accessible for each of iOS as well as Android devices. It lets users quickly track their portfolios, and trade when on the go. Additionally, they allow the option of staking with 20 coins and you'll earn cash rewards simply by keeping your most-loved coins.
eToro is among the most well-known social trading platforms across the world. They've recently expanded their offerings to Australia. With more than 13 million users globally, they're an important player in the field.
One of the features that makes eToro distinct is their CopyTrader feature that allows users to copy trades made by other traders who have been successful on the platform.
eToro has a particular focus on social trading. This means that you are able to connect and communicate with other traders within the eToro community. This is a fantastic method to gain help and gain knowledge from other. If you're brand new to trading or would like to get a feel for things you can use an account with a demo, so you'll have a better experience of how the system works.
eToro also provides the option of staking your crypto, meaning you could earn rewards by holding your cryptos for the long run.
Winner: eToro
Supported Cryptocurrencies
Swyftx provides access to more than 320+ cryptocurrency.
eToro only gives 75 coins.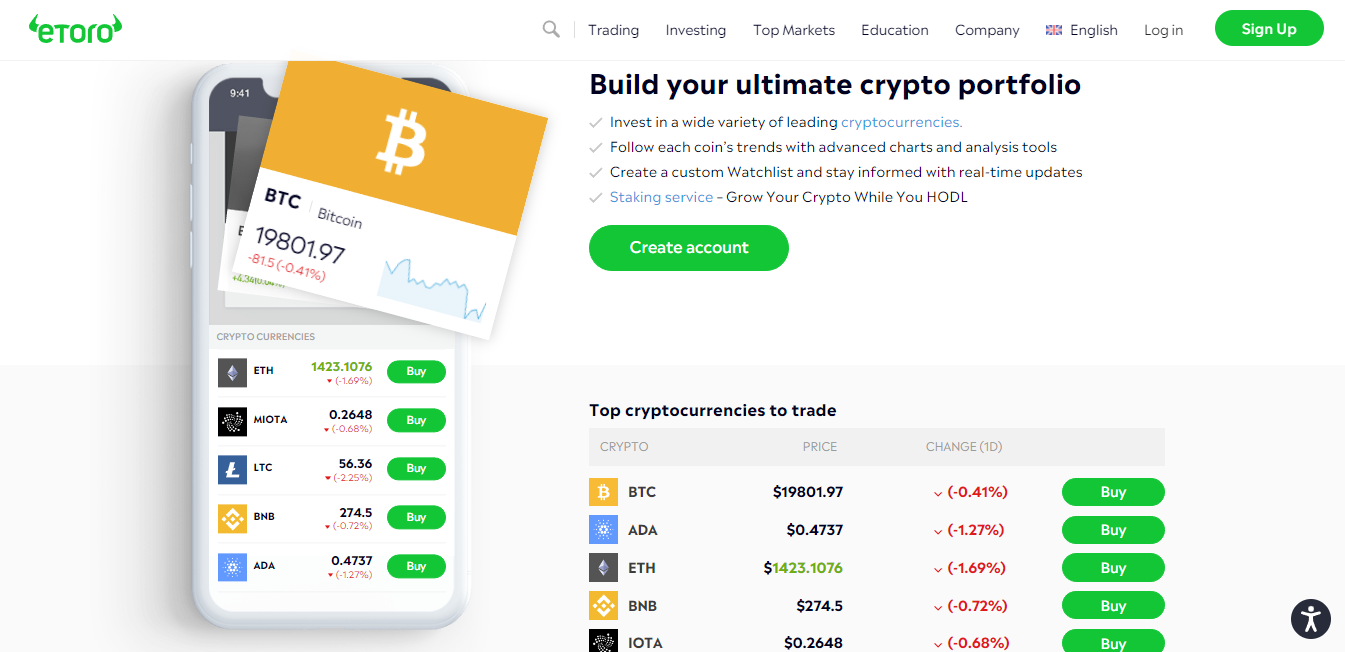 A wide range of cryptocurrency If you're in search of the largest selection of cryptocurrency such as Swyftx is the best choice. With more than 320 coins available offered, they offer one of the largest choices in Australia.
Winner: Swyftx
Fees
Swyftx is among the most cost-effective crypto exchange platforms available in Australia. Users pay an 0.6 percent fee for trading for deposits, while AUD withdrawals are completely free.
On eToro the deposit of fiat currency is no cost, while withdrawals cost five dollars for each transaction. However, you'll need to pay fees for currency conversion to withdraw or deposit money from an Australian bank. EToro's fees for trading are 1 percent on every transaction.
It's evident it's true that Swyftx is the best choice for those looking to cut down on costs. The traders at eToro do not just have to pay more for withdrawal and trading costs, they also must pay the cost of currency conversion.
Winner: Swyftx
Customer Support
Swyftx promises to provide live chat services, however to the displeasure of many customers the company uses robots. The automated bots are able to respond to a few basic questions and not the more complicated concerns. 
The customer support department on eToro has a bilingual staff and is available all hours of the day all week. You need to log in and submit support tickets to contact customer support. 
eToro is the clear winner because you get immediate assistance from real customer service staff.
Winner: eToro
Deposit Methods
Swyftx is compatible with POLi, PayID, credit debit card and card deposits.
eToro also accepts PayID, POLi, credit card deposits with debit cards.
It's a tie as both platforms offer the same amount of payment options. The only difference is that eToro also accepts fiat currency deposits such as USD, EUR, and GBP however Swyftx only accepts deposits in AUD.
Winner: Tie
Security
Swyftx offers regular security measures, like JSON Web Tokens and biometric signing-ins, KYC verification as well as Two-factor verification (2FA). Yet, Swyftx has shown security issues, including $2.3 million accidentally transferred to accounts of clients that were not their own. 
eToro is controlled under the Australian Securities and Investments Commission (ASIC). Information about users of the company are secured by firewalls, encryption along with two-factor verification (2FA). The platform stores user money in cold storage, which reduces the chance of losing it because of operating error or hacking. It has collaborated with a world-class cybersecurity company, GK8, to develop an innovative cold storage Custody as a Service (CaaS) solution. eToro has never experienced an attack of this magnitude or loss of funds from clients.
eToro has an advantage over Swyftx due to its cold storage strategies, FDIC insurance, and oversight by a variety of foreign financial institutions.
Winner: eToro
Conclusion
Swyftx wins this comparison against eToro, which is expected, since it was built as a cryptocurrency-exclusive platform. Swyftx is user-friendly with a simple interface, with cheaper fees, a demonstration mode as well as live Chat support, and a $20 bonus Bitcoin for no cost, which makes it my top choice.
eToro is a great broker that offers a wide range of trading instruments, including commodities, stocks, and forex however when it comes to crypto it's not able to stand up against exchanges that solely deal in cryptocurrency. The fee for currency conversion for withdrawals and deposits, as well as the higher costs that are charged for transactions in crypto means it isn't able to compare to the top Australian cryptocurrency exchanges.
Frequently Asked Questions
Does Swyftx have an affiliate program?
Swyftx offers an affiliate program that gives users a 30% discount on all trade fees. This discount applies to all trades made through affiliate accounts. Additional discounts are available for affiliates who can also get a referral code through the platform.
Affiliates receive monthly payouts. When someone registers on the platform using their referral link, the platform's tracking system will inform them.
What is the Self-Managed Super Fund? How does it work?
New Brighton Capital has made it possible to create the SMSF, or The Self-Managed Super Fund. This fund offers multiple tax benefits. It is a savings storage account that provides multiple tax benefits. The SMSF fun offers users a 15% tax rate on digital assets. Registered SMSF traders are considered trustees. This means they must comply with both super laws and ATO tax regulations.
Does Swyftx have a Demo account?
Swyftx offers a demo mode where you can trade, stop and limit orders and make card deposits. You can also track your portfolio and see how two-factor authentication or biometric login feels. Swyftx allows you to fully experience all the features without having to deposit funds or purchase cryptocurrencies.
Which countries are covered by eToro?
eToro is a global platform that operates in more than 140 countries across the globe. Some of the countries that are able to use eToro's service include Australia and a number of USA nations, UK, Argentina, Bahrain, France, Colombia, Cyprus, Greece, Lichtenstein, Dominican Republic, UAE etc.
Does eToro provide mobile trading?
It is a great platform for trading. eToro platform is easy to access and easy to use on both mobile and web-based devices that have integrated Android and iOS operating systems. The mobile trading application makes use of the smartphone's intuitive features such as push alerts, sync watchlists and touchscreen interactions. For the portfolio you have, as an instance you could swipe of the screen on your smartphone to check the stats or start an order. Through blending trading tools along with social trading features and the news feed generated on the site, it provides an ideal tool for traders who are on the move.
Does eToro Have a Cryptocurrency Wallet?
Yes the trading platform can offer an in-built cryptocurrency wallet that can be used to store and deposit cryptocurrency assets. Simplex lets users deposit crypto money directly into their wallets, in the form of credit card transactions. The catch is that once the funds are placed stored in the account, they are unable to transfer back onto the eToro trading service.
Who pays the tax on the profits generated by eToro?
Users on the eToro exchange are required to establish the taxable profits earned through trading on the platform by examining the statement of their account. This means that they have to be liable for their fair share of the gain from trading, in line to the legal requirements for financial transactions and the regulations of their home state.
Is eToro the biggest fraud in cryptocurrency exchanges?
It isn't likely. Because this exchange has been licensed by a variety of financial authorities of the state in the countries where the eToro offices are The chances of being victimized by a licensed exchange fraud are almost zero.
Related:
Top Crypto Exchanges Compared
| Exchange | Deposit Methods | Fiat Currencies | Cryptocurrencies | Trading Fees | Deposit Fees | Withdrawal Fees | Sign Up |
| --- | --- | --- | --- | --- | --- | --- | --- |
| Swyftx | Bank Transfer, Crypto, Credit and Debit Card, Osko, PayID | New Zealand Dollars and Australian Dollars | Over 320 | 0.6% | Australian Dollars Deposits: 0% Crypto: 0% | Australian Dollars Withdrawals: 0% Crypto: 0% | Visit Swyftx |
| Binance | Crypto, Credit and Debit Cards, Osko, PayID | 10 Fiat Including USD and AUD | Over 600 | 0% to 0.1% | 0% | Vary | Visit Binance |
| CoinSpot | Bank Transfer, Fiat, Crypto, POLi, and PayID | Australian Dollars | Over 370 | Instant Buy/Sell: 1% OTC: 0.1% Market Order: 0.1%* | Direct Deposit: $0 Cash: 2.5% PayID, POLi, and direct deposits: $0 BPAY: 0.9% Direct Bank Transfer: $0 | Australian Dollars Withdrawals: $0 | Visit CoinSpot |
| Bybit | Crypto, electronic funds transfer (EFT), wire transfer, bank transfer, credit card, and debit card | 50+ | 160+ | 0.1% spot trading 0.01% – 0.06% market makers/market takers fee | $0 | Does not support direct fiat withdrawals Crypto withdrawal fees: Network fees | Visit Bybit |
| Crypto.com | PayPal, Cryptocurrency, SWIFT, Fedwire, Wise, Debit Card, Credit Card, SEPA, BPAY, Bank Transfer (ACH) | USD, AUD, SGD, and 15+ more | 250+ | 0.04% to 0.4% | $0 | FREE via bank transfer. $25 for USDC withdrawal via SWIFT Network | Visit Crypto.com |
| Digital Surge | Bank Transfer, Crypto, POLi, Osko, PayID | Australian Dollars | Over 300 | 0.1% to 0.5% | Deposit Fees Bank Transfer: $0 POLi: $2 (capped at $3.30) | $0 for AU Bank Accounts Cryptocurrency: Depends On the Network | Visit Digital Surge |
| CoinJar | Fiat, Bank Transfer, Crypto, Credit or Debit Card, Apple Pay, Google Play | Pound Sterling and Australian Dollars | Over 50 | Maker: 0.04 to 0.1% Taker: 0.04 to 0.1% | Fiat: 1.5% CoinJar Users: $0 NPP: $0 | $0 | Visit CoinJar |
| Independent Reserve | Crypto, Osko, PayID, Electronic Fund Transfer, SWIFT | Australian Dollars, US Dollars, New Zealand Dollars | Over 25 | 0.05% to 0.5% | For SWIFT Deposit: $15 for deposits under Australian $5,000 equivalent $0 for deposits over Australian $5,000 equivalent For Electronic Fund Transfer: Australian $0.99 for deposits under $100 $0 for deposits more than Australian $100 | Crypto: Fees vary Bank Transfer: $0 for AUD $20 for non-AUD | Visit Independent Reserve |
| eToro | Bank Transfer, Debit Cards, Neteller, PayPal, Online Banking, and Skrill | 15 Fiat Currencies Including USD and AUD | Over 70 | Vary | Vary | $5 but minimum withdrawal of USD50 | Visit eToro |
| Coinbase | Debit Card | More than 20 Fiat Currencies Including USD and EUR | Over 200 | Vary | Credit Card and Debit Card: 3.99% | 2.49% | Visit Coinbase |
| Bittrex | Bank transfer (ACH) | Euro and US Dollars | Over 320 | 0.25% | $0 | Vary | Visit Bittrex |
| Bitfinex | Bank Wire Transfer, Crypto, Credit Card | US Dollars, Japanese Yen, Euro, Pound Sterling | Over 200 | Taker: 0.055% to 0.2% Maker: 0% to 0.1% | Crypto: $0 Wire: 0.1% (min 60 Euro/USD) | Crypto: $0 Wire: 0.1% Express Bank Wire (within 1 day on business days): 1% (min 60 Euro/USD) | Visit Bitfinex |
| Coinmama | Bank Card, SWIFT, Google Pay, SEPA, and Fedwire | 6 Fiat Currencies Including USD and AUD | Over 10 | 2.93% to 3.9% | 0% to 5% | N/A – assets are directly sent to the user's crypto wallet | Visit Coinmama |
| Kraken | Bank Transfer, Crypto, Wire Transfer, osko, SEPA, Apple Pay and Google Pay | 7 Fiat Currencies Including USD and AUD | Over 140 | Maker: 0% to 0.16% Taker: 0.10% to 0.26% | Vary | Vary | Visit Kraken |
| KuCoin | Crypto, PayPal, Wire Transfer, Credit or Debit Card, SEPA | 9 Fiat Currencies Including USD and AUD | over 645 | 0.1% | $0 | Vary | Visit KuCoin |
| Easy Crypto | Bank transfer, P2P, POLi, OSKO | AUD | 100+ | 0.5% – 1.6% | $0 | Fiat Withdrawal fees: $0 Crypto withdrawal fees: Network fees | Visit Easy Crypto |
| Coinstash | Crypto, PayID, Bank Transfer | AUD | 410+ | 0.85% | $0 | Crypto withdrawal fees: Network fees Fiat Withdrawal fees: $0 | Visit Coinstash |
This page was last updated on July 14, 2023