Tokenize Exchange Review 2023
The possible advantages and numerous possibilities available in the cryptocurrency world continue to encourage more traders to enter the crypto sector. Many people are now entering the market in order to generate large profits and revenue. However, in order to have access to the crypto market, one must first pick a cryptocurrency exchange platform, such as Tokenize Exchange. 

Tokenize Exchange is one of the many well-established Australian crypto trading platforms that allow for easy crypto trading. Since its launch, Tokenize has built a solid name in the industry and now has over 100,000 investor accounts. Users can engage in ICO offerings listed on the exchange and deposit SGC with Xfers and bank transfers. The exchange also provides detailed guidelines and information to beginner users. The platform's users have access to the Token Store, which offers in-depth research and analytics on every supported cryptocurrency.
Nevertheless, before we enter the trading zone, it is critical to acquire in-depth knowledge about this blockchain-fueled cryptocurrency exchange by reading our Tokenize review.
About the Trading Platform
Tokenize is another Singapore-based exchange, as Singapore is known as one of the regions with the largest number of cryptocurrency platforms in the world thanks to its crypto-friendly climate. 
Tokenize has its own token called Tokenize Emblem (TKX). The primary purpose of TKX is to improve the user's trading experience, while also providing access to unique Tokenize Xchange platform events and features.


Tokenize is a user-friendly platform with an interface that provides simple yet useful instructions fit for every beginner. The platform provides specific guidelines, for instance, on how to submit your bank account for validation before you make a purchase or trade on the cryptocurrency platform. Also, the exchange provides a clear description of the time it takes to complete both deposits and withdrawals.
Same as other exchanges, Tokenize has a periodic referral program that allows its users to earn money in addition to trading. The amount of the reward for each referral changes from batch to batch, and the bonus is directly transferred to the Tokenize wallet.
For all of its users, the Tokenize trading platform offers a membership club. Depending on the amount of TKX they possess, the exchange divides its users into three categories: Basic, Premium, and Platinum.
Users that have a small amount of TKX (less than 160 tokens) are classified as Basic users, while those that have a least 160 TKX are classified as Premium users. Finally, those with more than 800 TKX in the account balance fall in the Platinum category.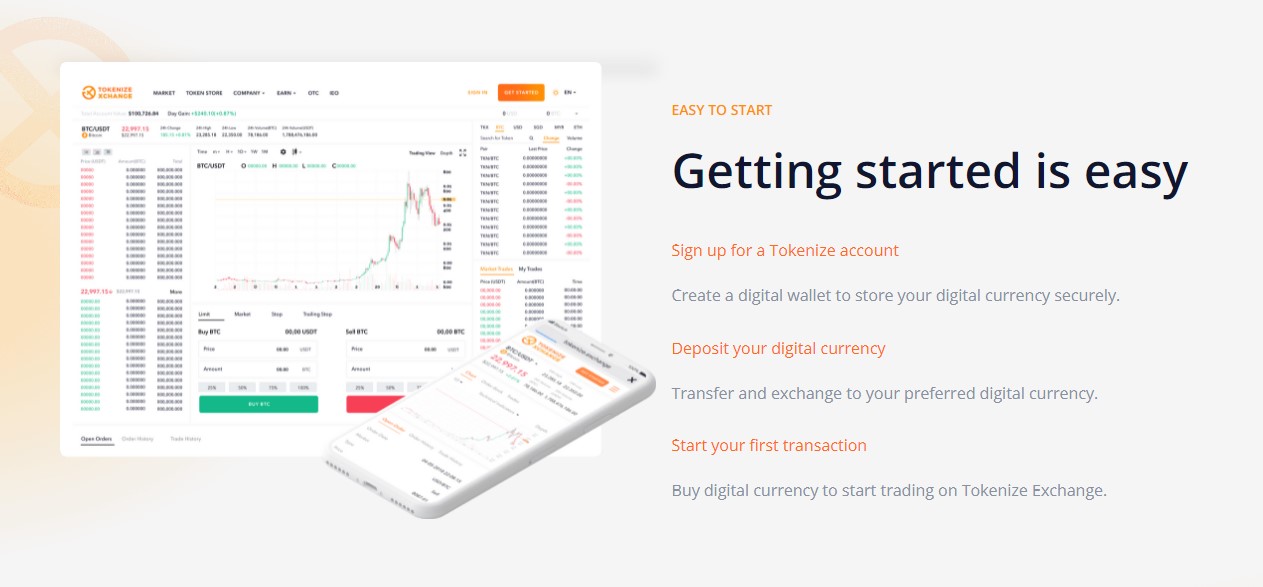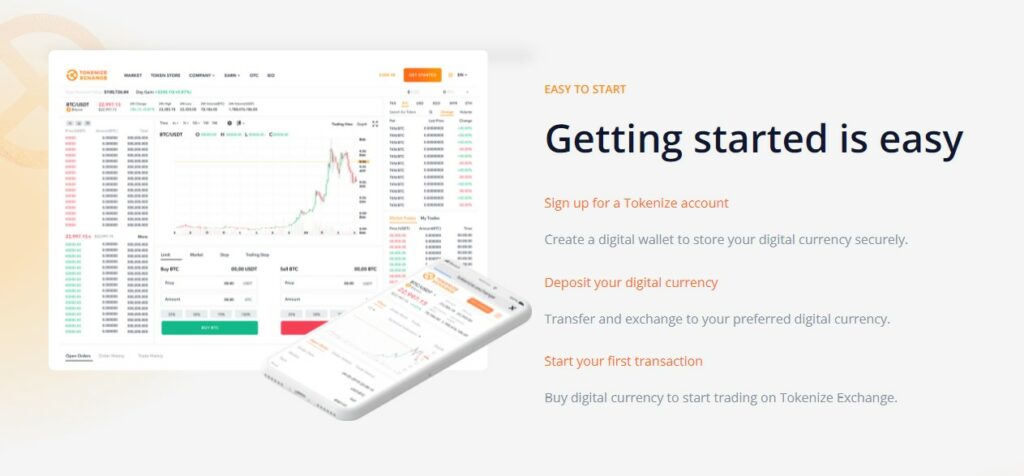 To start the registration process on Tokenize, first you need to create an account by visiting https://tokenize.exchange/register. Next, fill in your details such as your email address, select a password and click Sign Up. Before you sign up, make sure you have prepared your driver's license or passport, as well as proof of address. You will receive an email with a verification link in your inbox. To confirm your email account, press the Activate Account button.
After that, log in to complete your personal information and confirm your identity. All documents provided for your identity verification must be in full colour and high resolution so that the exchange can examine your information and activate your account.
Bitcoin and Other Supported Cryptocurrencies
Users can invest in 20 of the most prominent and liquid digital assets and trading pairs on Tokenize Exchange such as Bitcoin (BTC), Bitcoin Cash (BCH), Ethereum (ETH), Litecoin (LTC), and Ripple (XRP). You can trade each coin for SGD, USD, BTC, or ETH.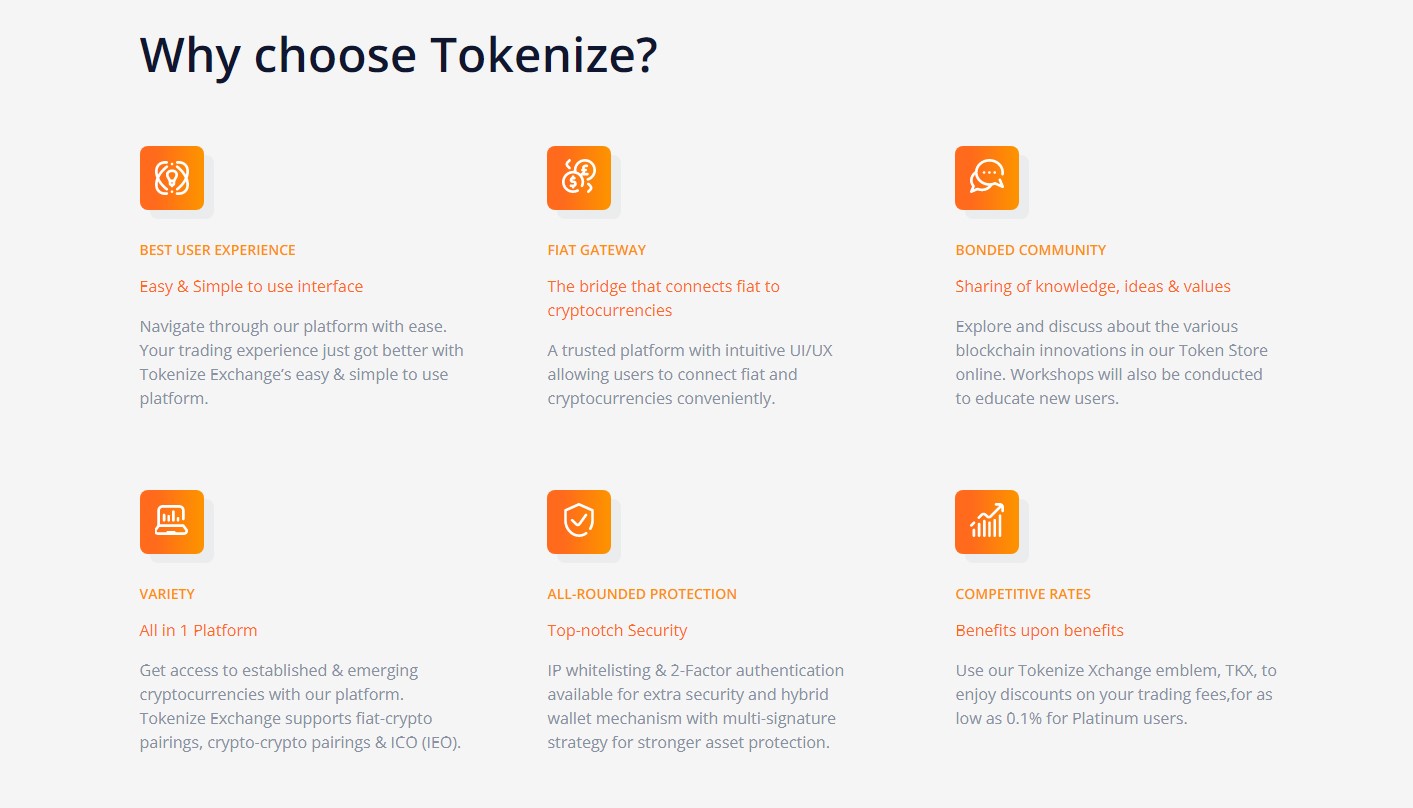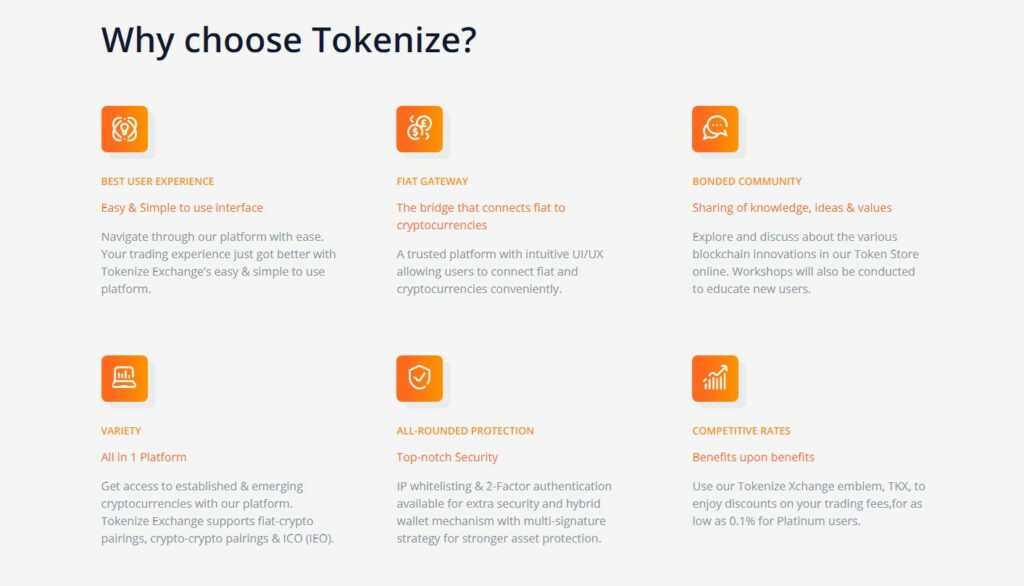 Customers of the Tokenize xchange can use wire transfers to deposit and withdraw US dollars and Singaporean dollars into their trading accounts. The platform, however, doesn't permit the usage of debit or credit cards.
For its trading fees, the Tokenize platform uses a fixed fee system, which means that it doesn't charge separate fees for makers and takers. Each trade performed on the Tokenize trading platform is subject to a 0.25% trading fee.
This fee isn't particularly competitive, as it matches the average rate of 0.20%-0.25%. What's more, the Tokenize platform is at a slight disadvantage as some cryptocurrency exchanges like Binance and Kraken charge comparatively modest trading fees of 0.10% to 0.15%.
The Tokenize digital currency exchange platform charges a percentage-based withdrawal fee rather than a fixed fee. Tokenize charges 0.02% on all withdrawals made on the platform. Do keep in mind that this cost is never less than 0.0005 BTC.
Security is one of the biggest worries for investors, traders, and cryptocurrency exchange platforms on the market today. In the crypto business, there has been a continuous stream of fraud cases, breaches, and cyberattacks that threaten the stability of the market. Many investors have lost a lot of money and many exchanges have gone bankrupt as a result of such significant database breaches.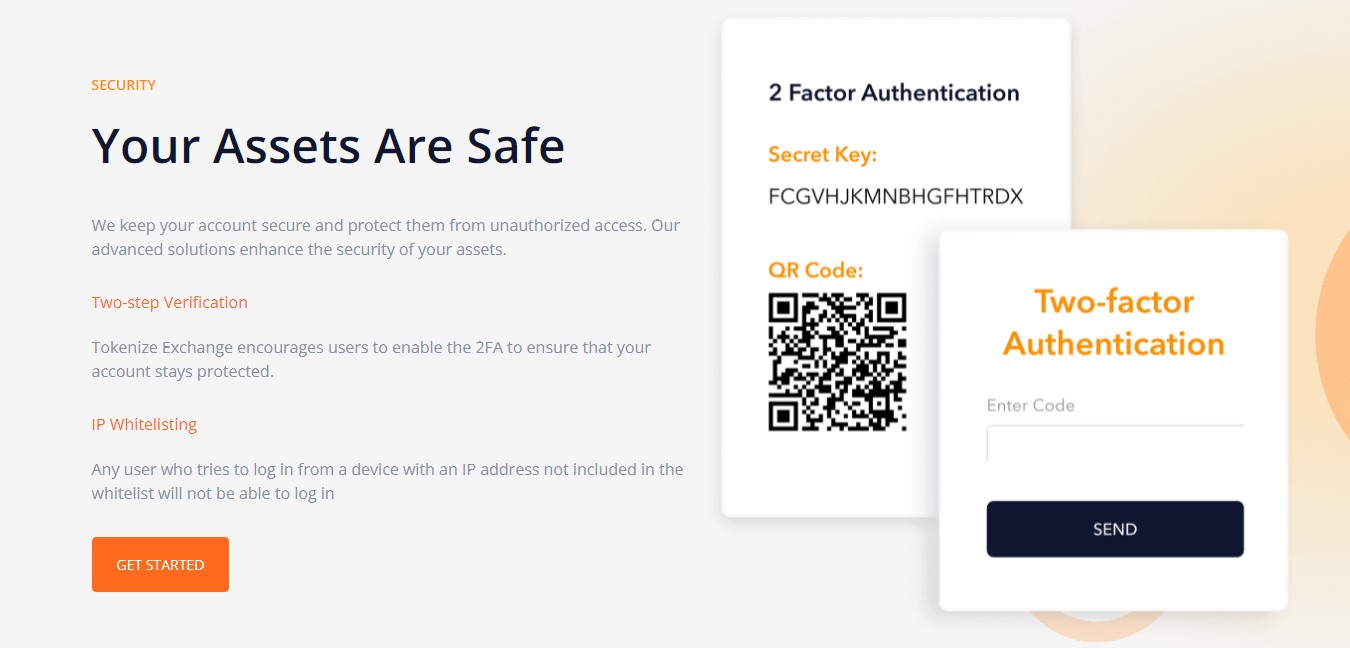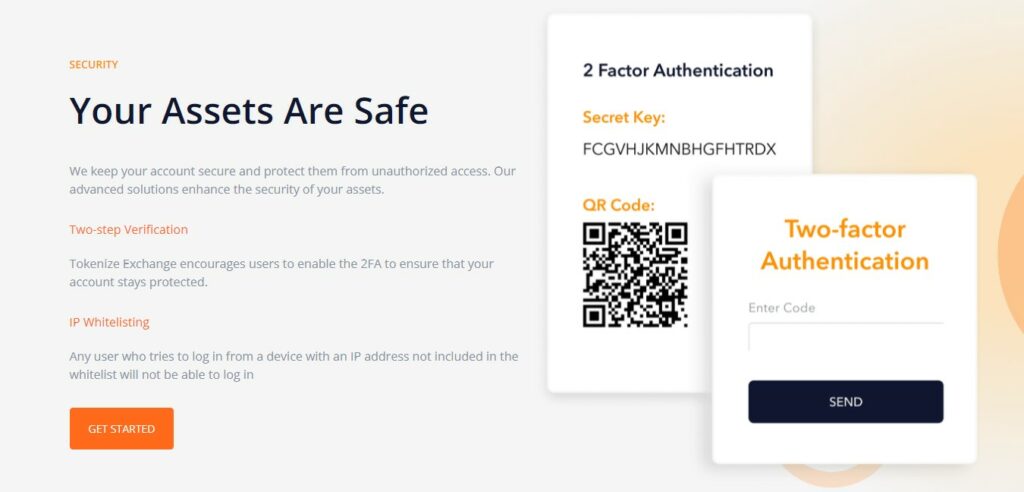 Luckily, Tokenize prioritizes the safety of its users' assets and sensitive information above everything else. The exchange platform has implemented and incorporated some of the most cutting-edge security technology and software into its safety system and adheres to the state laws to protect its customers.
Within its network security, the platform incorporates the following security measures two-factor authentication (2FA), IP whitelisting, and multi-sig authorization, and complies with Anti-Money Laundering (AML) and Countering Terrorism Financing (CTF) policies and performs Know Your Customer (KYC) checks.
Customer support is another critical point for investors and traders in the cryptocurrency world, and exchanges are well aware of this. A platform that lacks a proper support team cannot be trusted because this shows how much they care about their customers.
Luckily, Tokenize provides outstanding customer service to its users. It employs devoted and knowledgeable customer service personnel who are willing to respond to users' questions and complaints. Users contact them through email, live chat, and phone.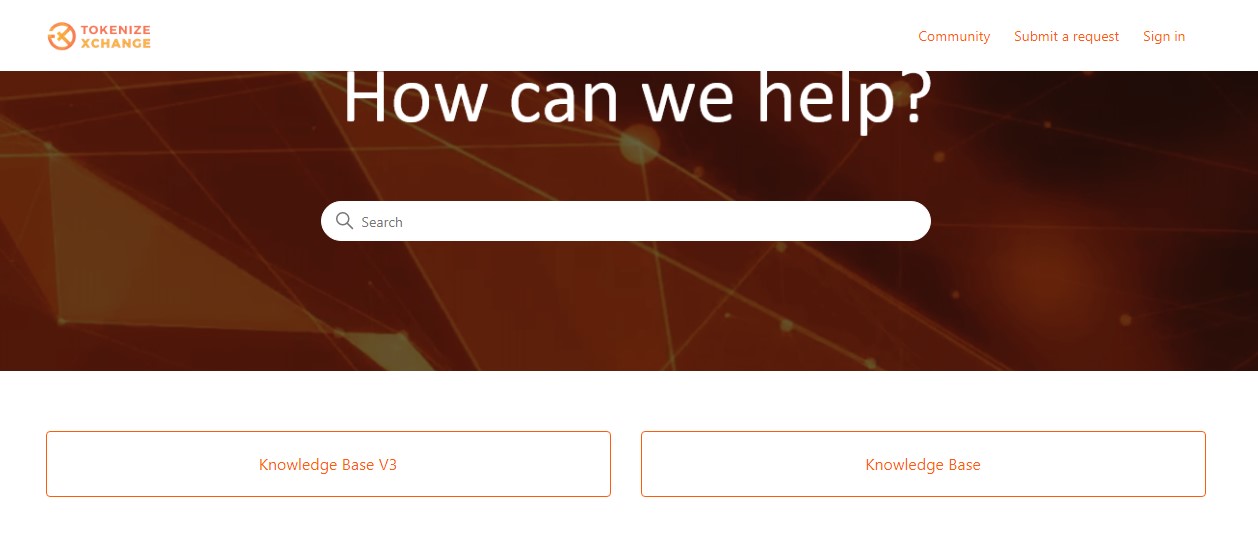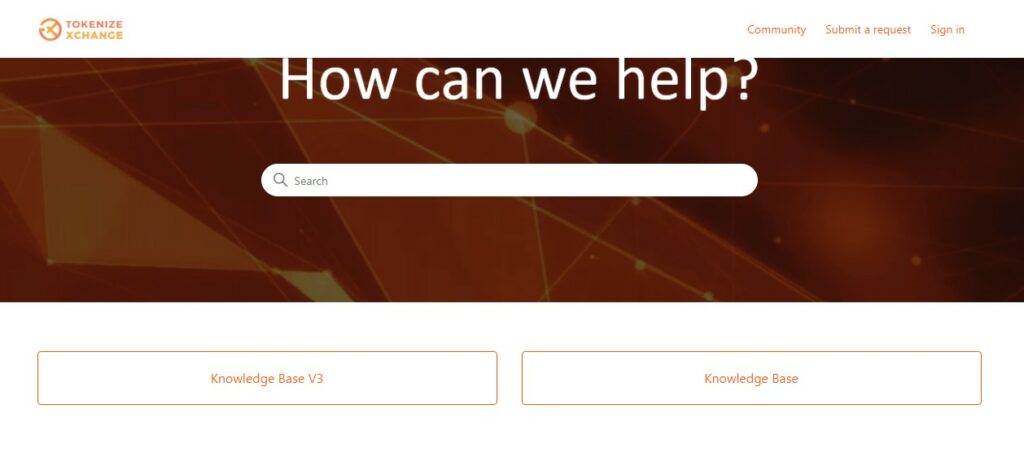 The exchange also has a FAQ section that addresses some of the most frequently asked questions by users who have recently joined the crypto market.
Frequently Asked Questions
How does Tokenize Earn work?
Tokenize Earn allows you to earn interest on 31 different cryptocurrencies. Every currency has a minimum deposit requirement, and you must keep your funds locked up for at least 30 days. Tokenize Earn works similarly to Crypto.com's Earn program in that it requires a minimum deposit and a lock-up period.
What can you use the TKX tokens for?
Tokenize Emblem, or TKX, is an Ethereum-based ERC20 token. The primary purpose of TKX is to improve users' trading experience, while also providing access to unique Tokenize Xchange platform events and features. 
How to buy cryptocurrency on Tokenize?
Tokenize allows users to purchase cryptocurrency from 20 cryptocurrencies to pick from, including popular ones like BTC, ETH, LTC, and XRP. Popular DeFi tokens such as COMP, AAVA, and Sushi can also be purchased using fiat currency on the exchange.
Users must be at least 18 years old to open an account with Tokenize Exchange and start trading. The procedure of creating an account is simple and takes just a few minutes. There are no fees associated with opening or maintaining a Tokenize Exchange account or wallet. To begin the signup process, you must have a valid email address.
What are the available payment methods of the Tokenize xchange?
The necessity of offering numerous payment options is recognized by cryptocurrency exchange platforms. This makes it simple for users to deposit and withdraw funds. The Tokenize trading platform catches up by providing two payment options: cryptocurrency transfers and wire transfers. Users on this trading platform can use wire transfers to deposit and withdraw funds in SGD or USD. Unfortunately, the platform doesn't allow debit or credit card transactions.
A Few Words Before You Go...
Tokenize has acquired the trust of many crypto traders and investors in the crypto market thanks to the great trading services it provides. Despite being a relatively new trading platform, the exchange has seen a lot of success in a very short time.
Clearly, we can conclude that Tokenize is a fantastic crypto exchange. Its security features, very accessible trading platform, excellent customer support and services make it an excellent choice for both new and experienced traders.
This page was last updated on August 23, 2022