Trezor Wallet Review 2023
If you plan to immerse yourself in crypto trading, you should pay proper attention to the safe storage of your virtual holdings even before you start looking for the best purchasing methods. 
By now, you've probably learnt that we keep our Bitcoin and other cryptocurrencies into so-called crypto wallets. However, the term wallet here doesn't stand for a physical object that holds your coins. Digital assets reside on the blockchain, whereas a crypto wallet is a piece of software that holds your private keys as proof that you own a particular amount of cryptocurrency. 


Furthermore, you're very likely to have heard that hardware wallets are by far the best alternative for storing your digital assets. If you're wondering why keep reading our review. We're discussing the features of the oldest surviving representative of hardware crypto wallets — Trezor. Hardware wallets do share the operational storage model but when it comes to design, price, and other specific features, they can differ to a great extent. 
Stay tuned and let's find out together whether Trezor is the right choice against your personal expectations in the upcoming crypto adventure.
Crypto Wallets: Software Vs Hardware Wallets
Despite the abundance of available wallets, we make a general distinction between software and hardware wallets or hot and cold storage.
Hardware wallets are a type of cold storage as they don't need to be online for their basic performance functions (transferring funds from one wallet to another, for example). They are physical devices accompanied by plain software that allows secure storage of your digital assets offline. This setting protects your cryptocurrencies against any potential virtual scam since hackers won't be able to track them.
In terms of design and functionalities, hardware wallets do need a base device (desktop or mobile phone) to start working, which — depending on the model — can be connected to the wallet either via a USB cable or Bluetooth. Well, some of the popular wallets today come in a more sophisticated package featuring a larger touchscreen and multi-button navigation. In most cases, though, hardware wallets interact with compatible software platforms for a better user experience. 

Hot wallets, on the other hand, cover a wider area of crypto storage including web-platform wallets, desktop and mobile apps. For this reason, we can't always discuss hot storage in general terms but we can say that the majority of these wallets have incredibly easy navigation and smooth access. 
However, hot wallets do require an internet connection in order to work and this makes them an unreliable crypto solution in terms of security. What's more, a great number of wallets in this category do act as custodians, which means that they have full control of your private keys. This particularly refers to in-exchange wallets that allow you to store your cryptocurrencies at the very same place where you've bought them. As convenient as this may sound, exchanges are technically traceable "locations", for which we have many unfortunate examples of critical hacker attacks over the years.
About Trezor Hardware Wallets
The Trezor wallet was developed in 2014 by SatoshiLabs — a Czech start-up that presented a rather revolutionary product at the time of early crypto awakening. SatoshiLabs stands behind two models of Trezor wallets, Slush Pool — a renowned BTC mining pool named after the company founder Marek Palantius also known as Slush, and CoinMap — a map that marks all merchants that accept Bitcoin around the globe. 
In terms of appearance, the wallet is a small-sized device that enables you to store and sign transactions offline without any risk involved in case your desktop gets infected or damaged. The wallet can be USB-connected only with your computer and it's compatible with Windows, Mac, and Linux operating systems.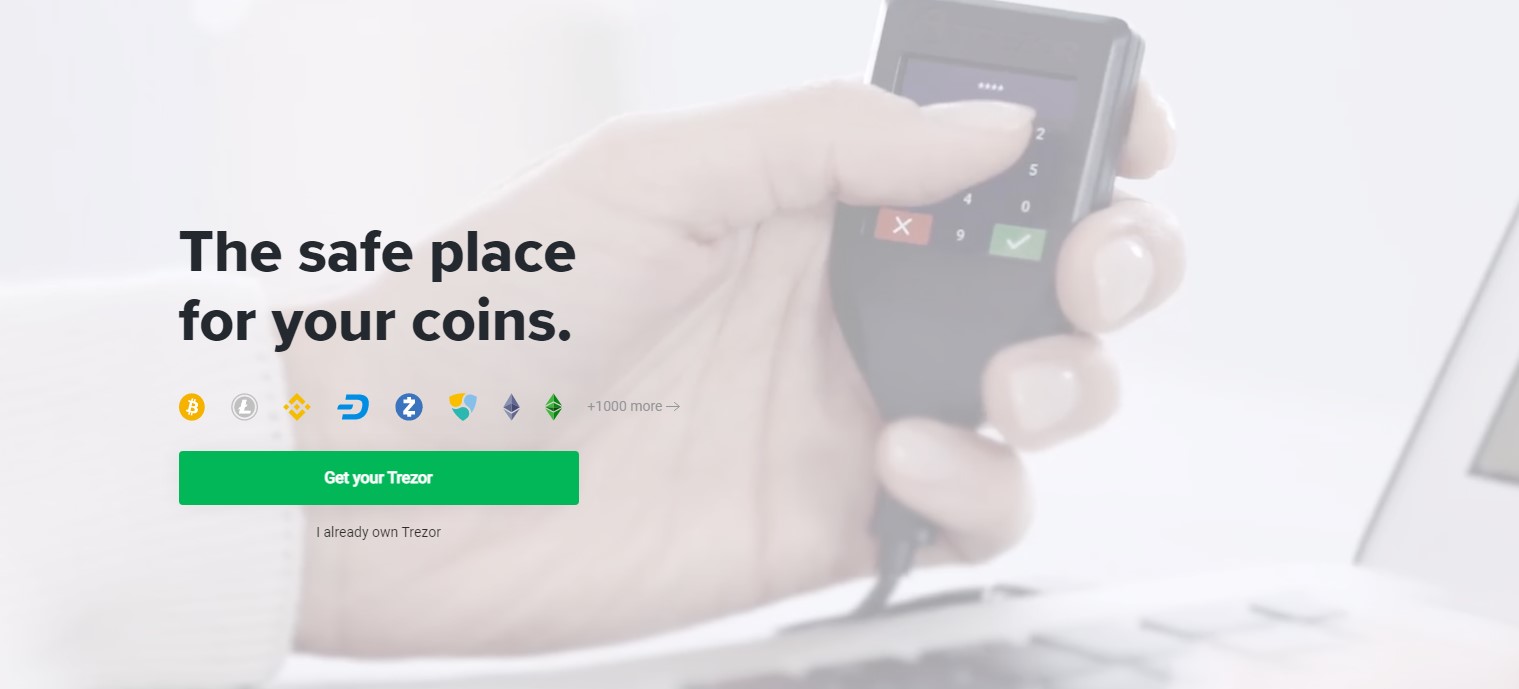 As implied, Trezor was the first Bitcoin wallet that gave users a compact hardware combo of unparalleled security and convenience of use. The wallet has evolved as a global brand offering users an attractive set of features that include no-password login, 2FA (two-factor authentication), as well as a Google, DropBox, and WordPress powered password manager. Apart from the high-security standards, Trezor's key advantage is its integration with some centralized cryptocurrency exchanges like Bitstamp, which will enable you to make transactions from and to the exchange directly through the wallet interface.
The Trezor wallet utilizes the Hierarchical Deterministic (HD) key creation and (BIP32) transfer protocol (BIP32) for creating wallets. Based on the price and the performance, it directly competes with Ledger Nano S.
The basic Trezor model is called Trezor One and it comes with all of the integral features needed to protect your private keys against malware actors. Despite the small screen and two-push buttons, it features exceptionally easy and comfortable navigation. The original One model is SatoshiLab's best-seller as it provides cost-efficient and practical storage space for your crypto coins. For that reason, we'll focus on Trezor One as a more commercially accepted product.
The company has also released an upgraded, more expensive version of Trezor One, known under the name Trezor Model T, which will cost you a handsome amount compared to all other hardware wallets out there. On that account, you'll get enhanced security features, touchscreen, more sophisticated hardware design, and an additional number of supported cryptocurrencies.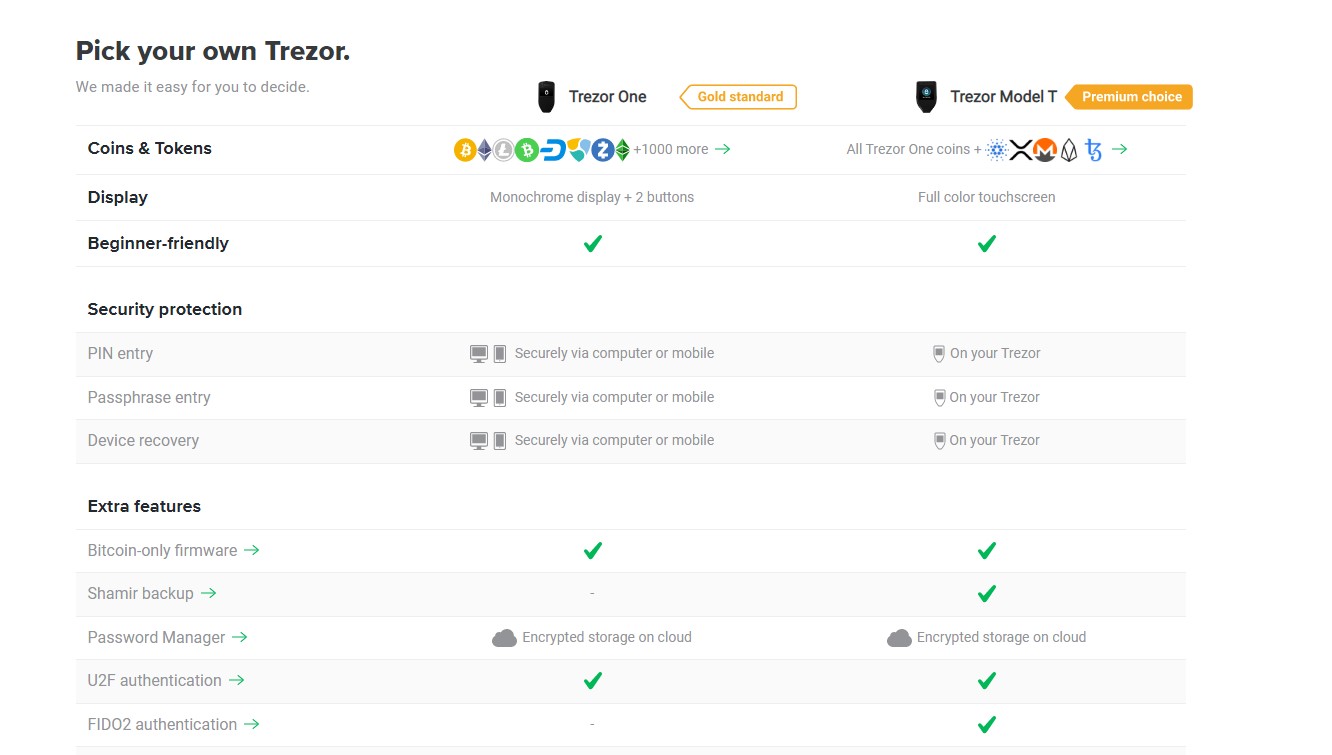 How to Get Started With a Trezor Wallet
If you've gathered by now that a hardware investment will pay off in the long run and want to order the basic Trezor model, then look no further than their official website. You can also order the wallet from Amazon and other authorized Trezor resellers. 
The Trezor box comes with thin cardboard that is sealed with hologram security stickers. Inside, the package contains:
The Trezor device;
A USB cable;
Keychain, stickers, and lanyard;
A device handbook and seed backup cards.
Setting up a Trezor wallet is rather simple and fast thanks to the comprehensive guidance provided during the process. Here are compact step-by-step instructions you need to follow after you get your wallet delivered to your home address. Remember that the setup is the same for both Trezor models.
Connect the Trezor wallet to your computer via a USB cord that comes together with the Trezor package. 
You'll need some software support to set up the wallet. Access trezor.io/start through a supported web browser Mozilla Firefox, Chrome or Brave Browser.
Choose a model — Trezor One or Trezor T depending on what you've ordered.
Now it's time to download and install Trezor Bridge. After the software package is successfully installed, you'll just need to refresh the page.
Finally, once you have the page refreshed, the wallet will automatically recognize the device and you will have to install the firmware. You won't have to take any additional actions but confirm the install firmware option. When done, the device will reboot and you'll need to disconnect the wallet and reconnect it immediately after that. 
How to Set Up a Trezor Wallet
Now that you have the new firmware loaded, Trezor will start by creating the wallets. First, you will have to choose between Set Up a New Wallet or Restore an Existing One. You can select the latter if you've lost or damaged your previous wallet device and have the 24-word recovery seed with you.
If you're a new holder, now it's time to set a backup for your wallet even though technically, your Trezor is all set to go at this point (you can see the status of this facility through the progress bar on the wallet). When creating a recovery seed, you should pay proper attention to its safe storage. Your passphrase will be the only safeguard to rely on in case something happens to your wallet. Never save the seed phrase in a digital form and keep it in a safe place.
Trezor allows you to choose a wallet name. It comes in quite handy in case you possess more than one Trezor model. All you have to do is insert the name in the text box and confirm the action on the wallet device.
Then, add a wallet-generated PIN code as a standard form of protection against unauthorized access. The Trezor wallet will show you a PIN field with numbers from 1-9 arranged in random order. To prevent any malware from getting access to your PIN, the fields of your PIN code won't be displayed on the browser. 
How to Make a Transaction
Once you complete the setup, connect the TREZOR One to your computer and go to wallet.trezor.io, which serves as the official Trezor wallet interface. You can also pair the wallet with other software wallet packages such as Bitcoin Wallet or Electrum.
You can manage over 1,000 cryptocurrencies with the Trezor wallet with Bitcoin (BTC) selected by default. To "fill" the wallet, go to Receiving, where you can generate one or more new addresses from the current account. This is one of the greatest Trezor advantages over its competitor Ledger Nano, which requires an already used address before being able to generate another one under the same account.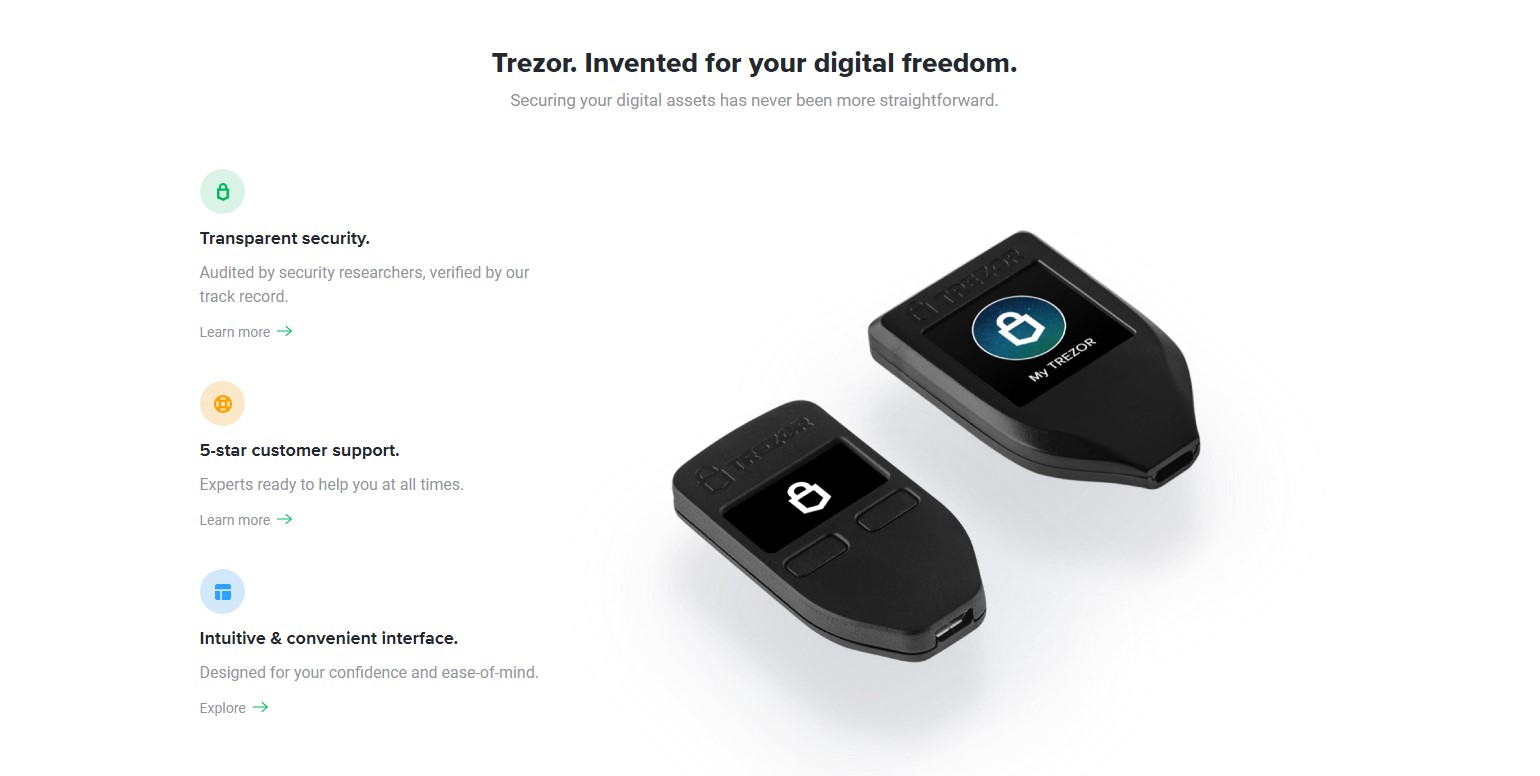 The address on the TREZOR One display must match the one on the computer screen so that you confirm it. After that, you'll be able to scan or copy it. When the transaction is completed with the address or one of the addresses, it will be shown on the home page with a clear overview of:
The sum of the account's inputs and outputs;
The current price of the coin;
The bar chart of the number of transactions completed in the past couple of days; 
A simple search option for all the transactions you have made.
You'll still be able to see or re-use the addresses that have already been applied.
Bitcoin and Other Supported Cryptocurrencies
Apart from security standards, the number and types of supported cryptocurrencies are very often the deciding factors when choosing the most suitable wallet. When it comes to Trezor, the wallet aims at implementing all official coins and so far, it can house over 1,600 coins.
Apart from BTC and Ethereum (ETH), the impressive list includes the most frequently traded altcoins such as Dogecoin (DOGE), Litecoin (LTC), Stellar (XLM), and Monero (XMR), as well as the full range of ERC-20 tokens including Aave (AAVE), SushiToken (SUSHI), and Basic Attention Token (BAT). Remember that the list of supported coins of the Trezor One model is more limited than the Model T version. For example, the former doesn't support some of the classics like Cardano (ADA) and Eos (EOS). 
You can read the full list of available coins on Trezor's official website.
Supported Software and Services
Trezor has been present among the avid crypto community for quite a long time and hence, you can find a variety of Trezor apps, due to its global popularity. This includes web or software services that have integrated Trezor via the official API.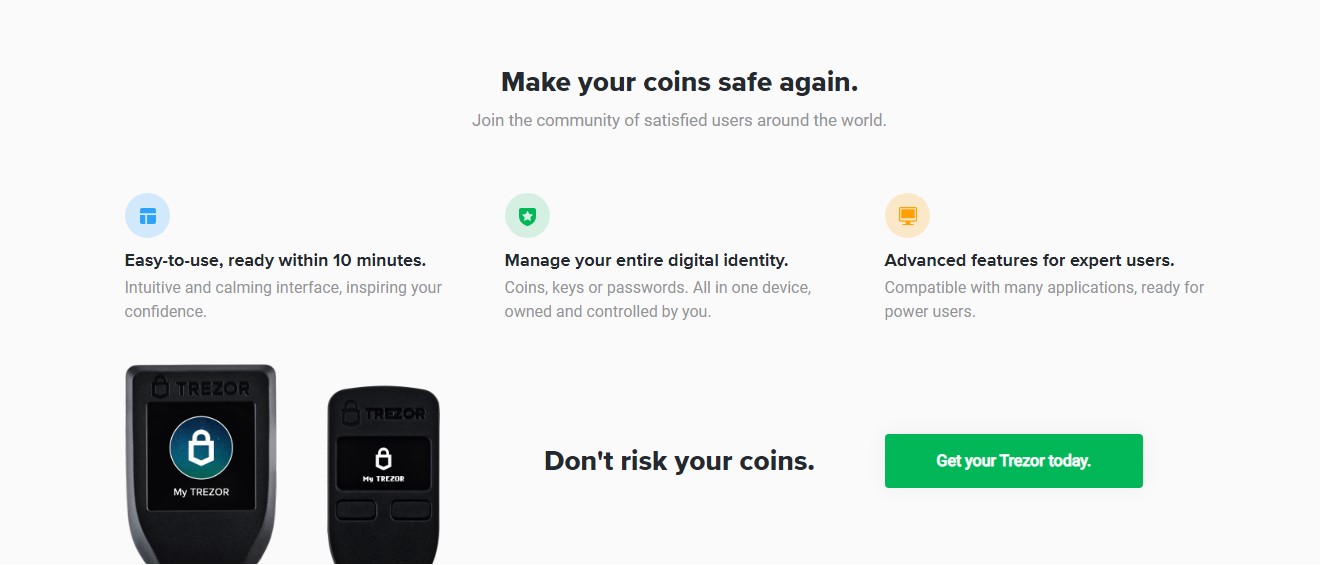 For users, this means that they can directly communicate with the wallet on another independent and more-user friendly crypto wallet or service. The Trezor system supports the following wallets: Electrum, Electrum-LTC, Electrum-DASH, Mycelium, MyEtherWallet, MyCrypto, Etherwall, Exodus, MetaMask, Walleth, and Nano and these external crypto services: Bitstamp, Bitex, Faa.st, Emoon Portfolio, Coinmap, Coinmate, Cryptee and Coinpayments.
A Few Words Before You Go…
The Trezor One is a world-renowned product with an affordable price that delivers superb functionality to both novices and seasoned traders. From the initialization to navigation of the interface and input and output transfers, the user experience is smooth and comfortable, contrary to the popular opinion about the obscurity of hardware wallets.
Moreover, the SatoshiLab team has built an image of a credible company that spares no efforts in making continuous security improvements and provides more educational content than any other hardware wallets available on the market today.
Thus, if you've decided to invest in a reliable hardware wallet instead of relying on an in-exchange or mobile wallet, look no further than Trezor One. The wallet may not feature high-tech facilities like touchscreen or Bluetooth but you'll always know that your crypto holdings reside on a safe destination ready for hassle-free transfers.
Frequently Asked Questions
The best part of the TREZOR hardware and software is in fact, open-source. You can get full access to the code on their public GitHub.
Is Ledger better than Trezor?
Both wallets are well-established brands in the industry when it comes to providing impeccable security of your crypto holdings. However, Ledger may be a better overall solution as it comes with a lower price for the nearly same functionality. On the other hand, Ledger has recently faced a marketing database breach, which gave Trezor a superior security edge despite coming at a higher price. 
Can Trezor wallet be hacked?
It's impossible to give a straightforward answer to this question because in theory, Trezor is immune to hacker attacks, which is supported by the fact that the wallet has never been virtually hacked so far. On the other hand, there is a case of physical attack, when Kraken Security Labs hacked Trezor in only 15 minutes but for this to happen, the thief must have immediate access to the compromised wallet. Thereby, the Trezor wallet will be safe as much as you keep it safe.
Can I connect Trezor to my mobile phone?
The Trezor hardware cryptocurrency wallet is mainly supported by desktop operating systems like Windows, Linux, and macOS, and has browser support by Chrome and Mozilla Firefox.
The wallet system also provides mobile support for Android phones (via USB-C) but there is currently no support for iOS. The manufacturer of TREZOR has launched a separate Android app known as TREZOR Manager for this purpose. You can also utilize a third-party application, i.e a mobile app wallet for a better user experience. 
A recovery seed or only seed is a set of words in a determined order that keep all information you need to recover a wallet in case it gets lost, stolen, or damaged. You must write the words down and keep them safely and discreetly sealed away since anyone who has access to your seed can also access the assets stored in your wallet. 
When using Trezor Suite, the default setting for Trezor Model T generates a 12-word seed, while Trezor One creates a 24-word seed. Afterwards, you can adjust the seed to 12, 18 or 24-word seed on both wallet models.
How to reset my Trezor wallet?
The Trezor settings can be completely wiped and you can do that in the following way:
Connect to your wallet and visit wallet.trezor.io;
When asked for a pin, insert "x";
Go to the Advanced tab and select Wipe Device.
A Few Words Before You Go...
Bitpanda is a prominent European exchange with a mission to simplify the complicated world of investing. Bitpanda allows individuals to build their financial destiny on their own terms, providing a range of digital cryptocurrencies, a user-friendly interface and a dozen of payment options.
The user interface has been created for a variety of user types from novices to experienced traders on its Bitpanda Pro platform. Bitpanda has thrived in the crypto industry by allowing users to engage in a variety of markets via a single platform, including cryptocurrency, stocks, and metals.
This page was last updated on August 23, 2022