What Can I Buy With Bitcoin in Australia? 2023
What can you buy with Bitcoin, the most popular virtual currency created by Satoshi Nakamoto in Australia? That is a great question that we'll answer in this post. As Bitcoin grows in popularity among the general public, more companies are beginning to accept cryptocurrency payments. As a result, investing in digital assets might be a great addition to your financial portfolio as well as a new way to improve your profits.
With this in mind, it's easy to see why cryptocurrency exchanges have risen to fame in recent years. In response to the growing demand for their services, the majority of these platforms have grown internationally with the wider adoption of Bitcoin as a payment method.

Nevertheless, often people fail to grasp the real aim of Bitcoin, which is to serve as an alternative payment mechanism to traditional money. If individuals do not spend Bitcoin, its primary function is gone. How can Bitcoin become a popular payment mechanism unless more people start using it?
Therefore, in this article, we'll go through the process of how and on what to use Bitcoin in Australia.
Things You Need To Spend Bitcoin
In order to spend Bitcoin, you'll need to purchase some Bitcoin (BTC) first, get your own wallet to store your coins, a retailer who accepts Bitcoin, and their receiving Bitcoin address.
Buy BTC on a Cryptocurrency Exchange
Without a question, the most convenient way to purchase your first Bitcoin is through a Bitcoin exchange that allows you to link your bank account to your exchange account. Such crypto platforms allow you to deposit cash in your local currency and quickly buy Bitcoin. Swyftx, CoinJar, CoinSpot are the most popular crypto exchanges in Australia to buy Bitcoin and trade cryptocurrencies. 
However, if we have to pick one exchange our definite choice would be Swyftx since it's extremely simple to use, has a dedicated support team, and offers the lowest trading fees in Australia. Plus, more than 200 digital currencies are available for trading against Australian dollars (AUD), US dollars (USD), and BTC. This implies that beginners won't have to worry about exchanging fiat currency for cryptocurrency on other exchanges. If you want to try international platforms, we recommend Coinbase and Binance.

However, please note that not all platforms support all payment options, if you have a certain payment method in mind, it might be useful to seek an exchange that accepts it.
The majority of Aussie crypto exchanges allow bank transfers and payment methods including POLi Payments, BPAY, PayID, and Osko, and in some cases PayPal. Most of these transfers are often free and near-instant, making them a good alternative when available. 
Besides cryptocurrency exchanges, you can also buy Bitcoin via Bitcoin ATMs which is one of the easiest ways to buy/sell Bitcoin. One distinguishing feature of Bitcoin ATMs is that they do not require bank accounts to be used. However, to receive your Bitcoin, you will need a secure Bitcoin wallet.
Store your BTC in a Bitcoin Wallet
A Bitcoin wallet is a digital wallet that is used to send and receive bitcoins. Every Bitcoin wallet has a set of private keys that correspond to the customer's blockchain address book. These keys are used to sign Bitcoin transactions, granting the user authority over the bitcoins stored in that address.
The main types of crypto wallets are mobile, desktop, hardware, and paper wallets.
Desktop wallets can be downloaded on a desktop or laptop computer. Some desktop wallets provide extra features like node software or exchange integration. For example, Blockstream Green is a secure and unique desktop wallet. Should you ever suffer a loss of your backup, it relies on a 2-of-2 style backup so that you are able to use any two-factor authentication (2FA) to recover it. Ledger Live is another desktop wallet that can be used together with a Ledger hardware wallet.

Mobile wallets work similarly to desktop wallets, but on a smartphone or other mobile device. Mobile wallets are a convenient way for a customer to make in-store purchases, and they may be utilized at businesses that are registered with the mobile wallet service provider. Apple Pay is a mobile wallet that enables users to make payments in person, on the web, and also in iOS apps. It is supported on every one of the Apple products. Samsung Pay is another mobile wallet that enables payment and digital wallet service with compatible phones and other Samsung devices. 
Both desktop and mobile wallets are types of software wallets. Hardware wallets, on the other hand, store your private keys offline, on a physical device that's not connected to the Internet, and are without a doubt the safest form of Bitcoin wallet. These devices are similar to USB drives. When a customer wants to perform a Bitcoin transaction on their laptop, they insert the hardware wallet, which may verify transactions without risking the customer's private keys.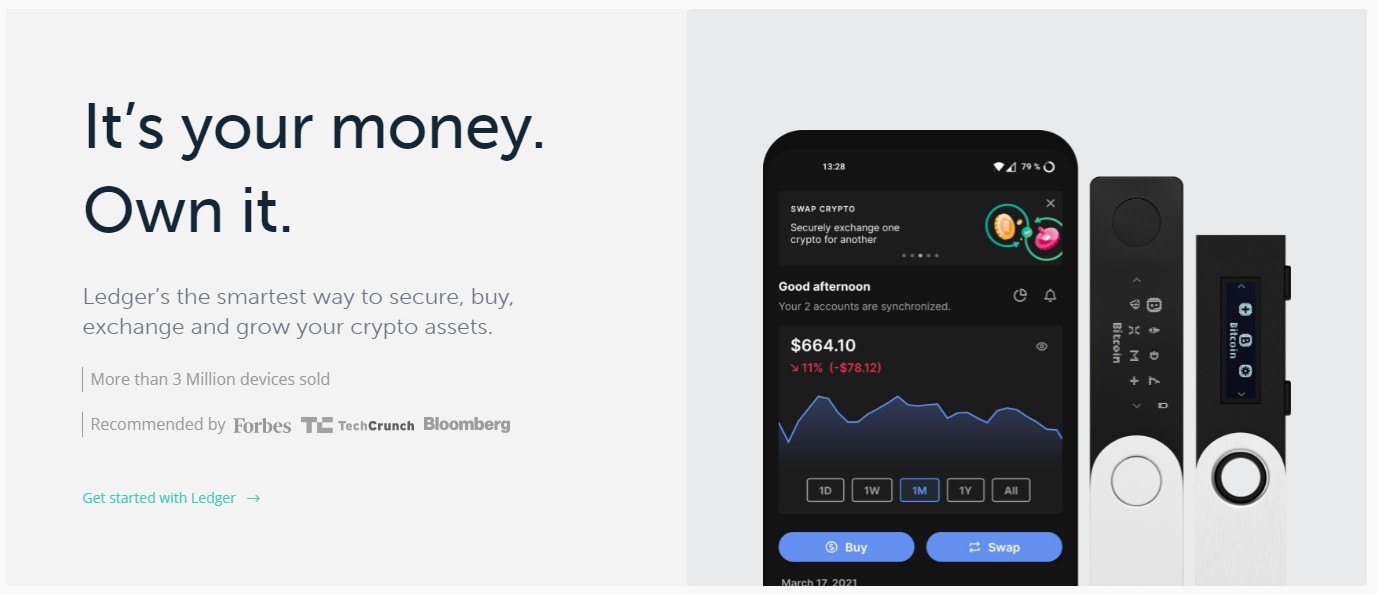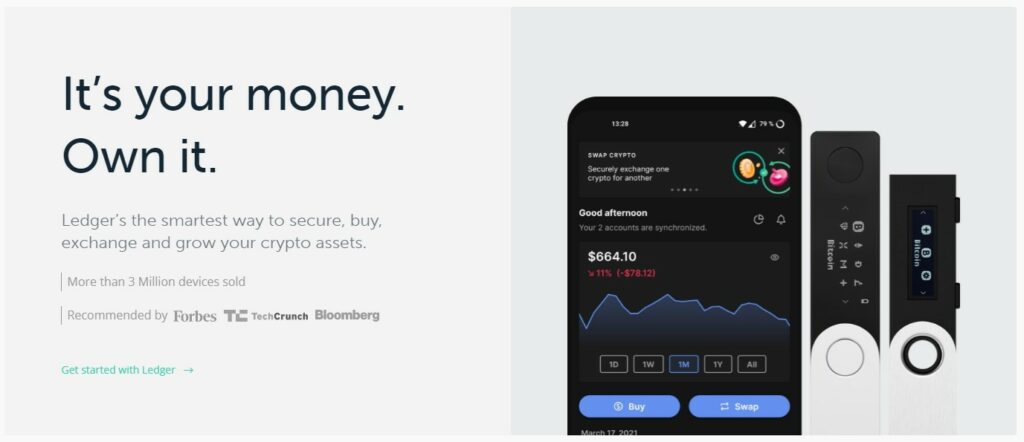 Ledger is one of the most well-known and trusted names in the hardware wallet industry. They use unique technologies to create safety and infrastructure solutions. Trezor Model T is the most user-friendly hardware wallet. So, if you are a newbie, you should buy this wallet since it provides great safety for first-timers who wish to invest in a significant amount of currency.
Finally, paper wallets, as the name implies, are wallets made of paper, much like traditional currencies. They generate your public address and private key as a QR code that you may scan for verification. A paper wallet is a non-custodial cold storage wallet, which means you control the keys and the wallet is not linked to the internet.
You'll need a way to spend your Bitcoin once you've purchased it from an exchange and kept it securely in a secure digital wallet. To spend Bitcoin, you must first locate businesses that accept Bitcoin. This might be an internet retailer or even your local market.
Once you've identified a seller who supports Bitcoin payments, transfer BTC to their public wallet address. The public address could be in the form of a QR code or an alphanumeric sequence that you can scan or store on your device during the transaction.
What Can You Buy With Bitcoin in Australia?
In Australia, Bitcoin is highly popular and widely accepted as a common means of payment by a range of companies. This demonstrates that the general population is gradually coming to embrace Bitcoin for what it is.
Also, in 2017, Bitcoin and other cryptocurrencies were finally recognized as property in Australia and are now subject to Capital Gains Tax (CGT). This portrays the country's progressive integration of the cryptocurrency industry into the Australian economy.

So, what can you purchase in Australia using Bitcoin?
Since Australia is a major tourist destination, many restaurants, cafés, and bars accept Bitcoin payments. Particularly in popular places like Melbourne, Sydney, and Brisbane. There are also a number of medical facilities and pharmacies that support cryptocurrency payments.
If you like traveling around the country, there are many hotel options that now offer BTC as a payment method. The Norfolk Hotel is a one such example. Not only can you enjoy their excellent food and reasonably priced accommodation, but you can pay for it in BTC too.
Where Can You Spend Bitcoin in Australia?
Overstock is one of the largest online retailers that support crypto purchases. Overstock enables customers to buy luxury clothing and furniture not only with Bitcoin but with a variety of other cryptocurrencies like Litecoin (LTC), Ethereum (ETH), Ripple (XRP), etc.
Microsoft was an early Bitcoin supporter and accepts Bitcoin as payment for games, applications, and other digital content for platforms such as Windows Phone and Xbox since 2014.

Shopify is the home of hundreds of thousands of shops, many of which support Bitcoin. The payment processor BitPay is used by the Shopify platform to make it simple for retailers to offer this payment option.
Purse.io is most likely the most popular Bitcoin option for purchasing on Amazon.com. The website connects users who want to use Bitcoin to pay for items on Amazon with those who want to swap their Amazon gift cards for Bitcoin.

There are numerous physical shops that accept Bitcoin and see the future of secure online payments in cryptocurrency. These include places like eGifter, the Metropolitan Hotel Sydney, Earth & Sky Organics, Forsyth Real Estate, 2Gems Media, Dream Vision Sounds, and many more. 
To begin with, eGifter enables users to buy gift cards with Bitcoin and spend them with a variety of merchants and online shops. You can use Bitcoin, or your Visa debit card or credit card.
Next we have The Metropolitan Hotel Sydney, one of the oldest pubs built in 1834 and was recently renovated in 2015 that is accepting BTC payments. There is a Public Bar and Gaming Room on Level 1, a restaurant on Level 2, and the Metropolitan Hotel rooftop bar on Level 3.

In Melbourne, Earth & Sky Organics provides seasonal boxes of Organic & Biodynamic Fruit & Veg as well as a handful of essential food products that can be bought with BTC.
There's also Forsyth Real Estate, a Sydney-based real estate brokerage that will take BTC payments for advertising and deposits thanks to its partnership with the Bitcoin payment platform CoinJar.
If you need a video, the experts at 2 Gems Media can help. The crew is available for private gatherings as well as major business events. They can also help with real estate and small company marketing films and accept BTC payments too.
A Few Words Before You Go…
Without a doubt, Bitcoin is a highly popular way of purchasing various products and services in Australia and is accepted as a common means of payment by a wide range of companies. This demonstrates that the general population is gradually coming to embrace Bitcoin for what it is.
In addition, the fact that the Australian government has changed its position in the cryptocurrency sector demonstrates the country's progressive ideals, regulation, and integration of the cryptocurrency industry into the Australian economy.
This page was last updated on August 23, 2022