Instead of giving you the answer to What coins does Exodus support? it might be better to start with the list of coins it doesn't support! As a multi-currency wallet, Exodus can store over 150 cryptocurrencies, including some of the most popular and trendy digital assets.
If you are looking for an all-in-one desktop or mobile wallet that lets you be in charge of your own private keys and gives you the freedom to monitor, trade, and control dozens of altcoins, the Exodus wallet is a great choice. Unlike online exchange wallets such as a Coinbase or Binance wallet, this wallet gives you complete control over your assets. You can also pair your Exodus with hardware wallets to increase its security.
To help you get started, we prepared a short Exodus wallet review where we talk about how you can use the wallet to store and trade your cryptocurrency.
What Is Exodus Wallet?
Exodus wallet is a product of Exodus Movement, INC., founded by Daniel Castagnoli and JP Richardson. The founders were relatively early comers to the crypto space and set out to make a Bitcoin wallet that could securely hold blockchain assets. Exodus Movement, INC. is a publicly-traded company since 2021.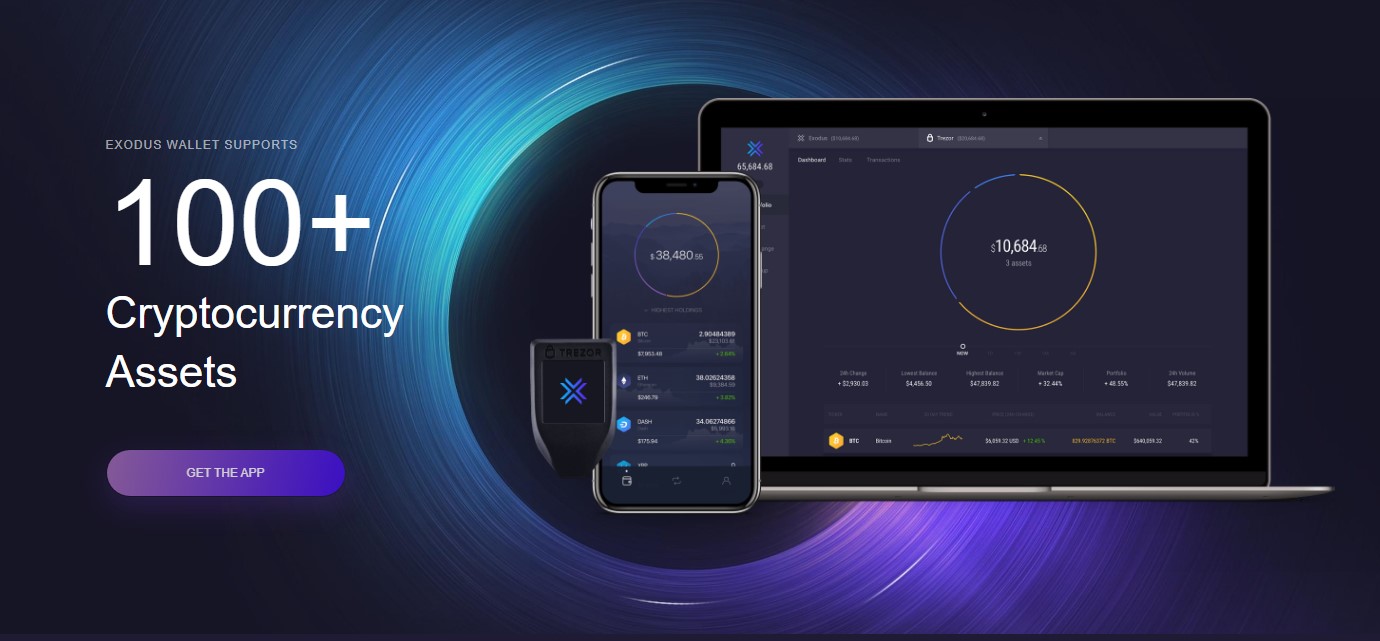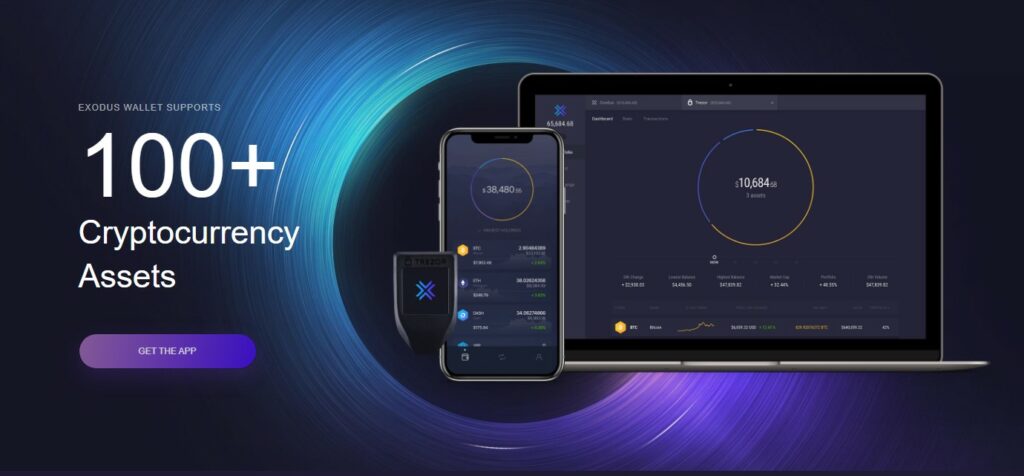 Exodus separates itself from other crypto wallets on several important metrics: first of all, it can store more than 150 coins, including all ERC-20 tokens. The Exodus support for new and up-and-coming coins is an important matter for traders who want to trade altcoins. Of course, you can also use Exodus to trade established crypto assets like Bitcoin and Ethereum.
Even though you can use Exodus to store and trade multiple currencies, this is not some heavy software that would slow down your computer. It is a lite wallet that saves you the trouble of downloading the entire blockchains on your computer. Moreover, Exodus uses Simplified Payment Verification that requires a couple of blockchain confirmations to execute transactions.
Another great feature of Exodus is that it can be used to exchange cryptocurrency directly within the app. You don't have to send your digital assets to another cryptocurrency exchange in order to start trading.
Features of Exodus Wallet
Exodus is an all-purpose wallet. You can use it to monitor your digital assets and make transactions, swap cryptocurrencies, and earn rewards. In addition, with Exodus wallet, you can access a live portfolio of all your digital assets that Portfolio page shows the value of each cryptocurrency in fiat currency, and prices are updated in real-time.
This means you can easily see how much your assets are worth at any time and follow price movements through your digital wallet. Since Exodus contains an integrated exchange feature, it is also possible to trade your coins easily while you are following price swings. For example, you can see how much Bitcoin or Ethereum you own and how much the coins are worth in real-time, plus trade them directly on the Exodus integrated Shapeshift app.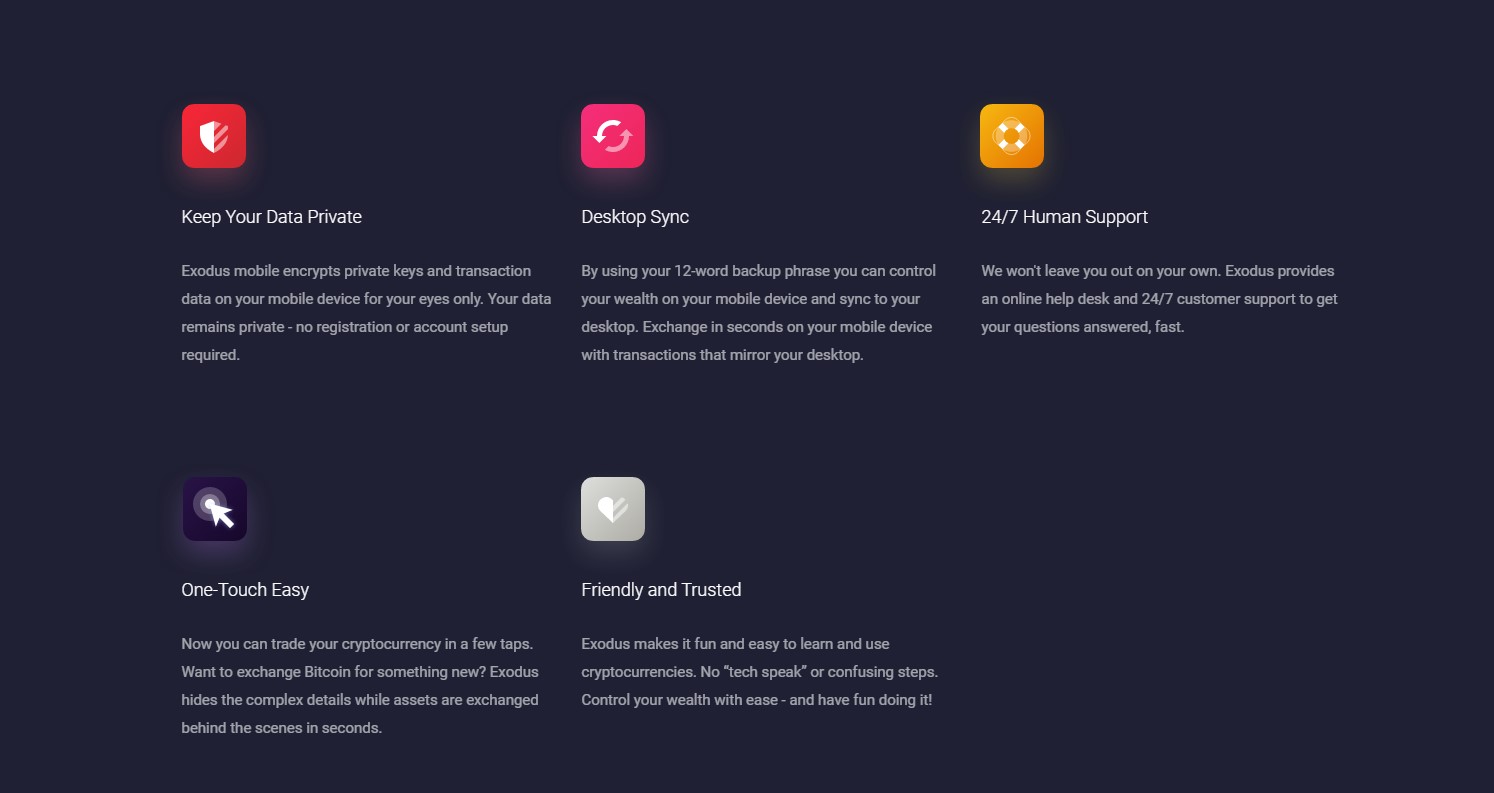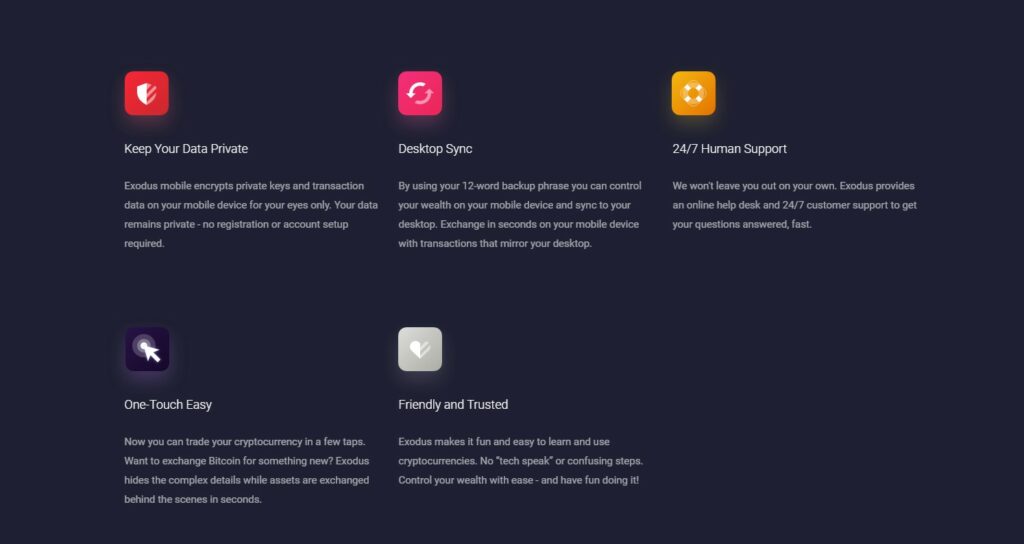 Another great advantage of using Exodus is that you are able to stake your cryptocurrencies within the app. Exodus lets you stake different coins at a certain time, depending on the opportunities provided by the market. This way, you might be able to earn passive income on your altcoins that are lying quietly in your portfolio.
You can connect your Exodus wallet to a Trezor hardware wallet to make it extra secure. Since hardware wallets are completely offline, you can mitigate the risk of using a hot wallet (desktop and mobile wallet) by pairing your wallets.
Bitcoin and Other Supported Cryptocurrencies
We have talked about how Exodus is a multi-currency wallet. That means you can store (and trade!) many cryptocurrencies in the Exodus wallet. Here is an incomplete list of cryptocurrencies Exodus wallet supports. You can find the full list on the Exodus website.
Bitcoin (BTC)
Ethereum (ETH)
Bitcoin Cash (BCH)
Litecoin (LTC)
Cardano (ADA)
Bitcoin SV (BSV)
EOS (EOS)
Tezos (XTZ)
Binance Coin (BNB)
Ethereum Classic (ETC)
Bitcoin Gold (BTG)
Tether USD (USDT)
Multi-Collateral Dai (DAI)
USD Coin (USDC)
Sai (old DAI) (SAI
NEO (NEO)
QTUM (QTUM)
Stellar Lumens (XLM)
Zcash (ZEC)
Aragon (ANT)
Dash (DASH)
Decred (DCR)
Monero (XMR)
Ripple (XRP)
Tether (USDT)
EOS (EOS)
Gnosis (GNO)
Chainlink (LINK)
Exodus Wallet Security
The Exodus wallet is a software wallet for your computer and mobile devices. While this is a convenient method to access your crypto, there are some risks to storing your cryptocurrencies on hot wallets since these devices are connected to the internet. If your computer is hacked, your assets can be lost. That said, Exodus has some features that mitigate that threat.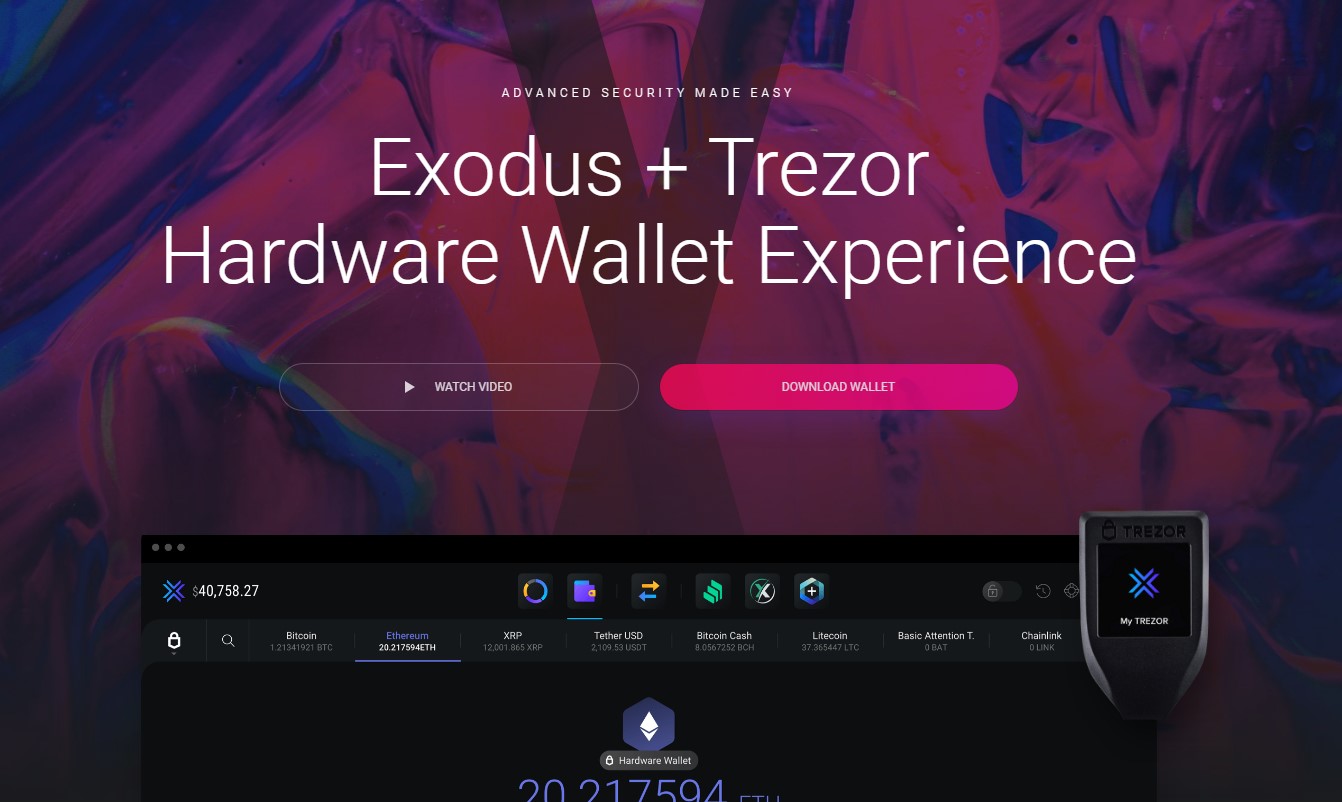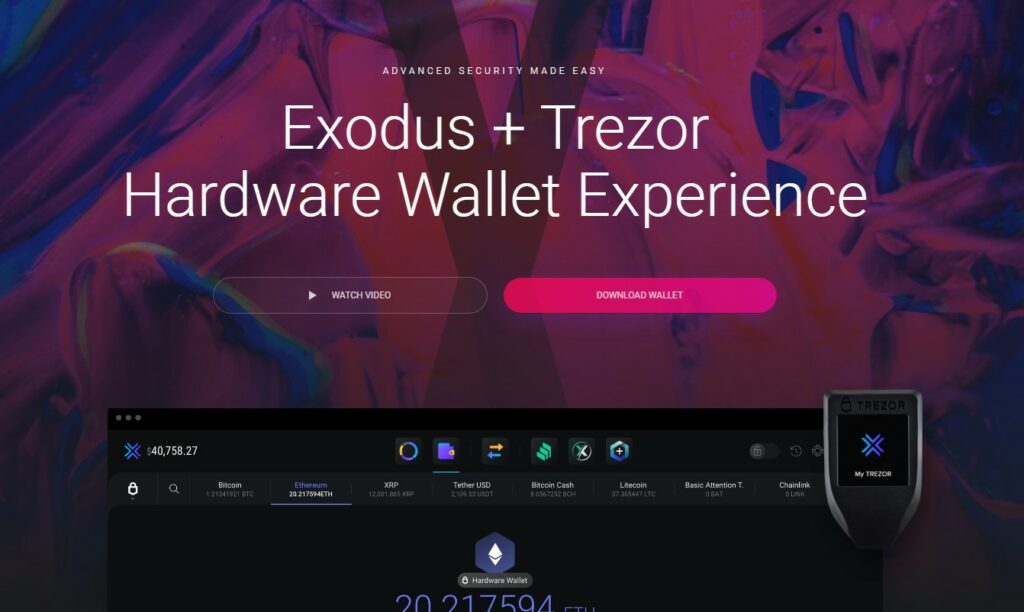 First of all, you need a password to access the Exodus wallet. If your password or your device is lost, you can regenerate your wallet using seed phrases. The same goes for hacking attempts. If you think your wallet has been compromised, all you have to do is to regenerate your wallet using a 12-word seed phrase list and move your assets somewhere else. Exodus had a bad rep for allowing wallet restoration through email but this feature is no longer supported.
Since Exodus is a non-custodial software wallet, you are in control of your keys and no other party has access to your private keys and your blockchain assets. This is different from most online wallets where the wallet operator controls your keys. In such cases, an exchange can vanish overnight, taking away all your investment in the blink of an eye. That is why people are advised against leaving huge sums of cryptocurrency in online wallets.
Exodus doesn't have security features such as multi-signature or two-factor authentication (2FA). If you want to make sure your assets are safe, your best bet is to use a hardware wallet along with Exodus. Exodus supports Trezor Model T or Trezor One, and you can use them in tandem with your Exodus wallet.
Exodus Wallet Support
Exodus developers went the extra mile to make the wallet beginner-friendly, as anyone can intuitively access the wallet features without having to spend time learning to navigate the app. The wallet also includes a help desk and is quite user-friendly in general.
You can also use Exodus social media pages like Exodus Slack, Facebook, and Twitter to request help.
In addition, Exodus also has a mobile app that works with IOS and Android devices. Make sure to download the official app from Google Play Store or Apple Store. Some hackers advertise fake Exodus apps as the real thing in order to steal crypto assets, so follow the links on the official website to make sure you have the authentic version.
Exodus Wallet Review
Exodus wallet generally has positive reviews on the internet and is considered a good wallet for beginners and experienced altcoin traders. Its support for multiple digital currencies, as well as its integrated crypto exchange features, make it a popular choice among crypto users.
The platform's security received some criticism online but there have been no extraordinary security flaws. Since it's a hot wallet connected to the internet, its security depends on your security practices, so you should use a good firewall and protect yourself against hackers and especially keyboard trackers that might try to get your information.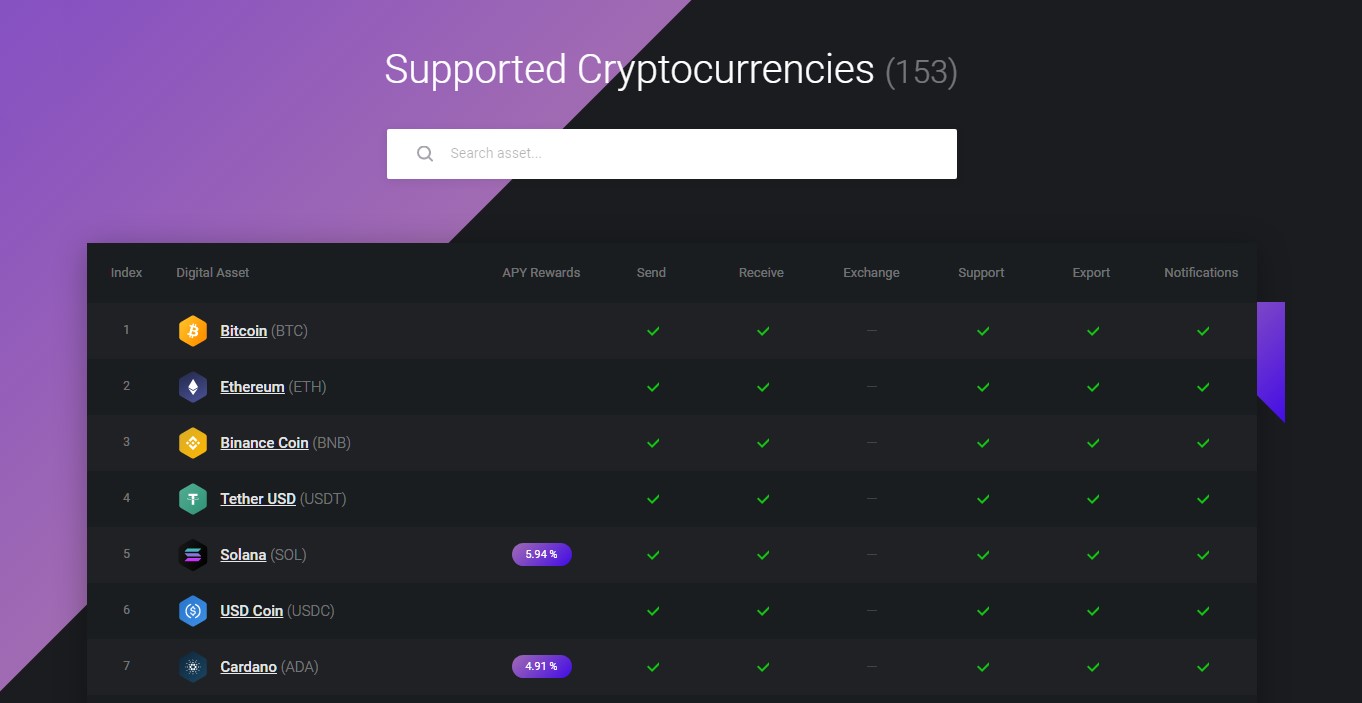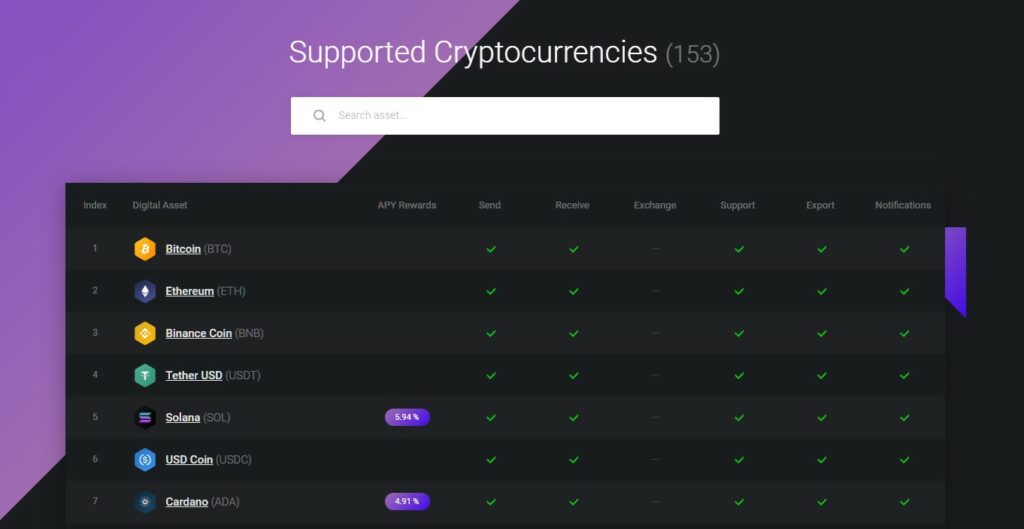 The main flaw with Exodus lies in its exchange feature. Unfortunately, you can't set custom transaction fees for cryptocurrencies, except for Bitcoin, when you are using the Exodus integrated exchange.
Overall, the ease of use and the combination of well-thought features make Exodus a decent cryptocurrency wallet.
A Few Words Before You Go…
Exodus is free, fast, easy to set up, and easy to use. Since it's a lite wallet, you can download it in no time and the set-up requires little effort. One advantage of using Exodus is that you don't have to give personal information to open an Exodus wallet.
Overall, Exodus is a convenient multi-currency wallet that can store more than 150 digital assets, including all ERC-20 tokens. It is generally regarded as a good software wallet option, especially for beginners and altcoin traders. Exodus has features such as an integrated exchange mechanism and staking opportunities that take the trading experience a step above many other crypto wallets on the market.
While Exodus received some criticism for its security practices such as lack of 2FA and multi-signature options, it makes up for it with its support for hardware wallets. If you want to explore other crypto wallets, you can also check our guide on alternatives to Exodus.