One of the most important issues you need to cover when dealing with cryptocurrencies is the question of safe crypto storage. Many crypto exchange platforms offer built-in crypto wallet services but these wallets are mainly meant as an intermediary point for storing your cryptos when you buy them or want to exchange them. It's much more secure to keep your main crypto stash stored in a third-party wallet that isn't tied to an exchange platform account. Exchanges can get hacked and the funds you're storing in the platform wallet can get compromised.
When it comes to crypto wallets, there are two kinds of storage options. Hot wallets are wallets that are based on software and have a constant internet connection. These wallets can be web wallets, accessed through internet browsers, desktop wallets that need to be downloaded to a PC and installed, or mobile wallets, which come in the form of wallet apps.
The other type of storage option are cold wallets, which are divided into paper wallets and hardware wallets. Paper wallets are simply pieces of paper with printed QR codes of your private keys, while hardware wallets are specialized USB devices with top-notch encryption technology, ideal for storing large amounts of cryptos safely offline.
In this guide, we'll take a look at Trezor.io, one of the most popular hardware wallet brands.
The Trezor Cryptocurrency Hardware Wallet
Trezor is one of the best hardware wallet brands on the crypto market with their Trezor One and Trezor Model T devices, right next to Ledger's Ledger Nano S and Ledger Nano X wallets.
The company that manufactures Trezor hardware wallets is SatoshiLabs, a veteran crypto company from the Czech Republic. SatoshiLabs was the first company in the world to develop a hardware crypto wallet, the Trezor One, in 2013. The device was launched on the market a year later and became a synonym for safe crypto storage. The more advanced Trezor Model T was revealed to the public in 2016, but the commercial launch happened two years later in 2018.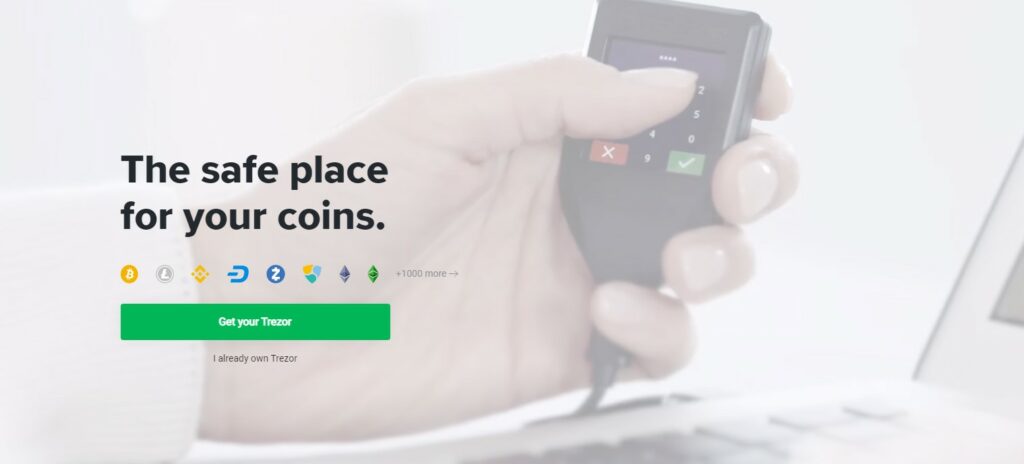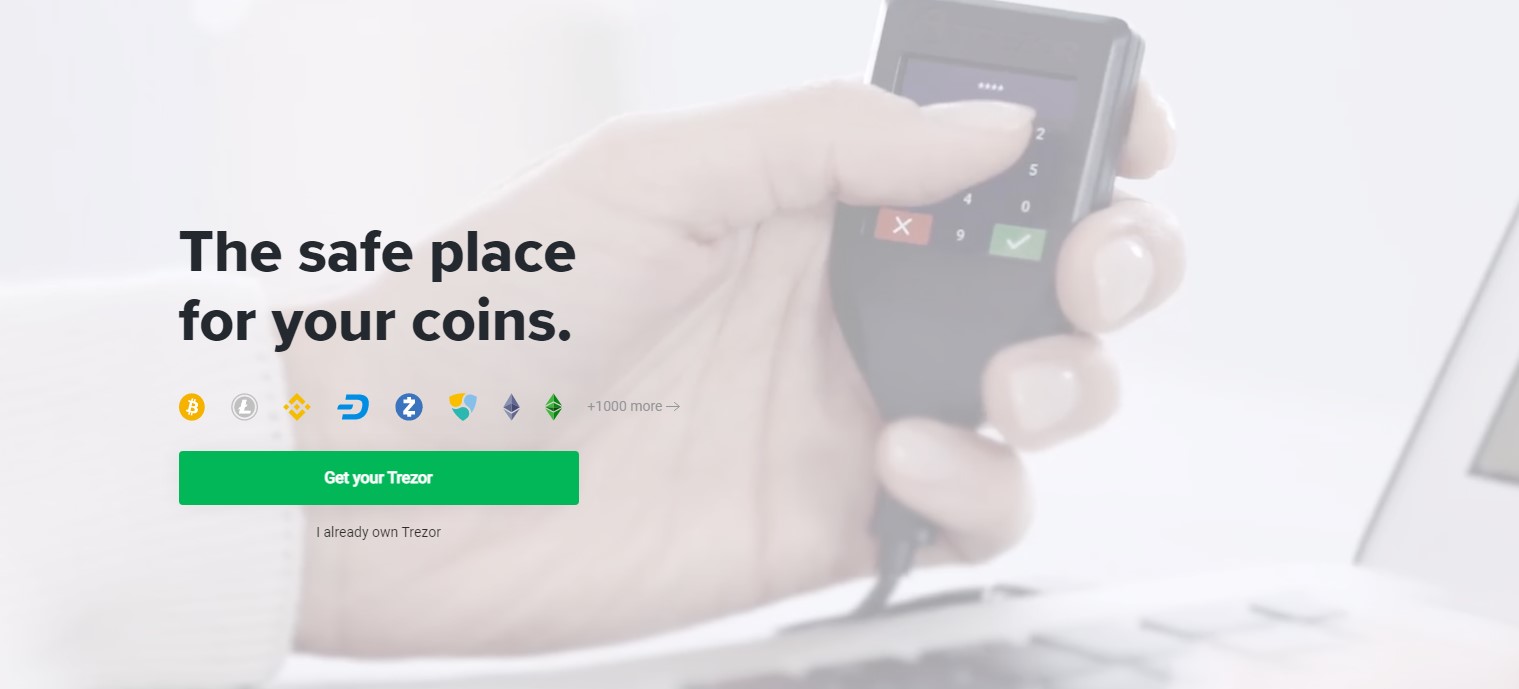 Before Trezor One, various forms of digital wallets were the only choice for fast and practical crypto storage. Sure, users had paper wallets at their disposal, but storing cryptos on paper wallets can be impractical and time-consuming when you want to facilitate a quick trade or exchange of assets. The launch of Trezor One was a truly revolutionary event in the world of cryptocurrencies because digital currencies became a prime target for hackers and cyber attackers. While hot wallets do provide a considerable amount of security, especially if they are reliable wallets like Trust Wallet, Electrum Wallet, Exodus, MyEtherWallet, or Atomic Wallet, it's far better to store your coins offline if you're looking to keep large amounts of cryptos totally safe from cyber attackers. 
This need for a safe and practical form of offline crypto storage was the main reason for the creation of the Trezor One wallet, which remains one of the most popular hardware wallets on the market to this day.
Trezor One
The Trezor One hardware wallet comes in the form of a small, specialized USB device that can be connected to a PC or laptop computer through a USB cable. The device has a small screen and two buttons that enable users to approve transactions without using their computer. All of your private keys are stored safely offline at all times.
In order to facilitate transactions, you need to connect the Trezor wallet to your computer and use the Trezor suite to manage your crypto portfolio. The Trezor firmware has encryption measures that enable password protection, PIN code login, wallet passphrase protection, and the software also makes sure that when you connect your device to a computer, the private keys stay separated from the internet connection. This means that even though you connected the device to the internet to facilitate a transaction from a crypto exchange account to your Trezor wallet, the private keys on the device still don't have an internet connection, so you don't need to worry about cyber attackers stealing your funds.
It's important to note that Trezor operates on an open-source system which enables it to easily update the support for hundreds of coins. The Trezor One device can support more than 1000 various crypto coins and tokens, plus, you don't need to install separate apps for each crypto you want to store, which is the case with Ledger devices. With Trezor, the company firmware is compatible with all the cryptos that are supported by the wallet, which means you don't have a limit on the number of different cryptos you can store. Your whole crypto portfolio can be safely stored on a Trezor device.
Trezor Model T
The Trezor Model T is the upgraded version of Trezor One, it's much more expensive than Trezor One, and it supports more than 1200 crypto coins and tokens. The device itself looks pretty much the same as Trezor One, except that it has a larger screen which is a touchscreen and the hardware is stronger. The Model T has a 168 MHz integrated ARM processor, compared to the 120 MHz of the Trezor One.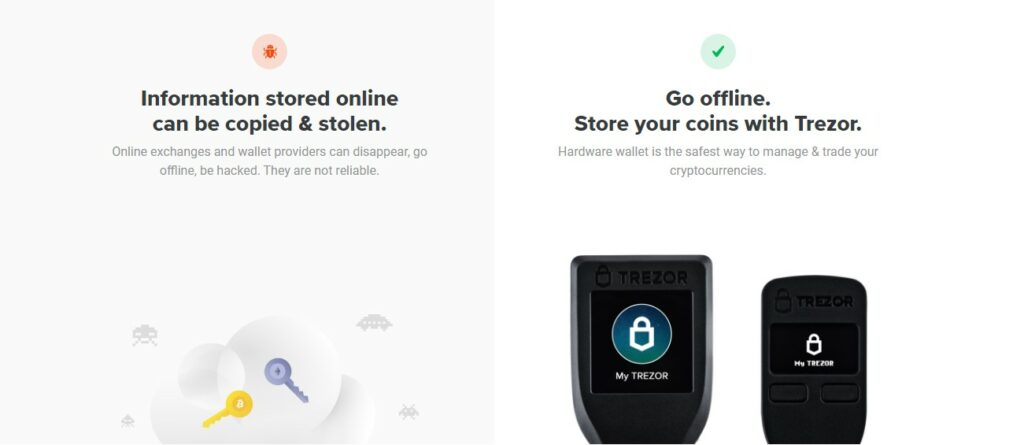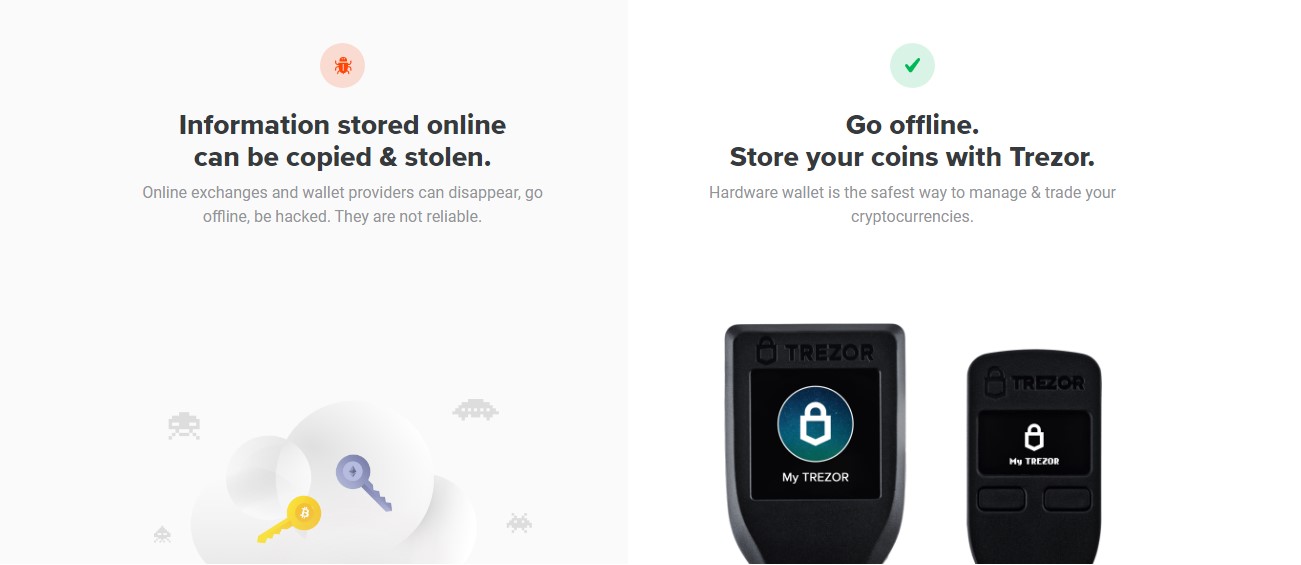 Also, the Model T has an SD card slot feature, FIDO2 advanced authenticator technology, and the Shamir backup protocol, which enables a highly advanced distributed seed feature that isn't available on Trezor One.
Security
Security is one of the key reasons why users buy Trezor products. They provide some of the best crypto storage security solutions in the industry. With the secure admin SSH login protocol, your data is fully protected at all times from unauthorized third-party login attempts.
The 2FA (two-factor authentication) ensures there are two security layers for every login attempt to your Trezor device.
For the purpose of managing encrypted files, passwords, and private keys, Trezor has a built-in GPG encryption feature. This feature enables users to keep their files safe even if their laptop gets lost or stolen and you can recover your private keys with the GPG backup feature.
When managing your cryptos, you can't access the wallet or confirm a transaction without the PIN code and your BIP39 standard passphrase. Your BIP39 passphrase isn't stored on the device, which means that even if someone attempts a manual hardware hack of your device, they still can't access it because they lack the passphrase. This is why you need to keep your passphrase safely stored in a secure location at all times.
In case the firmware signature which attempts to access the device is invalid, the Trezor bootloader is responsible for automatically erasing all device contents to prevent access to your funds in case someone attempts to access the device with a corrupted firmware version. Your assets remain safe at all times and you can recover them with your backup passphrase.
Supported Coins
Trezor devices support an enormous amount of various coins and tokens. While Trezor One supports more than 1000 coins, the Model T goes even further with a selection of over 1200 coins.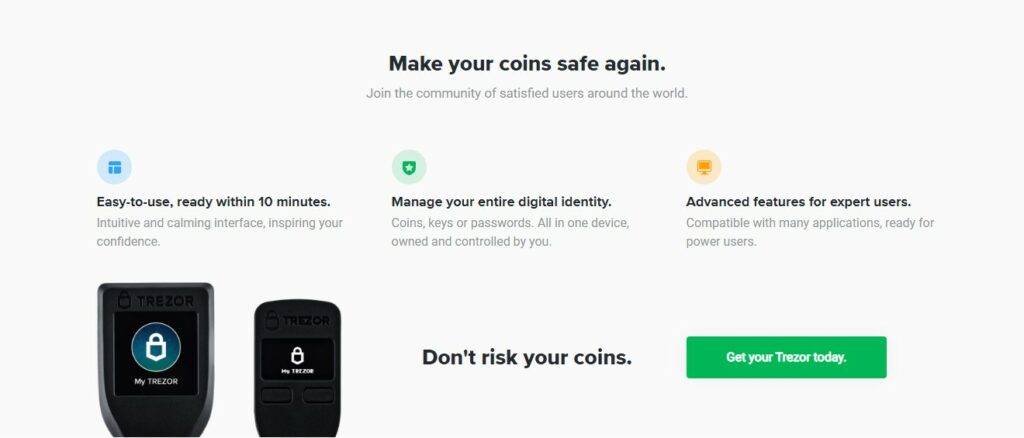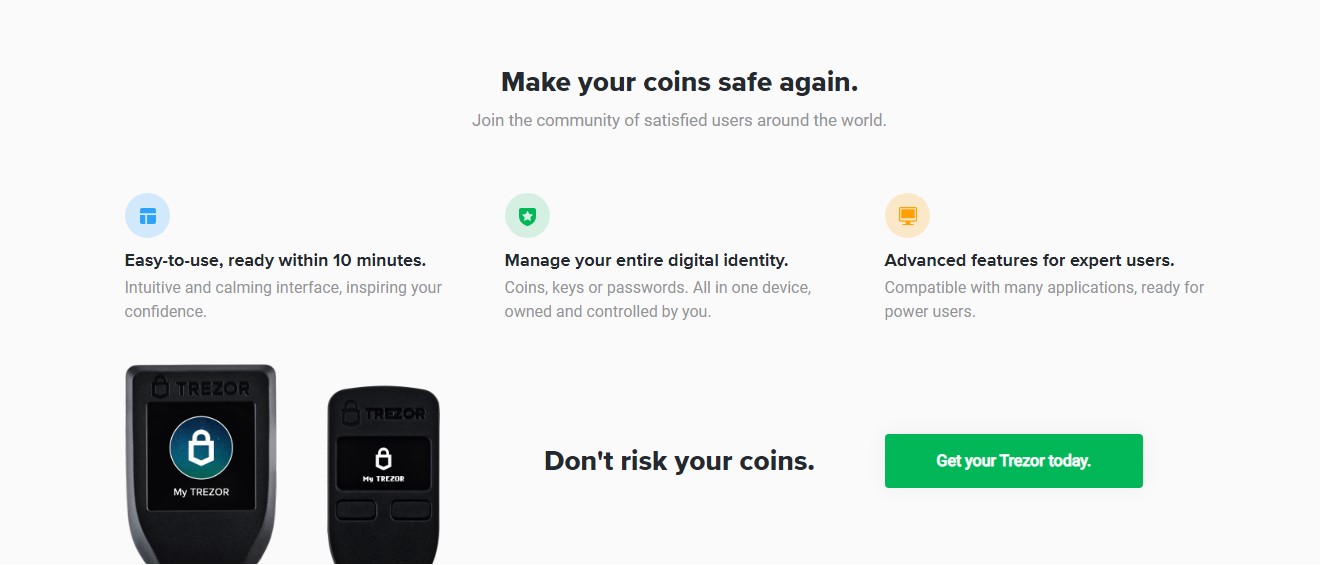 All of the most popular coins are compatible with Trezor devices, including many promising low cap cryptos. Available coins include Bitcoin (BTC), Ethereum (ETH), Tether (USDT), Stellar Lumens (XLM), Ethereum Classic (ETC), Dogecoin (DOGE), Bitcoin Cash (BCH), Bitcoin Gold (BTG), Monero (XMR), Cardano (ADA), Litecoin (LTC), Ripple (XRP), Zcash (ZEC), Eos (EOS), Dash (DASH), along with numerous other altcoins and ERC-20 tokens.
A Few Final Words…
Trezor wallets are some of the most trustworthy hardware crypto storage devices available. In case you want to store high volumes of cryptos, choosing a Trezor device to keep your assets safe and available for trading at all times is a perfect choice.