Cryptocurrencies and blockchain technology have gone a long way from Bitcoin (BTC) as the first digital currency, which is basically just used as decentralized digital cash. BTC is still the supreme ruler of the crypto market, but there are thousands of other cryptos and many of them are truly interesting projects that utilize blockchain technology to offer users much more than virtual cash.
Dock.io is one of those versatile and innovative crypto projects. It's an open-source digital credential blockchain protocol that enables users to fully control their digital credentials, including resumes, biographies, and all sorts of professional achievement records.
Let's take a closer look at Dock.io (DOCK) and what it offers to users.
Dock.io Background
Dock.io was launched by a team of experienced developers from different parts of the world, but the project headquarters are in San Francisco. The DOCK project was initiated by Nick Macario, a web app marketing veteran, and co-founder Elina Cadouri who had a vision of creating a fully decentralized and secure digital environment for data exchange, unlike what centralized platforms offer.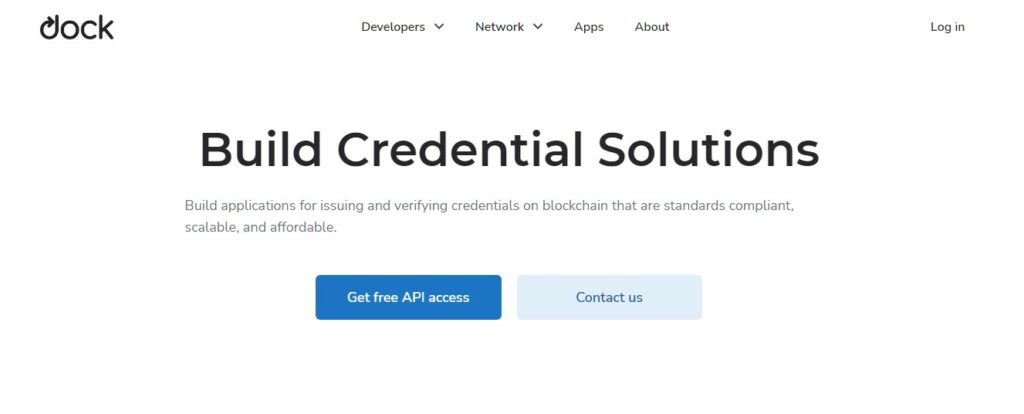 The idea behind Dock.io is a sort of decentralized, blockchain-based Linkedin-like network, where professionals from all industries could take control of how their personal data is shared and to whom, without fear of possible misconduct by big data companies and unauthorized third parties. The exchange protocol of Dock.io ensures the privacy of all data on the network and users have full freedom regarding the form of data they store and share with each other, which adds a considerable amount of interoperability to DOCK as opposed to the linear format of Linkedin.
Dock.io was launched in 2017 but it wasn't fully operational until the initial coin offering in 2018, which introduced the DOCK token, an Ethereum (ETH) based ERC20 token.
Dock.io Features
The mechanism on which Dock.io is based is really simple. Users can upload and share data through DOCK. Once a user uploads their resume or any other data on the platform, they can control exactly who they want to share their data with. A user can choose to share their data with other professionals from their industry, with companies, or potential business partners as they please, and every connection with another party is separately managed through an Ethereum blockchain-based smart contract that facilitates the contract through the DOCK network.
The main difference between DOCK and similar data sharing platforms is that with DOCK, users control not only who they will share their data with, but they also control whether the platform they are using can view their data or not.
Users can select a portion of their credentials that they wish to share publicly on the platform so other people and companies can find them and this public data can be limited to non-sensitive information such as name and basic career details. When a user wishes to initiate a private connection with another user, the rest of the sensitive data can be revealed to that connection, only if the user approves it.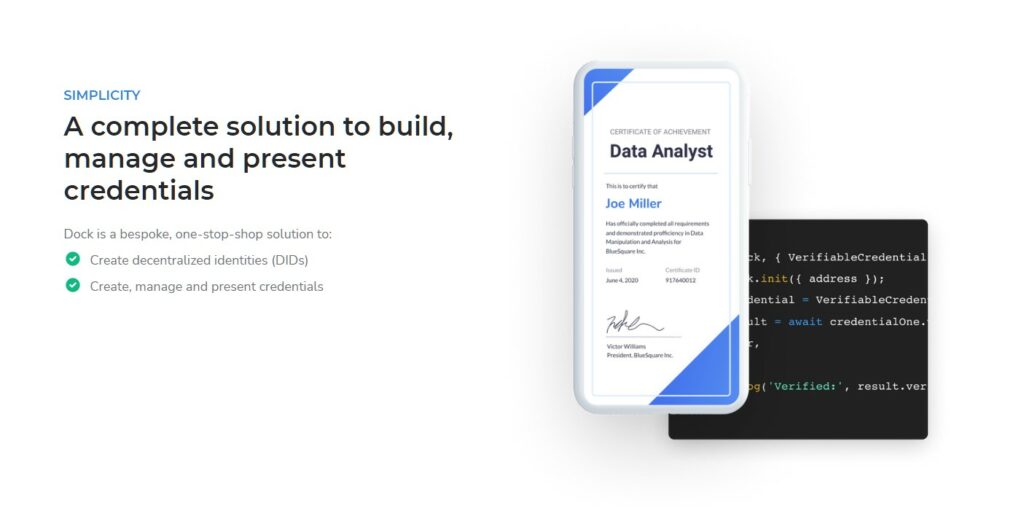 It's important to note that Dock.io encrypts all user data by default and the encryption keys are always exclusively in the hand of the user and not the platform. Once encrypted, the data can only be decrypted by the user, which means that the platform itself doesn't have access to the data.
DOCK has numerous real-world use cases and functionalities, such as controlling and formatting professional history data, classifying your verifiable credentials, and simulating background checks to see what a potential employer would see if they want to find out more about you before offering you a job. You can also verify and store your professional certificates using DOCK, so you can share them easily with employers and business associates at any time.
ICO and DOCK price
DOCK is the official token of the Dock.io ecosystem and it's used for powering transactions on the platform. The DOCK ICO was in 2018 and around 30% of the total supply of 1 billion DOCK was sold. Each DOCK token was then sold to crypto enthusiasts at a price of 0.08 USD per coin. In total, around 20 million US dollars were raised by the DOCK team through the initial coin offering.
If you want to invest in DOCK tokens through crypto exchanges, the easiest way to buy the crypto is on Binance, the largest exchange that deals with DOCK tokens.
A Few Final Words…
Dock.io isn't a trending cryptocurrency with a huge market cap. In fact, it's located at the bottom of the top 500 cryptos according to Coinmarketcap, but it is a very interesting project that shows one of the countless possibilities a blockchain-powered network can provide users.