In crypto terminology, the virtual storage space is called simply a crypto wallet. Contrary to their name, crypto wallets don't actually contain any blockchain assets. Instead, digital wallets ensure the storage of your private keys as proof of ownership and the full history of all your input/output transactions.
Although wallets have always been an integral part of the crypto industry, now that cryptocurrencies have secured their status in the global economy, there is a dramatic surge in the demand for a reliable crypto wallet. As the market standards are continuously rising, wallet designers must ensure fast and cost-effective crypto transfers. Despite all this, security is still the key priority in the search for the best cryptocurrency wallet.
In such a competitive industry, Exodus appears as one of the most popular solutions for convenient storage and one that puts easy accessibility on the pedestal. The commercial success of Exodus must be supported by a superior feature set but how would you know that it is the right choice for you?
In this article, we'll guide you through the basic categories of crypto wallets and compare them against Exodus's underlying traits. This will certainly help you decide whether Exodus fulfills your expectations or not. If it doesn't, we've got a couple of immediate alternatives that cover the shortage of Exodus's features.
Types of Crypto Wallets
On a fundamental level, crypto wallets fall into three basic categories:
Online crypto wallets;
Software crypto wallets (wallet apps);
Hardware crypto wallets.
The first two wallet types are called hot storage because they need internet support to interact with the blockchain. Online wallets are identical with all familiar browser-based platforms ensuring easy navigation and access from any device. Software wallets, on the other hand, are nothing but a regular app you can download for free either on your desktop or mobile device.
Having your wallet "in your pocket" gives you the highest level of convenience when handling your crypto assets. However, the problem with hot storage is the virtual storage rooms. More specifically, once you activate a crypto wallet, you'll get private keys (a random array of encrypted case-sensitive characters) that serve as a password and give you access to your wallet. The very fact that they are exposed on the internet when processing the transactions makes hot storage vulnerable to cyber scams and traceable to hackers.

Contrariwise, hardware wallets operate offline and are therefore known as cold storage. They come in the form of portable devices containing simple software — just enough to execute a transaction by plugging the device into your computer or mobile. Sure, there are more advanced models, only they cost way more. That's right, hardware wallets don't come for free, but they are considered the safest method for storing crypto (especially large amounts) since they keep your private keys outside the internet. 
Surprisingly though, people seem to prefer convenience to safety, as hot storage tends to be more popular than physical devices. According to experts, the ideal formula is to pair software with a hardware wallet (depending on the models' compatibility) and get security and convenience under one roof. 
What Is Exodus?
Exodus was originally a desktop-based software wallet but now it's also accessible through a mobile app. Mobile and desktop apps are compatible with all devices: iOS, Android, Windows, Mac OS, and Linux.
On a more specific level, the Exodus wallet is categorized as:
A non-custodial crypto wallet since it allows you to have full control over your assets.
A lite wallet because it doesn't download all blockchain records to your device, which makes the sign-up process much faster.
A multi-currency crypto wallet that supports over 100 different coins including Bitcoin (BTC), Ethereum (ETH), Litecoin (LTC), Bitcoin Cash (BCH), Ripple (XRP), Cardano (ADA), Monero (XMR), Dogecoin (DOGE), Dash (DASH), ZCash, Dai (DAI), and Tether (USDT).
A crypto wallet with a built-in portfolio that provides you with a well-organized view of your balance.
A software wallet with hardware wallet integration. Exodus is compatible with TREZOR hardware wallets for better security.
A beginner-friendly crypto wallet that comes with intuitively designed exchange features allowing novices easy coin swaps. 
Is Exodus the Right Choice for You?
If we take into consideration the main features of Exodus, we can conclude that this software wallet is designed to suit the needs of inexperienced users.
Apart from the comprehensible interface and neatly structured portfolio, the Exodus software wallet has an option for automatic fee adjustment (beginners are usually uncomfortable with setting network fees) and excellent customer support. Hence, if you've just started exploring the crypto world and/or plan to make low-net swaps on a regular basis, look no further. Exodus is a great storage solution for your crypto funds.
On the other hand, Exodus has poor security features as it neither applies multi-signature support nor 2FA (two-factor authentication). The software does allow you to restore your account if your device gets lost, stolen, damaged, or infected. However, this won't protect your crypto wallet from malware or cybercriminals.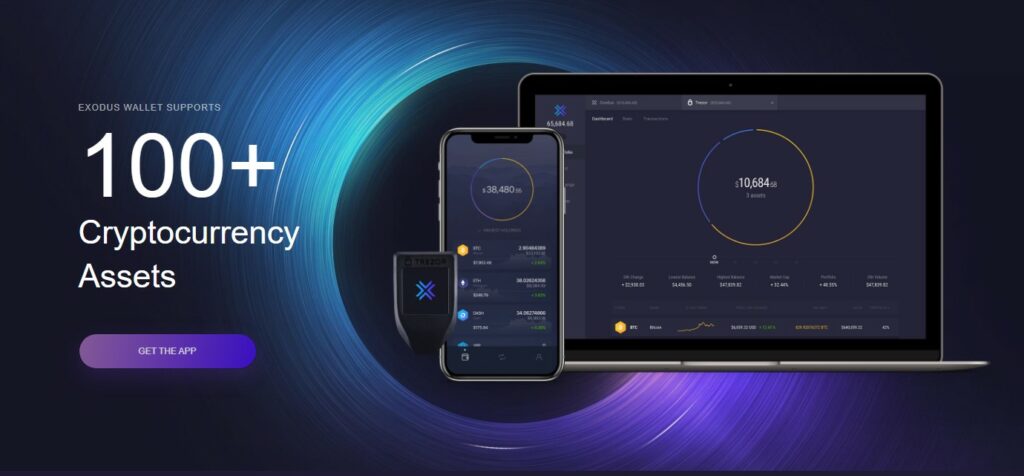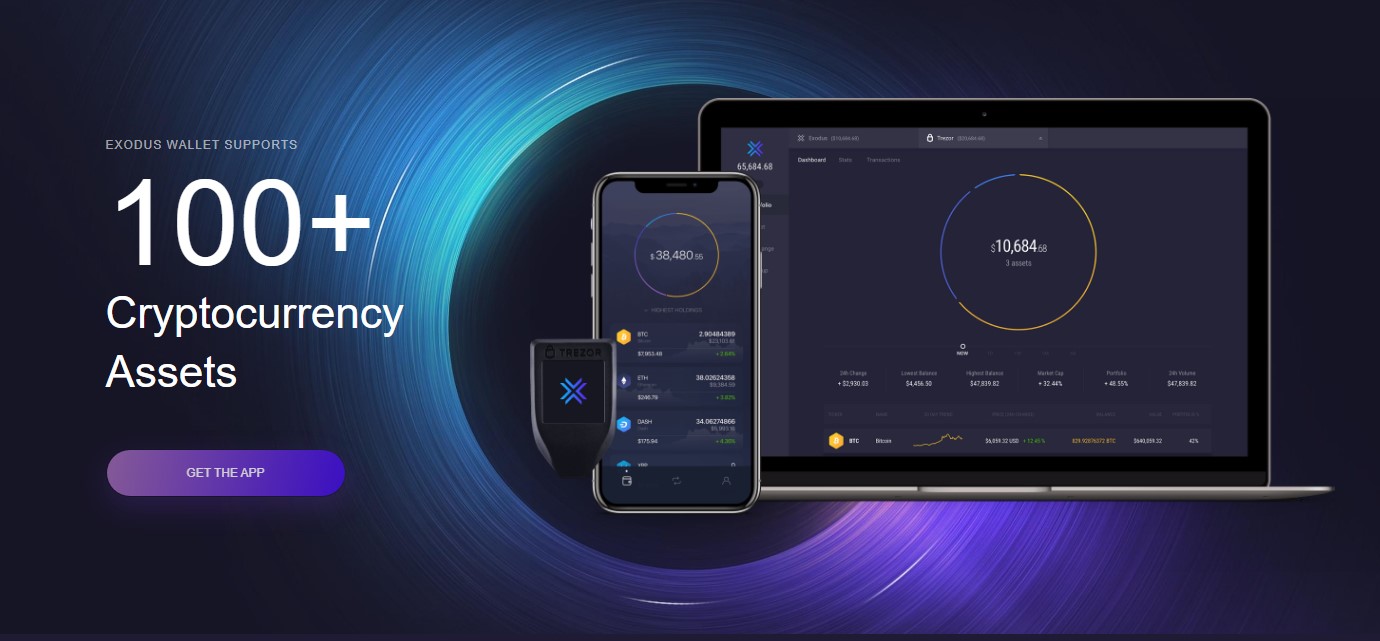 Thereby, Exodus isn't appropriate for storing large crypto amounts in the long term. Tech-savvy professionals who place huge orders and make a profit out of the volatile crypto market, as well as average individuals who value security above all, should definitely look for another type of storage space.
Apart from low-level security, there are several other specific features you may find missing or insufficient when downloading the Exodus software. In the list that follows, we'll discuss three Exodus direct competitors (hot wallets) that have these features.
Top Three Alternatives for Exodus
Electrum — Best for Advanced Bitcoin Users
Electrum is a pioneer on the crypto scene operating actively since 2011 — only a couple of years after the invention of Bitcoin. Similar to Exodus, Electrum is a desktop app, recently supported by an Android and Apple mobile app (the mobile version is identical to the desktop platform).
Electrum features a far more complex interface than Exodus, which makes its navigation nearly impossible for first-time users. Furthermore, Electrum offers Bitcoin-only storage and as such, it utilizes servers that index the Bitcoin blockchain, allowing you to send and receive Bitcoin much faster among multiple wallets through its Multisig feature. Electrum doesn't provide an option to send Bitcoin in exchange for another cryptocurrency.
However, what you should keep in mind is that Electrum is an open-source wallet. This means that no single entity fully controls the software development of the platform. In terms of security, multi-source development lowers the risk of data manipulation and the possibility of malicious components entering the software code. Furthermore, Electrum allows 2FA and key encryption and provides options for cold storage. Compared to Exodus, Electrum offers integration with more than one hardware wallet brand including KeepKey, Trezor, and Ledger.
Network fees on Electrum are much lower than Exodus even though they can increase rapidly when the network traffic gets busy. Electrum doesn't offer automatic fee adjustment but calculates the total amount of transaction fees based on how urgent the transaction is.
Coinify — Best Web-Based Wallet for Commercial Use
Coinify is an online wallet supported by a free mobile app. It belongs to the category of open-source wallets allowing you to safely store and transfer Bitcoin, Ethereum, and the rapidly growing ERC20 tokens. 
In order to get started with Coinify, you will have to go through a mandatory verification process. However, once you get onboarded on the web platform, Coinify allows you to create multiple wallets for multiple currencies.

Same as Exodus, the Coinify wallet is exceptionally user-friendly, but its superiority lies in its outstanding business functionality. Apart from being a relatively secure software solution, it provides a broad scope of trading opportunities including token swaps, corporate trades, Enterprise solutions (powered by Coinify API), and on top of this, fiat payment options (debit/credit cards and wire transfers).
For institutional and corporate clients, Coinify can facilitate invoices that are issued in fiat currencies (USD or EUR) and settle them with cryptocurrencies. Finally, the company also provides a plug-in to be added to the largest e-commerce systems like Shopify and Magento, allowing direct cryptocurrency payments.
Coinbase — Best Overall Exodus Alternative
Coinbase is a mainstream brand in the cryptocurrency industry that's been actively present on the market since 2012. It primarily operates as a full-custody cryptocurrency exchange but for the purpose of this article, we're focusing on the Coinbase Wallet. You can set up and use the wallet independently as a mobile app, although it is quite unreasonable not to take advantage of the seamless interaction between the wallet and the crypto exchange. 
The signing-up process is easy and rather generic. In fact, Coinbase is an unparalleled champion in the category of ease of use and you'll notice this immediately after landing on the platform. The user-friendly interface makes even absolute beginners feel comfortable handling their digital assets in such a "twisted" environment. As a novice, you won't mind the narrow choice of supported altcoins — much lower than other popular multi-currency crypto wallets.
Coinbase wallet isn't an open-source app. On the contrary, it's run by a highly regulated company, licensed by the New York State Department of Financial Services and fully compliant with all applicable KYC and AML regulations. However, Coinbase is one of the safest alternatives among software wallets. It applies robust security measures such as multiple signatures, 2FA, a confirmation request, etc.
There aren't any wallet maintenance and transfer fees, but once you start trading on the Coinbase exchange, get prepared for a bit higher trading fees.
FAQ
What's the best hardware wallet?
Depending on the brand, hardware wallets can vary to a great extent, but as an overall category, they all provide impeccably secure storage for your cryptocurrencies. Some new-generation hardware wallets feature more sophisticated functionalities like a larger screen, QR code scanners, and/or Bluetooth connection, which determines their market price and reputation. Ledger Nano X and Trezor Model T are considered to be the best-advanced designs so far.
What's the best Bitcoin wallet?
Bitcoin holders are still the most privileged community in the crypto ecosystem as the leading cryptocurrency is always supported by all types and brands of crypto wallets. Thereby, you can choose the best Bitcoin wallet against your personal preferences and skills.
If you're an avid, experienced Bitcoin trader, Electrum will definitely satisfy your high expectations. Coinbase and Exodus are more suitable for less experienced crypto enthusiasts while Coinify would fit in best on a corporate level.

In addition, there are plenty of high-quality Bitcoin wallets outside our list of Exodus alternatives. For example, Mycelium is the best-designed mobile wallet. SoFi and Jaxx Liberty are another beginner-friendly solution, while Robinhood is the most cost-effective wallet for buying and selling Bitcoin.
Finally, you should know that reputable trading crypto exchanges like Binance, Gemini, and Kraken do provide a crypto wallet once you set an account on their trading platform. Such in-built wallets are super convenient, yet not the best long-term alternative for storing your entire capital.
Does Exodus support ERC20 tokens?
The team behind Exodus is continuously expanding the list of supported cryptocurrencies on which you can find the most frequently traded ERC20 tokens. Moreover, the wallet supports some custom ERC20 tokens that aren't itemized on their official website. 
You can receive ERC20 tokens on your Ethereum Exodus address — the only problem is that you won't be able to see the total balance of the unlisted ERC20 tokens directly on the wallet but would have to use an Ethereum blockchain explorer.
A Few Words Before You Go…
If we measure in crypto years, Exodus has been present on the scene for quite a long time. Since its beginnings in 2015, the wallet has evolved into a global brand with an average of 112,000 active daily users. This outstanding number can't be an accident — the Exodus wallet offers beginner-friendly storage software with incredibly easy navigation. Thereby, it'll be a perfect match for you if you've just entered the crypto game and don't plan to hold large amounts of coins at the very beginning.
However, Exodus doesn't belong to the category of the most secure wallets in the crypto industry nor is it an exceptionally sophisticated virtual storage solution in terms of UX design. Luckily, there are enough offers out there to fit the specific needs of all types of users based on their previous experience, the value of their initial capital, and the amount of time they plan to spend trading.