Choosing the right crypto exchange platform is a crucial part of crypto trading. The fees, available cryptos, the variety of trading tools, platform security, and payment options are all highly important factors that every crypto trader needs to pay attention to when deciding whether to create an account on a certain exchange platform.
For beginners, a sure-fire choice is selecting some of the most popular platforms with the highest trading volumes and community trusts such as Coinbase, Binance, or Kraken, but there are many more exchanges that are worth your while. One of these exchanges is the European crypto exchange platform Bitstamp, which offers various top-quality services to users across the globe.
Let's take a detailed look at the Bitstamp exchange, where it is located, what services it offers, and how good of an exchange it actually is.
The Bitstamp Crypto Exchange
Bitstamp.net is a veteran crypto exchange platform launched back in 2011, just two years after the launch of Bitcoin (BTC) in 2009. The first crypto exchanges were launched in 2010, which means that Bitstamp is truly among the pioneers of cryptocurrency exchange services. At the time of its launch, there weren't many platforms that were focused on European clients and that's what Bitstamp aimed to change.


Originally, the company was launched by Nejc Kodrič and Damijan Merlak, two Slovenian crypto enthusiasts, as a Bitcoin exchange in Slovenia in 2011, but its registration was shifted to London two years later, where the company management contacted the Financial Conduct Authority of the United Kingdom in order to fully comply with local laws. At the time, cryptocurrencies were still a new thing and they weren't recognized as a financial asset by governments, so the UK authorities let Bitstamp operate without any regulation.
During the following year, 2014, the company moved to Luxembourg, where the Bitstamp headquarters are still located today. Bitstamp received a licence to operate in all European Union member states in 2016 from the government of Luxembourg, which allowed the platform to legally provide crypto investment and trading services to users across the EU.
Bitstamp is a fully-regulated exchange platform today, which means that it complies with laws and financial regulations in the regions it operates in. This means that users can trust Bitstamp to facilitate all their crypto investment and trading operations without fear of fraud or scams. Also, a regulated exchange means that users need to comply with KYC (know-your-customer) protocols where they have to provide photos of their government-issued ID and personal details, so that Bitstamp can prevent any eventual illegal activities such as money laundering.
Key Bitstamp Review Takeaways
The platform supports 39 cryptocurrencies;
Various popular payment methods are available, including bank transfers and debit cards;
24/7 direct customer support;
User-friendly mobile app;
Simple fee system.
Cryptocurrency Trading Features
Bitstamp is an exchange platform that's focused on providing top-quality crypto trading services for both beginners and experienced traders. Users have a very simple instant buy feature at their disposal for buying cryptos in just a few minutes. Also, there are four trading order types that are sufficient for most crypto trading operations. 
Users from selected regions of the world can use ACH transactions to send funds from their bank account to their Bitstamp account and start investing immediately. The process is really fast and there are no unnecessary bureaucratic procedures. These Instant orders can also be done with debit cards and credit cards, which is drastically faster than a classic bank transfer that can take some time.


In case you want to set a certain price limit at which you would like to purchase or sell certain cryptos, you can do it easily with Limit orders. This way you don't have to monitor the market all the time, because the platform will alert you once a set limit is reached.
When trading, Market orders are a great tool to make a purchase or sell your assets automatically for the best market price based on Bitstamp platform calculations.
Stop orders are used to set price points at which a trading position will automatically be initiated or stopped. For instance, if the price of a certain crypto starts rapidly falling due to market volatility, a stop order is used to set in advance the price at which you'll automatically sell that crypto so as to limit possible losses.
Bitstamp Supports Most Popular Trending Cryptos
The selection of cryptocurrencies a crypto exchange supports is of key importance because users are limited to trading only with those assets on the platform. Bitstamp doesn't have such a large choice of assets like Coinbase or Binance, but it does have a strong selection of top trending cryptos.
Currently, Bitstamp offers 39 cryptocurrencies including Bitcoin (BTC), Ethereum (ETH), Ethereum Classic (ETC), Bitcoin Cash (BCH), Ripple (XRP), Uniswap (UNI), Stellar Lumens (XLM), Chainlink (LINK), Litecoin (LTC), Tether (USDT), USD Coin (USDC) and other popular altcoins.
Brokers can conduct numerous crypto-to-crypto trading pairs along with crypto-to-fiat and fiat-to-crypto pairs. Users can directly buy cryptos with various fiat currencies including US dollars, GBP, and euros.
Platform Fees
Trading fees are the main income source for crypto exchange platforms and they are also a key factor for users when deciding whether to create an account on a certain platform. A common fee schedule for crypto exchanges is the maker and taker fee model where market makers who provide liquidity to the platform by placing purchase orders that are different from current market prices incur lower platform fees than market takers. Bitstamp, however, has a different fee model.

The platform has a relatively simple flat-fee model, where all trades are charged a flat fee percentage. It doesn't matter if your trade is a market maker or market taker transaction, everyone is charged based on the same flat fee model. Also, the fees are the same regardless of whether you're using the instant buy option or the standard Bitstamp trading platform interface. This is an exceptional service because most popular exchanges charge an extra fee for their instant buy options.
Although the instant buy option is far cheaper on Bitstamp compared to many popular platforms, this flat fee model for standard trading makes the cost considerably higher than those on crypto platforms like Binance, Kraken, or Gemini. If your 30-day trading volume is 10,000 USD or less, then every trade incurs a 0.50% platform fee which is quite high. However, if you're an active trader with high trading volumes, your flat fee will be lowered to 0.13%, provided that your monthly trading volume is between one and two million USD. For the biggest investors and traders that have a monthly trading volume of at least 20 million USD, the flat fee is 0.00%.
Payment Methods and USD Withdrawals
There are various payment methods available on Bitstamp and one of the best ones for funding your account are ACH bank transfers because if you buy cryptos this way, you won't incur any extra fees apart from the platform's flat fee.
You can also buy digital currencies with a credit card or debit card, which is really fast but it does incur an extra 5% card fee in addition to the platform fee.
In case you want to convert your cryptos into fiat and make a withdrawal, EU users can do a direct EUR SEPA bank withdrawal, while users from the US can also withdraw their money in US dollars, directly to their bank accounts.
Mobile App
Just like many other popular crypto exchanges, Bitstamp has a nice mobile app for all those traders that want to have instant access to their crypto portfolio and trading options on their mobile devices.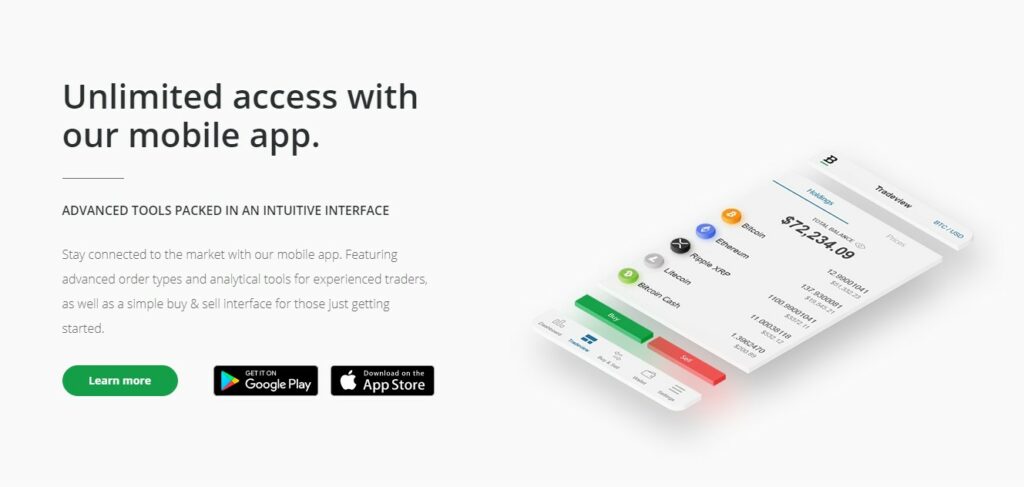 The Bitstamp mobile app is available for both Android and iOS mobile devices and it comes with a very user-friendly interface, with all the necessary trading tools and options just a few clicks away. Trading orders, market charts, and your order book are all available in the app, just like on the online platform.
Bitstamp Security
Bitstamp is known to have had a serious security issue in its earlier days back in 2015, when it was the victim of a massive cyber attack that resulted in the loss of 5.2 million USD worth of bitcoins.
Since this major hack, Bitstamp has gone a long way to ensure the safety of cryptocurrencies traded on the platform and has implemented a cold storage solution similar to many other popular exchanges. About 98% of all assets traded on the platform are kept in the company's cold storage, offline, beyond the reach of any cyber attackers. Also, users have 2FA (two-factor authentication) available for logging into their accounts and you can also set up an email confirmation system for withdrawals from your account.
Bitstamp Customer Support
In addition to the usual email customer support, Bitstamp also has a dedicated phone line that's operational 24/7. Most exchanges use chatbots, FAQ sections, and email to answer customer inquiries regarding various platform issues, but Bitstamp goes further, with its non-stop available phone support.
A Few Final Words…
Bitstamp provides crypto traders with all the necessary tools for investing in and trading with the most popular coins on the market. The platform was first focused on European clients but has since moved on to provide services in numerous regions around the world and it's a great choice if you're looking for fast and reliable trading services.