There are more than 400 cryptocurrency exchange platforms on the market, according to CoinMarketCap, which can be really confusing for beginner crypto traders. A vast majority of those exchange platforms offer a very limited selection of cryptos, along with only basic trading options and features. What's even more important is that most of the lower-ranked exchanges are highly susceptible to cyber-attacks and scams, which means that they aren't safe for trading at all.
Bittrex.com is one of the top-ranking crypto exchanges that stands out from the hundreds of less reliable platforms. It's one of the market leaders right next to Binance, Coinbase, Gemini, Kraken, Bitstamp, and similar highly reliable and popular exchanges.
Let's take a look at the key features of Bittrex and find out where Bittrex is located.
Bittrex Review Key Points
These are the key characteristics of the Bittrex platform: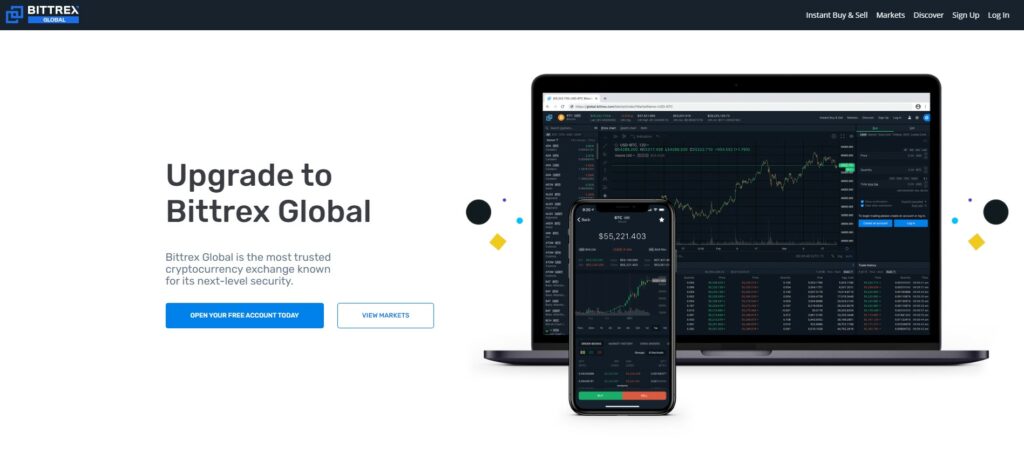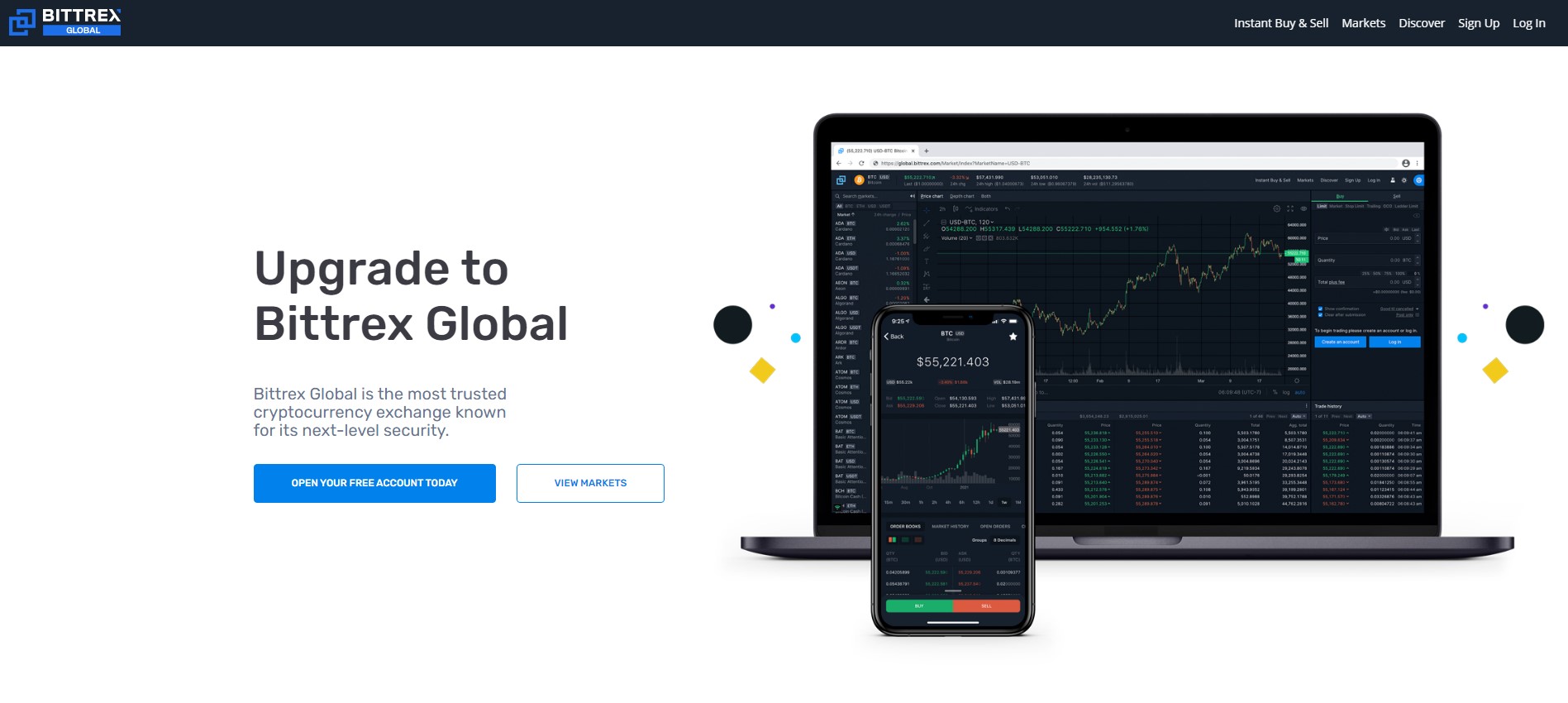 A fast trading platform with various trading orders.
Over 400 available crypto coins and tokens.
No previous hacking attacks thanks to its great security features.
US dollar deposit and withdrawal options for US crypto traders.
EUR deposit and withdrawal options for European crypto traders.
Separate Bittrex Global platform for users outside of the USA.
A 0.25% flat fee for all trades on the platform.
Mediocre customer support, only reachable through email.
Bittrex Exchange Background
Bittrex is a US-based, veteran cryptocurrency exchange platform founded by crypto enthusiasts and former Microsoft employees, Rami Kawach and Richie Lai, along with co-founder Bill Shihara.
The platform headquarters are located in Seattle, the State of Washington, which means that the exchange falls under US tax and crypto regulations. When Bittrex was launched, it only supported cryptocurrency trading services for US customers, but soon enough Bittrex Global was launched as a separate platform for crypto traders all over the world.
Bittrex Platform Trading Features
The Bittrex platform provides very reliable crypto investment and trading services with an easy-to-use interface suitable for both beginners and advanced users. Bittrex offers numerous different trading options and hundreds of trading pairs. You can easily monitor a single asset or trading pair's market fluctuation, trading volume, and market cap. The price charts are quite detailed, so you can plan and execute advanced trading strategies based on the price fluctuation info derived from the market charts.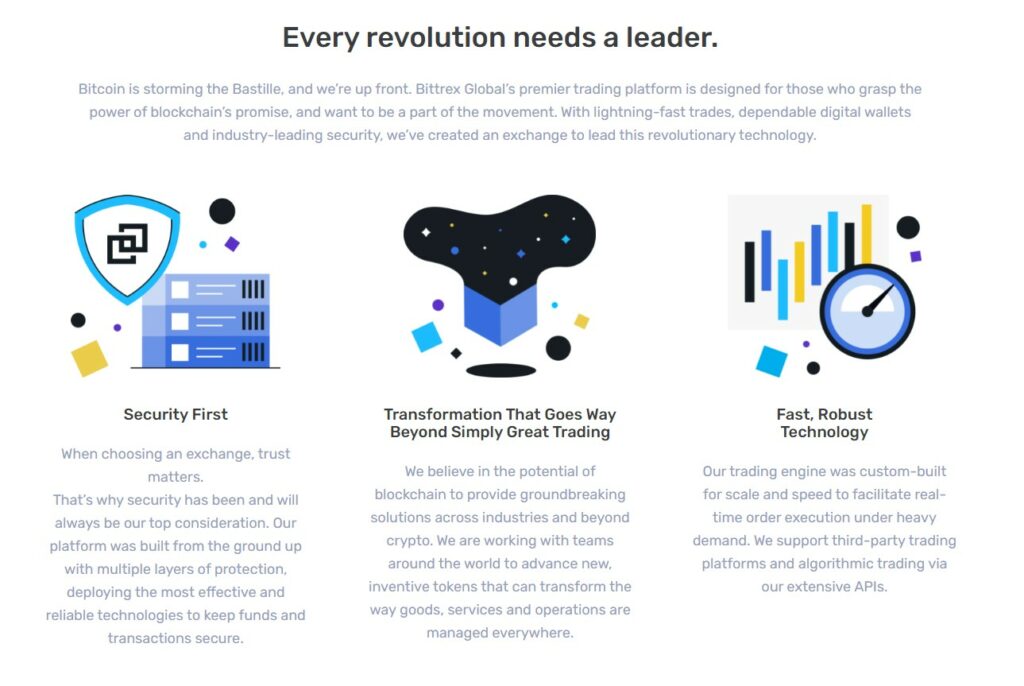 Standard spot trading orders are quickly executed, along with more advanced, automated features such as stop-loss orders, instant buy or sell options and good 'till cancelled (GTC) orders. Margin trading however isn't supported. The exchange is well known for its stable and reliable services which are lightning-fast.
Trades are processed nearly instantly thanks to the well-optimised trading engine and Bittrex is also known for never being hacked because of its robust platform security measures and account safety protocols such as 2FA (two-factor authentication) and the KYC (Know Your Customer) verification process that helps prevent money laundering.
Just like many popular crypto exchanges, Bittrex also has its own mobile app that's compatible with both Android and iOS smartphones and enables users to buy, sell and trade cryptos at any time. The Bittrex app also provides users with built-in crypto wallets on their phones.
Bittrex Global
Bittrex Global is the Bittrex platform version reserved for all users outside of the US. Most crypto exchanges have a single platform for the whole crypto market, so this is something that definitely makes Bittrex stand out from the rest of the crypto exchanges.
You need not worry about making an account on the wrong Bittrex platform version, because you'll automatically access Bittrex US or Bittrex Global depending on the region you're visiting from. You don't need to manually search for Bittrex Global if you're located in let's say Australia because you'll automatically be sent to Bittrex Global based on your IP address.
Available Cryptos
Bittrex is known to be a platform with a very large selection of crypto coins and digital tokens. In fact, you can invest in more than 400 cryptocurrencies. All of the most popular cryptos are available on Bittrex including Bitcoin (BTC), Ethereum (ETH), Tether (USDT), Dogecoin (DOGE), Ripple (XRP), Litecoin (LTC), Avalanche (AVAX), VeChain (VET), Polygon (MATIC), Terra (LUNA), Cardano (ADA), Algoran (ALGO) and other top trending coins.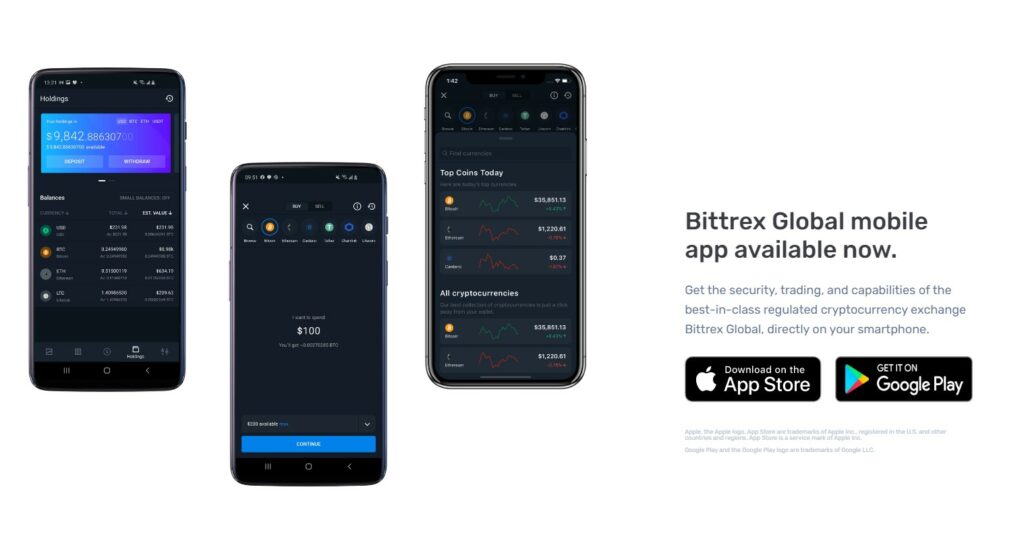 You can also find a huge selection of some less popular but promising crypto projects whose popularity and market cap are steadily increasing. This is a characteristic that makes Bittrex very attractive for traders who are looking to invest in some lower cap coins and tokens that are more volatile and potentially provide more profit possibilities for experienced traders and brokers that are looking for arbitrage trading opportunities involve less popular coins.
When it comes to fiat currencies, Bittrex supports USD and EUR.
Platform Trading Fees
The most common fee model used by popular crypto exchanges is the market maker/taker model, which gradually reduces fees according to the increase of your monthly trading volume and depending on whether you're a market maker or a market taker.
Bittrex however has a different fee approach that attracts many users. All transaction fees are the same. When you buy, sell, or exchange cryptos you'll always incur a 0.25% flat fee, which means you can always precisely calculate how much you will spend on fees when conducting trades on Bittrex. There are no hidden fees or additional expenses. 
A Few Final Words…
Bittrex is part of the top tier of crypto exchange platforms with its huge selection of digital assets, fast services, great security, and moderate fees. If you're looking for reliable services that cover all of your crypto trading needs, Bittrex is a great choice. Of course, Bittrex has fewer cash withdrawal options than other fiat-friendly exchanges like Binance or Coinbase, but it also has a fixed fee model and a lot of trending altcoins that aren't available on some more popular exchanges.