In the cryptocurrency world, users usually use cryptocurrency exchanges for buying, selling, or trading digital currencies. On the crypto market, there are plenty of different crypto exchanges, such as Coinbase, Kraken, Binance, and Gemini. Different cryptocurrency exchanges offer different features in order to attract more crypto traders to use their trading platforms.
However, finding a crypto exchange that is highly secure and has never experienced a hacker attack is extremely hard. In our search for that type of cryptocurrency exchange we've come across the American platform – Gemini. This New York Trust Company has Federal Deposit Insurance Corporation (FDIC) protection on US dollar deposits and has surprisingly never been hacked. Gemini is a simple trading platform that is easy to use and has a top-notch security infrastructure.
If you're looking for a more local Aussie trading platform, check out our list of the best cryptocurrency exchanges in Australia.
All You Need to Know About Gemini Exchange
Gemini is a retail and institutional crypto exchange service that's owned and maintained by the Gemini Trust Company, aka LLC. It was founded in 2015 by the famous Winklevoss twins, Cameron Winklevoss and Tyler Winklevoss. Gemini is based in New York City, New York, meaning it's one of the several exchanges that are regulated by the New York State Department of Financial Services (NYSDFS). Presently, Gemini operates in the US, UK, Canada, South Korea, Singapore, and Hong Kong.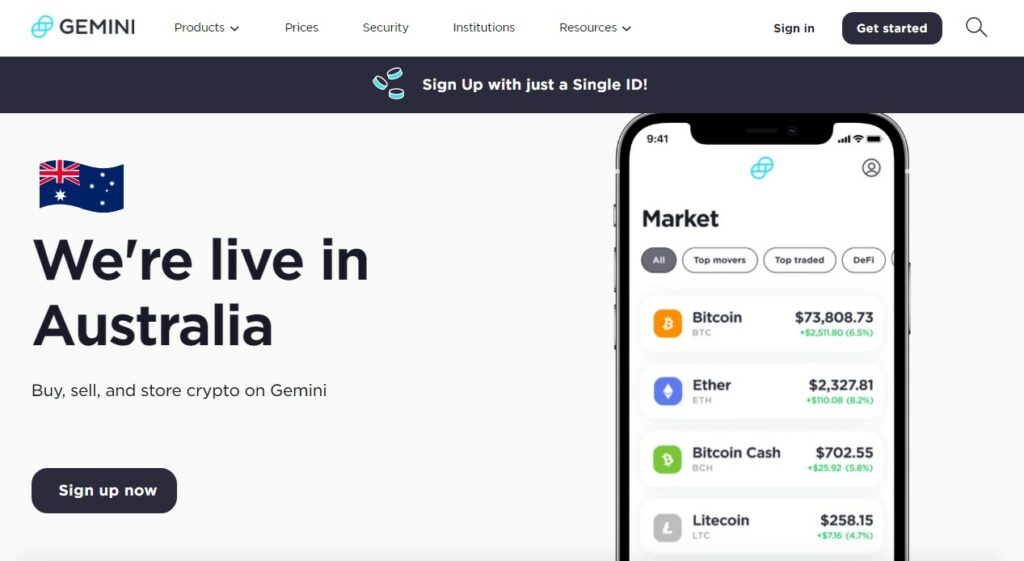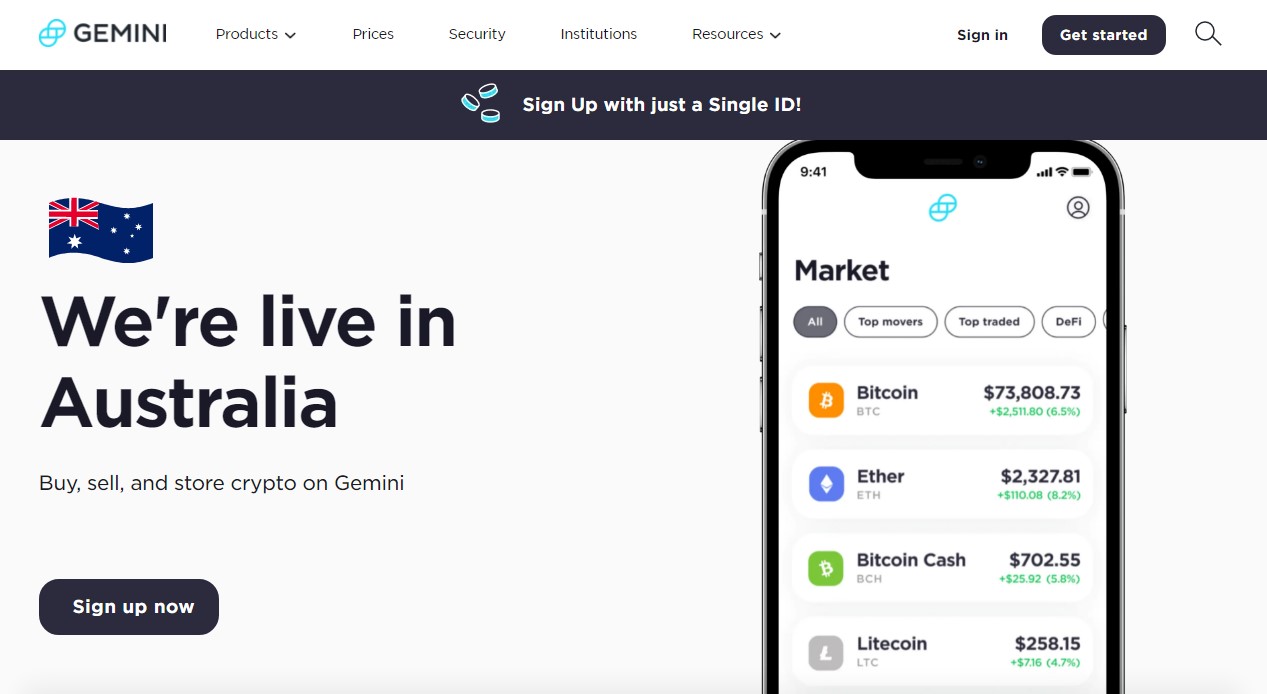 Due to the fact that it is regulated by NYSDFS, the Gemini crypto exchange is one of the most secure cryptocurrency exchanges. It's subject to capital reserves, banking, and safety compliance requirements of NYSDFS. Therefore, if you are one of the many crypto traders that use Gemini, you can afford to sleep with both eyes shut, knowing that your digital assets are secure.
But, what can Gemini's trading platform offer to its users? Here are some of the many features that Gemini has in store.
Cryptocurrencies
Gemini supports more than 50 different digital currencies that you can trade, buy or sell. It supports some of the most popular blockchain cryptocurrencies like Bitcoin (BTC), Ether (ETH), Litecoin (LTC), Zcash (ZEC), and Bitcoin Cash (BCH); additionally, Gemini supports DeFi coins, such as UNI, COMP, and DAI.
Instant Buy and Sell Orders
With Gemini, new users can easily buy Bitcoin and other digital currencies due to the fact that it offers direct purchase orders with fiat currencies, such as USD. Users can set repeating buy orders on a monthly, weekly, or daily level, as an easy dollar-cost averaging strategy. Moreover, users can sell digital assets instantly, with just one click on the Sell button, before selecting the number of digital assets they'd like to sell.
Mobile Application
Gemini offers a mobile app for easy, daily cryptocurrency trading. It offers versions for both iOS and Android smartphones, allowing users to trade anytime and from anywhere. Gemini's mobile app is quite user-friendly and easy to navigate.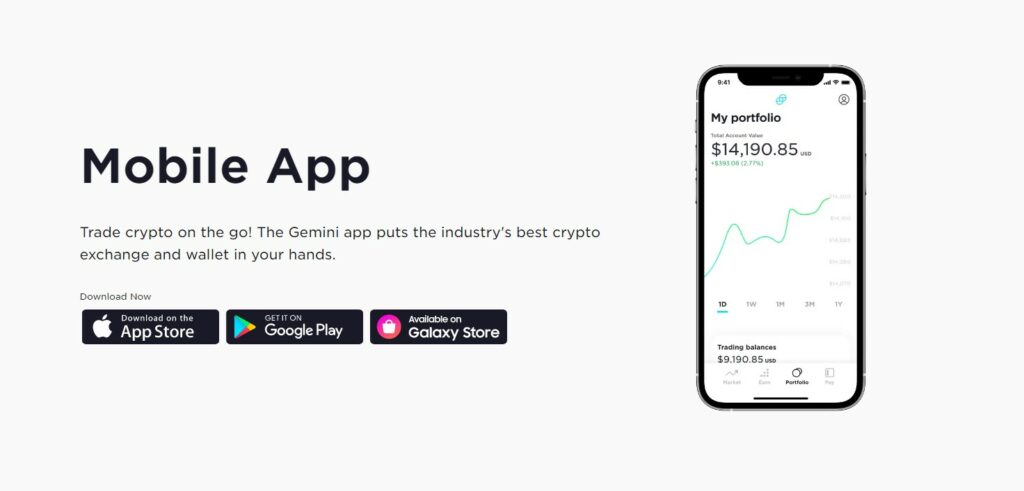 ActiveTrader
Gemini offers an ActiveTrader option that contains advanced candlestick charts and all types of orders, however, this feature is more suitable for advanced cryptocurrency traders. You can easily switch to this setting, you just need to click on Account, then click on Settings, and select the ActiveTrader interface. This way, users can trade crypto assets at lower trading fees.
Gemini Earn
If the users aren't actively trading their digital assets at the moment, they can earn interest on their cryptocurrencies with Gemini's Earn feature. Similar to earning interest in a savings bank account, with Gemini Earn, users can profit from the assets they deposit and lend to others. The interest is calculated daily and goes up to 8.05% APY. Another great thing is that users can withdraw their cryptos whenever they want.
Gemini Wallet
Gemini additionally offers a digital wallet for storing your crypto assets. It's a rather safe software wallet and supports all the cryptocurrencies that the Gemini exchange supports. You can choose to keep your digital assets on your Gemini account, however, using their hot wallet is a more secure option especially if you hold a bigger amount of digital assets.

Gemini Dollar
The Gemini Dollar, aka GUSD, is Gemini's own stablecoin that's backed up by the US dollar. Users can always convert 1 GUSD for 1 USD on Gemini and buy it or sell it fee-free! Additionally, you can trade, stake, or spend GUSD using Gemini Pay.
Deposit and Withdrawal Options
You can deposit and withdraw money on Gemini using Bitcoin, Ethereum, US dollars, GB pound, Canadian dollars, or EUR. Therefore, withdrawals and deposits can be done using a debit or a credit card, such as VISA, American Express, or MasterCard, and local wire transfers from the users' bank accounts.
Fiat withdrawals are fee-free for ACH and wire transfers, while debit cards and credit cards cost 3.49%. You only get 5 free cryptocurrency withdrawals, with each following withdrawal incurring a flexible fee based on the crypto in question.
How to Open a Gemini Account?
It's quite easy to open a Gemini account, the signing up process is straightforward and very simple. Users have to authenticate their identity using an ID form, due to the fact that Gemini exchange uses the Know Your Customer (KYC) protocol. Users also have to link their smartphones for two-factor authentication.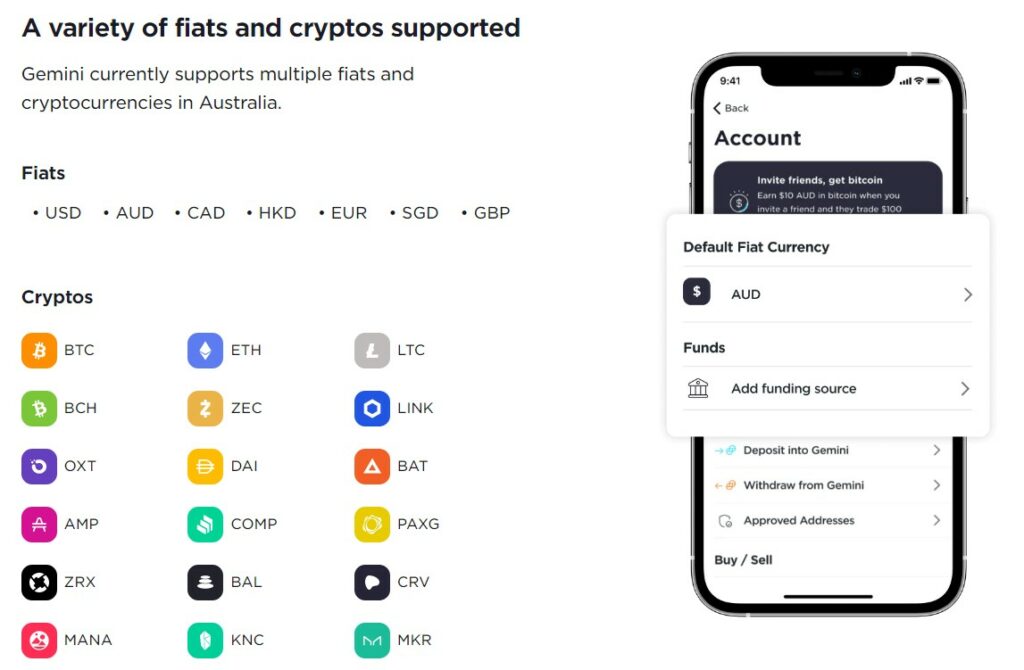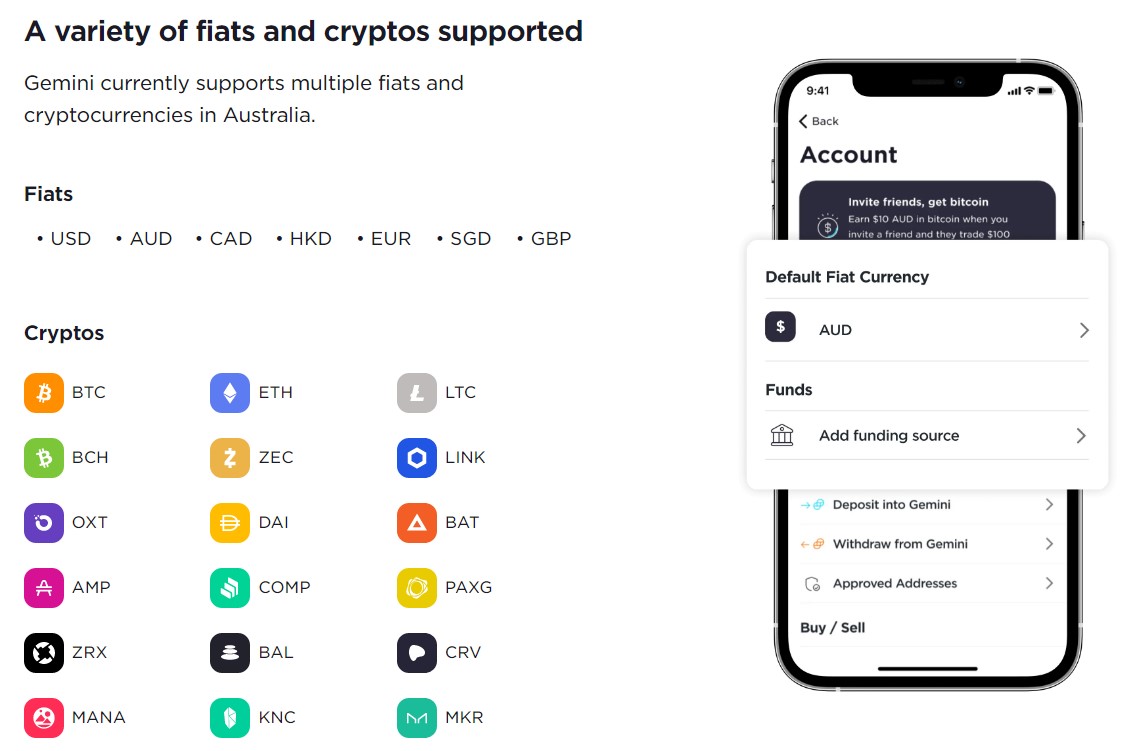 Lastly, they have to fund their account. Gemini exchange is using Plaid to link with a user's bank account or credit/debit card issuer. After the user's application is accepted and the account is funded, users can start cryptocurrency trading.
How to Trade on Gemini Exchange?
Gemini operates on a 24/7 basis. Like every online crypto exchange, a standard market order on Gemini exchange is submitted instantly at the best available price on the crypto market. Gemini provides numerous different limited orders, such as maker-or-cancel (MOC), auction-only (AO), and immediate-or-cancel (IOC).
Each order that is sent on the platform has to be completely funded because unlike some other crypto exchanges like Kraken or Coinbase, Gemini doesn't provide margin trading. Moreover, Gemini doesn't enable short trading.
If you want to trade cryptocurrencies on Gemini, you have to link a bank account and start off a wire transfer or Automated Clearing House (ACH) from your bank. Users can transfer assets from their crypto wallet to a Gemini account, or vice versa. In order to fund your Gemini account with digital assets, you need to create an exclusive deposit address on the Gemini exchange and after that, you can start off the transfer from your crypto wallet into the deposit address.
A Few Words Before You Go…
Gemini exchange has the advantage of being among the few crypto exchanges that have never been attacked by hackers. Apart from the top-notch security, Gemini offers a long list of appealing features, including their own digital wallet, mobile application, their own stablecoin GUSD, support for over 50 of the most popular cryptocurrencies, instant buy and sell orders, etc. Try Gemini, we have no doubts you'll like it.