Safely storing your cryptocurrency is a serious subject, as the risks involved with buying and trading cryptocurrency also go for storing them. If your wallet is compromised by a hacker, you might lose assets in seconds.
It's true that many altcoins offer a wallet service. However, as you grow as a crypto investor and diversify your assets, it can become hard to keep track of all your wallets with different altcoins. We know that picking a wallet can be tricky, especially if you're a beginner, as the number of options available out there can give you a bit of decision paralysis. Fortunately, there are various services to keep your virtual assets safe and in one place.
To help you out, we'll give you the rundown of the tried-and-tested favorites. But first, let's start with the basics.
What Are Altcoins?
Altcoins are derivatives of Bitcoin (BTC) that are mostly but not always forked from BTC's open-source blockchain technology, such as Ripple (XRP), Dash (DASH), DogeCoin (DOGE), and Bitcoin Cash (BCH). Most of them bring an innovative feature over good old BTC, such as low price volatility, mining efficiency, or smart contracts.


Namecoin (NMC) was the first-ever altcoin, announced as far back as April 2011, then Litecoin (LTC) announced its launch in October 2011. Since then, the number of altcoins in the cryptocurrency ecosystem has grown immensely. Currently, there are more than 10.000 altcoins in the market, and the number is increasing day by day.
The growing altcoin market yields huge opportunities, especially for those who want to diversify their portfolio or enjoy a wide range of investments. To safely invest in altcoins, you need to know how and where to store them.
Types of Wallets
Cryptocurrency wallets seem a bit complicated at first, especially for beginners. But no need to be scared. Here is a thorough explanation of wallet types with their advantages and disadvantages.
Custodial / Non-custodial Wallets
A significant difference between wallets is whether they are custodial or noncustodial.
A noncustodial wallet stores your private key directly on the device. The wallet company can't access your key – only you can. And if you lose that key, you lose access to your virtual assets. This type of wallet is called a noncustodial wallet because the wallet company doesn't have custody over your funds. You have complete control of your funds, and no one else can touch them.
On the other hand, a custodial wallet works kind of like a crypto bank. You can't reach your private key from your wallet, and because you don't have access to the private key, you don't have access to crypto assets on the blockchain. Instead, the bank looks after or takes custody of that key and cryptocurrency for you. Each time you withdraw or transfer funds, you do so with their permission.
For many people, the responsibility of looking after their own private key might be too much. You might be just getting started, or you might have a habit of losing your passwords. There is no password reset button when you're storing your own cryptocurrency. If you lose your key, you've lost your assets.


If that sounds like you, a custodial wallet might be more helpful for you so that you can hit that reset button and get a new password anytime you want. Still, the flip side is, you're trusting someone else with your money. If that's a dealbreaker for you, a noncustodial wallet might suit your needs better.
Hot / Cold Wallets
Hot wallets are connected to the internet, usually through an app on your phone or desktop or a website or browser plugin, and most are very easy to use. Convenience is key with these wallets, but they're easier to hack because they're connected to the internet. You might have entered a breached website, or perhaps you've clicked on a dangerous link or didn't update your software, and a bug has compromised your device. If that happens, you might lose your assets forever. So generally, you only want to keep money in these wallets that you access regularly.
Suppose you're storing a more significant amount of crypto. In that case, you may want to use a cold wallet or cold storage, which means the storage is disconnected from the internet.
A cold wallet is a hardware device. These are small devices that you plug into your computer to access the crypto on them. They're much more secure than a mobile wallet or a desktop wallet as they never connect to the internet directly, which makes them inaccessible to hackers. Even if your computer is compromised with a key logger or remote access tool, these cold wallets will help keep your crypto safe.
Where to Store Your Altcoins
There is no single best wallet in the market that you can pick. In fact, the best wallet for you depends on your needs and what you want to do with your crypto assets. Here is a list of popular wallets in the market with their pros and cons, so you can decide which one might be the best fit for you.
Cold Wallets
Ledger Nano X
Among hardware wallets in the market, Ledger Nano X is the most praised one. It became widely popular quite quickly after it was released in 2019, mainly thanks to its safety upgrades over Ledger Nano S.
You can use Ledger Nano X to store the most popular major coins, altcoins, and ERC-20 tokens. The total number of supported coins is 1100. You can take a look at the complete list of supported coins on Ledger's official website.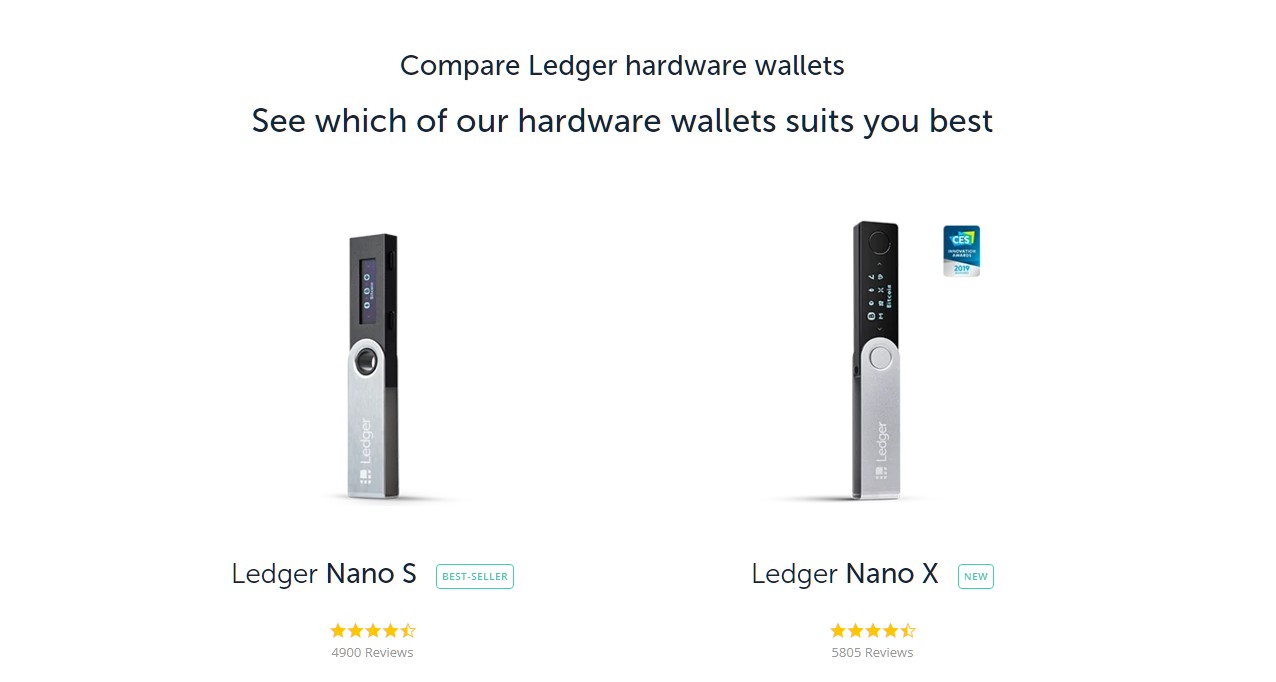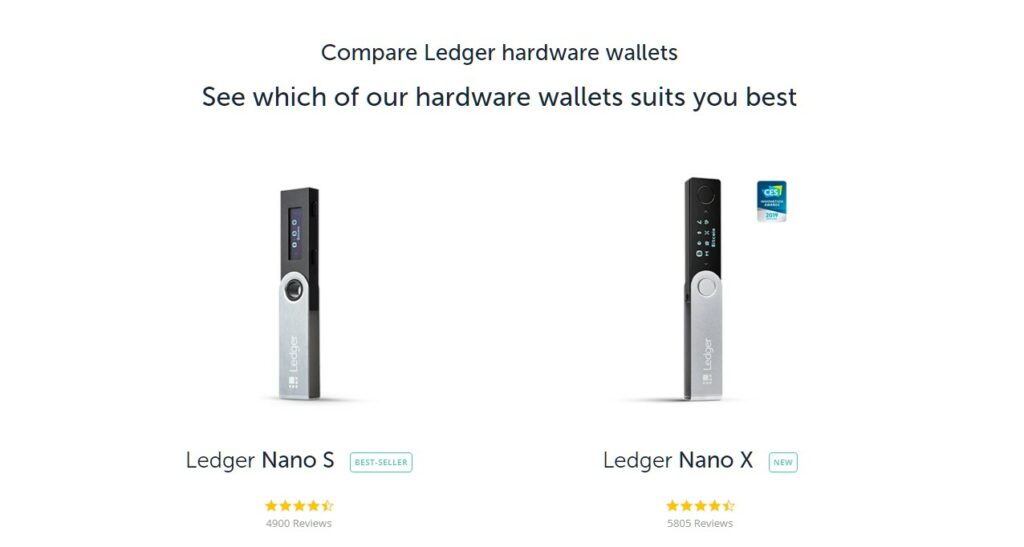 Ledger Nano X can connect to iOS devices and be activated via Bluetooth and wifi while holding up to 100 assets. Its only downside is its price tag and its not-so-intuitive- interface. But all in all, users think its features more than makeup for the price – once you get the hang of them, that is.
Trezor T
Trezor is a very well-known crypto wallet from SatoshiLabs. It supports more than 1800 coins, which is quite impressive compared to its rivals on the market. You can see the complete list of supported coins on Trezor's official site.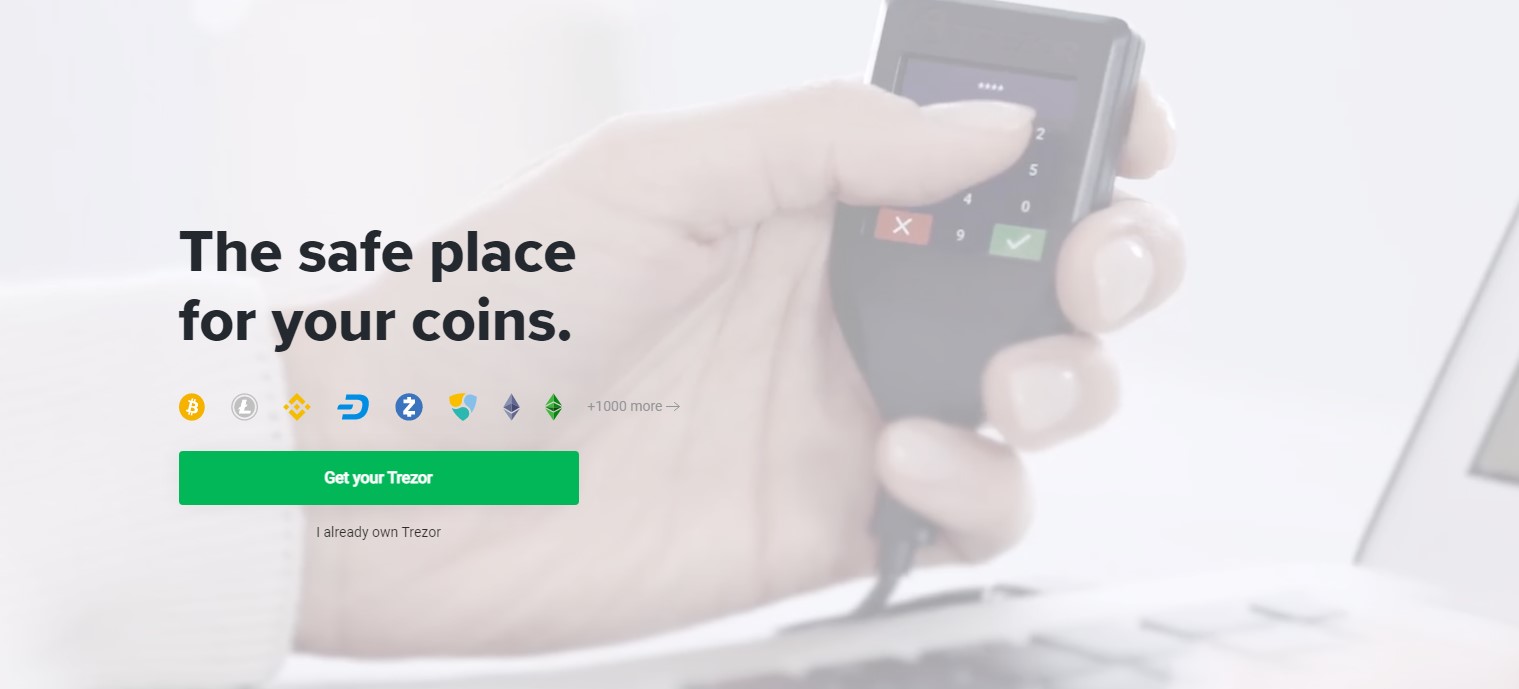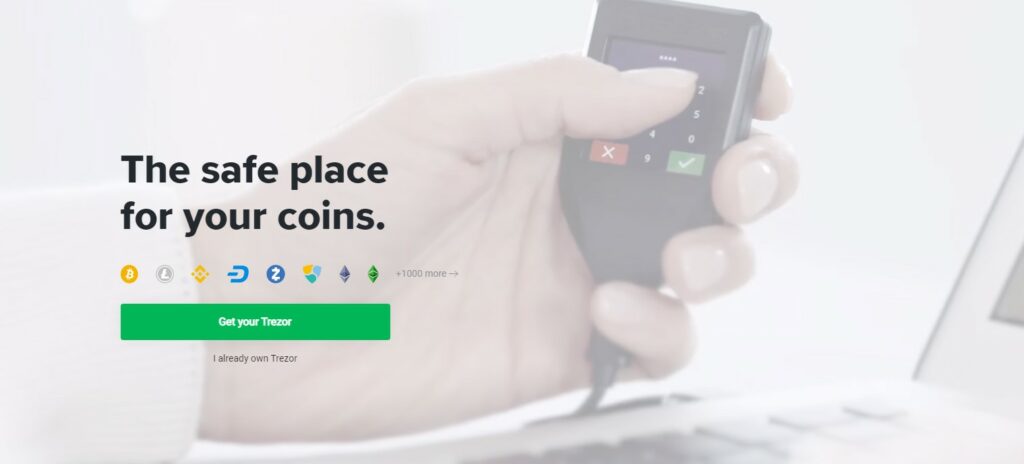 One thing that makes Trezor T a secure option is the fact its source code is entirely open. It has a very user-friendly interface and is a bit more affordable than Ledger Nano X. It's compatible with Windows, macOS, Linux, and Android; however, it isn't supported by iOS devices, so if you are an Apple user, you can skip this one.
KeepKey
KeepKey is an affordable offline wallet that supports over 40 altcoins, which falls a bit short when compared to its competitor hardware wallets. Keepkey is appealing to beginner crypto investors because of its simplicity and affordability. It's not as small as Ledger Nano X and Trezor T; however, it's a crypto wallet quite capable of holding large amounts of assets. Some users even find that the fact it's chunky can actually be a good thing, as that makes it harder to lose.
Hot wallets
Coinbase
Coinbase is a free noncustodial hot wallet with a very intuitive, user-friendly interface. It's a mobile wallet, meaning it's only available on Android and iOS devices. It offers two-factor authentication alongside other high-security protocols.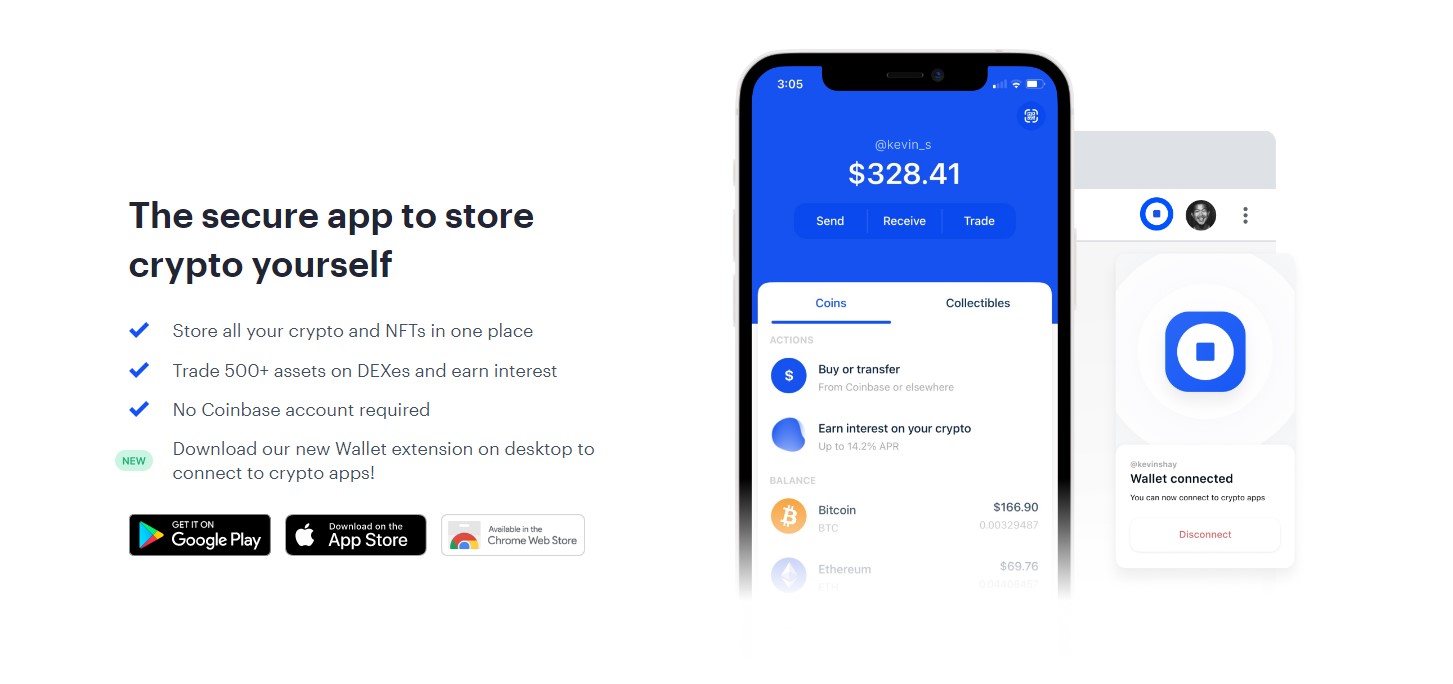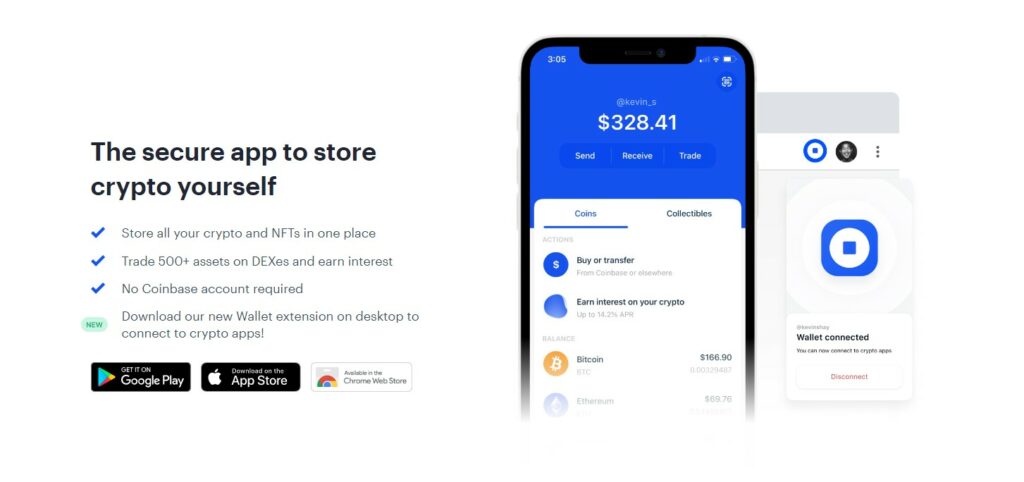 Moreover, there is a well-known crypto exchange behind it, so even if a mishap occurs, you probably would be able to refund your assets. Apart from digital currency, it lets you store your non-fungible-tokens and digital collectibles, a unique feature for collectors and creators.
Mycelium
Mycelium was one of the first crypto wallets. It's a free-to-use noncustodial mobile-based software wallet that is compatible with Android and iOS devices. Being a mobile-based wallet, it's susceptible to the risks hot wallets in general faces, such as the fact they're open to malware or attacks from the internet. 
However, Mycelium's hierarchical deterministic property provides higher-level security compared to other online wallets. What's more, the wallet is compatible with Trezor, Keepkey, and Ledger Nano S if you want the convenience of reaching your assets online when you wish to while and keeping them safe offline at other times.

Mycelium also lets you create a Single Address Account that deletes your private key from your device if you want to freeze your assets and make your wallet entirely inaccessible or a Watch Only Account that doesn't produce any private key whatsoever.
Apart from BTC, Mycelium only supports ERC-20 tokens, which gives it the reputation of being a bitcoin wallet. However, it doesn't let you have a wide range of altcoins at the same place. The only supported coins are Bitcoin (BTC), Ethereum (ETH), Tether USD (USDT), USD Coin (USDC), Huobi Token (HT), Binance USD (BUSD), and Zero X (ZRX).
Exodus
Exodus is a noncustodial free-to-use hot wallet supported by both mobile (both iOS and Android) and desktop devices. At the moment, it supports 152 coins. It's widely popular, not only because it's a hot wallet, but because it also lets you do crypto trading, which helps you manage your investments quickly. For this convenience, Exodus's transaction fees are a bit higher than other cryptocurrency exchange platforms. Additionally, its customer service is praised by its users, which is always a big plus.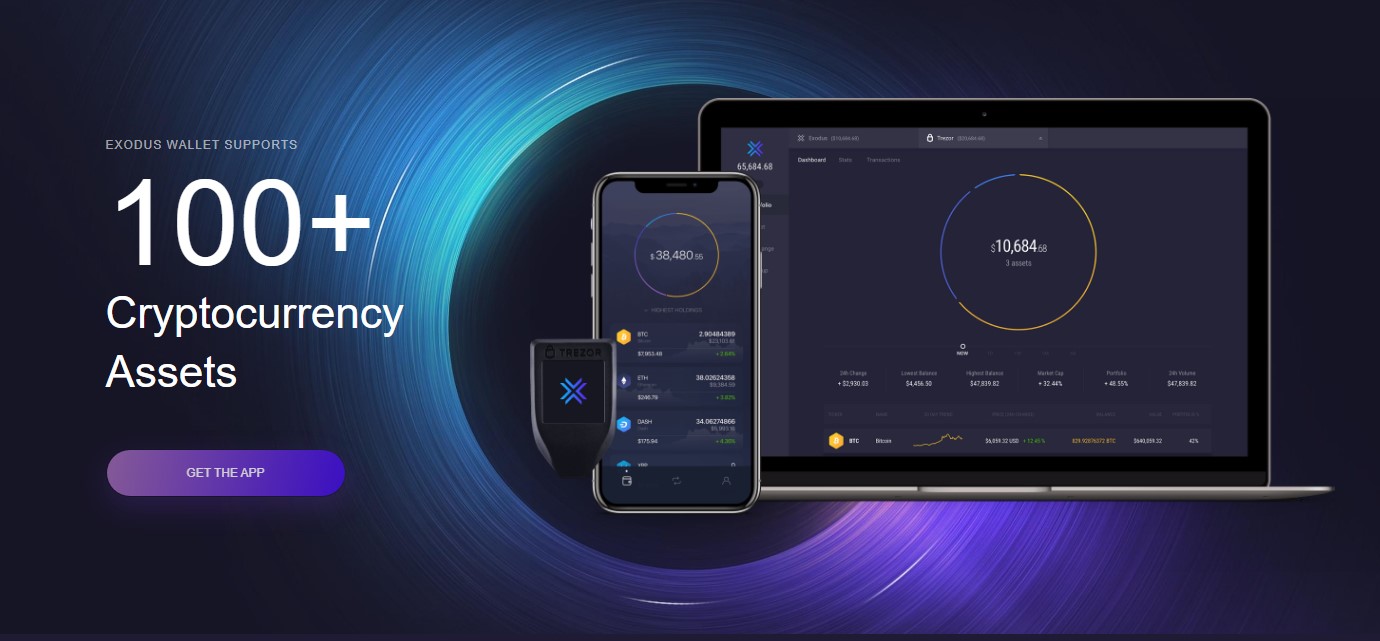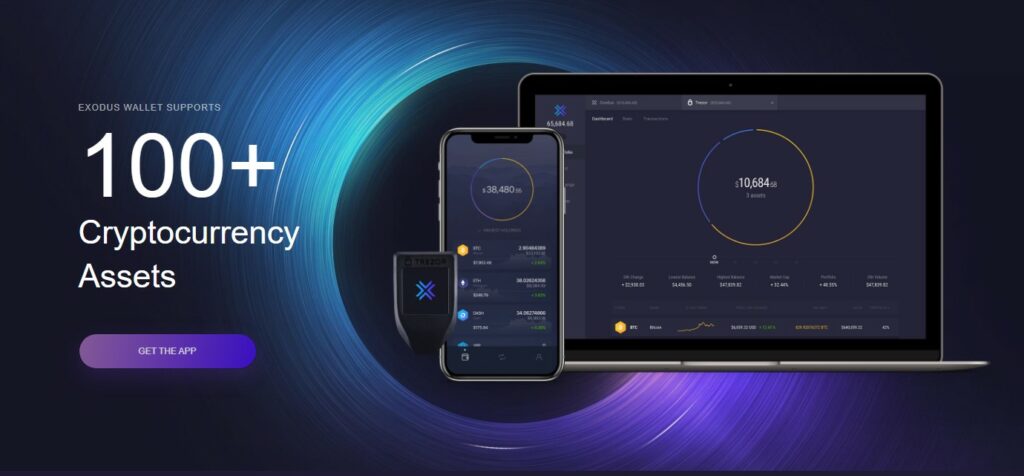 On the other hand, Exodus is not an open-source product. This means the crypto community cannot double-check, test, or raise any issues they spot. Another caveat to this platform is that Exodus lacks two-factor authentication and multi-signature features, which might make it vulnerable to security breaches. Its developer team explains that instead of these features, Exodus offers an even more secure service if combined with one of the hard wallets it's compatible with.
However, if you are not looking to get yourself a hard wallet, you might want to look into other wallet services.
Coinomi
Coinomi is another widely known software wallet. It's noncustodial, free to use, compatible with desktop and mobile devices (both iOS and Android), and it supports over 125 different coins and a total of 1770 crypto assets.
Coinomi is not an open-source project so it lacks the extra pair of eyes to challenge its code for potential breaches. In 2019, it was exposed that the wallet had run into a security problem; however, the developer team quickly addressed the issue, and Coinomi has been up and running and nothing but steady since.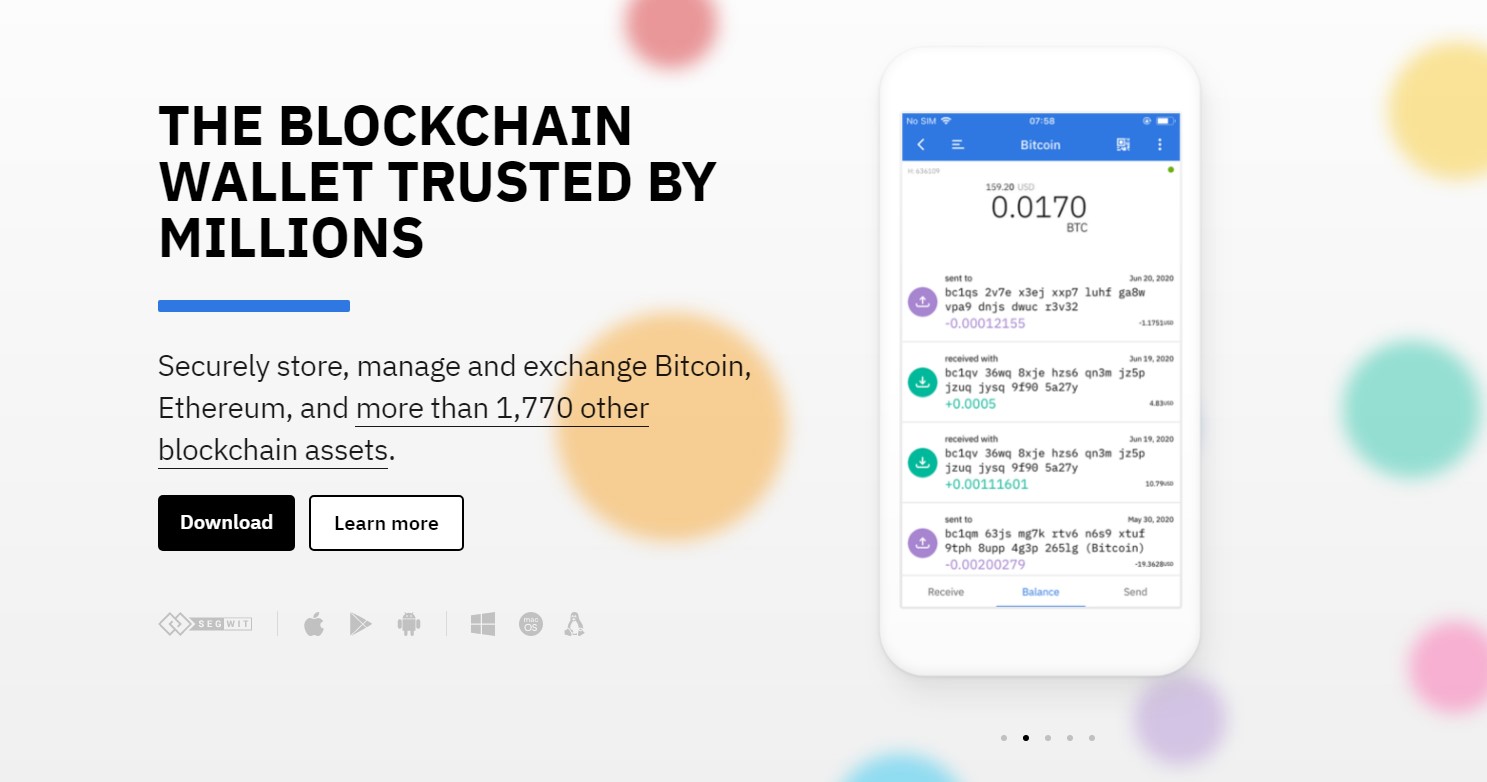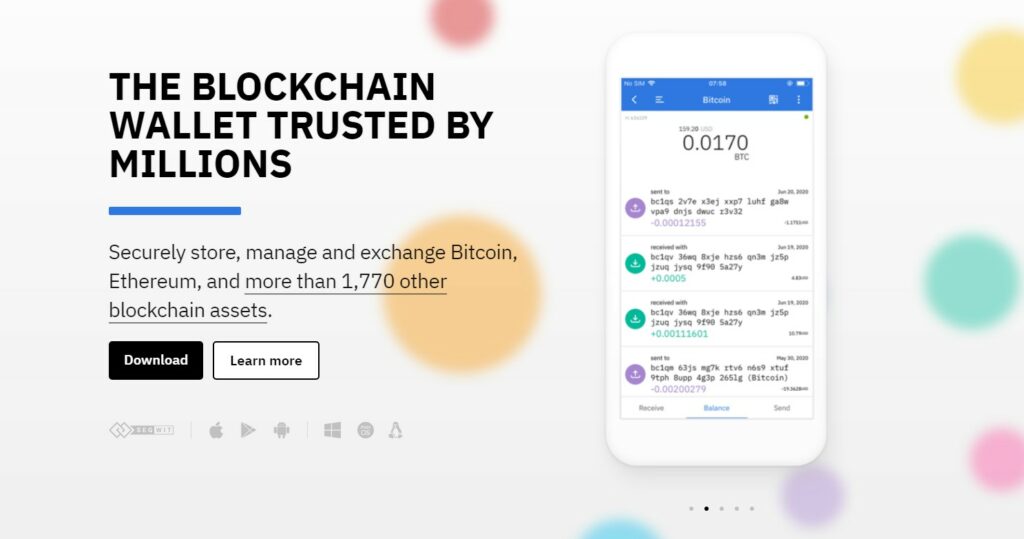 What's good about Coinomi is that it allows you to trade cryptocurrencies directly within the wallet, saving you from the trouble of transferring your funds to an exchange platform. Plus, you can set fixed or dynamically optimized fees for your transactions.
MetaMask
MetaMask is an open-source decentralized finance wallet (DeFi wallet). Unlike centralized wallets, users may open accounts on DeFi wallets anonymously and access their funds without providing their identity. This may sound a bit risky but DeFi wallets actually possess less risk of compromise. The only downside is, if you lose your login information, there is no way to prove your assets are actually yours.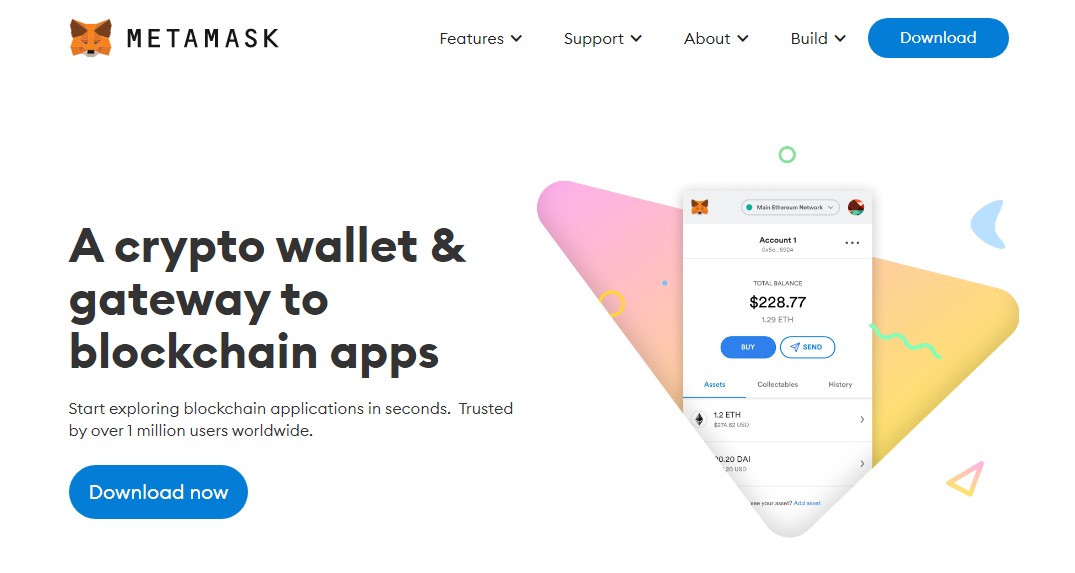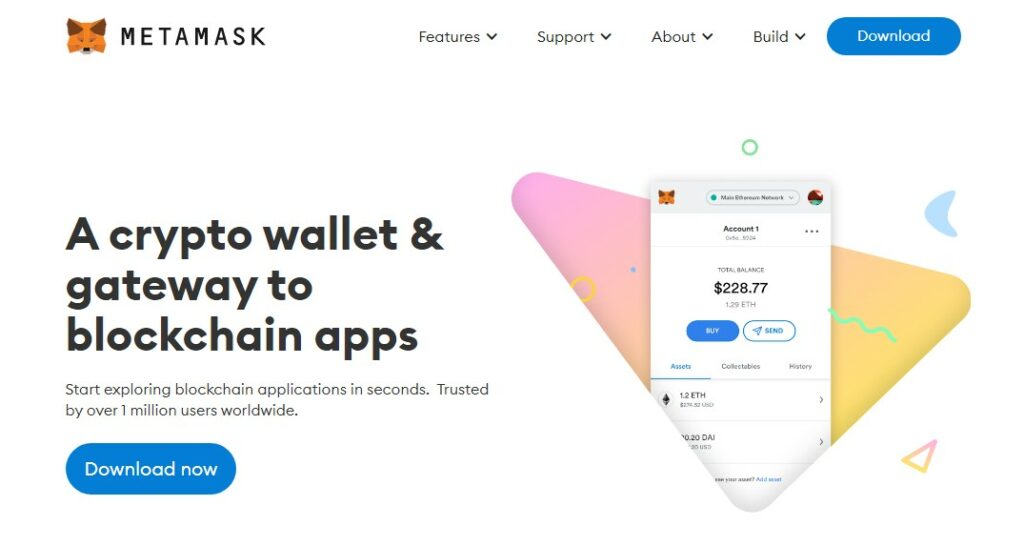 MetaMask is a hot wallet only available on browser extensions, specifically on Chrome, Firefox, Brave, and Edge. It's also a gateway to the broader DeFi ecosystem that lets you access decentralized apps (dApps). To do that, MetaMask connects you to the Ethereum blockchain directly. For this reason, you can only store Ethereum and ERC-20 tokens, which are Ethereum blockchain based tradable assets.  
Myetherwallet
MyEtherWallet is another free-to-use, open-source project that offers a noncustodial wallet service. It's a web-based wallet meaning that you can only reach it through a browser.
MyEtherWallet does exactly what it says on the box and lets you store Ethereum and coins that run on the Ethereum blockchain, a.k.a. ERC-20. It also has a built-in marketplace allowing you to exchange your digital assets for fiat currency, Ethereum, and Bitcoin.
It supports smart contracts for automating common transactions. This makes MyEtherWallet especially appealing for business owners. Plus it comes integrated with Ledger and Trezor, helping you keep your assets offline.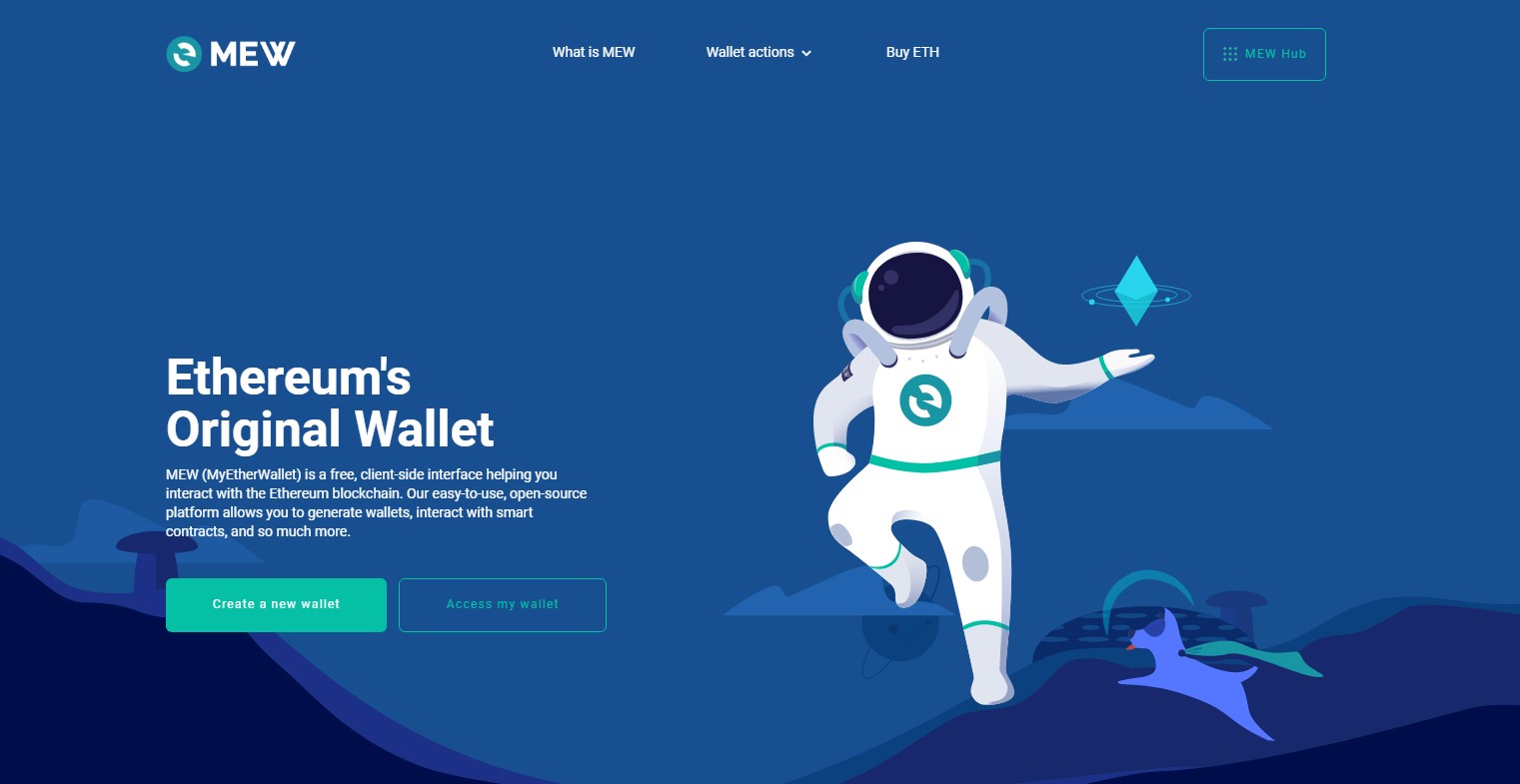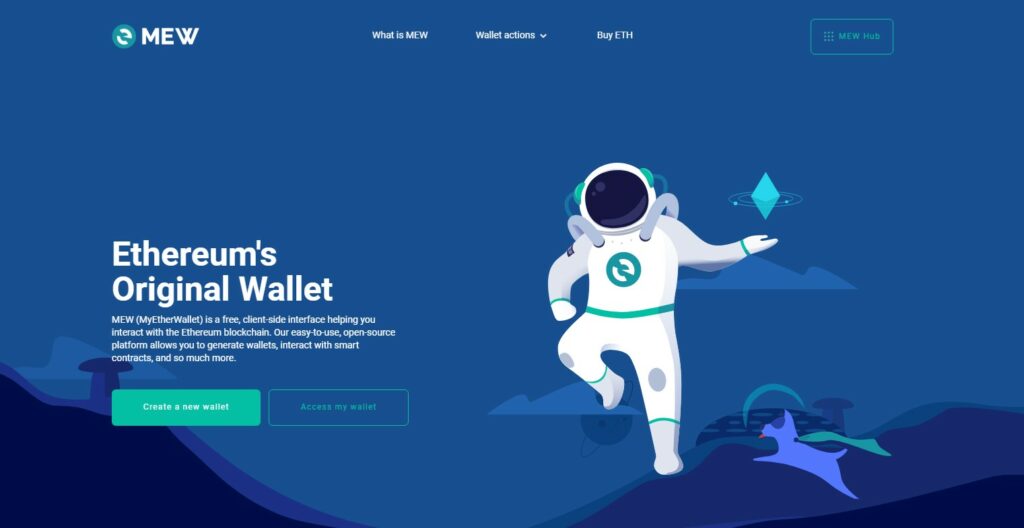 In security terms, MyEtherWallet doesn't store sensitive data on its own servers. In 2019, the wallet became a target to a phishing attack asking users to log in to verify their account. However, it was not related to MyEtherWallet security protocol and the team behind MyEtherWallet was not late to warn users through their official Twitter account.
Even though some users report that its interface is complicated and challenging for newbies, the platform's how-to videos are very clear and can be a great resource for those who have the time and the will to learn their way around MyEtherWallet.
Jaxx
Jaxx was started by one of Ethereum's founders, Anthony Di Iorio. It's easy to use, free, and compatible with both mobile and desktop devices. Jaxx is an excellent alternative for investors with a wide variety of coins, as it supports more than 80 cryptocurrencies.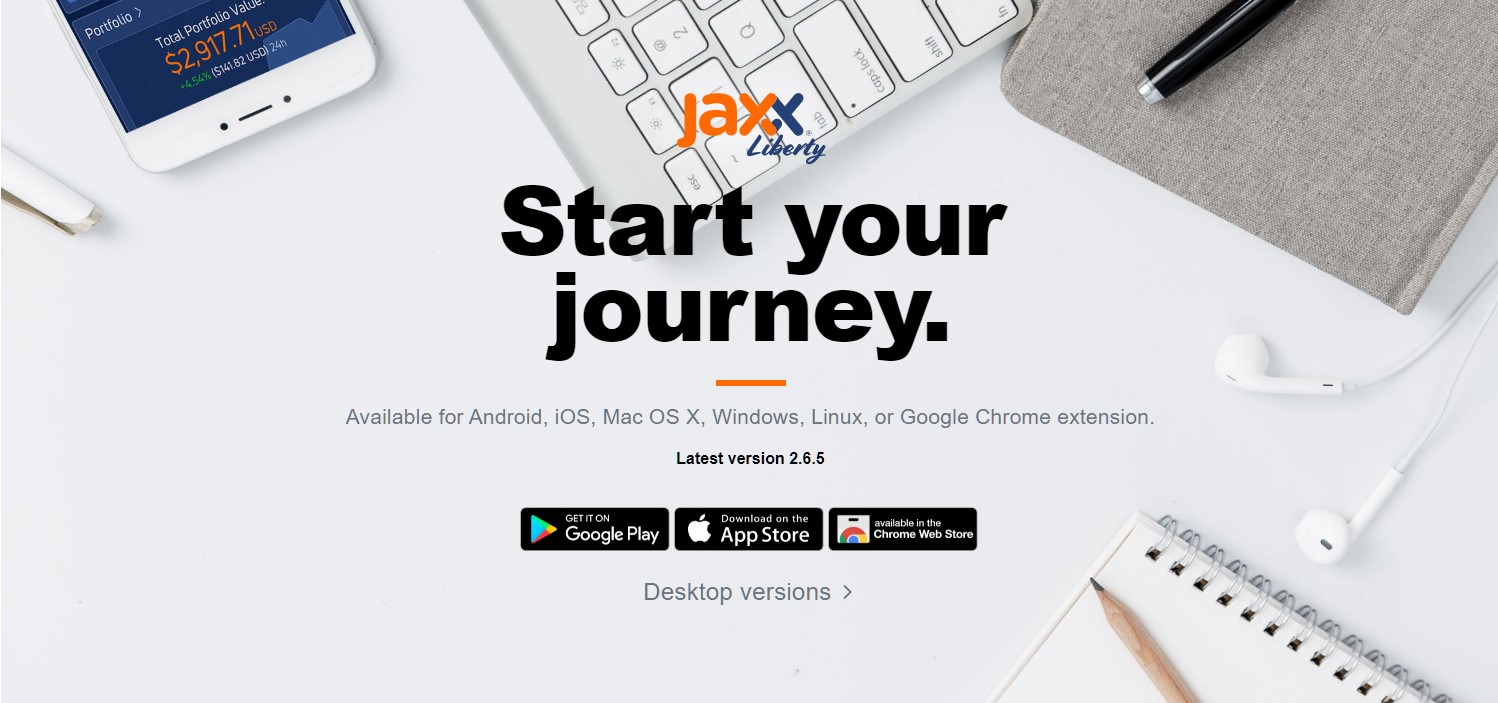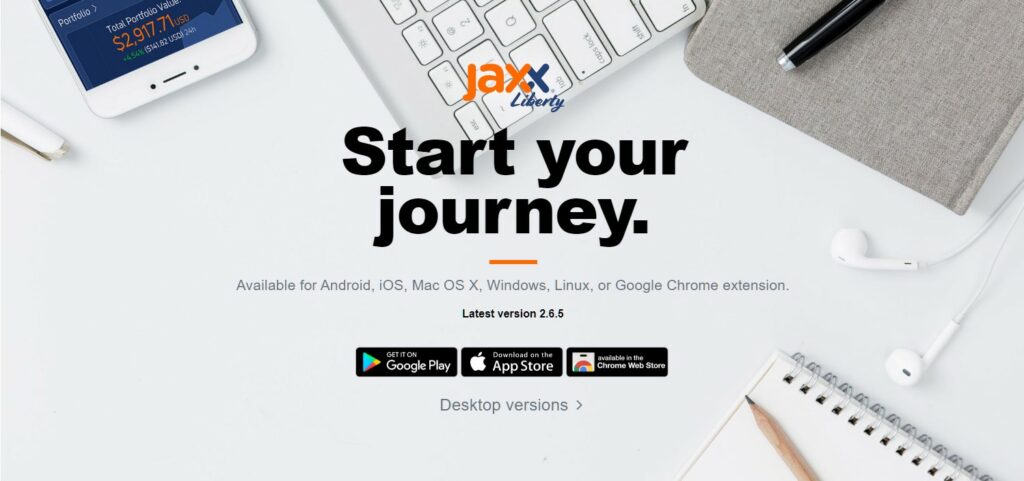 What's more, its cross-platform-pairing service lets you use Jaxx from any of your devices, linking them together. It allows you to exchange coins within the app with a built-in third-party exchange service called ShapeShift. Plus, its QR code Scanning feature makes things more convenient.
A Few Words Before You Go…
Choosing a wallet that is suitable for your needs is one of the essential steps for successfully navigating the world of crypto. Consider this list of wallets as a starting point; however, before reaching a decision, make sure you do your own research to figure out what you need and what your priorities are when it comes to altcoin storage.
The first thing to do is acknowledge your experience and your level of knowledge in investing in cryptocurrency. If you are a beginner, avoid complex services that give you tons of options and opportunities for customization. Those things can unquestionably come in handy in certain situations, but they can also leave you feeling overwhelmed and unsure.
The second thing to consider while choosing a wallet to store your altcoins is how much money you are willing to spend. You might choose a free online wallet or spend some bucks on safer alternatives such as hardware wallets and extra features that are a bigger investment but make up for it by helping you keep your assets safer. Remember that, at the end of the day, the most secure crypto wallets for your digital assets are paper wallets and hardware wallets.
And lastly, you should consider which coins you want to hold in your account, as that will help you narrow down the list to wallets that support those altcoins.
But in any case, the numerous services out on the market are more than capable of meeting all your needs. You only need to do your due diligence and research so that you are equipped with the knowledge you need to make an informed decision on where to store your altcoins.