The Cardano smart contract platform protocol is the latest among the waves of smart blockchain protocols that have hit the market, offering a new and superior way of blockchain processing and asset verification. The first blockchain processing protocol model used the now-infamous Proof of Work (PoW) blockchain technology. When this approach proved to be quite detrimental to the environment and the planet, the second wave of smart protocols improved on its predecessor and moved towards Proof of Stake (PoS) as a means of verification.
However, there was an inherent problem with this technology as well. For a party to prove stake of anything, first, it had to acquire the staking assets, which made the PoW technology hard to bypass. The Cardano blockchain makes use of an open-source ecosystem that sets decentralised apps (dApps) in motion to execute smart contracts. The protocol's ADA token can be put to use in many different ways. But before we get into the unit's storage, let's look at how users can acquire it.
How to Purchase Cardano
Buying Cardano Through a Bank Account
The most straightforward way of purchasing Cardano is with the ever-present bank transfers. By taking this route, traders will have to have a user account from a crypto exchange platform that has the ADA token listed on its market order list.


When setting up an account, users will most likely be prompted to provide personal information about themselves. In most cases, when going through a centralised crypto trading platform, they will need to provide account credentials as well as some kind of identity verification. This can range anywhere from an active email address to extensive KYC and AML tests. If they want to join an exchange that runs a mandatory KYC on its users, traders will need to provide official documentation to prove their residence and identity. These documents usually include a government-issued ID card, a passport, driver's license, or utility bills.
Once users link their payment provider to their user account, they can select the ADA token and transfer it onto their bank accounts. One of the most popular and in-demand Cardano vendors across the territory of Australia is eToro. The crypto trading platform provides users with a plethora of valuable tools and features that they can immediately incorporate into their strategies.
Buying Cardano With Credit Card and Debit Cards
Another popular method of acquiring Cardano is using credit card and debit card purchases. Even though card purchases come at higher fees than bank accounts, they are also quicker. Traders who prioritize speed over getting the best fees on the market should seriously consider this method because it's supported by almost all prominent crypto exchange providers today. Most crypto exchanges make it possible for traders to deposit and purchase a lot of cryptocurrencies and digital assets with fiat currencies such as Australian dollars (AUD) or American dollars (USD).
Buying Cardano With Cash
Naturally, the most straightforward way of acquiring Cardano is by purchasing it directly through Bitcoin ATMs. Of course, the problem with this approach is the location of the Bitcoin ATM dispensers. If traders have one in their immediate surroundings and don't mind the high fees, they only need to select the Cardano (ADA) token from the vending machine, punch in or link their wallet address, and confirm their purchase.


The ATM will calculate the fiat amount they will have to deposit to finalize the order and send a notification to their official email that they will be able to use as a bill receipt.
Buying Cardano on Peer-to-Peer Exchanges
Traders can also acquire Cardano by employing peer-to-peer (P2P) crypto exchanges. P2P crypto exchanges might not be the most convenient way to go about things because they do require a great deal of know-how for a transaction to be set up and executed. Still, if a user is willing to learn the ins and outs of truly decentralised crypto trading, then P2P crypto platforms are definitely worth their time and effort.
The best part about going through a P2P crypto exchange is the part where traders deal with other parties directly, without the need of a mediator or a central third party that has to oversee and execute their transaction. This, by extension, means that every aspect of the trade is up for negotiation. Cardano buyers need to find ADA token holders willing to sell the digital asset and negotiate the terms.
Buying Cardano With PayPal
Instant swap provider PayPal is not supported across the Australian trading market for Cardano purchases. If PayPal is the only option for the user, they will have to go through a third-party exchange before finalizing their purchase. This means that they will have to run one extra conversion in order to make a deposit through Paypal. This is not advised because of the extra fees that come with the step.
There is another workaround in case users need to trade with the value of the ADA token, but they don't have the token in their possession. By employing CFDs and underlying assets, they are able to purchase digital assets that are pegged to the value of the ADA token and set it against other digital assets.
Buy Cardano With Another Currency
Traders can set the ADA token against almost all of the established and in-demand cryptos on the market at any time. Most crypto exchanges feature an abundance of Bitcoin (BTC) and Ethereum (ETH) pairs. The only thing that users need to do is research whether ADA/BTC and ADA/ETH pairs are supported and proceed with their purchase when they navigate them.


Even though the more popular cryptocurrencies and digital assets are everywhere, traders might find it challenging to set Cardano against an altcoin that doesn't have a broad reach. The odds are that they will still be able to execute their trade, though it might come at a higher taker fee. The option of swapping the lesser-known asset for some Bitcoin and then purchasing some Cardano is always on the table for users willing to take the extra step and pay the extra fees that come with it.
Of course, swapping fiat currencies for Cardano tokens is not out of the question; however, there aren't a lot of platforms that support AUD to ADA swaps.
Best Cardano Wallets – How to Store ADA Cardano Tokens
Selecting a new wallet for your Cardano ADA crypto assets among dozens of Cardano wallets can turn out to be quite the feat. There are a multitude of parameters and cross-parameters to consider. Do you require a cryptocurrency wallet that provides cold storage? A jack of all trades such as Atomic wallet? Are you down for entering your unique mnemonic recovery phrase on each entry?
Traders should always have in mind whether their wallet supports the operating systems they will be utilising most. There are wallets that are tailored to iOS, Android, macOS, and Windows; however, this does not mean that they are mutually exclusive. Most popular crypto exchanges such as Binance and Coinbase will have the ADA cryptocurrency as a supported digital currency, so let's take a look at what's on the menu regarding wallet types before we settle for a brand. Shall we?
Desktop Wallets (Best Multi-Asset Wallets)
Daedalus (Official Cardano Desktop Wallet)
Traders looking to make the most out of Cardano should look no further than the platform's native Daedalus crypto wallet, which is compatible with decentralised applications and is slowly but surely expanding its roster of featured assets. In the beginning, the wallet was exclusive to ADA token storage; however, users found this quite inconvenient and asked the company to diversify its offering. The Daedalus wallet is compatible with Windows, Mac, and Linux desktop devices.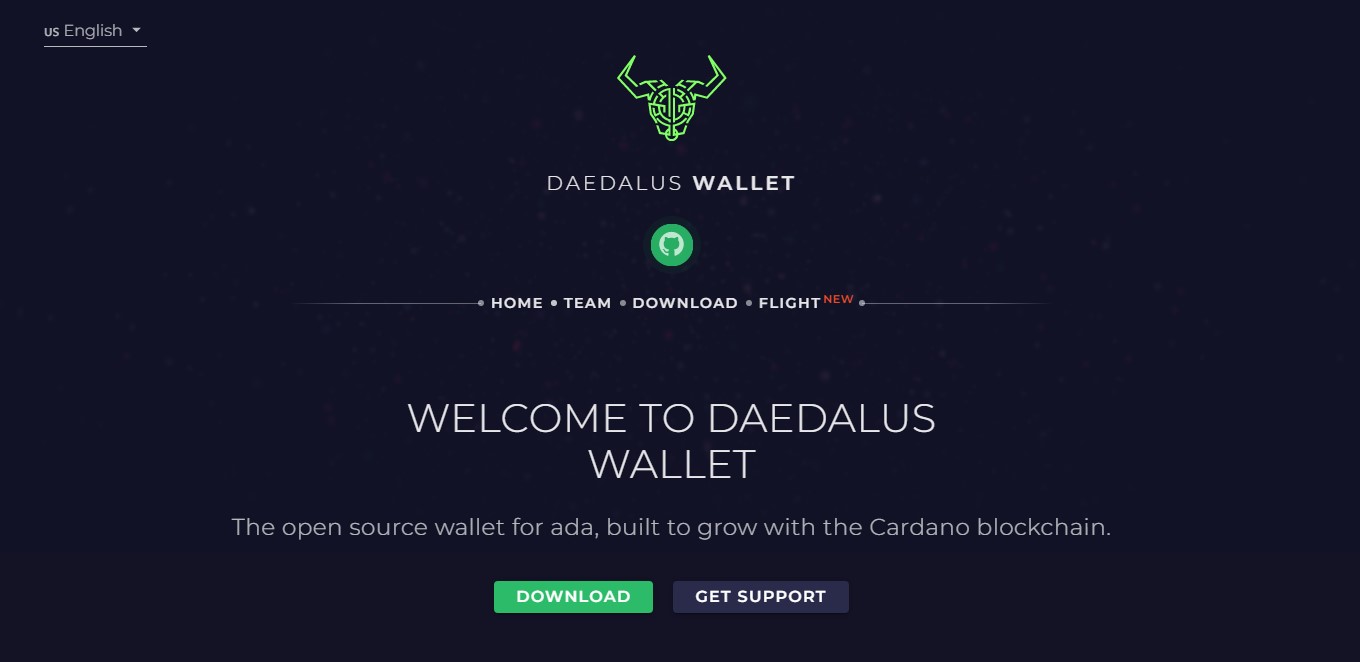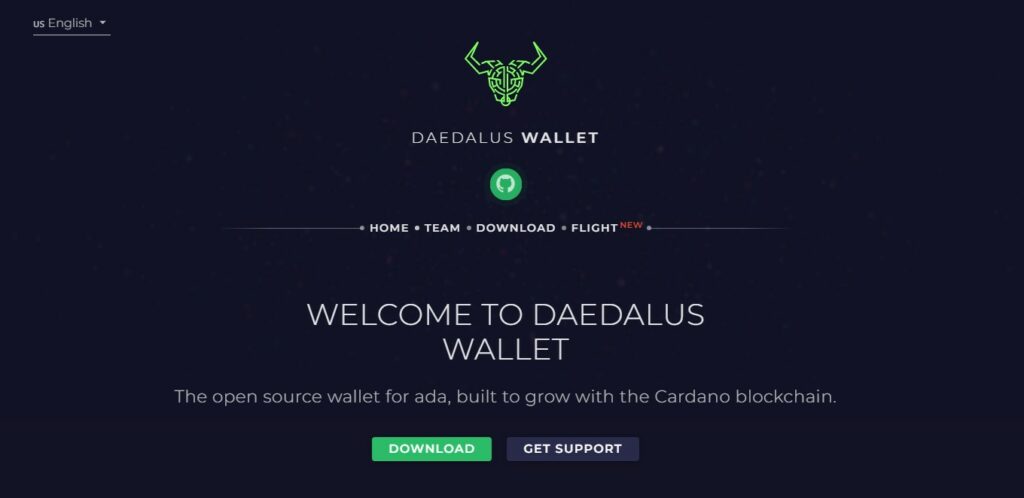 It should be noted that unlike light wallets, Daedalus makes use of full node wallet protocols to verify transactions, meaning that every time there is an alteration, the wallet has to download the employed blockchain in full to verify the transaction. This comes as quite a setback because, depending on the blockchain, the process might take up to a full day to commence, which is a problem for frequent traders.
Daedalus is a multi-functional crypto wallet and can also be used as a paper wallet. It rewards holders with ADA interest rates that are administered monthly. So, traders who have a lot of ADA tokens and no immediate need to put them to use can make quite a profit just by having them stored on their balance sheets. Finally, the Daedalus wallet features high-end security and end-to-end data encryption on all protocols.
Traders who would like to link the wallet to a different hardware wallet are welcome to do so at any time.
Exodus
The Exodus desktop wallet offering comes with plenty of extras. Besides being fully capable of storing and handling ADA tokens, this hot wallet is excellent for multi-asset storage. This way, traders are able to execute their business quicker and focus only on the currency they need at any given moment, instead of waiting for the wallet to process all of the stored currencies and their blockchains.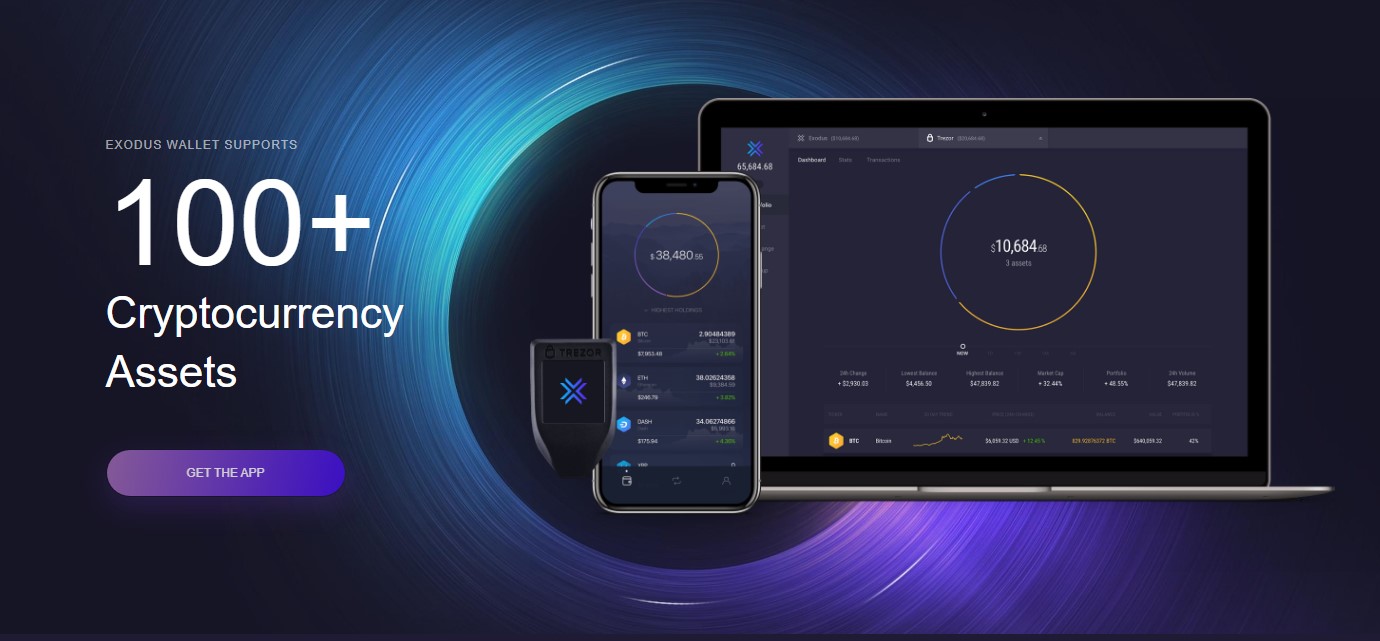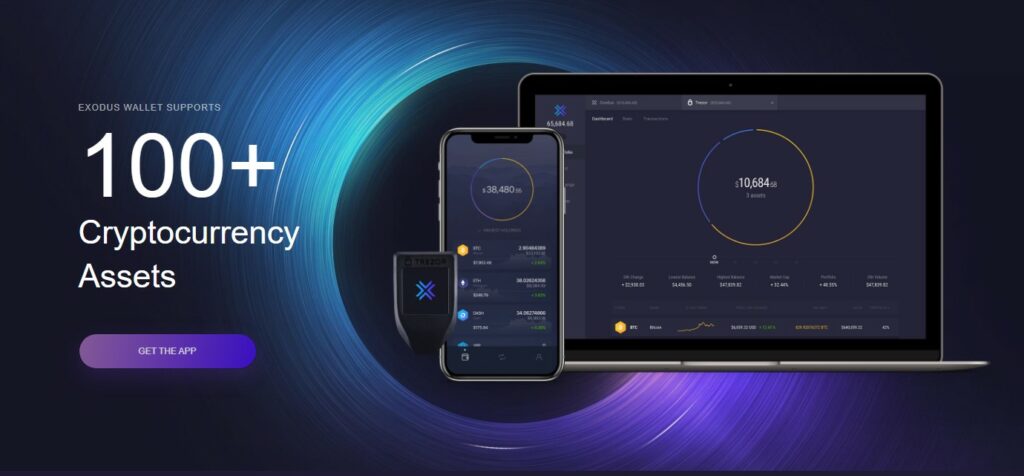 The wallet provides users with full control of their wallets, it comes with an intuitive and easy-to-navigate interface and a dedicated on-board crypto exchange, and it's fully compatible with mobile devices. Traders can store any of the 110 supported assets where they're storing Cardano, and, much like the official Cardano wallet, earn interest by holding or staking their assets. Sounds pretty good from where we're standing.
Hardware Wallets (Best Security)
The Cardano hardware offering is considered the most secure facility on the market for ADA token storage. Designed from the ground up to provide the most incredible security infrastructure money can buy, the Cardano Hardware Wallet ensures that the private user keys always stay on the device.
Even though this might be a bit inconvenient for users who are executing frequent trades daily, HODLers will hardly find a better option for their ADA token storage.
Trezor
Even though the Trezor wallet doesn't feature direct ADA support, traders that want to take advantage of its capabilities can go through the Trezor Model T through desktop app wallets such as Yoroi and AdaLite. Once it's dialled in, users are able to enjoy the advanced security that the Trezor wallet provides. If the wallet's protocols come across a transaction that is out of the ordinary in any way, they stop it at the gates before the user manually confirms.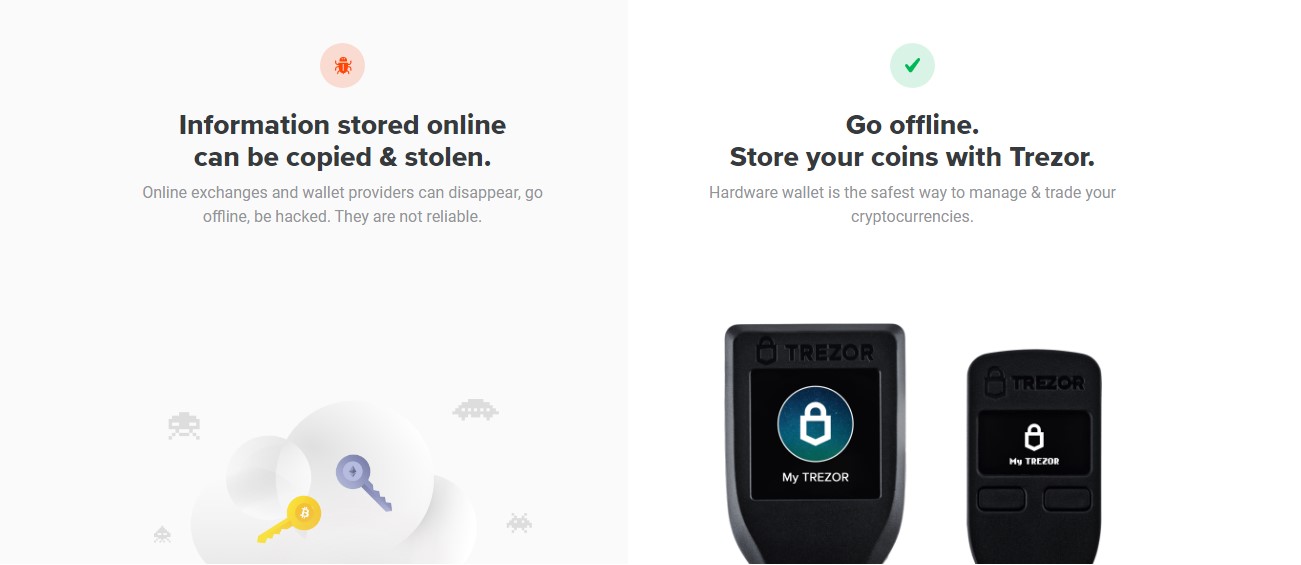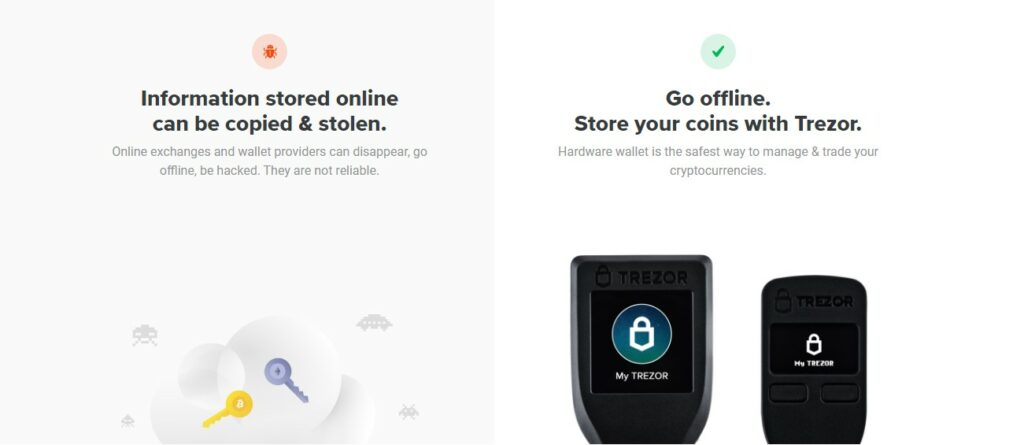 Mobile Wallets
Users looking for an ADA wallet that fits in their pocket have a pretty limited offering. The Yoroi app is fully compatible with Cardano but doesn't allow for much compatibility outside of that. The trusted Exodus crypto wallet is also an option because it provides a slew of staking currencies and a comprehensive offering of over 100 digital goods.
Traders are still in the custody of their private keys at all times and should have no problems with the navigation side of things. Furthermore, there is no need to create a separate account on different crypto exchange platforms, as all of the swaps can be done from the convenience of the crypto wallet itself. Plus, the Exodus support team is on standby at all times, which makes queries a lot easier to solve.
Web Wallets (Most Convenient)
Wallets such as AdaLite are the easiest to navigate because of their simplistic design and compatibility. They are available as browser extensions for Chrome and Firefox. Traders from all walks of life should have no problems whatsoever when it comes to Cardano in web wallets; however, in order to keep the security on par, they will also need to pair the web wallets with a dedicated hardware wallet.
Web wallets are super convenient because they offer users the option of transferring funds without registering for multiple accounts or going through verification processes. While this is the quickest and most convenient option, it's also the most vulnerable way of transferring funds because there are no firewalls in place to protect the connection or security keys from malware attacks or hackers. That being said, web wallets still serve their purpose in the grand scheme of things and are frequently utilised for moving small assets at a great pace.
Paper Wallets (Best Hardware Wallet Alternative)
Paper wallets are more in line with hardware crypto wallets than web-based wallets. Cardano traders that are using Daedalus are able to create their paper wallets without leaving the app itself. Most paper crypto wallets come at no extra fees; however, they are a bit of a chore to go in and out of. They are best for traders who are looking to hold their digital assets for prolonged periods of time.


A Few Words Before You Go…
Even though at the end of the day, the choice of the best Cardano storage facility comes down entirely to need and preference, most users will need to strike a balance between convenience, speed, and safety. The most popular hardware wallets that tick most of the boxes and have a reputation of being the best in the business are the Trezor Model T or Ledger Nano x.
Traders that absolutely can't do without a touchscreen around the clock and have to remain mobile at all times will be best suited with mobile app wallets such as the Yoroi wallet or Exodus. AdaLite seems to be the most popular choice among ADA token dealers when it comes to desktop wallet offerings. Of course, for the best authentication and functionality on the Cardano network traders should go with Daedalus. As there are no right or wrong answers, we hope that this article brought you closer to or even tipped the odds to your eventual verdict. Store away.