Sia is a marketplace for buying and selling storage space online. It uses blockchain technology to develop a trustless, decentralized alternative to centralized cloud services.
Essentially, Sia aims to be a blockchain for decentralized storage. Just as Ethereum became a marketplace for DeFi applications through smart contracts, the Sia blockchain aims to use smart contracts to be a decentralized cloud storage platform.
Usually, we have to work with big companies like Google, Dropbox, or Amazon for data storage services. That means these companies have a say over what can be stored and not, and they have the right to surveil content and deny hosting it. With a decentralized storage marketplace, people can rent their own storage space to others, creating a decentralized network safe from censorship. That is the dream Sia promises.
Siacoin is the native utility token of the Sia blockchain. Users can use Siacoin to enter into smart contracts on the Sia blockchain and rent their excess storage space to others. In this guide, we will show you where you can store Siacoin and explain which wallets support Siacoin storage.
Who Is Behind Siacoin?
Siacoin was launched by co-founders David Vorick and Luke Champine in 2015. David Vorick came up with the idea for a company that provided peer-to-peer decentralized storage but he failed to secure funding through grants. The two decided to crowdfund their startup, Nebulous company, instead, successfully raising enough money to launch a beta version in 2015.

The developers had to build an entire blockchain for the Sia storage platform. The beta version of the blockchain used a proof-of-storage consensus mechanism, but later on, switched to proof-of-work mechanisms that are also used by Bitcoin (BTC) and Ethereum (ETH). Sia Version 1 launched in 2016.
Sia Platform Features
Sia Platform is a developing project so it doesn't make sense to compare it with centralized storage platforms that have been around for years. The Sia platform has been in use since 2016 but the rate of adoption is quite slow as the Sia team had to do a lot of work on different components of the Sia Platform, including trying their hands at developing an internet cheekily named SkyNet.
That said, Sia Storage Platform has some good qualities that are worth considering. For starters, using Sia for data storage is cheaper than using cloud storage services like Dropbox.
Another benefit is the decentralized nature of the Sia blockchain. Unlike a centralized server that has a single point of failure, the decentralized nature of the blockchain means that no one node (or server) has all the information. Instead, the information is stored by multiple nodes along the Sia blockchain network. That means that even if one or more nodes fail, the data continues to be accessible to the peer-to-peer Sia network.
You can become a lessor on the Sia storage platform and obtain passive income as a host. You can use the extra hard drive space you have on your computer to earn Siacoin on the platform. The platform itself handles all the encryption, so you don't have to do anything besides running a full node. Lessors don't have a way of knowing what files are hosted on their computers since all files are automatically encrypted before they are downloaded.
How Does Siacoin Work?
Since Sia is a marketplace for renters (as in those who rent) and buyers of storage space, the prices are determined by supply and demand. Currently. you can store 1TB of data on the Sia blockchain for around 2 USD.
Once a user uploads files to the Sia platform, the data is encrypted and divided into small pieces to be distributed among nodes.
You can learn more about the current state of the blockchain here.
Siacoin ICO and Distribution
The Siacoin utility token wasn't distributed in an ICO (initial coin offering). The company behind Siacoin, Nebulous Inc., sold SiaNotes in an initial public offering (IPO) back in 2014 to raise money for the project.
The IPO was announced at the Bitcointalk forum and received some interest. The goal of the crowdsale was to raise 250 BTC with around $100,000 at the time. All SiaNotes were sold in two days, and the project raised around $240,000.

SiaNotes were then redeemed as SiaFunds notes. SiaFunds is a security token that lets the holder earn money from contracts on the blockchain. SiaFund holders receive 3.9% of all storage contract fees. Nebulous Inc. holds 85% of all SiaFunds.
SiaFunds are not sold by the company and they are considered securities by the the US Securities and Exchange Commission so you won't find them in regular crypto exchanges. If you want to buy SiaFunds check out Siafunds markets on Bisq or the Sia Discord server for over-the-counter transactions. However, beware that you might have to become an accredited investor to buy SiaFunds as they are securities.
Top Siacoin Wallets
Siacoin is the native token of the Sia blockchain. That means it is harder to store Siacoin because, unlike many ERC-20 tokens that can be stored in any Ethereum-friendly wallet, it requires a wallet that's specifically designed for the Siacoin blockchain.
The developers of Sia created a wallet for Siacoin but there are only a few third-party developers working on wallets that support Siacoin. It doesn't help that many multi-currency wallets that are commonly used for storing different cryptocurrencies, such as the Jaxx or Trust wallets, don't support Siacoin. Presumably, building a wallet that supports Siacoin is a time-intensive affair that many wallet providers don't want to get into before the Sia project reaches maturity or a higher market cap.
We prepared a list of the best Siacoin wallets you can use to interact with Siacoin blockchain and store Siacoin utility tokens. You should keep in mind that while some wallets on the list are official, some of them are third-party wallets that are not supported by the project developers. Nonetheless, they are widely used by the community for a long time without difficulties, so we believe they earned their place on our list. If you encounter other wallets that we didn't list in our guide, make sure to check what the Siacoin community has to say before you start using them, as they could potentially be malicious.
Here are the best Siacoin wallet options developed by Siacoin project developers, the SiAcoin community, and other wallet providers.
Sia-UI Desktop Wallet
Nebulous, the company behind Siacoin and the Sia storage platform created the official Sia-UI desktop wallet for storing Siacoin and interacting with the Siacoin blockchain. In other words, this is the official wallet of Siacoin developed by the Sia team itself.
As the cryptosphere is chock-full of cryptocurrency scams and fake cryptocurrency wallets that facilitate crypto theft, the Sia team advises users to bypass third-party wallets and always use the official Sia-UI wallet. If you use any other software that is not designed by the project developers, there is a risk of losing your Siacoin funds.
Unfortunately, the Sia-UI wallet is strictly a desktop wallet and can't be used on mobile devices. You can download the Siacoin desktop wallet from the Siacoin project's official page for Windows, Mac OS, and Linux.

The most important thing about the Sia-UI wallet is that it requires the entire blockchain to be functional. Once you set up the Sia-UI desktop wallet, the wallet downloads the entire Siacoin blockchain and broadcasts it to the Siacoin blockchain network. Essentially, the Sia-UI wallet functions like a full node.
Downloading the entire blockchain can take a long time, sometimes up to a few days. You have to keep track of the download and wait for it to finish to start using the Sia-UI wallet.
There is, of course, a huge advantage of running a full node Sia-UI wallet. Having access to the entire blockchain means you can easily make smart contracts on the Siacoin blockchain and sell storage space on the Sia storage platform yourself to make a profit from the unused hard drive space on your computer.
The Sia-UI wallet has a graphical user interface, so you don't have to be technology-savvy to use this client.
Sia Daemon Desktop Wallet
Sia daemon desktop wallet is also developed by Nebulous, and it is a different version of the official Siacoin wallet. The Sia daemon is actually a background system that runs all the important Sia operations on your computer, including managing the Sia peer network and downloading the Siacoin blockchain. The desktop wallet is one of the features of the Sia daemon.
You can use the desktop wallet to create addresses and private keys, to monitor your Siacoin funds, and to interact with the Siacoin blockchain – i.e. send and receive Siacoin.
Sia Daemon also functions as a gateway to Sia's peer-to-peer network where Siacoin transactions take place. It also runs the consensus mechanism that makes mining Siacoin possible. Additionally, there are modules that monitor contracts and help renters and hosts to enter into smart contracts for storing/uploading data.
The Sia Daemon desktop wallet is built for tech-savvy users who can use the command line effectively to execute programs.
Sia Cold Storage
There is a software you can use to make a paper wallet for your Siacoin, known as Sia Cold Storage. Sia Cold Storage generates a Siacoin wallet seed and a collection of addresses without downloading the entire blockchain.
You can use the Siacoin wallet addresses to receive payments or send funds to yourself from a different wallet. Your addresses are entirely offline and very secure, providing cold storage for your Siacoin.
You can download the Siacoin cold storage software from the NebulousLabs Github. Technically, the process is most secure when you do it with "air gapping," i.e from a completely offline computer, so that there is no risk of anyone tracing your seed or addresses.
Once you generate a private seed phrase and public address for your SiaCoin, you can print them just as you would a paper wallet. You can use the wallet addresses to grow your funds and once you are ready to spend or sell your Siacoin, you can do so easily by downloading Sia-UI and restoring your wallet with the seed phrase you received originally. Just make sure to keep your seed phrase private and secure.
Ledger Hardware Wallets
Ledger wallets are legendary in the cryptocurrency community for their developed security features and Ledger Nano wallets won't disappoint Siacoin enthusiasts. Ledger has two hardware wallet models, Ledger Nano S and Ledger Nano X, and both models provide support for Siacoin. Of course, it is a huge advantage that you can also use a Ledger hardware wallet to store pretty much any other currency, including Bitcoin (BTC), Ethereum (ETH), Dogecoin (DOGE), Ripple (XRP), and Tether (USDT), thanks to its multi-currency support.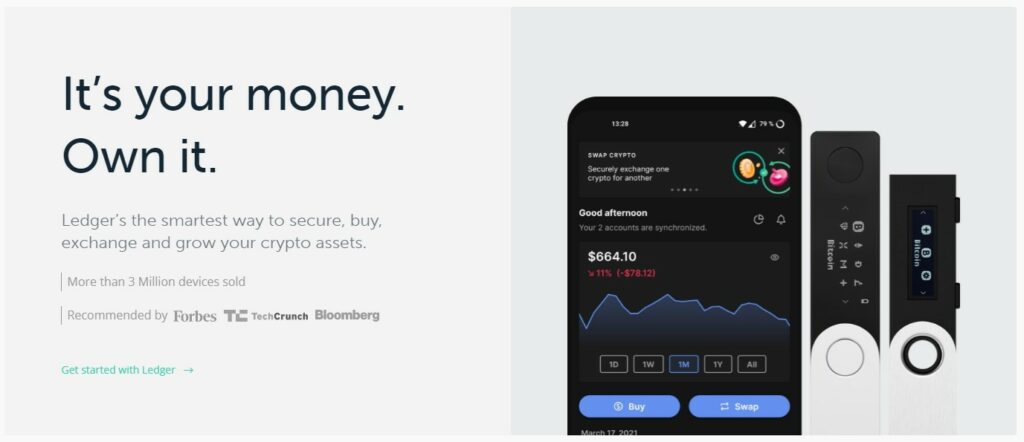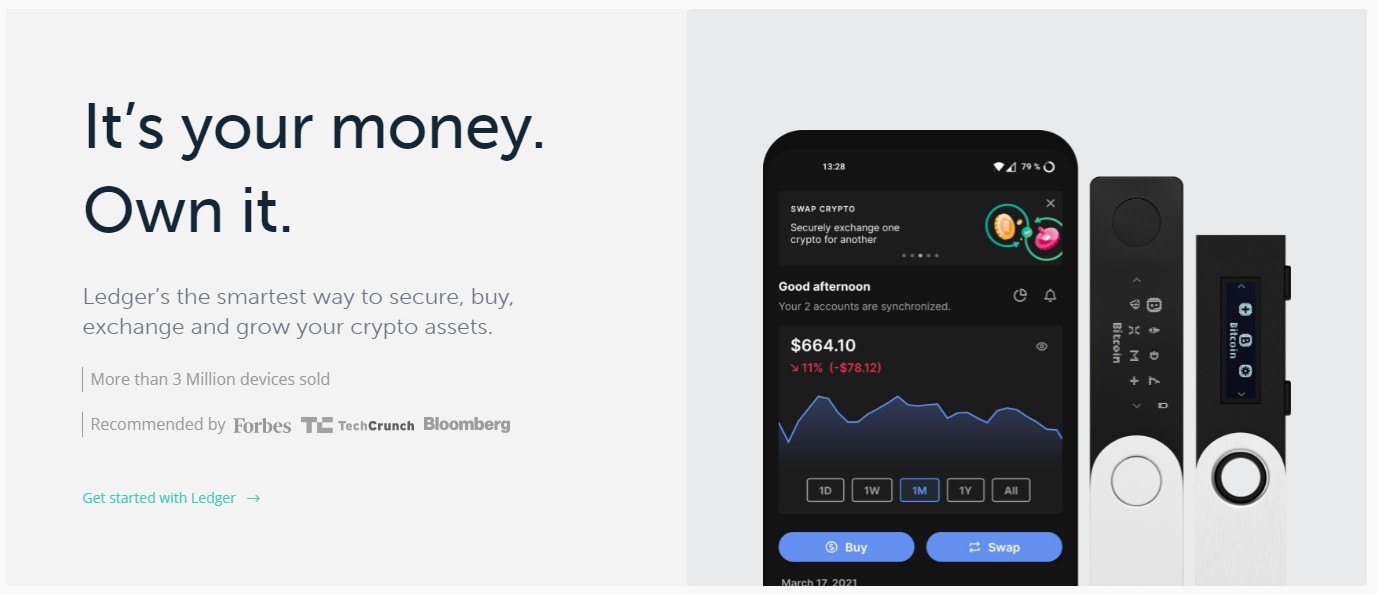 As you may already know, a hardware wallet is a cold storage method that helps you keep your private keys offline. Hardware wallets are like USB drives that you only connect to your computer when you want to monitor balances and trade your digital assets, but even then they are protected from viruses and hacking. A Ledger wallet is one of the safest ways to keep your cryptocurrency, including Siacoin.
Keep in mind that you still have to download the entire Siacoin blockchain to use the Ledger wallet. However, the process is much easier. Once you set up your Ledger wallet, download the Siacoin app on your Ledger device through Ledger Live and create a Ledger Siacoin account afterward. Beware that there is only support for Chrome, Opera, Brave, and Microsoft Edge browsers (for now). 
Overall, a Ledger wallet could be a good investment especially if you want to store multiple digital currencies. Ledger Nano S is the cheaper model and can be ordered from the Ledger website.
Sia Android Mobile Wallet
First things first, keep in mind that the Sia Android wallet has been created by third-party developers and it is not an official app. This mobile wallet, like any other third-party wallet, is not recommended by the Sia team.
That said, this is the only mobile wallet in existence that can store Siacoin. However, like many other Sia wallets, it requires running a full node to be functional so users have to download the entire Siacoin blockchain to their mobile devices, something that most users don't really want to do. The download process can take a long time and it can occupy a lot of space on your mobile device as well.
You can send and receive Siacoin with the wallet, as well as use it to make smart contracts to rent storage space on the Sia Storage Platform as a customer. You won't be able to sell storage space while using the app.
Sia Android is open-source and anyone can view the code and read the project details for themselves on the project's GitHub page.
If you want to be able to use a mobile wallet app for storing Sia but you don't trust third-party providers, Sia Team has good news for you. It appears that Nebulous, the company behind Siacoin, is developing an official mobile wallet app for Siacoin with both Android and iOS support.
Atomic Wallet
Finally, there is another great wallet option if you are looking for a way to store Siacoin easily. Atomic Wallet is a popular, multi-currency wallet that is widely used by the crypto community. It offers storage support for more than 300 cryptocurrencies, including Siacoin.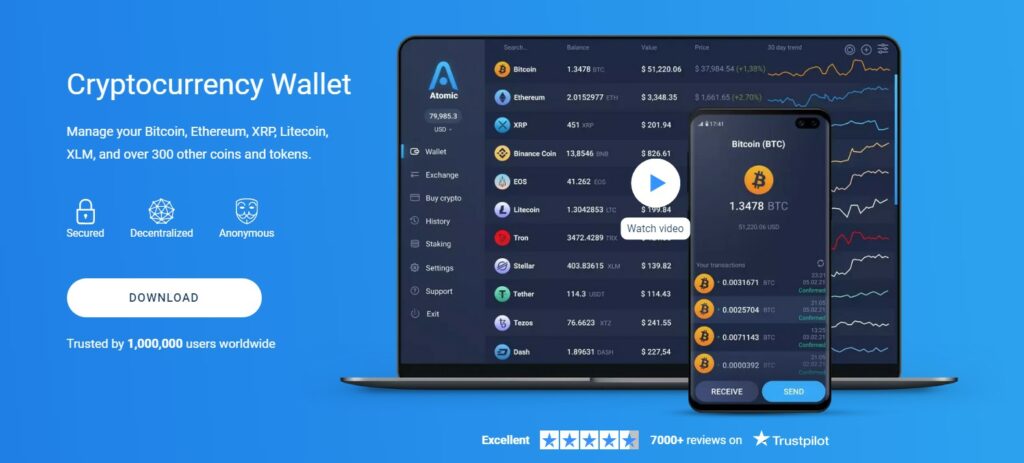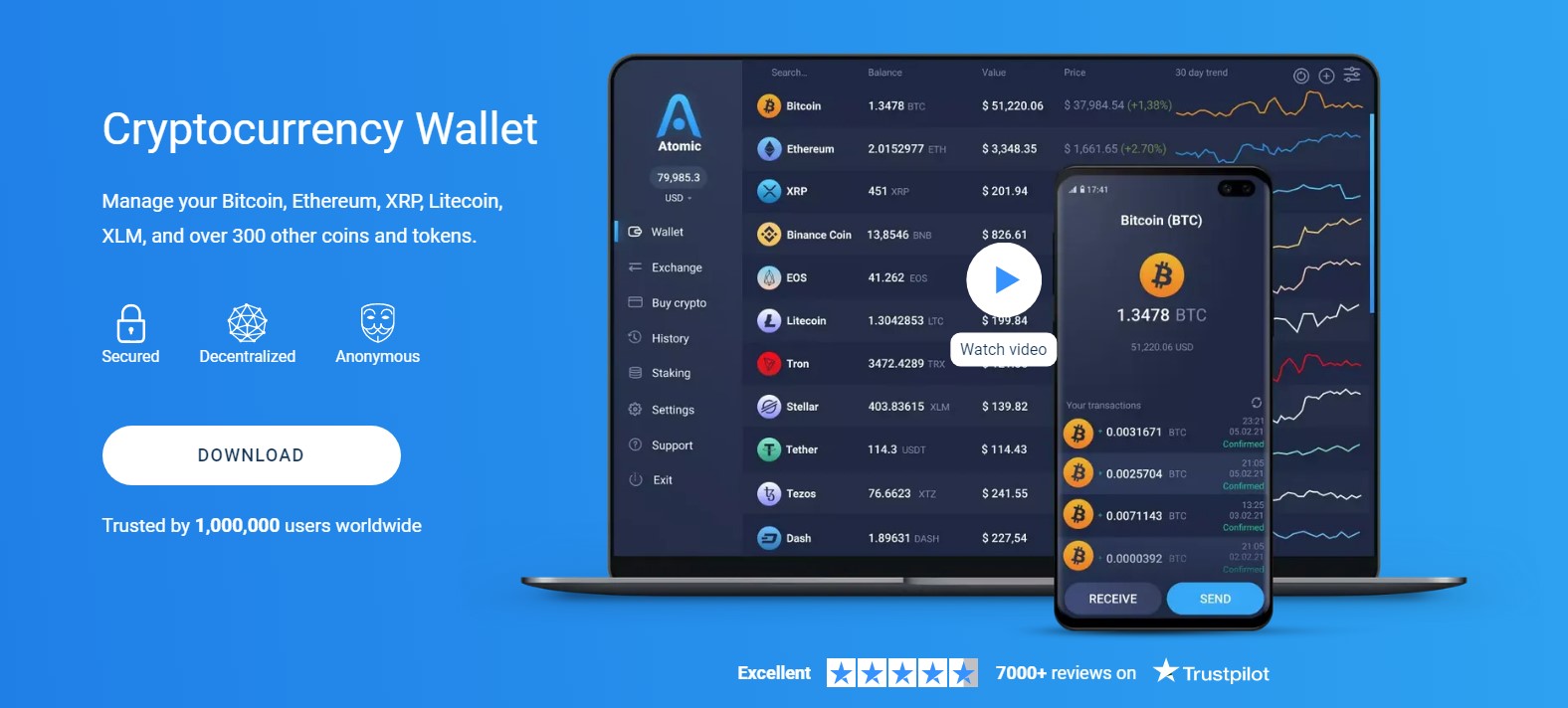 The best thing about Atomic Wallet is its versatility. You can use it on many devices. It is available for Mac OS, Windows, and Ubuntu and there is a mobile wallet app available for Android and iOS devices, as well. You can download the desktop version of Atomic Wallet here. The mobile version can be downloaded from the Apple App store or the Google Play Store.
Atomic wallet automatically generates a seed phrase when you open your wallet account. The seed phrase is a 12 digit mnemonic device derived from your private keys. It is crucial to keep this seed phrase safe in order to be able to access your cryptocurrency funds, so make sure to write it down and keep it in a secure location.
Atomic Wallet has a swap feature that allows people to swap digital currencies amongst each other, so if you want to sell or trade your Siacoin, you can do it without ever moving your Siacoin to another wallet, or to an exchange.
A Few Words Before You Go…
It is unfortunate that there are still so few options for storing Siacoin, especially since the Sia Storage Platform and Siacoin were launched back in 2015. The Sia team, the developers of the official SIA-UI wallet, have avoided building a lightweight wallet client for users who don't want to run full nodes. This does make sense because Siacoin is after all a utility coin that is mainly used for making smart contracts on the platform.
You should choose a wallet for Siacoin based on your circumstances. If you are looking for a lightweight client, your best bet is to use Atomic Wallet for storing Siacoin. If you want to be able to interact with the Sia blockchain, the official SIA-UI wallet is the best choice. If you understand programming and command line functions, you can also download the Sia Daemon wallet. Finally, the Ledger wallet is the most secure option for anyone who has or plans to invest in large amounts of cryptocurrency.