If you're one of those crypto enthusiasts who want to put their coins to good use in their everyday lives, you're probably wondering how to combine the best of both worlds of finance – traditional money and digital ones. 

Here's the good news: you needn't look any further, as you've reached the right place. The purpose of this review is to examine one of the most successful cryptocurrency ventures, which promises to seamlessly incorporate both cryptocurrency and fiat money payment methods. Introducing to you – the Wirex cryptocurrency trading platform.
More to this point, precisely how does this exchange integrate cryptocurrency into the realm of fiat currencies? We're here to provide the answers.
Formerly known as E-Coin, Wirex is a UK-based multi-currency and borderless payment app that allows crypto traders to store, move, and swap cryptocurrencies and fiat money in a safe and secure environment. Essentially, Wirex operates in the same way as every online bank account that you can access through your smartphone. 

It also provides a multi-currency debit card integrated with the Wirex account that enables you to pay with both cryptos or fiat currencies that you hold on this card. The debit card and the exchange's storing solution are some of the most prominent characteristics of Wirex. Now let's see what the hype around the Wirex wallet and debit card is all about. 
A non-custodial crypto wallet with no keys, the Wirex wallet allows you to store, grow, and earn incentives on your digital currencies and non-fungible tokens in a secure and private manner.
With the power of the SMPC encryption, you may access your wallet without the need for public or private keys, and you will still be safeguarded from any security breach that occurs. Furthermore, the wallet is protected by a biometric backup, which allows you to effortlessly restore your data in the event that your smartphone gets lost or stolen.
The Wirex trading platform provides over-the-counter (OTC) and interbank rates for cryptocurrency and fiat currency transactions, as well as other financial instruments. Moreover, it allows users to swap fiat for fiat, crypto for crypto, fiat for crypto and vice versa utilizing the Wirex Exchange tool. 

With the OTC desk, Wirex is able to provide its users with the best exchange fees for their crypto exchanges, thus outperforming some of the CEXs like Binance and Coinbase. 
Wirex Card: the Best Bitcoin Debit Card
Wirex offers crypto traders a convenient in-store and online shopping experience with their GBP Mastercard debit card. The Wirex debit card is a popular multi-currency card that encourages clients from across the globe to handle both their cryptos and fiat currencies by using the dedicated smartphone app and debit card while travelling abroad.
With the introduction of the world's first crypto-supporting debit card powered by the two payment providing giants in the industry – Visa and Mastercard, Wirex has established itself as the first multi-currency financial platform in the crypto ecosphere. 

Due to the fact that not all Bitcoin debit card accounts allow users to hold both fiat and crypto (e.g. having USD and EUR with BTC or ETH on the same account), the Wirex multi-currency Bitcoin debit card is likely the finest in its class in terms of providing this capability.
The Benefits of Holding Wirex's Contactless Multicurrency Card
To begin with, the Wirex Bitcoin debit card supports around 10 coins and 16 fiat currencies. As there are no foreign exchange costs associated with the transactions made with this card, its users can enjoy their travels worry-free of any additional expenses. This feature certainly makes the contactless Wirex card a highly convenient method to make purchases or withdraw money from any ATM in the world by using both fiat currencies and digital money interchangeably. 
When it comes to ATM withdrawals using the Wirex debit card, please be aware that they can be a bit pricey. 
How to Set Up a Wirex Account?
You may open a Wirex account in a matter of minutes by visiting the exchange's website or downloading its mobile application. Registration is completely free. To have the best possible user experience, it is recommended that you acquire your Wirex debit card, which will be mailed to your address for free, regardless of where you are located on the globe.

After confirming your identity through the swift verification process, you will be able to log into your Wirex account and start using it. The initial step towards making use of the account should be making your first deposit. You have the option of making a deposit in either cryptocurrency or fiat currency. Pair it with the Wirex debit card for instant payments and currency swaps, and – the world is yours!
WXT is the utility token of this e-coin platform. It is a Stellar-based cryptocurrency that is intended for widespread use via the Wirex app, as well as using other crypto trading platforms. The WXT token mainly serves the users to upgrade their Wirex account by using WXT, which – in turn – enables them to unlock higher cashback rates and get enhanced rewards.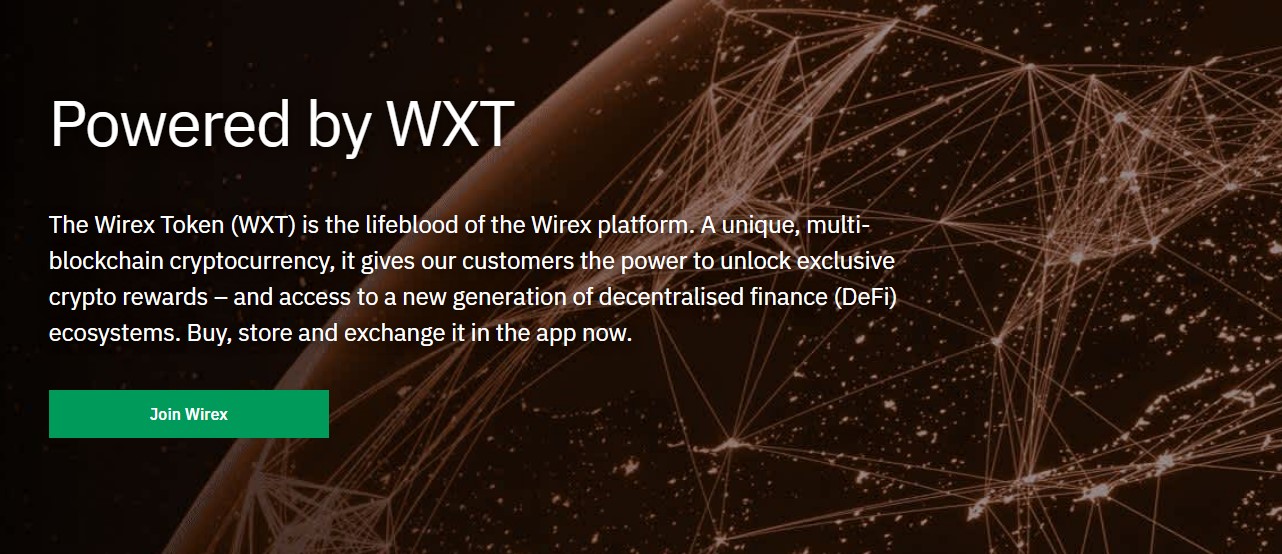 If you have a verified Wirex account, you can obtain your WXT tokens through the Wirex app with any of the fiat currencies supported by this trading platform. 
Supported Cryptocurrencies
Wirex users have instant access to a huge range of top cryptocurrencies, including Bitcoin (BTC), and the following altcoins: Ethereum (ETH), Litecoin (LTC), Wirex Token (WXT), Ripple (XRP), Stellar (XLM), Nano (XNO), Waves (WAVES), Dai (DAI), Dogecoin (DOGE), Cardano (ADA). The exchange constantly strives to add more crypto projects to this list, so please do check with their page for any new additions.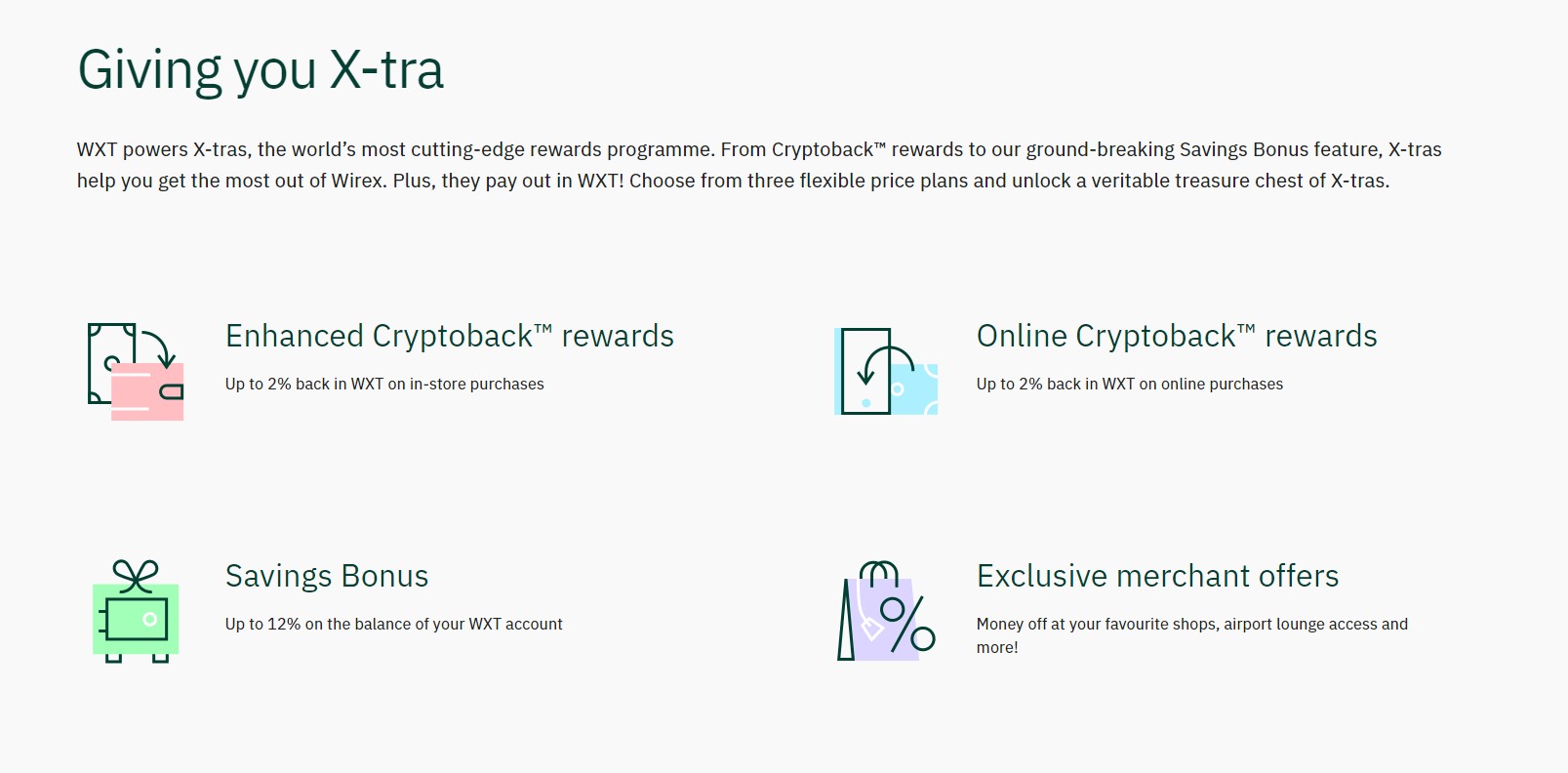 Through Wirex, you can also create your favourite trading pair or exchange any of the aforementioned coins with the following traditional currencies: US Dollar (USD), Euro (EUR), Pound Sterling (GBP), Swiss Franc (CHF), Canadian Dollar (CAD), Japanese Yen (JPY), Czech Koruna (CZK), Romanian Leu (RON), Hungarian Forint (HUF), Mexican Peso (MXN), Croatian Kuna (HRK), Polish Zloty (PLN), to name a few. 
Regarding the payment options, the Wirex platform spoils you for choice, as it combines the best of blockchain-powered payments with innovative features for the most convenient payment methods at your disposal. More specifically, Wirex supports debit card, credit card, Visa card, and Mastercard payments, more than 24 e-wallets (a service backed up by Wirex's FCA e-money license), PayPal, UK bank transfers, SWIFT bank payment, SEPA, Alipay, etc. 
When it comes to Wirex coin swapping and fiat currencies exchanges, worry not as they come with no extra charge. Also, the internal transfers among Wirex clients are fee-free. On the other hand, blockchain fees are applicable for all external crypto transfers, and they depend on the maintenance fee of every respective blockchain. 
When it comes to the Wirex multi-currency card, the exchange does not charge any issuance or maintenance fees for it – a rare, but highly convenient practice among the similar offers in the industry. There is also no limit balance for the Wirex Card. Instead, there is a maximum expenditure that is limited at USD 10,000 per transaction and per day.

In terms of deposits and withdrawals, there is a 1% fee on the total amount of cryptocurrency placed on your Wirex account, and a 2% fee for an ATM withdrawal with the Wirex card if you exceed the monthly limit of 400 GBP or EUR.
Wirex is a safe and reliable platform that makes use of the most up-to-date security technologies in the blockchain and financial industries. For all connections between the server and the web browser, it employs 256-bit SSL encryption, which entirely eliminates the potential of an unwanted cyber assault. 
Furthermore, the platform is protected by the two-factor authentication (2FA) protocol, BitGo's multi-signature new tech engineering, and microservice architecture, which eliminates the possibility of a single point of failure and tends to make it virtually impossible for a hacker to gain complete control over a user account.

When it comes to the safeguarding of customer funds, Wirex adheres to the standards and guidelines set out by the Financial Conduct Authority (FCA). This is due to the fact that this payment platform is regulated and approved by this financial regulatory body. 
All registered customers have access to a professional online chat support system that is available 24 hours a day, seven days a week. Wirex's support staff is dedicated to meeting the requirements of its clients and does so through a variety of enquiry channels and email addresses (press@wirexapp.com for press enquiries, affiliates@wirexapp.com for affiliate enquiries, or you can submit your personal request to the support team through the Help Center ticket form).
Frequently Asked Questions
Does Wirex have a mobile app?
Yes. When used in combination with the Wirex website, the Wirex mobile app is a useful tool that can be used to conduct mobile banking transactions while on the go. It can be downloaded for free on any Android or iOS device. 
What countries are supported by Wirex?
Wirex is headquartered in London, England, but has offices throughout the world. It provides its financial services for the residents of Europe and the Asia Pacific. Some of these countries include Australia, Portugal, Italy, the Netherlands, France, Spain, Singapore, Germany, Austria, Sweden, Poland, Slovakia, Norway, Denmark, etc. 
A side note: Despite being a UK-based exchange, the services of the Wirex online platform were restricted for the citizens of the United Kingdom at the time of writing this review. For the most current updates and access to the full list of supported/non-supported countries, please check the official Wirex list here. 
Which currencies can be used for topping up the Wirex card?
To top-up your Wirex card, you may use any of the digital or fiat currencies given on the list below: 
Fiat Currencies: GBP, USD, EUR, CAD, HUF, RON, CZK, PLN, and HRK. 
Cryptocurrencies: WXT, BTC, ETH, DAI, LTC, ADA, XRP, XLM, DOGE, LINK, 1INCH, WAVES, MKR, XNO, UMA, AAVE, YFI, BAT, UNI, SNX, SUSHI, COMP, REP, OMG, BNT, LRC, ZRX, FTT, BAL, KNC, EOS, CRV, DOT, CHZ, XTZ, AXS, SOL, and MATIC.
Cryptoback is Wirex's reward program through which you can gain 1.5% cashback paid out in satoshis for every in-store purchase made with the Wirex crypto debit card. 
Which documents do I need to provide to verify my Wirex account?
It is necessary to provide a Proof of Identity document in order for your Wirex account to be validated. Your identification document must be a legitimate government-issued document that corresponds to the personal information you supplied when you created your Wirex account. 
Wirex is a multicurrency exchange that allows its users to manage their money in the way that they prefer. While Wirex is not a bank, it outperforms traditional financial service providers in that it allows its users to move their money (whether in digital or fiat form) through a single location.
The innovative Wirex app, which comes along with a trading account and a multi-currency debit card, is the ultimate all-in-one service backed up by Visa and MasterCard. Wirex clients may go about their day, traverse borders, and make payments by interchangeably utilizing their coins or fiat money stored on their account without having to worry about foreign exchange costs or having a sufficient amount of fiat currencies, as they can always use their digital funds with the Wirex card anywhere in the world. 
The bottom line? Wirex, by bringing together the finest of blockchain technology and technological innovation, not only allows you to utilize your finances in the most convenient and profitable way for you at competitive exchange rates, but it also allows you to save time, which – you'd agree – is an asset of immeasurable value in and of itself.
This page was last updated on August 23, 2022